adidas bought FiveTen at the end of 2011. FiveTen are famous in the mountain bike world for making sticky soled shoes using their Stealth rubber so that you can grip flat pedals but still move your foot around safely if initial position is wrong. While I was at the adidas 2014 range launch, adidas showed me the 2 shoes in the Outdoor "Terrex" range that are now equipped with soles benefitting from super grippy Stealth rubber, the "Solo" and the "Scope", both being approach shoes.
adidas Terrex Solo Stealth approach 395
With a colour scheme that makes it look like it's on fire, the Terrex Solo Stealth 395 is a trainer cross-over, making it a comfortable way to get to the trail-head or climbing zone, but still be able to cope with scrambling sections along the way. Looking at the sole, you can see that it isn't designed for mud, but on wet or dry stone / rock these are going to be unbeatable.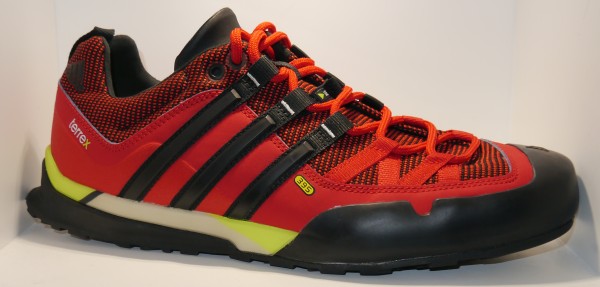 The rubber also extends up the sides and front of the shoe which will make it suitable for brief climbing if needs must.
It has a soft, rubbery tongue and laces that extend a long way to the front of the shoe for optimum fit.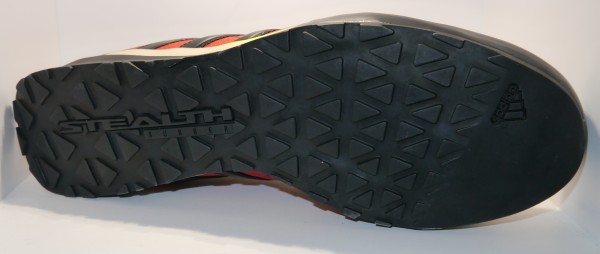 adidas Terrex Scope Stealth approach
With a more serious grip profile in addtion to the Stealth rubber, the Terrex Scope is going to be able to cope with more serious terrain and muck. It is still classed an approach shoe, but looks like it could be used for a decent hike.
Stealth
It's great to see FiveTen's Stealth rubber branching out to other areas and that adidas have been making good use of their investment.
You will be able to buy these from adidas in 2014
---
Thanks for reading. If you'd like to
get better at running, then press here
to check out Runningversity.com. There are online running courses and running coaching available.
---
If you have any questions or if there is a product on this page you own and you'd like to add your own thoughts, then please use the comments box at the bottom.
We aim to provide unbiased feedback that we hope is useful to both manufacturers and consumers alike. Disclosure: we may earn a lead generation commission from purchases made after following links from our site. This does not affect your purchase experience in any way and allows us to keep this site running.