I was looking for a low drop shoe with a decent amount of cushion and my local running shop (The Run Company) had some Brooks Pureflow 4 SS15 in stock. I've done 110km running in them now and a fair amount of walking, so time for a review of the Brooks Pureflow 4.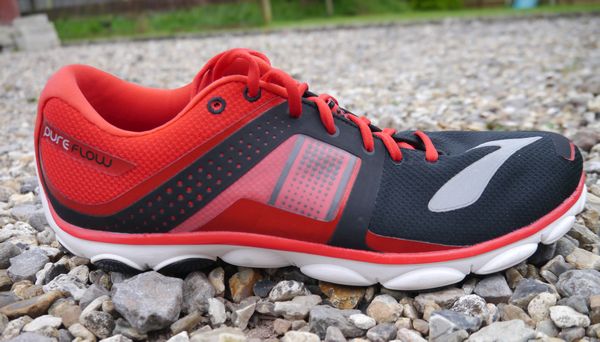 Who's it for?
The Brooks Pureflow 4 is aimed at people who want a neutral shoe with low drop (22mm heel, 18mm forefoot = 4mm drop) and a plush feel. One of its main draws is the sole, which is partitioned to give a certain amount of independent movement at different parts of the foot. Personally I wanted it because I had been injured (twisted my ankle rather badly in a gullied mountain bike trail in some sand dunes on the Atlantic coast of France) and whilst supposedly fully healed, I wanted some cushion while I build up the weekly mileage again. I run very softly and land on the forefoot, but many of my shoe choices are rather minimal and so it was time for some comfort again!
Looks good, yeah?
The red and black version that I bought is great to look at. The red is super vibrant in real life and the Brooks logo across the toebox is a massive reflector in the dark. It all sits on white foam with an organic shape. There's a dotted band that wraps right around the foot, visible on the instep and through a translucent patch on the upper.
Size and weight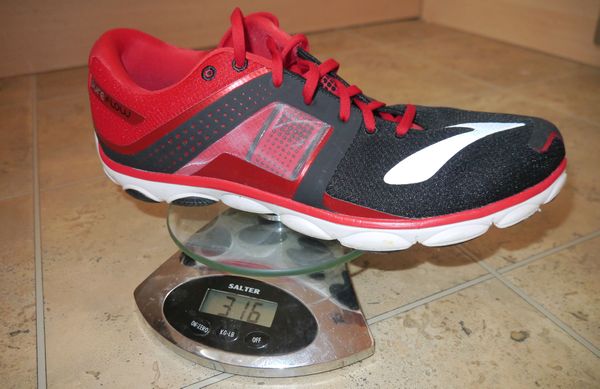 My size 12s came in at 316g. Not super-light but pretty much what I was expecting. I sized up by 1/2 to a 12UK to get enough width / wiggle room for the toes – the 11.5 didn't quite have enough, but this does mean I have to do the laces almost to their limit. I have a little over a thumb width in front of my toes.

Toebox
The front of the shoe is roomy but the upper is not particularly flexible. After sizing up, it was great for my toes. The build quality in this area failed me – there is a welded patch inside the shoe attached the underneath of the upper, along the front where the toes sit. This patch came away along one edge, so putting the shoe on meant it stopped my toes going in properly. Once I was aware of it, it was easy to ensure my toes went under it and it didn't affect me while running. I should probably glue it back up, but it would be fiddly right down the end inside.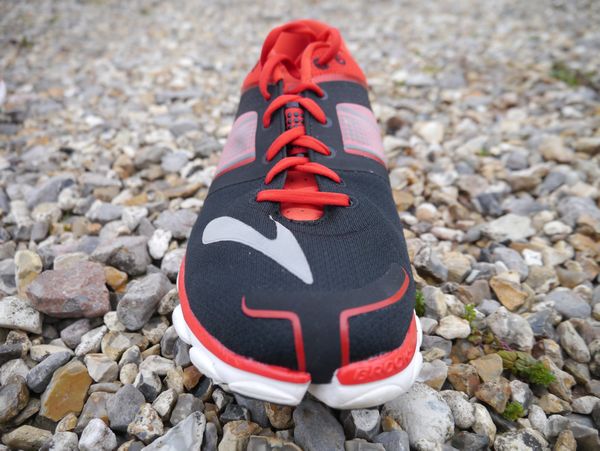 Sole blobs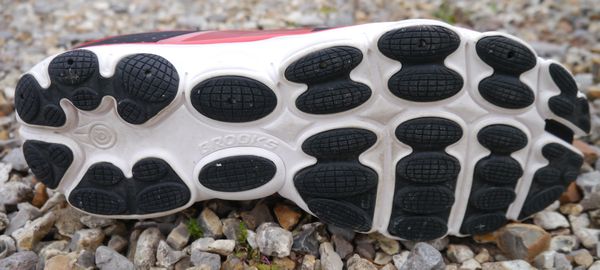 The sole has pads of carbon rubber stuck on to blobs of foam, which allows movement and provides flexibility, so when you touch down, it's super smooth. There is a split at the toe area, although I'm not sure what they were trying to achieve here – my big toe sits over the gap. Extra independence for the big toe I suspect.
Heel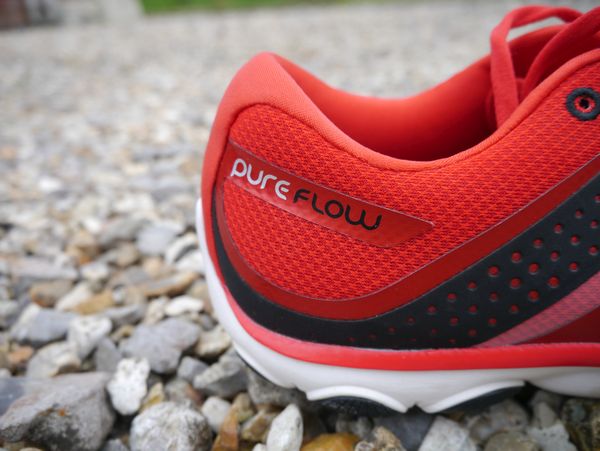 At first glance there's not a lot going on at the heel, but inside the material, there is quite a firm heel counter wrapping around the sides, so you'll know if this is going to appeal to you or not. I did try running while landing on my heels and it kept my foot in line during landing whilst not intruding during lift-off, and didn't rub at any time, so Brooks have done a good job here.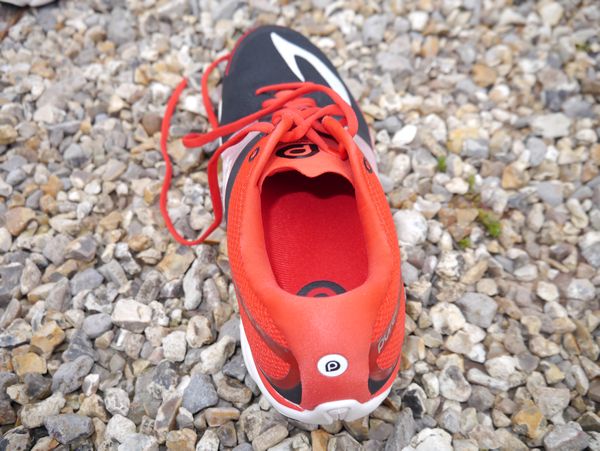 On the road
I've run various styles of training sessions in these, but no races yet. 9 miles was the longest (because I'm still building my mileage), but I'm sure it would easily be at home with marathons and more. On landing, it's deliciously smooth and comfortable. It could easily lull you into being lazy and landing harder because it cushions the impact well! The different sections of the sole means that it never slaps down and instead glides fluidly. I've used it for fast intervals, threshold and slow runs. Before buying, I thought it was going to feel best on the slower runs, but if I had to choose, in reality I had so much fun on the threshold runs where, pegging along at a rate, it was easy to eat up the miles. They are still amazing on the slow runs though, so you'll finish them with happy feet. They feel flatter than the 4mm figure suggests and that's good by me.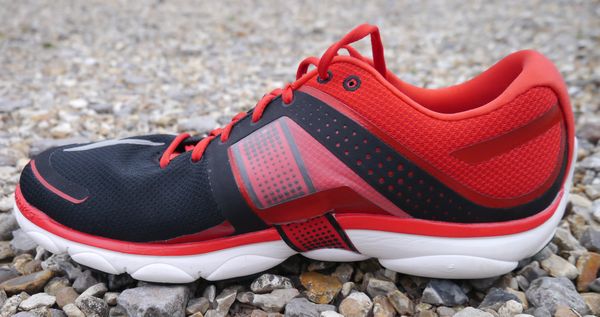 It's all change for the version 5 Pureflow, which surprises me, because the version 4 Pureflow reviewed here is an excellent shoe and I only knocked a point off for the build quality (see above). If you see these available I suggest you snap a pair up to try because they are gone forever. A great recovery shoe and a competent road shoe if you don't mind a soft ride.
---
Thanks for reading. If you'd like to
get better at running, then press here
to check out Runningversity.com. There are online running courses and running coaching options available.
---
If you have any questions or if there is a product on this page you own and you'd like to add your own thoughts, then please use the comments box at the bottom.
We aim to provide unbiased feedback that we hope is useful to both manufacturers and consumers alike. Disclosure: we may earn a lead generation commission from purchases made after following links from our site. This does not affect your purchase experience in any way and allows us to keep this site running.