After seemingly endless weeks of rain, I decided to select a pair of Inov-8 Terroc 345 GTX Gortex shoes to deal with the mud-fest that my normal route to the beach had become. I was confident that the serious looking sole would make traction easy and the Gortex would keep my feet dry and toasty. Here's how I got on.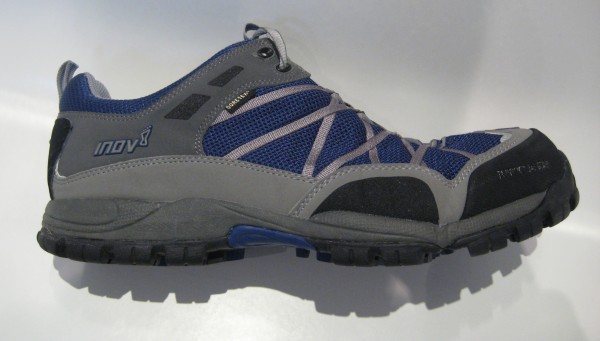 Sole of legends
The Terroc 345 GTX looks like a cross between a trainer and a boot – trainer upper, with boot sole. The first thing you'll notice is the grip profile on the sole which can best be described as fierce! The huge knobbles range from 6.5mm deep near the heel to 5.5mm deep near the toe. They are spaced widely enough to shed mud instantly but close enough so that they feel like a flat surface when you land on them (rather than lots of individual dots which might otherwise press into your foot). This is important because for such a chunky shoe, the 345 is surprisingly light and flexible (in the sole). The 345g quoted is for the size 8UK, whilst my size 12UK comes in at 472g.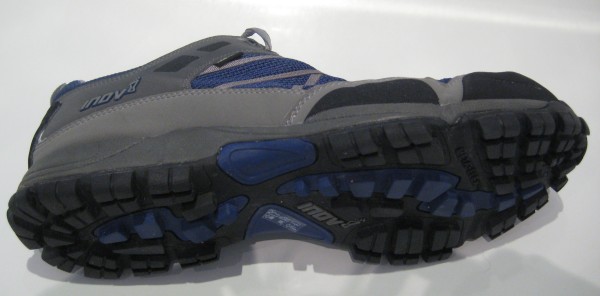 Still minimal
The sole uses what Inov-8 refer to as Metaflex. This band across the forefoot allows this very rugged looking shoe to easily bend at just the right point to allow for easy use of a forefoot strike running style. However, whilst light for a shoe with a sole like this, it is still heavier than most normal off-road trainers, so use caution for the first few weeks and build up slowly. Launching straight into a 10 mile run in these may leave your muscles with some surprises the next day. It also has a 9mm heel to toe drop which is 2-3mm shallower than most trainers, which you will need to be aware of regardless of heel or forefoot strike, although it's steeper than most Inov-8s!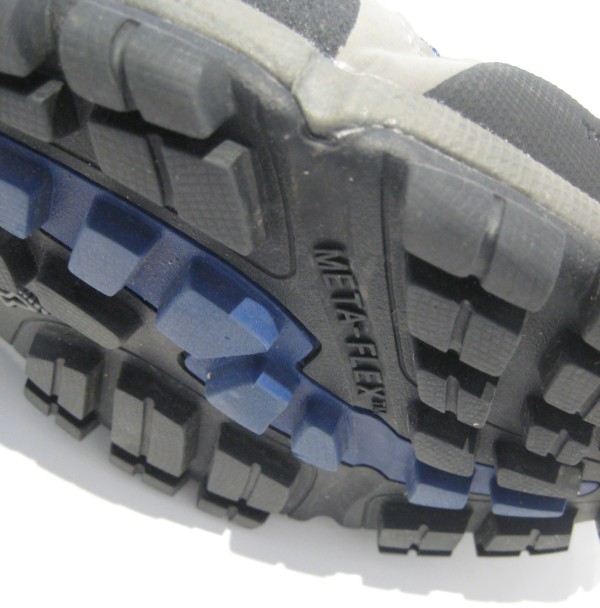 Out on the trail
My trails were now a quagmire, consisting of either grass under water, gravel under water, muddy water, watery mud, wet clay, sand and general swamp. However, equipped with the Inov-8s I was actually looking forward to the run. At first I gingerly ran through the carnage but quickly my confidence in the shoe went through the roof. The 345s were a revelation of grip. After a while of firing across huge puddles of deep mud as if it were tarmac and carving around wet grass corners as if I was on rails, I started laughing. This shoe opens up a whole new world of possibilities, shrugging off Nature's best efforts and begging for more.
In a forefoot style, it felt much like any other shoe, but just heavier, initially requiring a little more focus on form to keep the landings smooth. Landing on the heel is quite firm, with only 15mm oif EVA to absorb the impact and this begs for a high cadence with a soft landing, and the transition from heel to forefoot is a little sudden for my liking, due to sheer amount of firm sole.
These huge knobbles do pick up small bits of gravel, so careful before walking indoors onto a wood floor.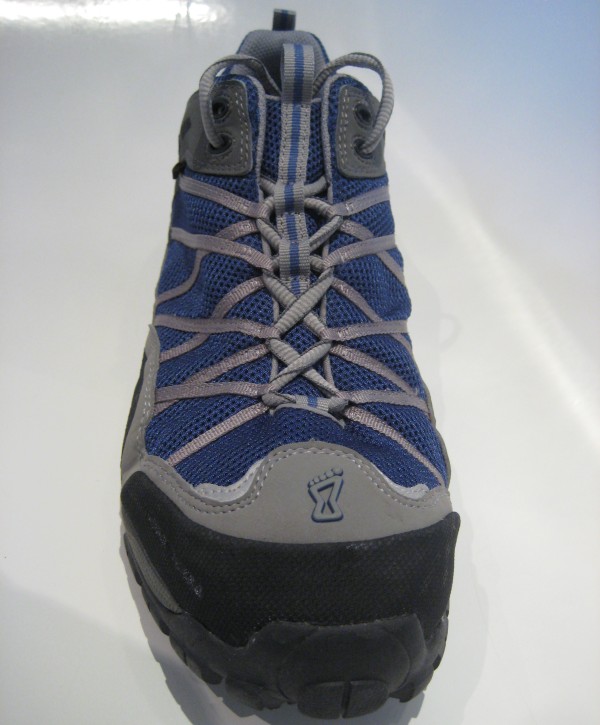 Off a duck's back
The other area that really impresses is just how dry your feet and socks will be at the end of a messy run. The Gortex works as intended, reminding you where the extra money is going. Splashing through huge puddles and even along the seashore made no difference with my feet staying dry. They do take a long time to dry on the outside though, so I suggest leaving them in the airing cupboard after dabbing as much as possible. They do clean off easily – these pictures were taken after a few weeks worth of filthy runs!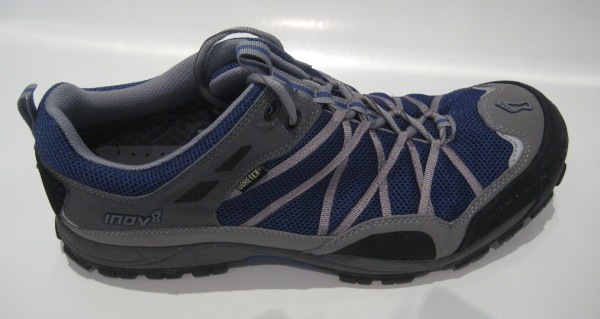 Snow ability
I took the Terrocs to the Alps and tested them in snow conditions. Progress both up and down steep pisted slopes was aided by effortless grip and poise, with the Metaflex again proving its abilities on the way up when every runner would be running forefoot style regardless of their normal style. On the flat through frozen powder, their weight proved beneficial, confidently crushing all in its path and again bringing a huge smile to the face. The only area that lets them down is the ice ability. Whilst the sole is deep, it is very smooth and the sole compound loses some of its stickiness, leaving you wishing for something at bit more random and pointy underfoot. You'd have to be daft to deliberately go out running on ice alone, but if there are patches without snow on them on your run, take a bit of care. As soon as there is a couple of mm of snow on top, the grip returns.
On your bike
I also experimented with using these during a 3 hour mountain bike race, taking in steep climbs and extremely steep downhills with jumps and roots. Once on the pedal, the shoe locked in place on the pedal pins, so you needed to plant it right first time! It was much better than I had expected, with the firm sole providing a good solid base for power transfer. They were very capable on the hike-your-bike section, scrambling up the steep muddy cliff with ease, where others were floundering on their flat soled shoes.
Day to day
In addtion to duties on the trails, I have also taken to wearing the Terroc 345 GTXs for normal daily duties like walking the kids to school. After a few days wearing in, they are supremely comfortable and the light weight combined with the Metaflex makes them more fun for the feet than a normal boot. Additionally, they are waterproof. This daily usage wasn't my intention when buying them at all, but it makes sense. There is no sign of wear yet, but I'm sure it'll take a long time to make dent on the deep sole.
The Inov-8 Terroc 345 GTX is aimed at the hardcore trail user that just wants to keep on going regardless of what the weather throws down. It's light considering how much sole there is but is heavier than a lot of off-road shoes, but here's what prompted my purchase: you can use them on the road too, unlike most off-road shoes that feel overwhelmed on tarmac. I have to run a mile to get to the trail. This all-round ability and total confidence in deep wet muck has been a boon over the winter and anyone looking to select an all-round winter shoe should take a look.
If you like Inov-8's products you can follow Inov-8 on Twitter.
---
Thanks for reading. If you'd like to
get better at running, then press here
to check out Runningversity.com. There are online running courses and running coaching options available.
---
If you have any questions or if there is a product on this page you own and you'd like to add your own thoughts, then please use the comments box at the bottom.
We aim to provide unbiased feedback that we hope is useful to both manufacturers and consumers alike. Disclosure: we may earn a lead generation commission from purchases made after following links from our site. This does not affect your purchase experience in any way and allows us to keep this site running.