I've been running in the Adidas Adios 2 running shoe now for 100+ miles and it's now my favourite shoe ever. So much so that I do all my long runs in them, as well as the shorter tempo and interval runs and only use my cushioned trainers for the recovery sessions.
It is designed as a light weight marathon shoe – my size 12s weigh in at 272g each. Many runners will enjoy it at shorter distances too. The suitability of the shoe for you will depend both on the distance you intend to run in it, combined with your running style and experience. If you are considering buying it for the full marathon race distance, you need to be aware that the low profile of the Adiprene shock absorbing cushioning at the rear of the shoe will almost certainly not be enough for a pounding heel striker (landing on the heel of the feet first, and then on to the ball of the foot). Heel strikers with a very smooth style and short stride will get away with it though!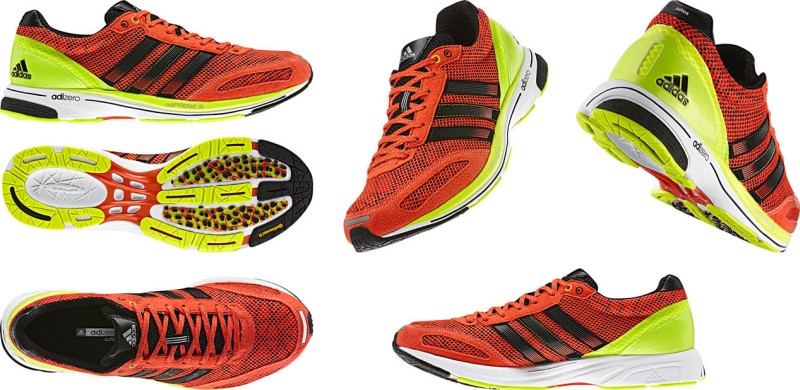 So what sort of runner is going to enjoy and get the most out of the Adios 2? The forefoot is surprisingly stiff, and the generous amount (for such a light shoe) of Adiprene+ cushioning towards the front acts more like a spring than a damper, so you are propelled quickly if you push off firmly. The stiff front end also supports the toe position at the end of a tiring marathon. Therefore if you are a midfoot or forefoot strike marathon runner (or half marathon), you will love this shoe. Additionally, if you are aiming at shorter distances up to 10km, you will appreciate its light weight whatever running style you favour.
I use forefoot strike when running in the Adidas Adios 2s and they are an absolute joy. For reference, I heel strike on my recovery runs in more cushioned trainers, so that different muscle groups are used, giving each group longer to recover. I'm around 11 stone and 6′ tall and currently training for the Portsmouth Coastal Marathon. In the long slow training runs in the Adios 2s, I have reached 20 miles so far. After these my feet are still perfectly comfortable, with no sign of blisters or rubbing – totally happy feet! I have also done a 20 mile 3:1 split, with the final 5 miles at race pace with the same comfy feet. Looking forward to going the full distance in them soon. edit: I have now completed the full marathon in these shoes at race pace and my feet loved every minute!
It's also worth noting that the Portsmouth Coastal has a significant section of off-road, on dirt track, grass and beach, so my training has been on a mixture of pavement and similar off-road surfaces. Whilst it's a deviation from its main purpose, the Adios 2 performs very well on wet dirt tracks. The branded Continental rubber does an amazing job of gripping to firm surfaces (wet or dry), but the lack of any significant traction pattern means that mud should be avoided completely. The firm Adriprene+ at the front still provides feedback from the ground, so on irregular surfaces like pebble tracks, your toes can feel what's going on, but is thick enough to protect against sharp stones. The middle section of the forefoot has been peppered in small blobs of rubber which ensure that when your foot touches down, it doesn't twist or slide. I've seen reports elsewhere of them getting torn off, but so far I have not seen any unusual wear or damage. edit: I have now done 400+ miles in these shoes and it was the off road marathon that made its mark – I lost 4 of the blobs during the race (3 on one foot and 1 on the other) which was admittedly on very rough terrain including shingle, rock and gravel. There is still plenty of coverage and there is no noticeable reduction in grip.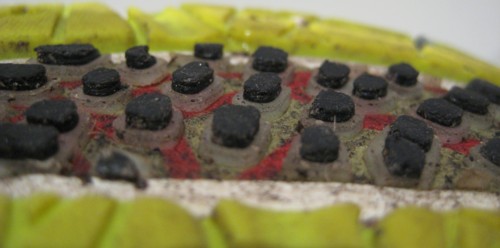 The size comes up a little small – I normally take an 11.5 for a marathon shoe (half a size larger than my normal 11 for short distances), but I bought a pair of size 12 Adios 2s which are still quite snug. Most of the shoe's upper section is an efficient mesh that will keep your foot dry and control the heat (see pic below). I'd be interested to hear from anyone that has run in these over the winter, because my next marathon is two days before Christmas, so I'm expecting Wintery weather, but so far in my training, the temperature has only been down to 10degC. For safety in the dark, there is a reflective toe strip and the Adiprene+ logo on the sides is also reflective.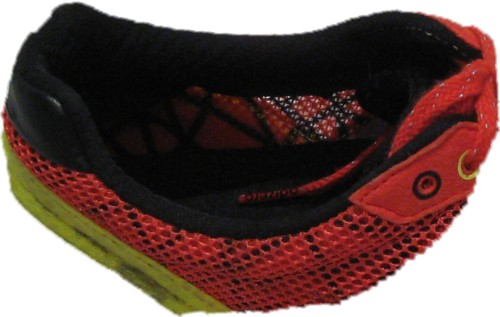 Finally, as well as being a top performer, the AdiZero Adios 2 is also a seriously good looking shoe. From the black signature 3 stripes with coloured flecks to the bright heel support and sparkling detail in the laces, it's a classic waiting to happen.
Edit: I have done 500 miles in my Adios 2 and they are still my favourite shoe ever and I'm looking forward to replacing them with some Adios Boost.
See our video footage below for more info.
---
Thanks for reading. If you'd like to
get better at running, then press here
to check out Runningversity.com. There are online running courses and running coaching options available.
---
If you have any questions or if there is a product on this page you own and you'd like to add your own thoughts, then please use the comments box at the bottom.
We aim to provide unbiased feedback that we hope is useful to both manufacturers and consumers alike. Disclosure: we may earn a lead generation commission from purchases made after following links from our site. This does not affect your purchase experience in any way and allows us to keep this site running.