I went on a company trip to Lake Tahoe and Dallas. Unlike most company trips, this was a bit different and whilst there was a lot of business related training and a day biking in the mountains, there was also a lot of partying and American size food portions. When I got back, I felt lethargic, lacking in energy and all the good exercise I had put in over the Summer was seriously at risk from the extra weight I had gained. Not great timing because my Marathon PB (Personal Best) target race was coming up. With six weeks to go, I decided it was time to take action. So here is my review of the Forever C9 (Clean 9) that I used to get me back on track. It's a nine day body cleanse programme that many of my friends had raved about, but being an athlete, my main aim outside of exercise was eating lots, so it hadn't occurred to me to try it before! Here's how I got on. Meanwhile, if you are looking for other ways to improve your health, find out how to start running here.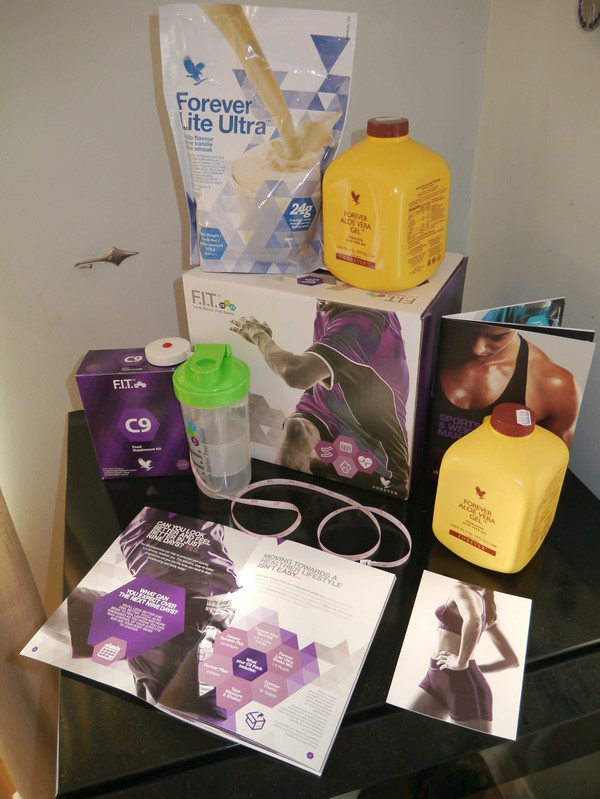 If you like what you see and want to order the Clean 9, you can buy it direct by clicking HERE for Vanilla or HERE for Chocolate. Forever offer a 60 day money back satisfaction guarantee, so you can use it with confidence. Note: I am an Independent Distributor of Forever Living Products because I love their products. I use many of them as part of my training regime. As with all of my other reviews, I will stick to the facts and do my best to remain objective!
My goals
This was the first time I had tried the C9, so when it arrived I had a good read through the guide booklet that comes in the pack. I was pleased to see that one of the first things you need to do is write down three goals in the booklet that you want to achieve. Written goals are far more likely to be achieved than ones stored in the mind! Mine were:
Lose the bad snacking habits – too many biscuits and cakes had reappeared in my daily diet. I do a lot of running so need a lot of calories, but there are better sources of energy!
Drink less alcohol – alcohol trashes recovery from exercise. Drinking three times a week wasn't helping my marathon chances!
Feel more energetic – I'm not a morning person at the best of times, but I was finding it even harder than normal to get out of bed and go for my morning run.
The C9 is sold as a cleanse, not as a weight loss programme. Many people do lose weight, but it should not be one of the goals for the nine days. If you have long term weight loss goals, then you would be better off looking at the F1 and F2 programmes. If you have any questions about these, please get in touch :)
There is a note about suitability: "Please consult your doctor for more in-depth information before beginning any exercise programme or using any dietary supplement. Please note that Clean 9 and the Forever F.I.T. programmes are not suitable for, and should not be taken by, anyone who has diabetes or kidney disease. If you have any medical condition, please consult your doctor before starting the programme."
What's in the box?
2X Forever Aloe Gel bottles – the gel from the inner leaf of the Aloe Vera plant. Nutritional and cleansing. Put them in the fridge straight away – they taste better chilled.
1X Forever Lite Ultra pouch (chocolate or vanilla) – nutritionally balanced soy protein shake.
54X Garcinia soft-gels – take 20 mins before food.
9X Forever Fibre sachets – helps keeps you regular.
18X Forever Therm tablets – works on the metabolism. Contains a small amount of caffeine.
Tape Measure and Shaker
C9 Booklet
Who's it for?
The Clean 9 is for anyone that wants to develop better habits around exercise and eating, anyone that wants to look better and feel better. It's not just a diet plan – the booklet includes daily exercise targets too, so is a holistic approach.
When to do it?
It's nine days, so will go over a couple of weekends when you will have to avoid alcohol and be strict with food, which might be a consideration. The best time to start is straight away – everything else can wait right? You only have one body so you may as well start looking after it straight away. I would suggest that athletes avoid doing it any closer than six weeks before their target race so that the body has time to adjust to any new weight and any changes in eating habits that will be formed :)
So then, Chocolate or Vanilla?
You get to choose your protein shake flavour, so which one to get? Both shakes are pretty flavourful and mix well, so don't taste "powdery" – hope that makes sense! The vanilla flavour is quite sweet, and the chocolate is more mellow. I like both, but some people prefer one or the other depending on how sweet their tooth is :)
Guide booklet
The C9 booklet that comes with the pack is mostly very easy to follow and useful. It takes you through the daily routines, gives hints and tips for exercise and recipe ideas, lists "Free Foods" (see below!) and has a place to store weights, measurements, food diary and goals. There are a few bits of information that are easily missed though and frequently asked on our support group:
Men can have 200 calories extra per day on days 3-8. Men generally have a higher metabolic rate than women so need more calories.
The shakes are for days 1-8. Day 9 introduces a 300 calorie meal for lunch instead of a shake.
You can choose whether to have your meal or shake at lunch or evening on days 3-9. Switch them over if you want. I chose to have the shake at lunchtime.
Drink plenty of water during the nine days, approximately 3 litres a day for men and 2 – 2.5 litres a day for women. This is normal for me, but some people struggle, so start now while waiting for it to be delivered!
Do the final weigh in on Day 10 (after the 9 days have finished!). Don't weigh yourself every day. Focus on the end result, not day to day fluctuations which will go up and down.
What I would add is that you could adjust the programme depending on your personal factors. For example, I continued to train for my marathon throughout the nine days which meant I was doing rather a lot more exercise than suggested in the C9 booklet! So on one of the days I did a 3000 calorie run over 3hrs, so I had to add some more calories to my diet that day to ensure I recovered well. Most people won't need to worry about this and can just get on with following the booklet! And people who drink a lot of caffeine might want to consider cutting back on the caffeine before starting the nine days so that their body is better able to deal with the reduced caffeine intake, i.e. not asking your body to deal with less caffeine and less food at the same time! Make it easy for yourself to succeed. So it's basically: use your common sense.
You can do the Clean 9 up to three times a year, after holidays etc. If you want to do it more often, I'd question why – maybe you need to look at the F1 and F2 instead.
Day 1 and 2
After writing out my goals, the first thing I did when I woke up on Day 1 was to do my weights and measurements, writing them in the back of the booklet. My Tanita scales give me weight and a bodyfat estimate. I also took some photos of me from the front and side while relaxed and in a good posture so I could do examine before and after.
The first thing on Day 1 and 2 is to take a couple of Garcinia soft-gels and then wait 20 minutes. Then pour out 120ml of the Aloe Gel drink and neck that followed by 250ml of water and a Therm tablet. The Aloe Gel taste of plant and is unfiltered, so retains the "gloopy with bits" texture from the plant. Some people find it a little challenging the first few times, so remember to keep it in the fridge because there's less taste when cold. I had no trouble knocking it back though and focused on the benefits I was going to get and how good I'd feel at the end of the nine days!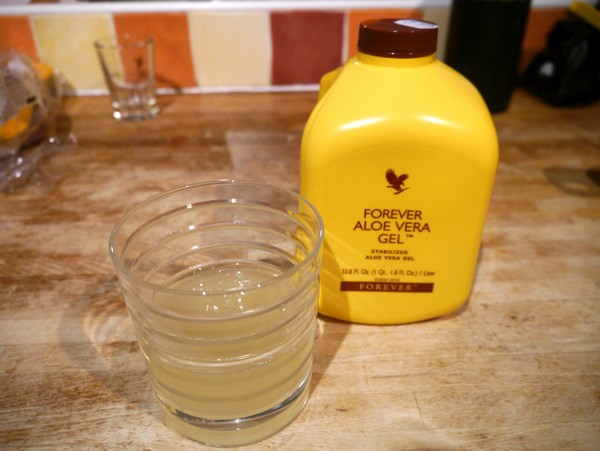 It's important to fit in at least 30 minutes of exercise each day, but on Day 1 and 2, this should be easy to moderate exercise only. You can do more exercise if you wish, but keep it easy! The booklet suggests doing at least 30 minutes in one chunk if you can which makes sense for fat usage (the longer the better). I needed a rest day, so I walked for 30 minutes around the nature reserve. Even though I hadn't had a traditional breakfast, I found I could easily do the walk.
Then I took a sachet of fibre dissolved in water. Apparently this needs to be taken separately from the other supplements.
At lunchtime, I had another couple of Garcinia, waited 20 minutes and had another 120ml of Aloe Gel, along with a Therm tablet. I don't drink things with caffeine in very often, but I imagine people who live off coffee will welcome this part of the day! The Garcinia gels provide hydroxycitric acid to help with appetite suppression and fat storage prevention. I then mixed up a scoop of shake with some almond milk. Other types of milk suggested are light soy or coconut. I've also tried the shakes with Hazelnut milk which I love. I remembered to sip more water throughout the afternoon.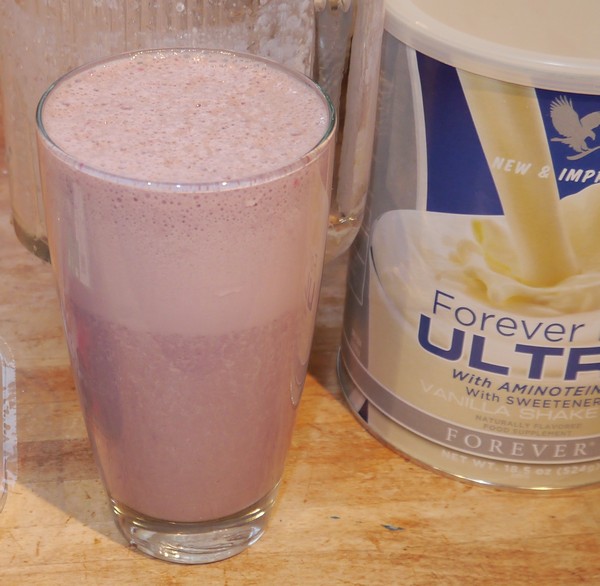 By this point I had expected to be ravenously hungry, considering my normal "trough everything in sight" diet, but in reality I was fine and just carried on with my day as usual. Well, apart from the fact that I wasn't wondering into the fridge every hour! Success.
However, there is a list of "Free Foods" – these can be called upon to curb hunger when needed, on any day from 1 to 9. You don't have to have them though and I'd suggest trying without if possible, but you can have them in moderation if the food craving is too strong. Better to have some of these than fall off the track before the finish line!
Here's the list in case you want to get some in readiness:
Apricots, apples, blackberries, blueberries, boysenberries, cherries, figs, red/purple grapes, grapefruit, kiwi, fruit, oranges, peaches, pears, plums, prunes, raspberries, strawberries, artichokes, rocket, asparagus, belgian endive, broccoli, cauliflower, celery, cucumber, aubergine, spring, onions, kale, leeks, lettuces – all varieties, peppers – all varieties, romaine lettuce, snow peas, or sugar, snap peas, soy beans, spinach, string beans, tomatoes.
So dinner came and went in a flash with two Garcinia gels followed 20 minutes later by 120ml of Aloe Gel and water. Yeah, I a little hungry, but it was good to know that I wasn't desperate. Later in the evening I had another 120ml of Aloe Gel and more water, and went to bed extremely happy that I'd made it through Day 1 for more easily than I had imagined and without raiding the biscuit tin :)
Day 2 was a repeat of Day 1, but without the weigh-in. I also went on a 10k run at an easy (for me) pace for 55 minutes of exercise. If anything Day 2 was easier than Day 1 because I knew what to expect and just got on with it.
Day 3 to Day 8
Day 3 was great because I spent a lot of it looking forward to my evening meal. However, the morning starts off much the same: 2X Garcinia, 20 minutes, a Therm, 120ml of Aloe Gel and some water. However, there's an extra shake here for breakfast, so now back to three proper feeds a day. Happy days. I added in a few blueberries just for a change: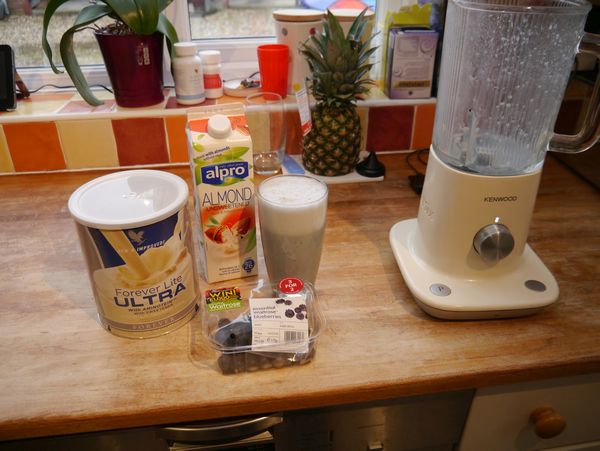 Another 30+ minutes of exercise is called for, but now it's "moderate" intensity, so you can up your game. I did a muddy 14k trail run (1h20m) and had an oat cake when I got back to ensure glycogen stores were a little topped up because I was burning a little more calories than the normal 30 mins.
Then the Fibre with water and a shake at lunch (after 2X Garcinia, 20 minutes, and a Therm tablet).
For dinner, being male, I had an 800 calorie meal (600 for women). This was actually quite close to the normal amount of food I'd eat in the evening. There are some example recipes in the booklet. I had a pork and vegetable stir fry with crispy rice and some chilli oil. At this point, it was by far the best food I had ever had in my entire life :D I was doing ok on the hunger front until I smelt the food while cooking.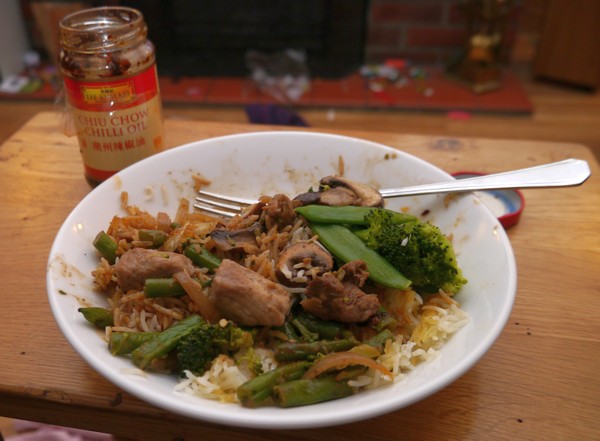 Here are some more of my ideas. Chick Pea curry: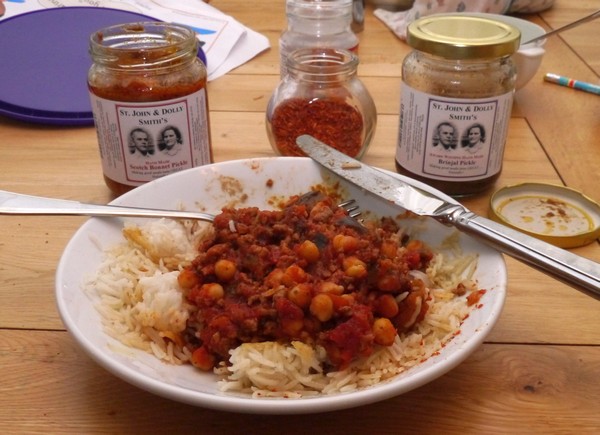 King Prawn chinese: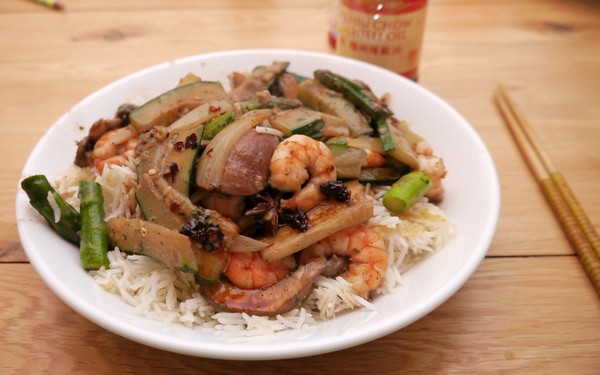 And lots of water throughout the days.
On the exercise front, Day 4 was 6X1km intervals (tough), Day 5 was 16k easy, Day 6 was 10k threshold (1o mile pace), Day 7 was my normal long slow run before breakfast (yes, I'm dedicated), Day 8 was a walk and Day 9 was another 10k threshold. So basically I carried on with my normal training schedule. For most people you might be doing more exercise than normal (i.e. doing some!) But if I can carry on doing these miles, you'll easily be able to do the 30 minutes required.
Day 6 Weigh-In
On the morning of day 6, I measured the weight and fat again and both were down. It was great progress thus far. This really encouraged me that it was all going to be worthwhile and to keep going, ignoring any temptation!
Day 9
The only difference between Days 3-8 and Day 9 is that instead of the shake at lunchtime, you have a 300 calorie meal. I had a sandwich.
My meal in the evening on Day 9 was Smoked Salmon pasta with pesto: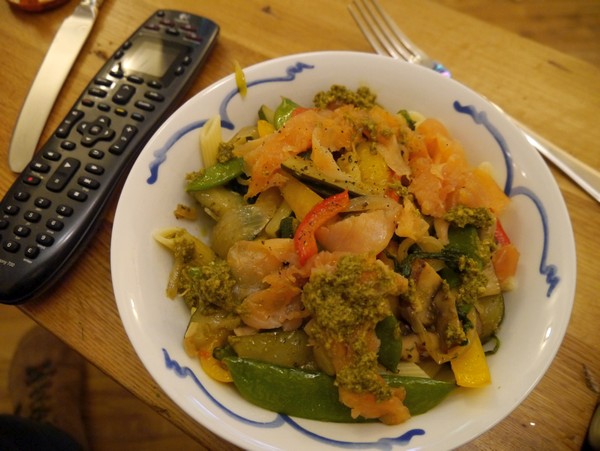 I went to bed extremely happy that I'd sailed through the week without hitch and was looking forward to the final weigh-in.
Day 10 Weigh-In and Results!
Weight and fat were down even more. Therefore I had the equivalent of a few bags of sugar less to carry around. I could feel the difference during exercise, but more importantly, the cravings for sugar and snacks were gone. I hadn't had any alcohol and felt a lot better for it. By using these good habits, I kept the weight off all the way until my Portsmouth Coastal Trail Marathon and got a PB, finishing 34th in 3h11m. So it worked for me and I was over the moon with the results.
You can buy it direct by clicking HERE for Vanilla or HERE for Chocolate, to ensure you get the 60 day money back guarantee. Please tick the "let distributor contact me" box so that I can give you support during the 9 days and answer any questions you might have!
---
Thanks for reading. If you'd like to
get better at running, then press here
to check out Runningversity.com. There are online running courses and running coaching options available.
---
If you have any questions or if there is a product on this page you own and you'd like to add your own thoughts, then please use the comments box at the bottom.
We aim to provide unbiased feedback that we hope is useful to both manufacturers and consumers alike. Disclosure: we may earn a lead generation commission from purchases made after following links from our site. This does not affect your purchase experience in any way and allows us to keep this site running.