Pretty simple one this. Forever have released a couple of concentrated flavour boosters called Joost. Each contains ~30 servings, in a very small squeezy bottle.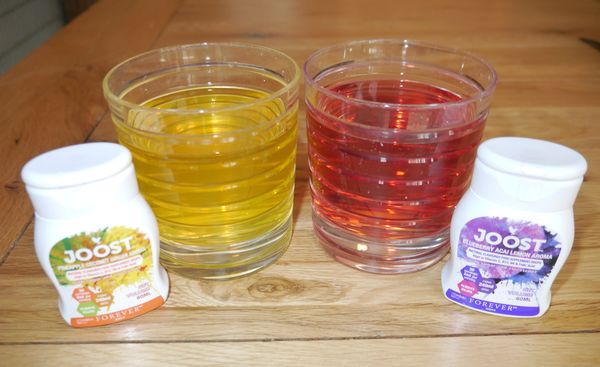 There are currently two options: Joost – Blueberry Acai Lemon Aroma, and Joost – Pineapple Coconut Ginger Aroma.
Who are they for?
The first thing that springs to mind is that some people find the taste of Forever's brilliant Aloe Vera Drinking Gel to be a bit challenging (essentially being the inside of the Aloe leaf, scooped out and put in a bottle!), so you can use these to inject a little distracting flavour into your daily Aloe shot.
You could also add Joost to water, tea, fruit juice or even Champagne to make a Kir Royale :D In the picture above, I've added Joost to 240ml of water as suggested on the Joost label. You can see just how small these bottles are.
Extras?
Joost is high in vitamins B6, B12, folic acid and vitamin C, all which help contribute to a healthy immune system, the reduction of tiredness and fatigue and to normal psychological function (e.g. mental concentration). This makes them perfect for people who lead a busy lifestyle.
Because they are so small, I think they would be ideal for anyone buying water by the bottle for a bit of a change, or for Ultra Runners to add flavour to their water. They have to refill their water bottles regularly along the route. This would help stop them getting bored of the water and drinking more of it – drinking and eating enough is one of the challenges when running 100 miles in one hit!
Taste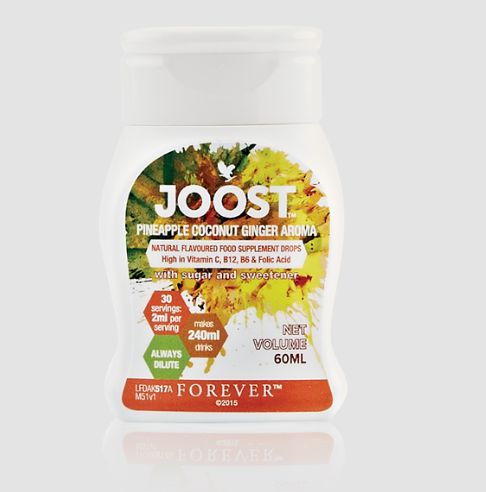 The Pineapple, Coconut and Ginger flavour Joost is my favourite. Because of the ginger, it avoids coming across as sweet, so it's quite a grown-up taste.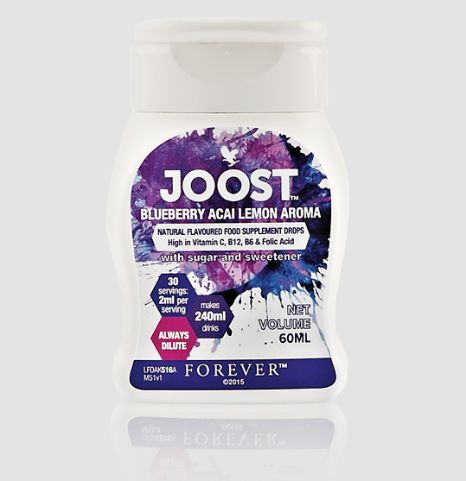 The Blueberry, Acai and Lemon flavour Joost is more of a traditional berry squash flavour, but the Lemon component makes it stand out from the crowd. My kids prefer this one.
The label suggests it stays at its best for a month after opening which is pretty good.
Sweetness is provided by sugar and steviol glycosides (plant extract)
Enjoy!
Buy Forever Joost – Blueberry Acai Lemon Aroma
Buy Forever Joost – Pineapple Coconut Ginger Aroma
---
If you have any questions or if there is a product on this page you own and you'd like to add your own thoughts, then please use the comments box at the bottom.
We aim to provide unbiased feedback that we hope is useful to both manufacturers and consumers alike. Disclosure: we may earn a lead generation commission from purchases made after following links from our site. This does not affect your purchase experience in any way and allows us to keep this site running.