After being very impressed with the Mizuno Wave Universe 5, I decided to check out its slightly more structured sibling. So after 70 miles, it's time to review the Mizuno Wave Ekiden 9.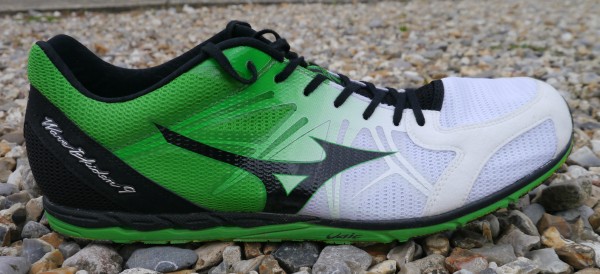 Who's it for?
The Wave Ekiden 9 is a lightweight racing flat targeted at experienced runners who run smoothly with high cadence over medium distances. However, it can be used by anyone that doesn't want support and can handle minimal structure and cushion. It's also good for people looking for a wider-than-usual toebox in a racing flat.
Easy on the eyes
The way the bright green fades into the brilliant white is very cool. The entire sole is bright green too which is unusual and really stands out from the crowd. The silver handwriting style logo down emblazoned down the heel counter screams of something special too.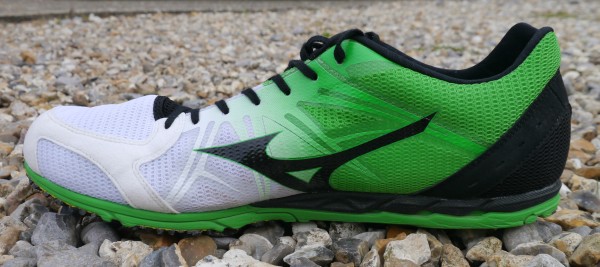 Design and Construction
In contrast to Universe 5 which is super-flexible the whole way along the sole, the Ekiden 9 is flexible at the front but is a little firmer along the midfoot and heel. The drop is 5mm, so flatter than most shoes, making it an option for forefoot runners. The sole is low profile, with only a little cushion from 10mm at the front to 15mm at the rear. The sole does have Mizuno's Wave Technology, so there is just about enough cushion to land heel-first too if you are smooth.
Inside, the arch is flat and the stitching is mostly unobtrusive and neat.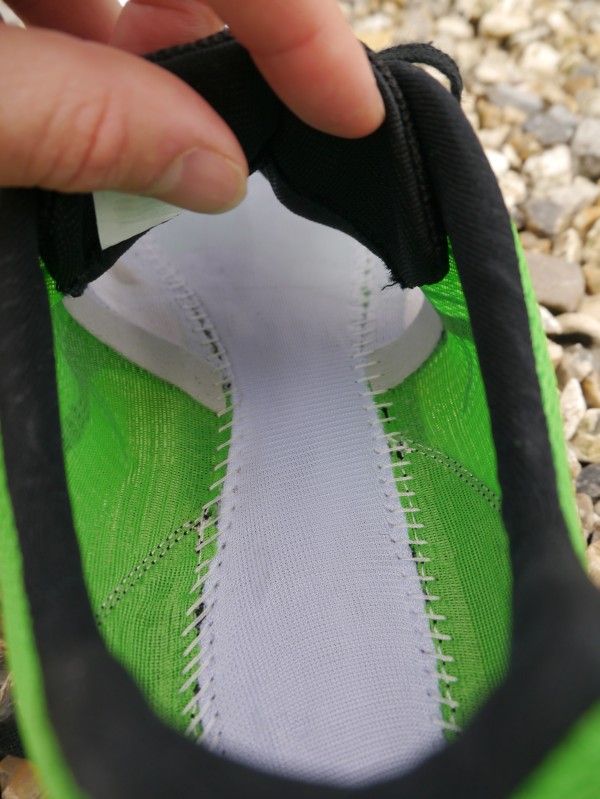 The insole is very thin down the middle of the foot, but around the outside edge, arch and heel it is built up a little, in an effort to keep your foot in the right place rather than provide any support. I considered cutting the insole away around the arch, but I didn't notice it while out running, so didn't bother. There is a little padding around the ankle entrance which does a good job of keeping debris out.
The toe-box is large for this type of shoe. For comparison to other shoes I've been using recently, it's not a wide as Vivobarefoot, but it's similar to the Wave Universe 5 and wider than the Takumi Sen 3 Boost (a similar racing flat). This is a major plus point for me. At no point did my toes feel cramped or rubbed; they had plenty of room to spread and feel the ground through the shoe, both on landing and lifting.
The upper has only a few nods to structure until you reach the back, where there is a heel counter which feels firm in comparison to the rest of the upper, but only because the rest of the upper is a thin sock-like mesh, with leather-style reinforcement around the toe and a welded section on either side of the midfoot. Overall, the upper is a little more structured than the Universe 5, but barely.
There is a very minor toe-spring, where the sole curves up a bit at the front.
Size and weight
Mizuno don't make a size 11.5UK and after trying on a size 11UK Mizuno Inspire at The Run Company in Chichester, and finding it to be too small, they ordered me a size 12UK. The 11UK worked in the Universe 5 because it is so sock-like. For reference, I use size 12UK Takumi Sen 3 Boost and 11.5UK in Saucony Peregrine 4.
As expected with this sort of shoe, when they arrived, it felt like the empty box trick… My size 12UK weighed in at 179g. Not as radical as the Universe, but for something with this level of cushioning, it's still mightily impressive.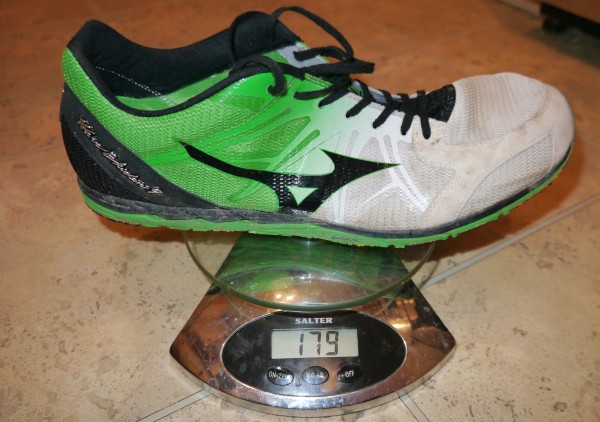 Grip profile
The sole is all kinds of madness to look at! I'm sure a lot of thought went into it, but mostly it appears to be an exercise in weight reduction. What I can say is that it has a similar level of grip to the Takumi Sen Boost 3 sole on-road and shows no sign of wear after 70 miles. Off-road, it has slightly more grip as long as it's dry. On grass, it's far better actually. It's totally inappropriate in the mud though, but clearly not what it's designed for. The heel has a built-in stone-catcher(Tm) which did the job immediately on the chunky gravel of my driveway, but I've never had anything lodge in there during an actual run!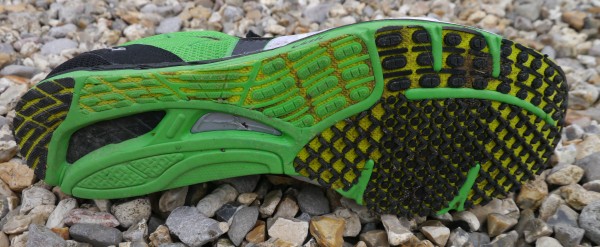 On the road
Due to reports from other runners in the community, I was fairly confident that I'd like this shoe before it arrived. However, there's always the chance that an untested shoe ordered blind doesn't fit the bill, but fortunately in this case, I can only praise it. I normally find something I can say to improve a shoe, but not this time. I've done a variety of runs in training in the Wave Ekiden 9, all the way from 1 mile intervals, through 10k, 15k, 25k and a full marathon. When I first tried them on, the shaped insole took a bit of getting used to, but that was just while walking. As soon as I broke into a run, with the foot landing in the shoe naturally, it felt right, with the large toe-box combining with the light-weight to make it a joy to run in. In corners, it behaved much better than the Universe 5 too, with just enough structure to keep you railing round rather than slipping across the sole. In the intervals, the grip and light weight made them perfect. At 10k race pace, they felt the most at-home, promoting a soft but swift running style, with a little tap from the sole features as they go down, making it easy to pick the knees up and then drive down with the glutes. I expect I'll be using these in my next 10k road race.
For forefoot runners, they land softly due to the flexible front end and then snap back off again when the heel touches down, so it's easy to keep ground time to a minimum.
For heel-first runners, they roll smoothly through from heel to toe, with a more uniform feel than the Takumi Boost presumably because of the single material type.
Off-road is not their raison d'etre, but they have more cushion than the Universe so can be used off-road at speed without too much worry of bruising from sharper stones. The main worry is getting that pure white toe area dirty! I used them to be first finisher (winner!) at the Chichester Parkrun, most of which is on grass, for which the forefoot grip profile is excellent.
At slower speeds on longer runs they showed they were up to the job too. I jogged round a marathon in 3:42 which is 40-50 mins slower than marathon race pace and at the end, my feet were great with no blisters or rubbing. I could have gone on for a few more miles in comfort.
So then, a versatile race shoe that can be used in training too. Anyone with good form that likes to feel the ground flying past underneath their feet should consider the Ekiden.
---
Thanks for reading. If you'd like to
get better at running, then press here
to check out Runningversity.com. There are online running courses and running coaching options available.
---
If you have any questions or if there is a product on this page you own and you'd like to add your own thoughts, then please use the comments box at the bottom.
We aim to provide unbiased feedback that we hope is useful to both manufacturers and consumers alike. Disclosure: we may earn a lead generation commission from purchases made after following links from our site. This does not affect your purchase experience in any way and allows us to keep this site running.