I tried on a pair of adidas XT4 trail shoes last year at my local running shop, but in my large size there was an uncomfortable fold that dug into the top of my foot so I decided not to purchase. However, many fellow runners with smaller feet raved about them for muddy trails and I was ever so slightly jealous. So when adidas were kind enough to send me a pair of the new XT5s, I was a little apprehensive, especially since they were expecting me to quickly wear them in and use them while running in their team at the 2014 TR24, the 24 hour Thunder Run race in Derby. On arrival, I opened the familiar black, white striped box and had my first view of them in the flesh. First things first. Coolest laces ever! Black, with bright green T shapes, they really brought a smile to my face and to my son's who said they looked like crocodile scales!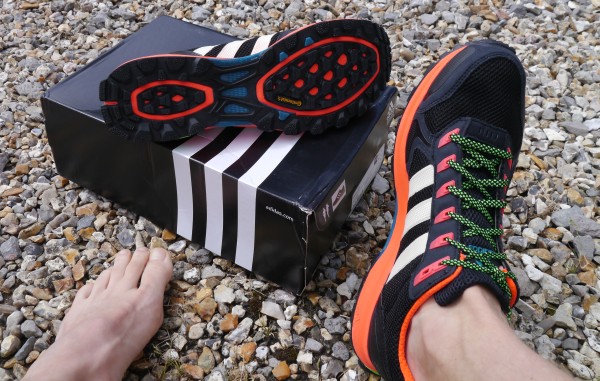 Fit and weight
The size 12 is a good fit for me. For reference, I wear a 12 Energy Boost, 11.5 Adios Boost 1 and an 11 Virrata 1. It's quite a narrow fit on the upper – I have narrow feet and did not have to pull the laces tight like most shoes.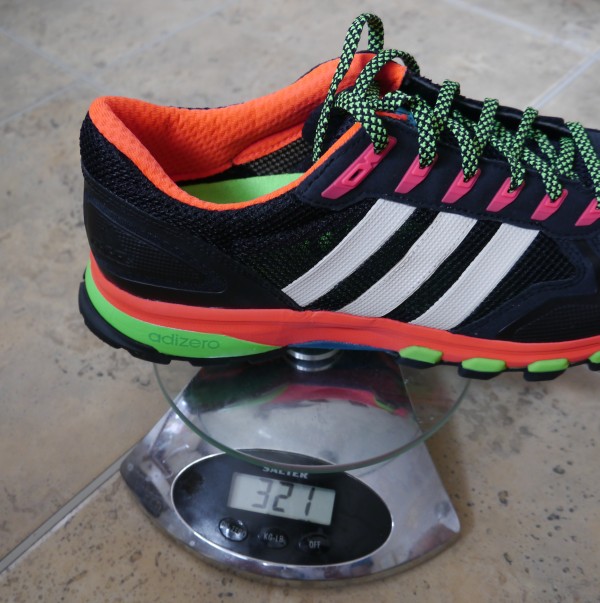 My size 12s weigh 321g which compares favourably to similar shoes like Salomon's S-Lab XT 6 (even has a similar sounding name!)
It's 5% lighter than the previous XT4 model.
Target
The audience for the adidas XT5 is trail runners tackling more technical trails, and a 10mm drop. Being part of adidas' adizero range, it's for people focusing on weight rather than structural support or element protection, whilst still providing a decent amount of cushioning. However, I believe that anyone looking for a traditional trail shoe could use this on most trails.
Micromesh
The upper is made of micromesh which is breathable and lets water drain out if need be, whilst preventing dirt from getting in (see pic below where the sun is shining through easily). The tongue is also very thin mesh to reduce weight and increase breatheability. This is all probably just as well because during the Summer months, I've found it to be quite a warm shoe, comfortable up to 10 miles. However, I expect it to travel longer in the Winter months. What you gain though is protection around the toe area, so no worries about getting scraped on the sides of rocks, or at the front of the toes when ascending.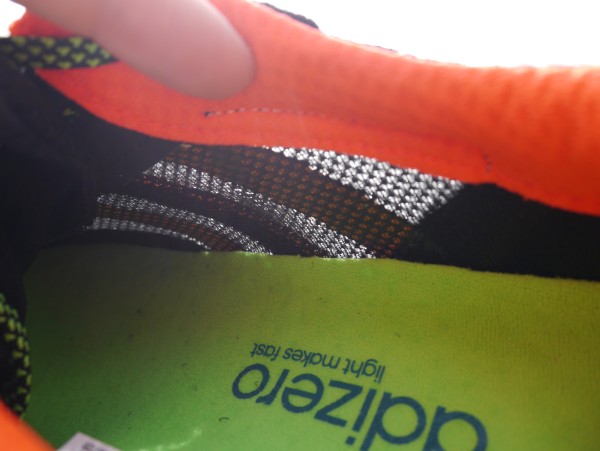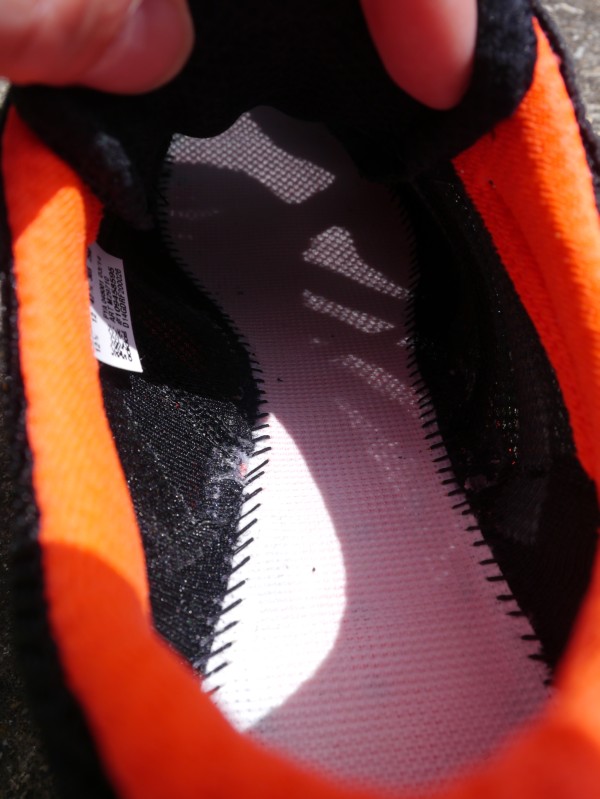 The heel counter is quite structured and and firm.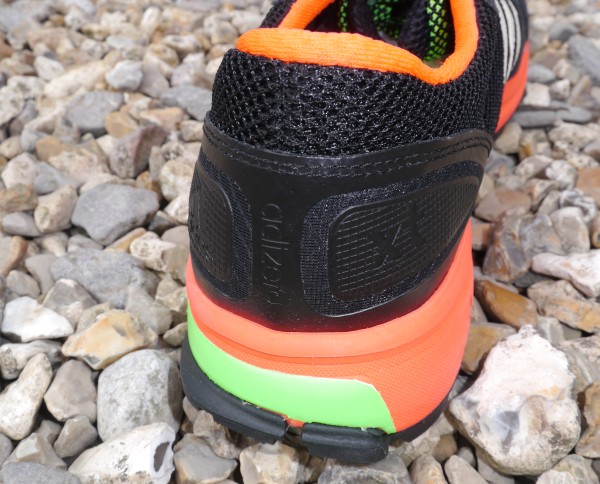 The grip
The previous XT4 model had quite long widely spaced lugs, but for the XT5, the grip profile has changed to a much more all-rounder approach. There are a similar number of lugs around the edge, but they are shorter. The centre areas on the heel and forefoot have smaller, closer-packed lugs with stepped holes in between. This makes it easy to run comfortably on paved surfaces and has superb levels of grip on stoney, gravel or hard-packed paths. Unfortunately for this review, Summer has been good to us this year, so I have not been able to test it in proper mud yet – my guess (from looking at the profile) is that it will have less grip in mud than the XT4, but will still be competent. I will edit this review once winter and rain arrives. Edit: see below for additional mud information.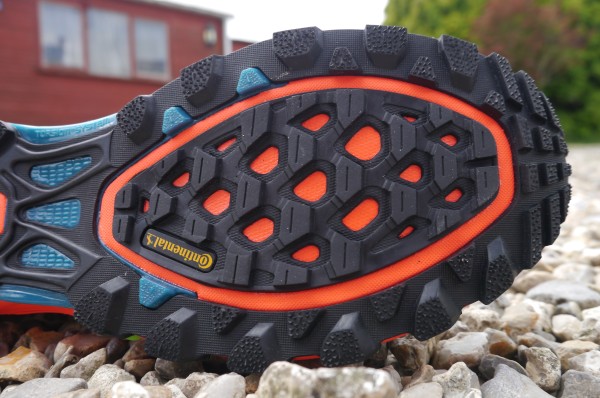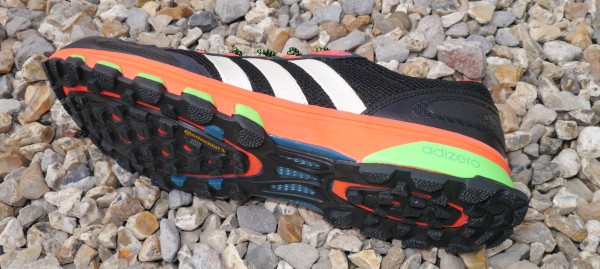 On the trail
First impression when heading off to the nature reserve for the first time was of a very stiff sole. I normally like something flexible and with trail-feel so if this is you too, then you'll be pleased to hear that by the end of a couple of runs, it had thankfully softened up a lot, so that the forefoot could flex easily. The midfoot and backward is prevented from flexing much by adidas' Torsion System. For comparison, it's a firmer setup than the adios boost torsion setting and also works as a protection for the arch, so if you land on a protrusion like a rock or root, the shoe shrugs it off. It slides along wet roots easily if you catch them in the midfoot though, so beware.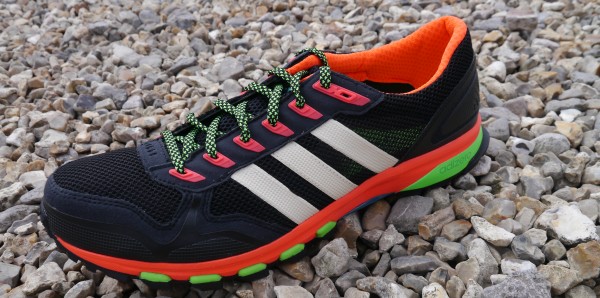 I used them during the adidas Thunder Run, which is a relay of 10km loops incorporating a wide variety of terrains, surfaces and inclines. It was certainly easy to run fast around grassy corners and to change direction quickly in the crazy-technical rooty switch-backs of the wooded section. Cambers were tackled with confidence and downhills were just as easy as uphills. After some daytime laps in the blazing heat, I switched to a more minimal shoe for comparison during the night. Coming back to the XT5s a bit later in the race with legs starting to get tired, my body appreciated the cushioning and comfort, and proved that the grip in the dry is top notch.
However, they lack some excitement due to changes in the design. The heel drop has increased; the XT5 has a 10mm drop , but the XT4 had a flatter 6mm drop which really made it stand out from the mainstream crowd and going back up to 10mm is an odd choice. They are part of the awesome adizero range and whilst they are definitely light for a trail shoe with this level of grip and cushion, I believe adidas could take it a step further, either by modifying the shoe or releasing a companion shoe with a flat profile, less cushion and keep the grip. I'd buy it in a flash. The XT4 was going in a good direction and the XT5 feels like playing it safe. Most trail runners looking for a 10mm drop cushioned shoe will be happy with the XT5, but the adidas Kanadia has 11mm drop and is only 30g heavier, whilst being substantially cheaper.
If you have the cash, then it's a competent shoe – an incremental upgrade worth grabbing over the Kanadia, and the new grip profile is excellent as an all-terrain shoe. I'll add mud capabilities over the coming months.
Edit: Now that the dry season is ending, I've had the chance to try these in the mud. They were great on thicker firm mud and wet grass, but had no grip on slippery mud, filling up and refusing to shed, picking up stones too. Even after 500m of tarmac, the heels still had not shed. So to summarise, not so good for muddy trails, but good for drier or rocky trails.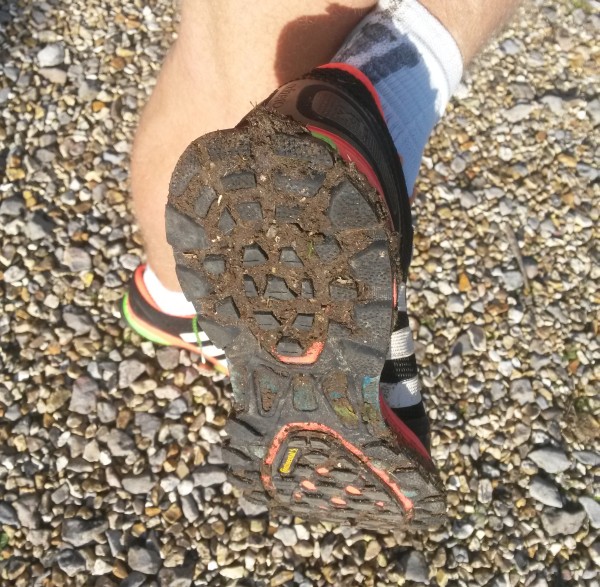 If you like adidas products, you can follow them on Twitter here.
---
Thanks for reading. If you'd like to
get better at running, then press here
to check out Runningversity.com. There are online running courses and running coaching options available.
---
If you have any questions or if there is a product on this page you own and you'd like to add your own thoughts, then please use the comments box at the bottom.
We aim to provide unbiased feedback that we hope is useful to both manufacturers and consumers alike. Disclosure: we may earn a lead generation commission from purchases made after following links from our site. This does not affect your purchase experience in any way and allows us to keep this site running.