One of the great things about the Internet is the availability of the "Hive Mind". You can ask a question and it will reach a lot of people. However, while reading the responses, you have to be aware of a) the background of the general audience you asked and b) the background of each individual who answered. Fortunately when I asked for advice on a shoe with a little cushion, zero drop, no arch support in a Barefoot and Minimal Running group on Facebook, they came up trumps with lots of great suggestions. I finally went for the Saucony Virrata. Yes, I know the Virrata 2 was already out, but since I was delving out into unknown territory, I went for the one that was on Sale. My normal running shoes up till now have been 10-13mm drop cushioned (e.g. adios boost), or zero drop / zero cushion (e.g. FiveFingers or Xero), so I was interested to try out this zero drop / some cushion variant.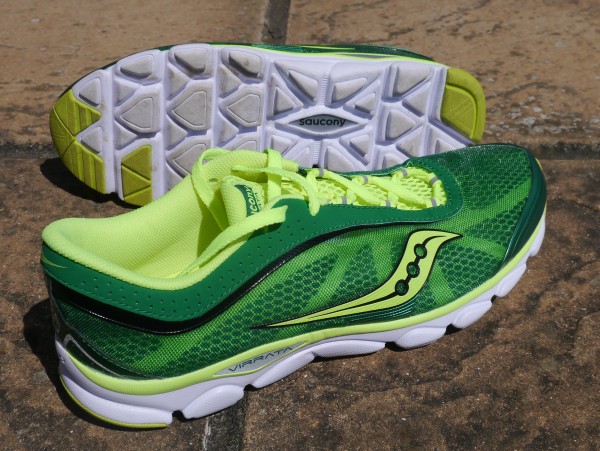 Who's it for?
The Saucony Virrata is a lightweight shoe with a degree of cushion and minimal overtones, so it's aimed towards the race end of the running audience. The zero drop means you have to be comfortable with running in flat shoes and if you require some sort of structure to keep you from wobbling about, look elsewhere because this is for people who want their feet to be strong and stable without intervention from the shoe.
Weight and fit / size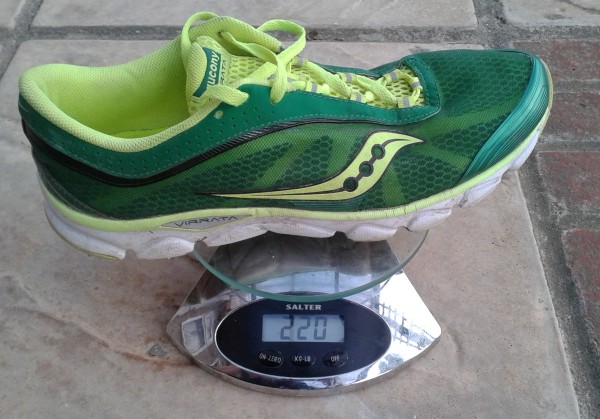 It's surprisingly light. Only 220g for my size 11UKs on my scales. For reference, I wear a size 11.5 adios boost and size 12 energy boost.
Dual-layers and Triangles
The Virrata upper is an odd dual layer construction: one piece mesh on the outside with a more sock-like stretchy inner. It's very breathable, with my feet staying comfortably dry in all but the hottest of weather. There is very little structure to the upper, which is one of the things that attracted me to choosing this shoe. Even around the heel, there is almost no reinforcement, so it's suitable to say it fits like a glove. As usual, I needed to lace it up tightly for my narrow feet, but this did not warp the shoe as it sometimes does on shoes with harder upper materials. This is a major plus feature for me! There is only a small amount of toe spring – again pointing towards its minimal / natural running ethos. If I had to suggest improvements, the only ones I could think of would be a slightly wider toebox to leave my toes completely free to do their thing (but it's by no means tight) and reduce the amount the sole sticks out around the ball of the foot for a more natural foot plant.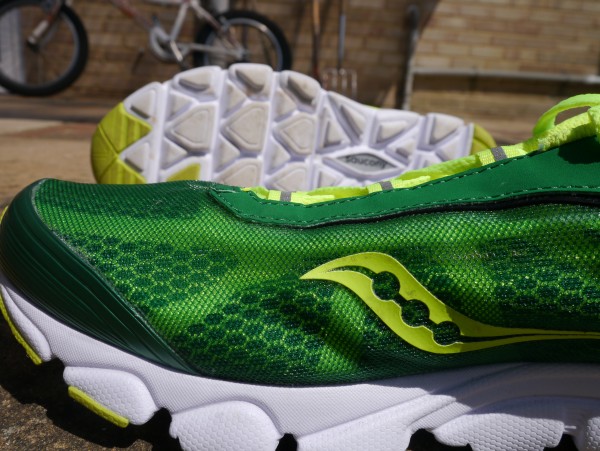 The sole is a strange beast. It has triangular shaped lugs that allow it to flex and bend in all directions. This does an amazing job of letting the foot map to surfaces – obviously not to the same degree as a minimal shoe because there is still plenty of cushion here, but that's the whole point of the shoe; minimal apart from the cushion. There is the same amount of EVA under the forefoot as the heel, so it's a zero drop shoe. There is almost no carbon rubber, apart from a patch on the heel and toe. It keeps the weight down, but it leads to the only point about the shoe for which I can find a negative – being zero drop, most people using it are going to be mid-foot or forefoot strikers, so the outside of the forefoot is going to experience the most wear, but the lugs here are small and without a carbon rubber protection. Mine have worn quite significantly in this area after 240km (mostly road, but maybe 80km of trail thrown in). The rest of the lugs are wearing much better than I expected though – if it wasn't for the wear at the outside edge, I'd say they would last 500-600km, but I think I'll be lucky to see 400km before it becomes fairly uneven through the landing. For reference, I weigh 70kg and run very softly. Whether this actually will actually make a significant difference or not, I can't guess, but I'll do an edit once the mileage ramps up to report back. EDIT: After 600km uneven wear has not become an issue – I ran a marathon in them this morning and got a PB (3:14). Looks like a fair bit of wear still to go!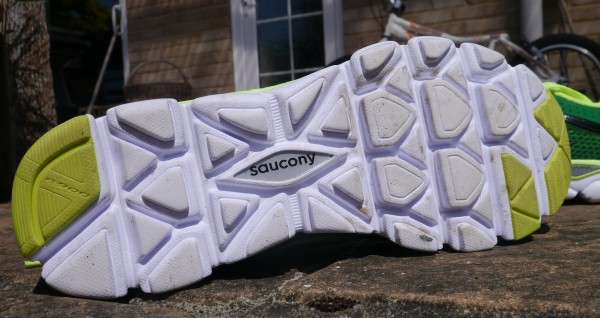 The gaps in the lug pattern pick up small stones off road, but because it flexes a lot, they fall out again quickly in most cases. It's a rare occasion that I have to stop and to flick anything out. The foot entrance is quite puffy and snug when laced up, so I've never had anything make its way into the shoe while running. Perfect.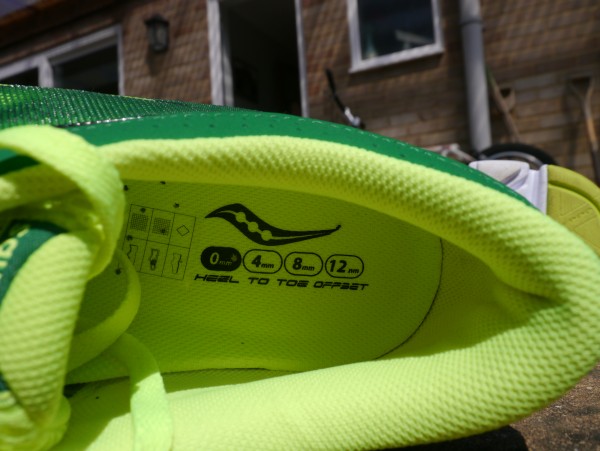 The shoe doesn't actually look zero drop when viewed from the side – somehow Saucony have made a disguise, so it looks a little like a drop trainer. Overall, I love the look of the shoe. The green could have been a bit brighter, but the swooping lines are pretty awesome.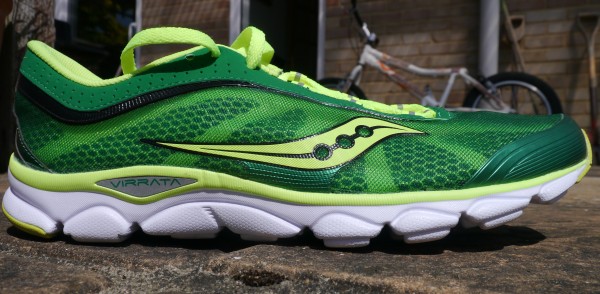 On the road
The Saucony Virrata is fun to run in, born of the sole's ability to flex and flow with your feet. Even though I expect it's designed as a race shoe, I've used it extensively during training, with runs up to 22 miles at a time. They do have a tendency to make you want to run a little faster than your training might have specified for a particular day though :D The cushioning, whilst flexible is firm, so you'll still need to focus on running form, keeping smooth and soft. If you crash down with every step, I can't recommend this shoe to you, but for its target audience of people moving towards efficient, faster races, whilst still having a little cushion in their shoe, it's ideal.
My feet welcome the glove like fit every time and by the end of even the long runs are still fresh and ready for more, even if my lungs aren't! The sole looks a little wide at first glance, but the flexible lugs mean that, instead of destabilising you on rougher surfaces, they just dig in and form to the ground without fuss. I don't think it's designed to be used off road, but I tried it on a variety of surfaces including sandy mud on a steep hill on which it had just about enough grip to keep me upright and making progress, so it's possible to include sections of wet trail to your road run if need be, but if it's not already obvious, it's in its element on paved roads and hardpack.
So thanks to the wonders of the Internet Hive Mind, I'm loving these Saucony Virratas. If you are the target audience, they are pretty much perfect.
If you like Saucony products, you can follow them on Twitter here.
---
Thanks for reading. If you'd like to
get better at running, then press here
to check out Runningversity.com. There are online running courses and running coaching options available.
---
If you have any questions or if there is a product on this page you own and you'd like to add your own thoughts, then please use the comments box at the bottom.
We aim to provide unbiased feedback that we hope is useful to both manufacturers and consumers alike. Disclosure: we may earn a lead generation commission from purchases made after following links from our site. This does not affect your purchase experience in any way and allows us to keep this site running.