After a weekend of racing in the Inov8 Trailtalon 250, it's time for a review. These are some seriously impressive trail shoes which can be used in a multitude of situations. I've used them in two fast 5k trail races and have trained in them up to 20 miles runs (90+ miles total and counting). I'm considering using them for the Centurion Running South Downs Way 50 next year.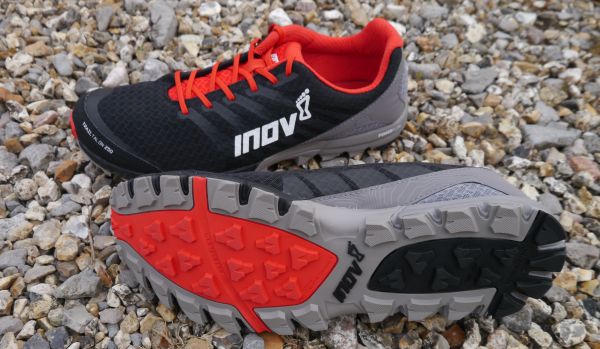 Who are the Inov-8 Trailtalon 250 reviewed here for?
The Inov-8 Trailtalon 250 are for anyone looking at a minimal trail all-round shoe with a decent amount of toe wiggle room and a low drop. Inov-8 say it's designed for hard-pack trails, but it's capable in muddy sections too as long as it's not too sloppy. The official Inov8 page is here.
Size and weight
This is only my second pair of Inov-8s and I remembered from the first pair that they are slightly larger than adidas, so I ordered UK11.5; for comparison, my Takumi Sen are UK12. The numbers in the Inov-8 shoe names refer to the weight. In my size, they weighed 286g, so a fair bit less than the Peregrine and a lot less than the Kanadia.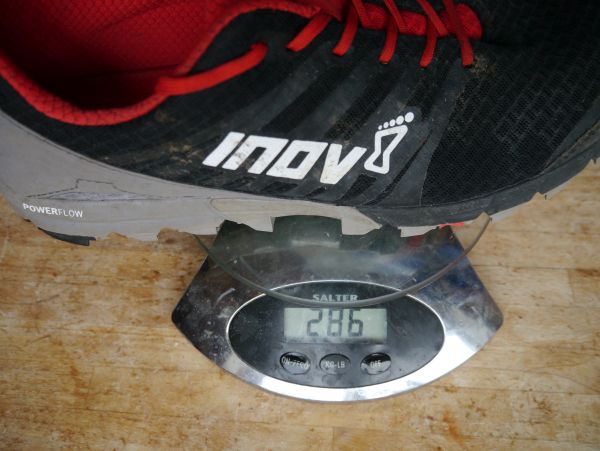 Construction and Stats
Trailtalons come in two flavours: 275 and 250. The former has a higher drop and stack. The Trailtalon 250 reviewed here has a 4mm drop with 17.5mm stack at the heel. One of the reasons for going for an Inov-8 like this is that the toe box is more foot shaped than many other brands. The toes have room to splay on ground contact. In my experience, it's more room than most trainer brands go with, but not as roomy as something like a Vivobarefoot.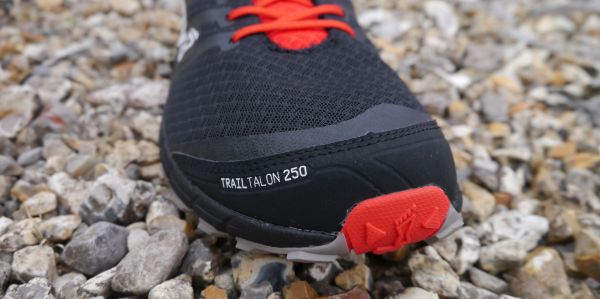 However, for downhill use off-road, too much toe box space can be an issue, leaving a lot of room for the foot to slide forwards. To counter this, The Trailtalon 250 has a very snug lace system which keeps the top of the foot securely in place. It means you have to loosen the laces a fair bit each time you put the shoe on, otherwise you can't get your foot in, and the laces don't move easily, but this is a good thing.
The lugs are 4mm, so they aren't deep, and can be used on road if need be. Across the forefoot, there's the "Metaflex" groove, which lets the shoe bend easily with the natural movement of the foot during landing and toe-off. You can't see it, but it also has the "Dynamic Fascia Band" which purportedly provides propulsive assistance.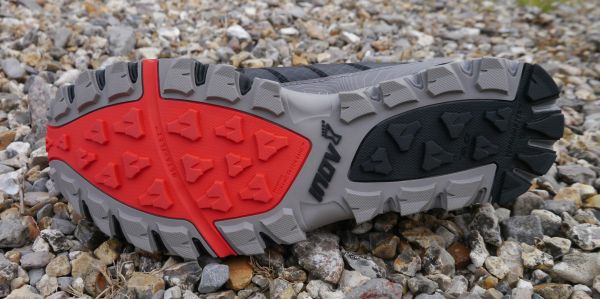 There is no heel counter to speak of – the whole heel part of the upper is very soft with little structure, which is fantastic in my opinion – over time, I've come to see rigid heel structures as wasted weight.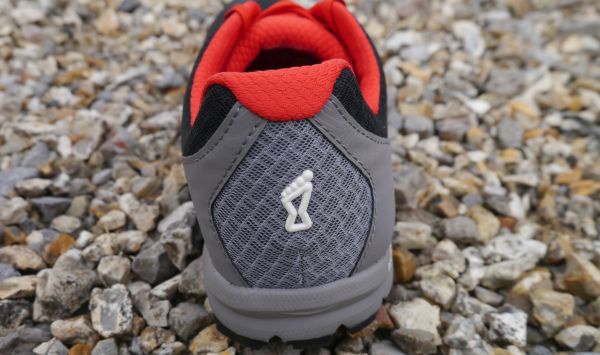 Out on the Trail
My first run in these was a fast 12 mile hilly trail in the South Downs. They were a little warm for the weather (18°C). However, they certainly gripped on the hard, dry, stony, chalky trails. Basically they were in their element and I knew immediately that these were something special. There is no rock plate, so you can feel everything under the forefoot area. If this doesn't sound good to you then walk away, but if you like to know exactly what the ground is doing and like the early warning factor of proprioception then you'll love these. You can feel when the ground is uneven or loose. I did hit some big, sharp stones and there was just enough there to prevent any bruising, something I was worried about at first when I realised quite how much feel they have.
Then I used them for my first Canicross race weekend (average of two 5K races). I run with my Husky. He is attached with a bungee line to a belt on my hips. The first 2KM is always nuts while he really pulls hard. For reference, on road, I do a 17:20 5K. Off-road around some daftly twisty switchbacks, on patches of slippery shallow mud, loam and wet grass, we managed 18:20 in one of the races and it felt fast, especially when going around the sharp corners – it feels like I'm being swung around like a conker! The grip was sensational and the light weight was a boon. We won our category!
Something else I've noticed is that I haven't had any debris. Inov8 mention this on their website ("integrated gusset tongue" and gaiter hooks), but it's not just marketing – the ankle padding and tongue really do a sterling job of keeping out the crud. I ran 20 miles along the South Downs Way and not a single speck to worry about. Even running into the surf-churned sand at the beach is worry-free, whereas the same trick in Takumi Sen means taking them off and shaking the sand out (yes, I have tried – my dog needs dipping in the sea to cool off, so many runs involve wet feet…)
The Trailtalons do drain well when wet. The mesh on the upper goes all the way around near the forefoot, so that moisture can seep out of the sides. The forefoot has a protective layer over the tip of the toes, but unlike some other shoes I've tried recently, this does not interfere on the inside at all, so there's no rubbing. In fact after a relatively fast 20 mile hill run, there was no blistering or heat build up anywhere, which is confidence inspiring for longer distances.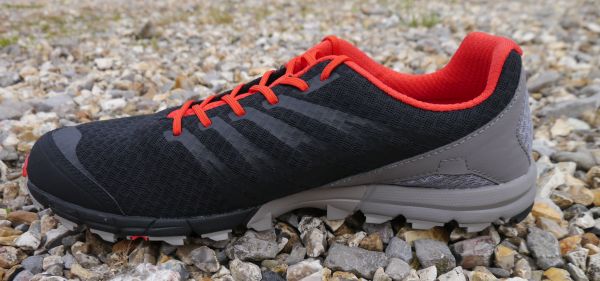 Although the drop is only 4mm, the heel has significantly less feel of the ground than the forefoot – good news for people that land on their heels. You can happily pound along in these if you want.
In deep mud, they are hopeless as you'd expect, with not enough lug depth to gain proper traction, but what is impressive is the way the lugs shed. There is a lot of fine dirt next to the fields on my normal route which when wet sticks to my Peregrines, quickly turning my shoes into giant mud encased boots heavy enough for diving! However, the Trailtalons shrugged it off, never getting any more than a lug depth of mud. I'm not sure what trickery is involved here, but they are almost as good at shedding as my old adidas fell shoes.
In my time with the Trailtalon 250, I've quickly become a massive fan. They are the best all-round trail shoe I've ever tried. I can normally find a some area of improvement for a shoe, but I've got nothing on these. The combination of grip and light weight makes them suitable for almost all surfaces. The way I can feel the trail through the forefoot is spot-on. The shape of the forefoot is nigh-on perfect, giving good room for toes to do their own thing, whilst the rest of the upper keeps the foot firmly in the right place, with no sliding around inside. They are equally at home at 5K speed as they are at plodding along 50 mile speed. Recommended!
---
Thanks for reading. If you'd like to
get better at running, then press here
to check out Runningversity.com. There are online running courses and running coaching options available.
---
If you have any questions or if there is a product on this page you own and you'd like to add your own thoughts, then please use the comments box at the bottom.
We aim to provide unbiased feedback that we hope is useful to both manufacturers and consumers alike. Disclosure: we may earn a lead generation commission from purchases made after following links from our site. This does not affect your purchase experience in any way and allows us to keep this site running.