I ordered the Mudhugger front and rear guards direct from their website and they were delivered very swiftly. I was keen to give them a go now that the weather has turned, so I got straight to work.
Weight
Claimed weights are very realistic with the rear showing as 212g on my scales and the front as 64g.
Fitting
The front Mudhugger comes with enough velcro (new style hardcore velcro!) to mount it, although it's not cut into lengths, so some thought might be needed if fitting to wider stanchions, but for my Fox 32s, I was able to just cut it into 4 equal lengths. Two go around the stanchions and two loop around the suspension arch.
At the rear, it should be really easy if you have a normal rear triangle, but on my Trek Remedy, the brake and gear cables run down the rear triangle, so a bit of modification was needed. I hacksawed a small section out from either side and deburred. Then it's back to the standard fitment procedure which involves wrapping strips of protective sticky helicopter tape (included, but not cut, so think first before cutting!) and then securing the Mudhugger with the included black cableties. I needed to use my own cabletie at the top position (see white one in photo) since they included ties weren't quite long enough at this fat-point of the triangle. Mudhuggers: if you are reading this, an extra inch would have sufficed for my bike.
Style
The front Mudhugger is a work of stealth art! I love the way it looks totally natural. The rear Mudhugger is a bit less stealth, although since it's hugging the tyre, it looks better than the seatpost mounted efforts from other brands. From the side it's fairly inconspicuous.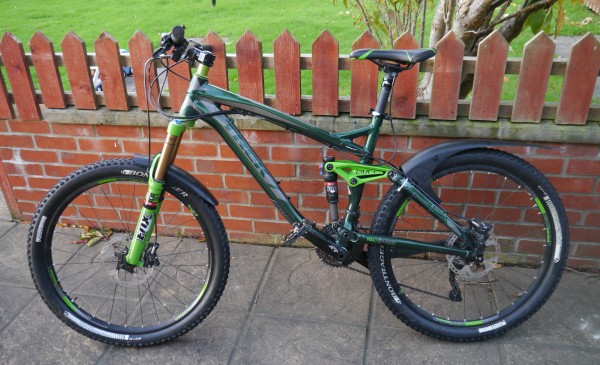 On the trails
The front Mudhugger works well in short puddles and in thick mud. If you fire through long puddles, some spray does somehow get through and hit your knees and shorts, but it's a tiny amount compared to what you would have been splattered by without a mudguard. Almost none reaches your face (occassional dot here and there). As the bars turn, the front Mudhugger stays in-line with the tyre, so it is superior to downtube mounted protection.
The rear Mudgugger is a triumph. At first I thought it was unecessarily long and I considered shortening it, but after trying it on the trails, I can only say that it's working superbly, so best not to! In a 90 minute ride, I deliberately sought out regular sections of sludge and puddles, as well as sessioning a section of large puddles, initially with fear and then with a gleeful grin. At the end of it, not a single spot of mud had reached my back, be it on my white jersey, cycling shorts or Camelbak.
They stay in place. This is important. Job done there. They are stiff enough so they don't flap about.
If I'm being picky, the rear is fixed, so at the end of the muddy season, it will need the cableties clipping and then new cableties when fitting at the following wet season. No big deal though. And there is a risk of paint damage if you don't plan your helicopter tape properly, but this is hardly Mudhuggers fault. They've provided the tools and some quality products. They also state on bikes with huge rear ends (Orange 5 etc), you should contact them because they can help set you up with specific versions.
So, the Mudhuggers work, looking pretty stealthy, stay in place, don't waggle around, keep you dry and are reasonably priced. Now I'm thinking I need to replace the mudguards on my hardtail.
If you like Mudhugger's products you can follow them on Twitter here. Their website for info and purchases is here.
---
Thanks for reading. If you'd like to
get better at running, then press here
to check out Runningversity.com. There are online running courses and running coaching options available.
---
If you have any questions or if there is a product on this page you own and you'd like to add your own thoughts, then please use the comments box at the bottom.
We aim to provide unbiased feedback that we hope is useful to both manufacturers and consumers alike. Disclosure: we may earn a lead generation commission from purchases made after following links from our site. This does not affect your purchase experience in any way and allows us to keep this site running.