Gearselected was invited to view the exciting new adidas 2014 range at their Covent Garden HQ in London, so I headed over there to check out the sports gear. The friendly and knowledgeable people at adidas made me very welcome, taking me through all the relevant products and new product innovations.
adidas Springblade
The most radical new piece of tech was the adidas Springblade shoe. Released earlier in 2013 in the US, it adds stiff blades to the base of the shoe, inspired by the blades adaptive leg-amputee athletes have used for running. The shape of the blades means that a degree of forwards bounce can be imparted back to the wearer of the shoe.
 adidas Springblade Women's 2014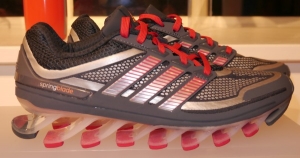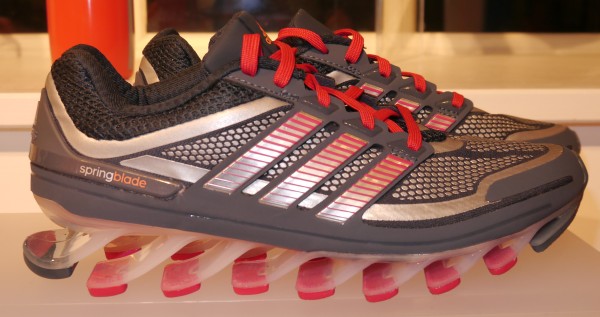 Going for a titanium upper, with red lace, stripe and blade tip details, this women's model looks purposefully space age.
The colour scheme will no doubt appeal to the type of runner buying such a futuristic looking shoe.
Well done to adidas for assuming universal interest in the new technology.
adidas Springblade Men's 2014
The men's Springblade will be available in a titanium upper with yellow details, as well as a bright blue upper with matching blue details. I tried one for a basic bounce around a small room, so not enough to form an impression at how good they will be on a run. Please can you arrange a treadmill next time adidas? Thanks!
However, armed with the Springblade on one foot and a heavy EVA soled shoe on the other, I tried jumping and landing as hard on my heel as I could. The Springblade had a significantly smoother landing than the EVA heel which just thumped down hard. However, the Springblade is still a firm ride – far firmer than you might expect! I'm looking forward to trying them out in anger for a proper run. I suspect they will be for road use only because its abilbity to terrain-follow depends on the exact placement of the blade tips. I did try rapid changes of direction, both sideways and forward/backward and it felt just like a normal shoe, so that's promosing for stability on the road. The main question though is whether any benefit from the blades can offset the extra weight.
Brilliant colour on the blue one – stunning in real life.
 adidas Supernova Glide Boost 6 2014
The next major piece of news is that the availability of adidas' Boost sole technology is filtering down through the range. First to benefit is the Supernova Glide 6. The Supernova Glide is a mid range shoe with a less technical upper than the Adizero Adios, and eschews the normal Glide's Foremotion heel section, instead having a straightforward Boost sole, with Continental rubber outsole.
adidas Supernova Glide 6 Boost Women's 2014
The Women's versions of the Glide come in lilac, white/black (with red details) and a light yellow. The white/black is especially visually striking with a subtle red just visible through the black upper mesh.
adidas Supernova Glide 6 Boost Men's 2014
The mens' version of the Glide come in white/black (with orange detail) and a more subdued yellow than last year's early screaming adizero yellow.
adidas Adizero Adios Boost 2014
My favourite shoe of 2013, the Adios Boost is back unchanged for 2014 apart from colour. Thank goodness for that!
adidas Adizero Adios Boost Women's 2014
The pastel orange and white version that women will get is a bit weak looking, although the heel counter does stand proud at the back. A coloured lace would bring it out of its shell for sure.
 adidas Adizero Adios Boost Men's 2014
In contrast, the men's versions are all kinds of cool, with a tiger orange/black (yes please!) and a rifle green option (a really dark green) which I think will go down well with a lot of people.
adidas Energy Boost 2014
The successful Energy Boost also returns, having shunned expectations that it would just be used by casual runners, with interest shown by all sorts or runners. Little has changed at first glance, but the strength of the heel counter looks to be extended more firmly around the sides of the shoe to the laces with a more substantial frame. Also the Techfit toe area has been slightly changed with a more detailed reinforcement.
adidas Energy Boost Women's 2014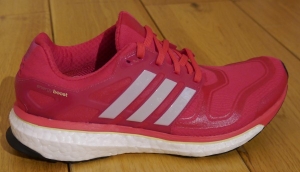 The women's Energy Boost were shown in three colours, so spoilt for choice.
There is a red with red lace option, a brilliant blue with white laces which was the most admired whilst I was there, or black with black laces and a tiny amount of blue detail.
adidas Energy Boost Men's 2014
Also in a variety of different colours for 2014, the Men's Energy Boost comes in a light blue showing the skeletal structure of the upper, a lime green and a seriously eye-popping orange.
Bright as they are, all of these pale in comparison to the last colourway which I can only describe as akin to a zerbra running so fast, it looks blurred. It's bold and is the antidote for those bored with trainer colours. The blue laces look good on it too. Personally I'd like the same but in bright green blur.
I hope you enjoyed looking at some of the new 2014 adidas running shoes. Keep your eye out for follow-on articles looking at the new ClimaChill clothing technology and the emergence of FiveTen's Stealth rubber in adidas' Terrex outdoor shoe range.
---
Thanks for reading. If you'd like to
get better at running, then press here
to check out Runningversity.com. There are online running courses and running coaching options available.
---
If you have any questions or if there is a product on this page you own and you'd like to add your own thoughts, then please use the comments box at the bottom.
We aim to provide unbiased feedback that we hope is useful to both manufacturers and consumers alike. Disclosure: we may earn a lead generation commission from purchases made after following links from our site. This does not affect your purchase experience in any way and allows us to keep this site running.