In this New Balance Vongo 4 review, I'll share my thoughts on how it looks, how it's made and how it performs.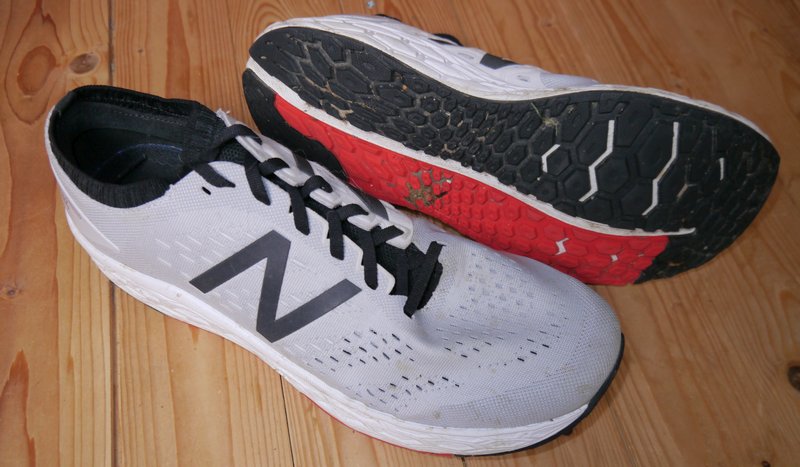 Who's it for?
The Vongo 4 is one of New Balance's mild support road running shoes, so if you pronate enough or knees drop in enough that you need a little support, then the Vongo might be for you. It uses their premium Fresh Foam in the sole, so if you enjoy that bouncy, firm feeling then check it out for fast training sessions and races up to half marathons. Heavier runners might like it for the full marathon too, but lighter runners might find it a little firm.
Size and Weight
I went for the size 11.5UK. See my other reviews to see what I wear in other brands / models.
Weight on the Size 11.5UK came out at 353g on my scales, making them a little heavier than many shoes I've used.
Construction and Stats
The New Balance Vongo 4 heel drop is 4mm, making it a little flatter than a lot of other shoes. However, it's one of the reasons I wanted to try this shoe.
Let's start with the upper. The first thing you'll notice over previous versions is the new knitted collar, so the fit around the ankle is excellent and also does a good job of keeping out debris.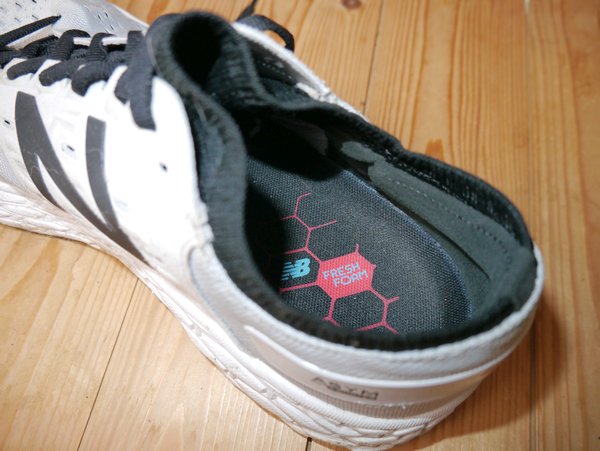 In inner sock continues all the way to the front, instead of the traditional tongue, which is definitely comfortable. There is a breathable engineered mesh over the top, with reflective New Balance logo.
The front has a toe guard in between the two layers, so whilst it's quite firm, unlike other shoes, your toe never has the chance to catch on it.
The forefoot is quite wide in the default width compared to many other shoes, although I have quite narrow feet so what seems generous to me, might seem more snug to you.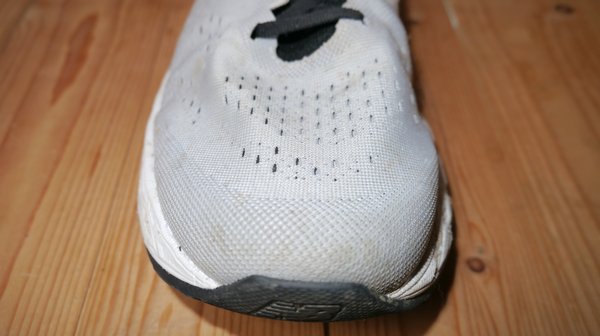 There's a fairly soft heel counter – being a support shoe, I was expecting a much firmer one, although in motion, I never felt it needed more when landing on the heels, and landing forefoot, it was irrelevant anyway. Inside the heel, there's padded ridge that your heel slots underneath, keeping it in place.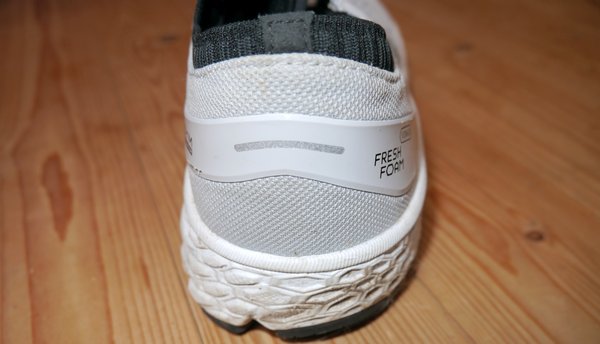 The footbed under the insole is lovely and flat, with no silly ridge or step under the arch, giving it a great feel for anyone with flatter feet. There is a shape to the insole itself, but it's just that – a shape, not a support.
The Fresh Foam midsole used on the Vongo 4 has a guiding groove channelled out of it with the aim of getting the foot to land slightly more towards the outside, slowing down pronation a little, without needing a medial post. I checked it on some other runners and it works.
The outsole is pretty thick – wear is not going to be a problem here and is part of what contributes to the slightly higher weight.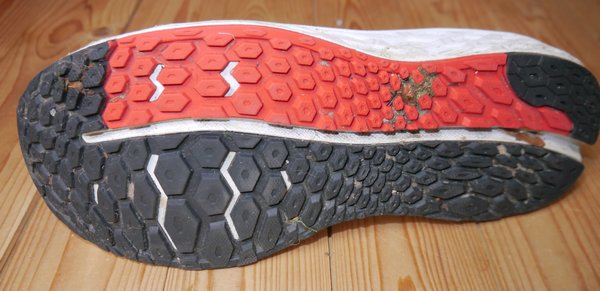 How does it look?
I think it looks great. A lot of people pick the shoe up and think that the outsole is huge in the arch area, but actually it's just a tiny piece of foam that comes up outside the shoe. Your feet sit down inside. The knitted collar looks modern and hex shapes on the midsole look purposeful.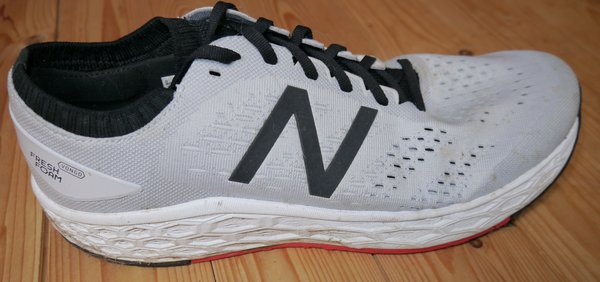 On the road
The first thing I noticed is that the wide forefoot gives a lot of stability, giving a lot of confidence straight away. If you ever feel unsteady in narrower shoes, give this a go.
The 4mm drop is very natural – if landing on the heels, the smooth feeling of rolling through the Fresh Foam makes it easy to forget about and run. If landing forefoot, the firmness of the foam / outsole combination made it initially a little harsh at a medium pace. If I slowed down to aerobic base pace, they felt great, and again it was perfect when I sped up to tempo or faster, so it's just the no-man's land pace that didn't thrill me, but I don't spend much time training there anyway. It did improve as the miles increased, but I'd say I still prefer it for the fast sessions or the very easy ones, rather than the marathon race pace stuff. The responsiveness of the Fresh Foam felt spot on for Fartlek training.
On longer runs, the weight was an issue and I don't think I'd choose it for a marathon, but I'm very light. If you are heavier, you will like it more than me for the long stuff.
I was expecting more grip in the rain than there was. With so much rubber touching the road, it should have more – maybe the compound chosen. In the dry though it gripped everywhere. Even off-road in the dry, grip is excellent with all the little details of the outsole grabbing the trails very well.
So if you are looking for a New Balance shoe with a mild amount of support, or just a fairly flat option with a substantial amount of cushion (becoming a rarity), check out the Vongo 4.
---
Thanks for reading. If you'd like to
get better at running, then press here
to check out Runningversity.com. There are online running courses and running coaching options available.
---
If you have any questions or if there is a product on this page you own and you'd like to add your own thoughts, then please use the comments box at the bottom.
We aim to provide unbiased feedback that we hope is useful to both manufacturers and consumers alike. Disclosure: we may earn a lead generation commission from purchases made after following links from our site. This does not affect your purchase experience in any way and allows us to keep this site running.