In this review of the Saucony Peregrine ISO, you'll learn about who it's aimed it, how the shoe is constructed, and I'll share with you my experience with how the shoe performs on the trails.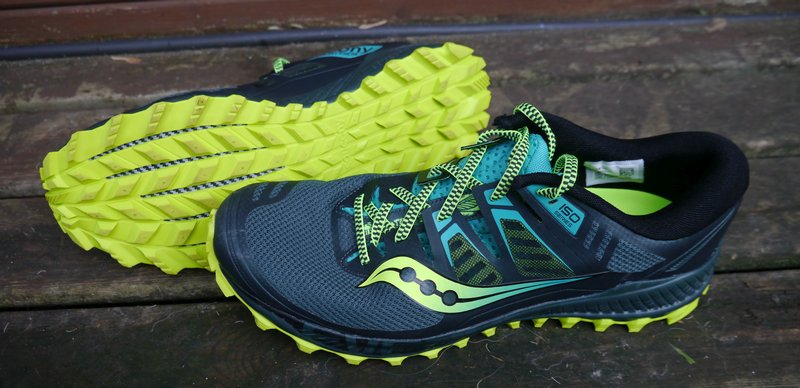 Who's it for?
The Saucony Peregrine ISO reviewed here is an all year round trail shoe with a semi-aggressive lug profile that performs well in a variety of conditions. There aren't many shoes that can perform at a high level both in the dry and in mud, so if you need a magical unicorn shoe that can do everything, maybe the Peregrine is what you are looking for.
How's it made?
Saucony's ethos is to provide a stable base with enough grip and then use a relatively soft upper that allows the foot to do its own thing, without feeling like it's clamped in place.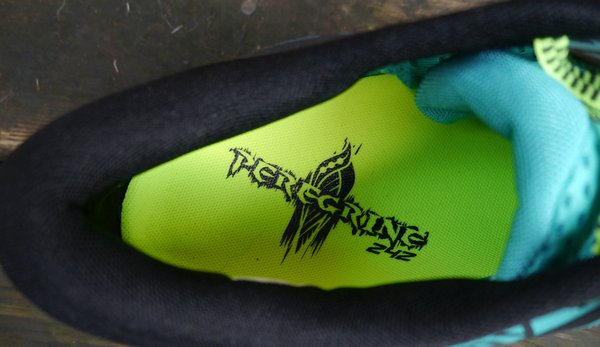 The footbed has a lovely smooth profile without any lumps and bump under the arch. It's relatively flat 4mm drop from heel to toe, making it a great choice for both up and downhill work.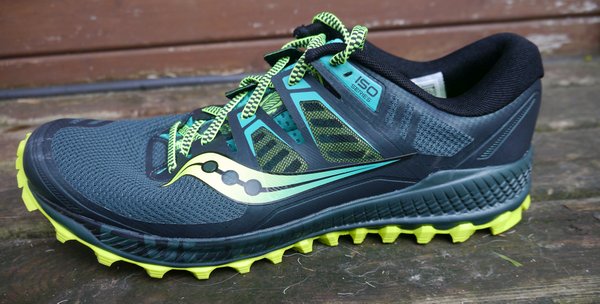 The cushion underneath is comprised of two layers. The EVERUN provides a bouncy feel direct to the foot and the PWRFOAM midsole layer provides more damping.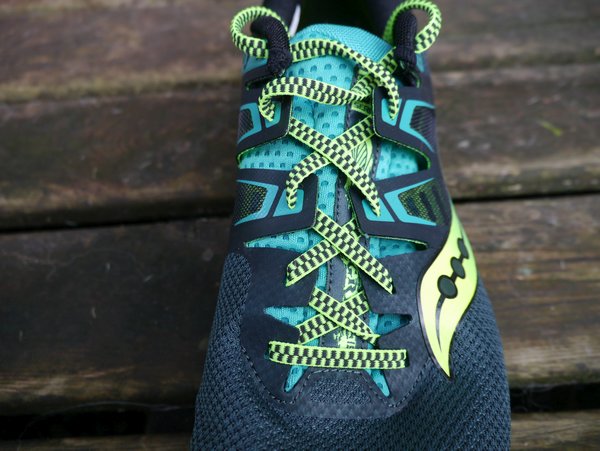 The upper is engineered mesh with a layer of reinforcement weld all the way around the base. The Isofit lace area has been cut so that the different lace sections can move around mapping to the shape of the foot, although I can't say I noticed any difference when used in anger, compared to the Peregrine 8, in how it felt once tied securely.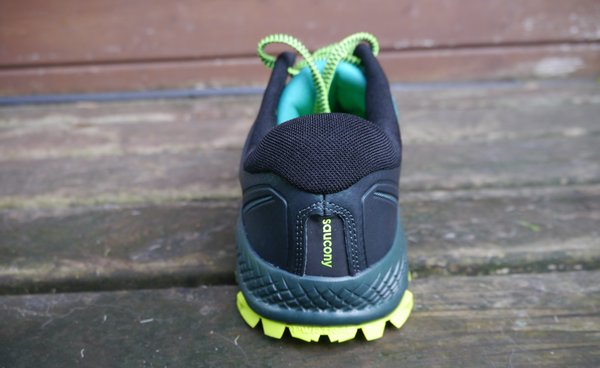 The heel counter is slightly firmer when pinched and narrower than the Peregrine 8, but you are unlikely to notice this when running.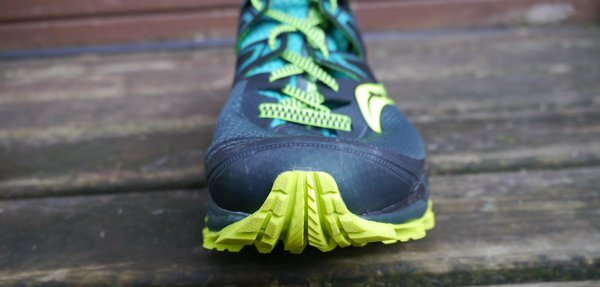 There is a substantial toe guard and the grip profile wraps up and over the front of it. I never noticed the guard was there – it didn't catch on my toes ever and it did the job of protecting my toes. Perhaps the grip up the front could have done with a tiny bit of extra grip on the steepest and muddiest of slopes, but that's when you need a more fell orientated shoe.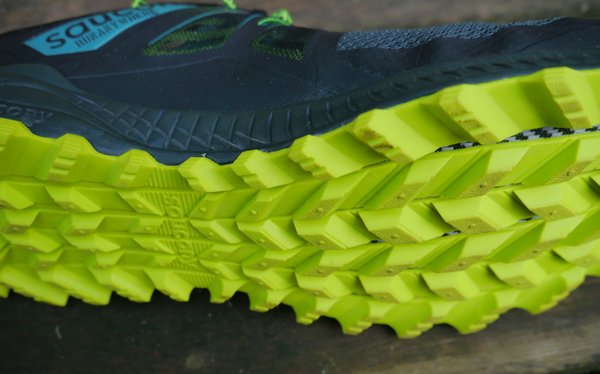 The star of the show (again!) is the fabled Peregrine grip profile. A master of almost all conditions apart from the deepest or stickiest mud, it will cope with almost any terrain you find yourself on. Multi-directional lugs with aggressive cuts and able to move independently from each other. A friend who got a pair recently, having not tried them before, described it as a "game changer". For me, it's just normal because I've been using them as part of my trail shoe rotation for years, so it was good to get some fresh eyes on them!
On the trails
On the trails, the Saucony Peregrine ISO reviewed here is sensational. I've tried it on wet mud, soft mud, frozen mud, puddles, hills, wet grass, gravel, shingle beach and sand.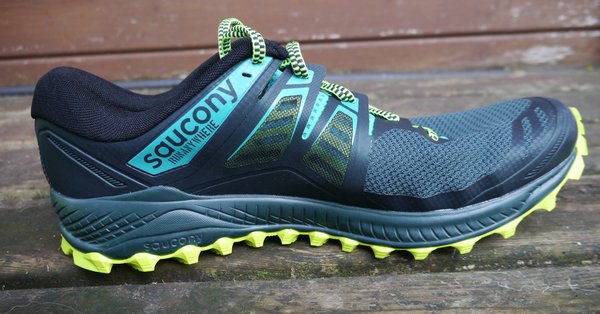 The wide forefoot provides a super stable platform for flying along trails with total confidence. My feet always felt planted with every step on a variety of cambers and slopes, even with the soft upper. A lot of beginners feel they like to have a more boot feel to a trail shoe, but I'd highly recommend giving these a go.
The grip is obviously top class and is what makes it my first choice for when I'm tied to my Husky for a bit of canicross on anything other than dry trails. I need to be able to stop if he sees a squirrel or deer. The grip looks very similar to that on the Peregrine 8, so it will be hard wearing and outlast the upper probably, if that's anything to go by.
The cushion feels a little firm, due to the thin sheet of Everun, but it's easily good enough for a trail marathon and is part of what makes it feel so sure-footed. Ultra-runners might want to look for something slightly softer, but I reckon I'd choose this for my next 50 miler anyway, since I run quite softly (I've done a dry 50 miler in road racing flats…)
I've run thousands of miles in different versions of Saucony's Peregrine and this iteration holds up the legacy superbly. I can't fault it. I am looking forward to seeing what the next version brings, but for now I'm reaching for the Peregrine ISO on every trail run.
EDIT: Sadly, I only got 263 miles out of these before the upper blew through, which is disappointing – I've had way over double that in previous versions.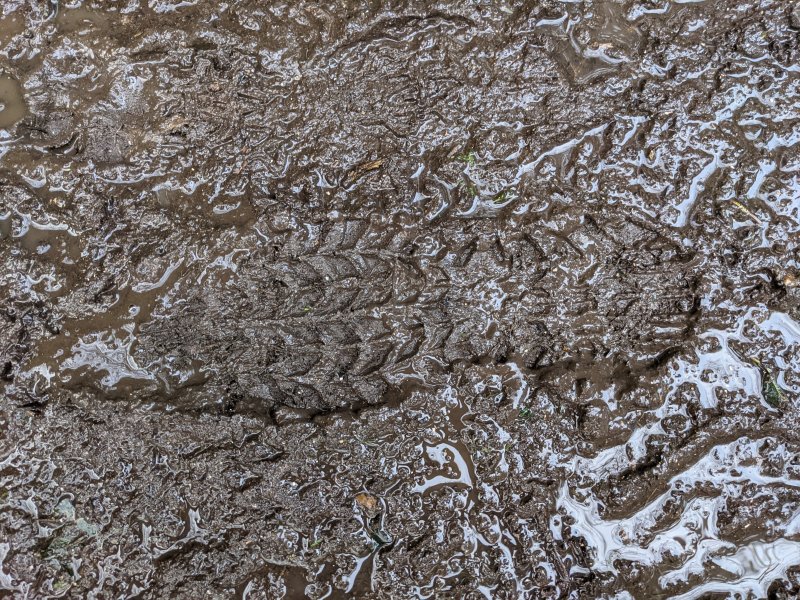 ---
Thanks for reading. If you'd like to
get better at running, then press here
to check out Runningversity.com. There are online running courses and running coaching options available.
---
If you have any questions or if there is a product on this page you own and you'd like to add your own thoughts, then please use the comments box at the bottom.
We aim to provide unbiased feedback that we hope is useful to both manufacturers and consumers alike. Disclosure: we may earn a lead generation commission from purchases made after following links from our site. This does not affect your purchase experience in any way and allows us to keep this site running.