I ran in the second version of On's more aggressive trail shoe in a variety of conditions, from muddy swamp to road, so it's time for a review of the On Cloudventure Peak (version 2). You'll read about who it's for, what's it's like to run in and how versatile it is.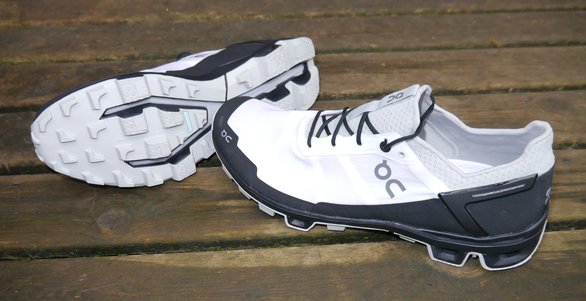 Who's it for?
The On Cloudventure comes in two versions: The Cloudventure and the Cloudventure Peak. The one reviewed here is the more aggressively treaded Cloudventure Peak. It's for anyone looking for a lightweight trail shoe that can perform properly in deeper mud as well as a range of other surface conditions, without the need to go on much road.
How's it made?
Let's start with the outsole and work upwards. The outsole has a few rows of On's trail Clouds, plus some more aggressive traditional lugs at the forefoot, plus a few in the middle.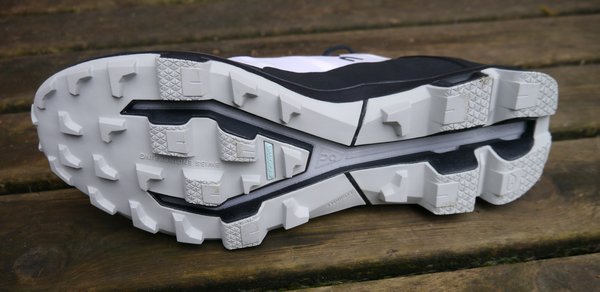 The lug depth is designed to give sure-footing in deep mud and softer loam-type surfaces. The more aggressive lugs at the front make it less suitable for road use. Basically if the trails are a bit messy, this is the right shoe choice.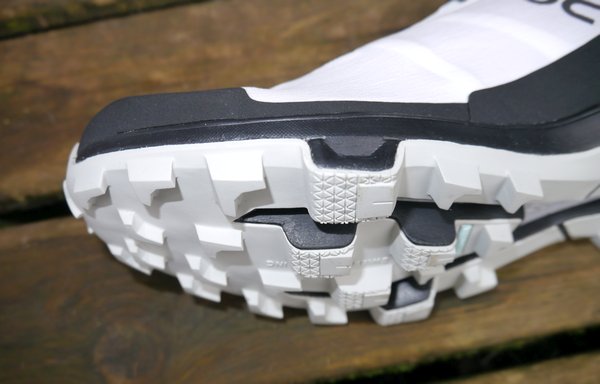 The lugs are attached to the Speedboard which is a plate that provides a decent pop whilst putting the power down and gives great stability on uneven terrain.
Above that, there is a minimal layer of foam cushion.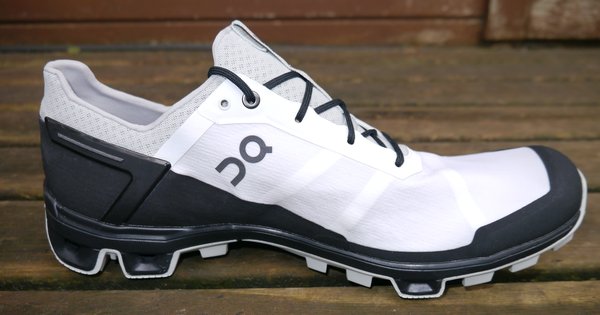 The bright white upper is made of a rip-stop material – a fine mesh weave that doesn't spread once nicked. Because the mesh is so fine, it's actually fairly splash-proof even though this isn't an advertised feature. Just don't get water inside it, because it doesn't drain out easily and the insoles are a lovely soft memory foam material which also retains water effectively. I know this because half a mile of my local trails was waterlogged half way up my calves, so I just ploughed on through.
White though?! The official line is that the designers wanted your runs to paint your picture on to the canvas and tell a story. The only story they are telling for me is that I run in some filthy conditions! Just right for the Peaks. It does look ridiculously cool when brand new.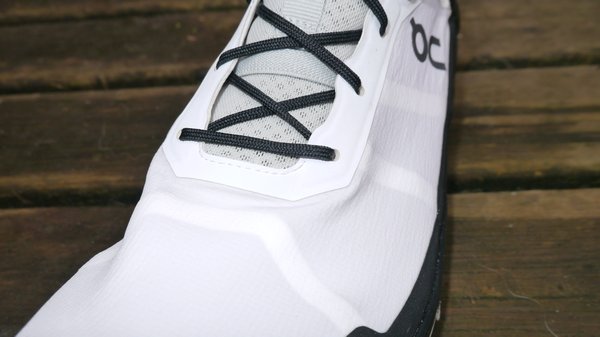 Underneath the rip-stop mesh, the upper is formed without a tongue, so it's like a sock around the foot.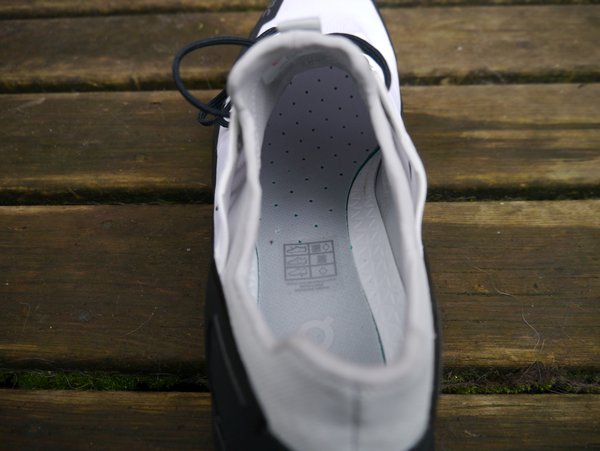 At the front, there's a toe-protector with added grip for super steep ascents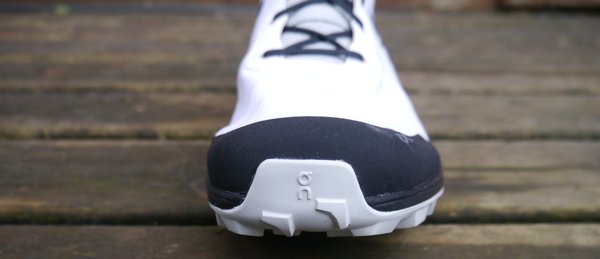 At the back, there's no heel-counter at all. There are a couple of reinforcements around the sides of the heel, but overall, it's totally unrestrictive. Personally, this is how I like it – as a forefoot runner, heel counters are pretty much dead-weight.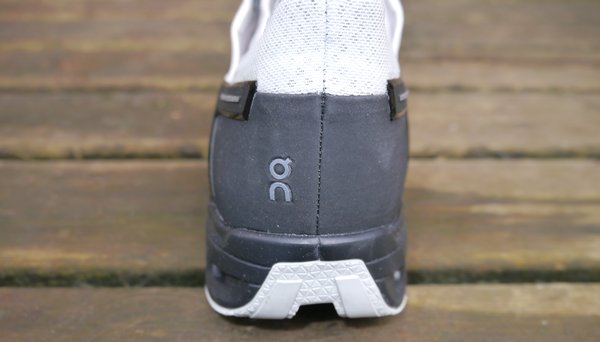 Size and Weight
My size 11s came out at 300g. I normally wear size 11 or 11.5 in an On shoe.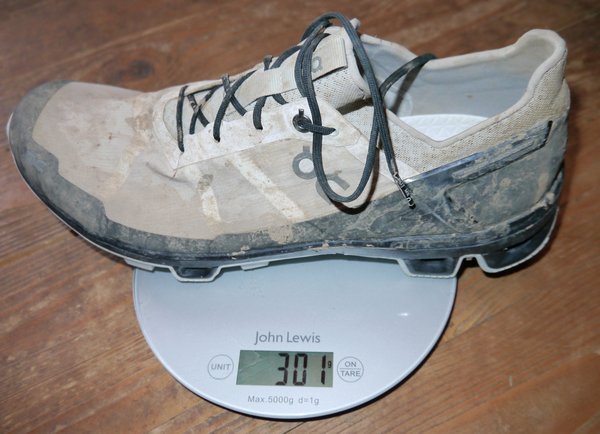 On the trails
I ran on everything in these, for short runs and longer ones up to 16 miles. I covered sand, swamp, mud-bath, sticky mud, soaking wet grass, shingle, gravel, stone and even a bit of road.
The first thing that impressed was the grip. For reference, if I need grip, I run in X-Claw, or if I need an all-rounder, I run in Peregrine. I'd place the grip from the On Cloudventure Peak up near the X-Claw. Running through a slurry of mud, I had total confidence they would find grip somewhere underneath all the mess. Even on cambered surfaces and places, the Peregrines wouldn't be able to quite handle, the Peak's latched on and kept me upright.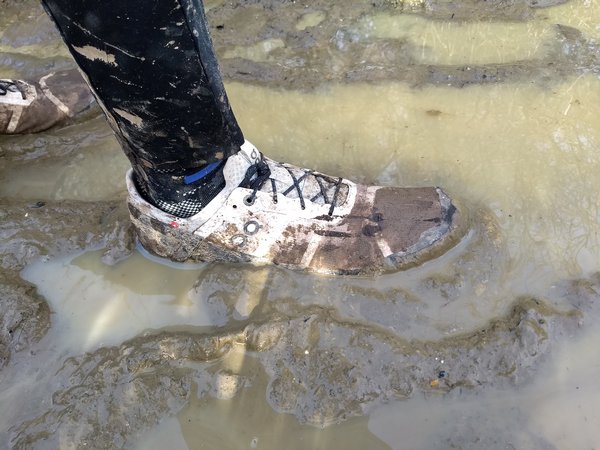 I smashed along some shingle beach for half a mile to see if I could pick up any stones inside the grip profile, but nothing stayed in once I checked on the gravel path at the end.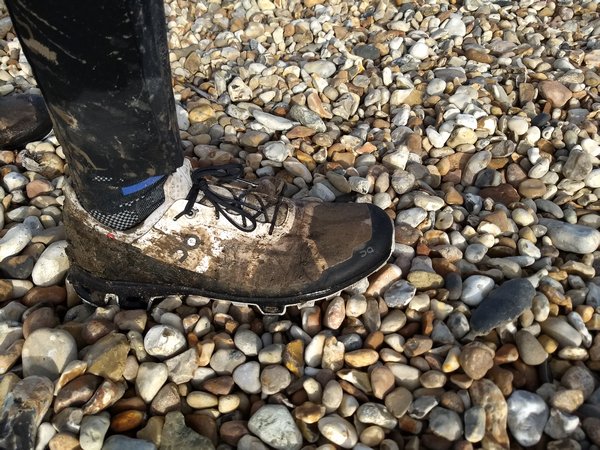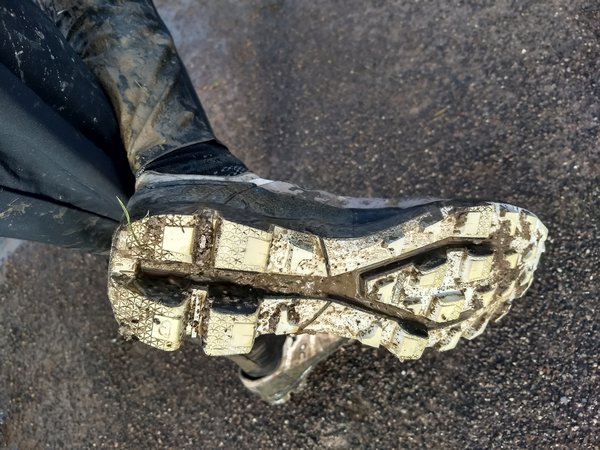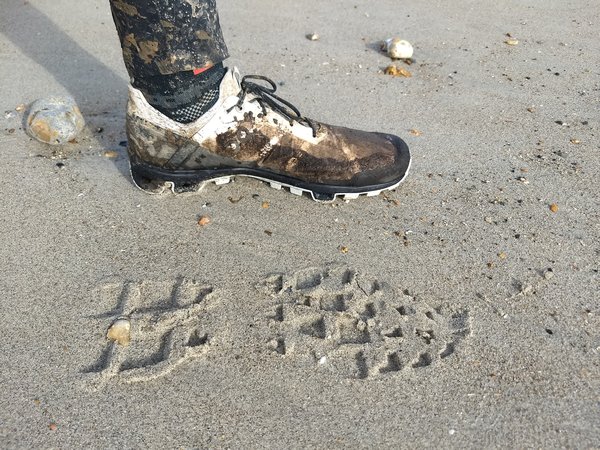 I think the lugs at the front could be even longer and still work fine. Not for increased grip, but for a smoother feel rolling off the big chunky lugs on hard pack / road.
On the roads it was very firm but I got used to it after a couple of miles – obviously this is totally not what it's intended for, but sometimes people have to do a bit of pavement on their trail runs. Whilst there are no magic unicorn shoes, I don't think this is the right choice if you have a significant amount of road in your trail runs.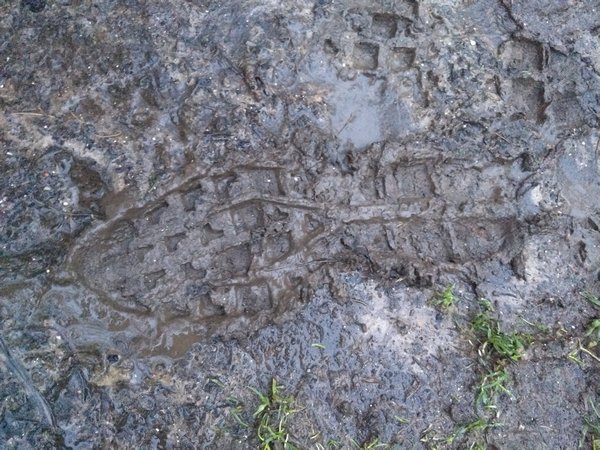 The only time the grip wasn't great was on smooth wet stone. There's just not enough rubber touching the ground.
I have narrow feet, so had to do a lace-lock to stop my feet from moving forwards inside the sock-liner upper on steep downhills. I think if I was doing a significant amount of hills, I'd try out the Cloudventure instead (not Cloudventure Peak) to get the adjustability of a normal tongued shoe.
It's also worth noting that the lugs did not fill up with mud which is brilliant – it's a concern I've seen in Facebook groups from a lot from potential buyers. In fact the sole was amazing at shedding even the stickiest mud. There was a point where my Saucony Peregrines would have given up, filling up with mud and collecting a huge layer of mud ending up like brown snowshoes, but these Cloudventure Peaks did not.
The way the Peaks gripped made them a joy on almost all winter terrains I threw them at. Fast speed, or slow plod, they railed round corners in the mud and performed while being dragged along by my Husky at 5min/mile pace through horrible conditions.
So if you are looking for a trail shoe for harsher conditions, definitely add the On Cloudventure Peak to your list.
---
Thanks for reading. If you'd like to
get better at running, then press here
to check out Runningversity.com. There are online running courses and running coaching options available.
---
If you have any questions or if there is a product on this page you own and you'd like to add your own thoughts, then please use the comments box at the bottom.
We aim to provide unbiased feedback that we hope is useful to both manufacturers and consumers alike. Disclosure: we may earn a lead generation commission from purchases made after following links from our site. This does not affect your purchase experience in any way and allows us to keep this site running.