I've done a variety of distances and surfaces in these trail shoes, so it's time for a review of the Saucony Switchback ISO. I'll look at who it's for, the features and what it's like to run in.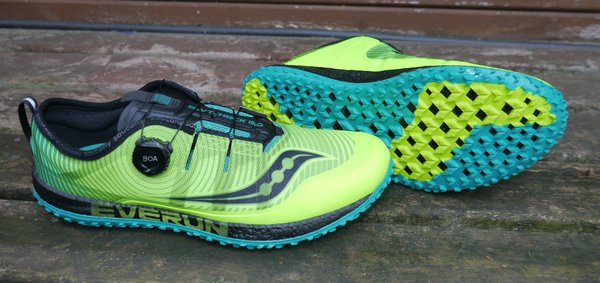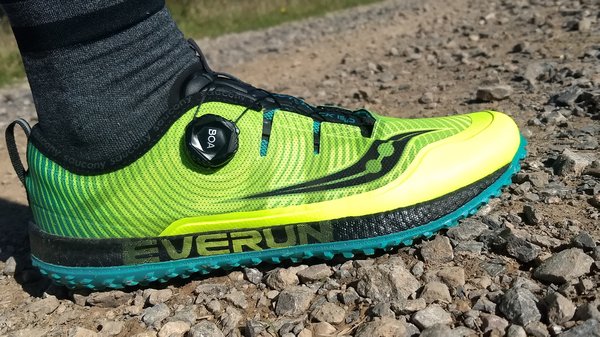 Who's it for?
The Saucony Switchback ISO reviewed here is designed for dry dirt trails. That's about two weeks of the year in the UK. Jokes aside, it's pretty handy on any dry trails, as well as added versatility on wet roads. Due to the low stack, you'd be looking at shorter trail runs up to 20 miles unless you run super softly.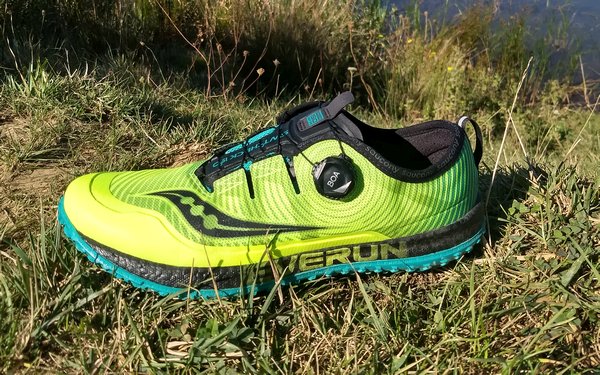 The Build & Weight
The distinguishing feature of the Switchback ISO is the waffle outsole. It's designed for dry, dusty dirt tracks, like the Spanish Pyrenees, but it's surprisingly good on firmer surfaces like stone or gravel, as well as loam as long as it's not wet, which would clog the holes.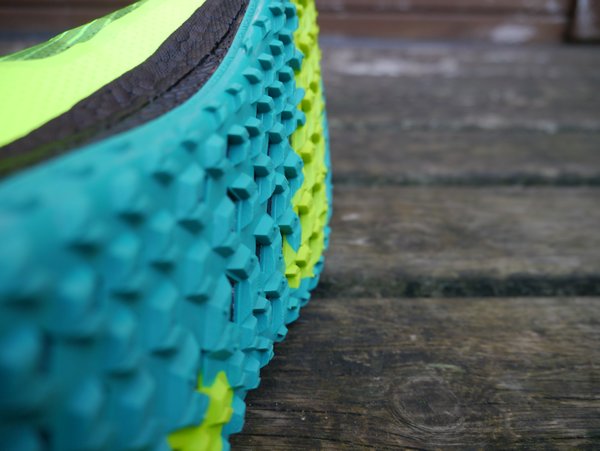 Because there are so many small lugs (and a low stack), it's a very flexible shoe and can almost be rolled up, so it's going to work best for people that don't care about stability. However, it's actually inherently quite stable due to that low stack.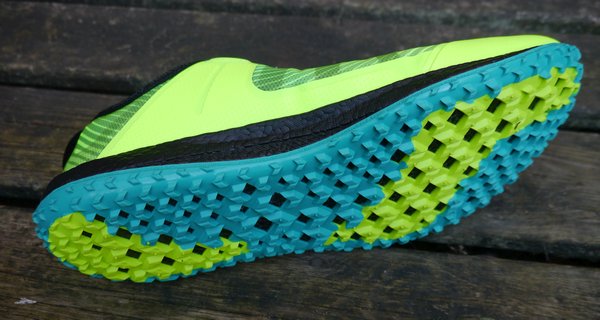 The outsole is attached to a 20mm stack of Everun, Saucony's bouncy energy returning foam. It's 22mm at the back and 18mm at the front, so giving the Saucony Switchback ISO a 4mm drop.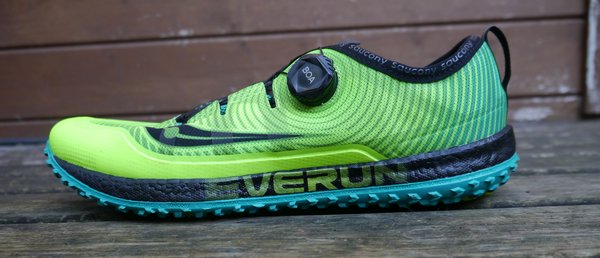 The upper uses ISOFIT, where the lace area has been cut to allow the shoe to map to the shape of the foot better.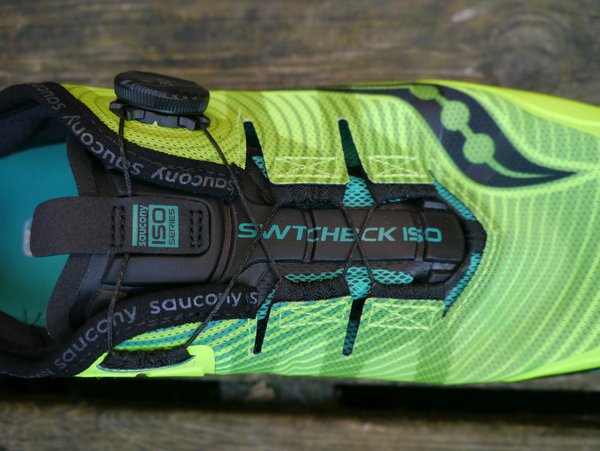 There's a waterproof protective layer around the front and sides of the shoe, whereas the rest of it is breathable.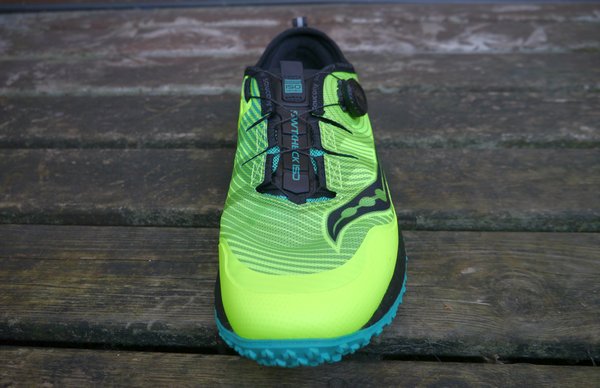 Holding it all together is the 3rd party BOA lace system, which has a wheel that tightens the laces when turned, or releases the laces when pulled.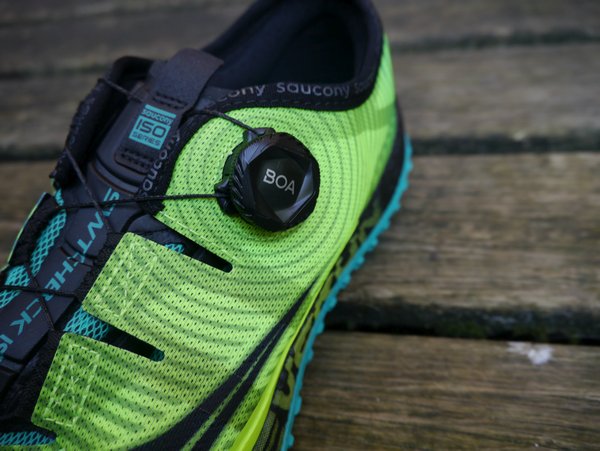 My size 11 Saucony Swithcback ISO weigh 303g, so not the lightest trail shoe, but not bad considering the amount of rubber on the bottom of the shoe.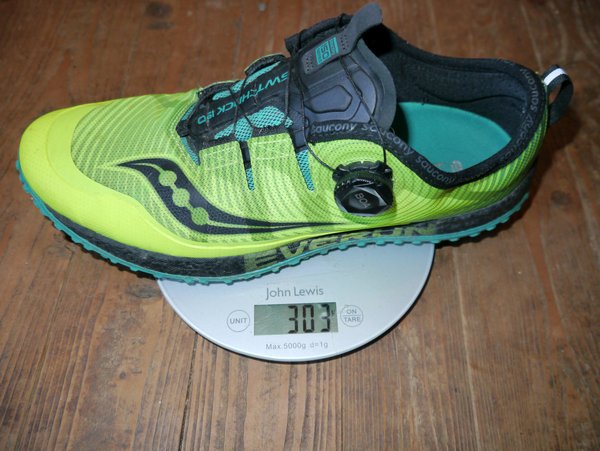 On the trails
For the purposes it was designed for, i.e. dry trails, the Saucony Switchback ISO reviewed here is spot on. The low stack gives a lot of ground feel and stability on corners, making it much more fun on a twisty, cambered route than higher stack options. There is very little structural stability built into the shoe – it's purely the low stack that gives such a confident feeling.
The grip grabs hold of dust, gravel, shingle and dry grass very well. My feet didn't overheat. So far so good.
On downhills, there was enough cushion to make quick descents on flint paths fun and secure for soft landing runners, but people used to smashing down in high stack shoes would need to change their style. The increased proprioception is a blessing and for dry fell races, this would be a good contender.
On steep uphills, the lack of structure needs strong feet if the ground is uneven. It feels super stable when the toes touch down, and just needs the runner to control the heel.
The BOA lacing makes it quick and easy to lace up initially, but did require a lot of fine tuning to figure out the tightness I liked, because unlike a normal lace that moves around a bit, the BOA is locked in place. Indeed, at first I thought I might prefer the same shoe with normal laces, but glad I stuck with it since after giving it a chance, I learned how to use it and then forgot about it during my runs. The way it worked for me was to do it up a bit, go for a run for a minute and then tighten it a bit more to the desired snugness.
Because I live in the UK, the Summer months quickly tumble into a generally wet winter, turning all my local trails into rivers of mud, something the Switchback would obviously not be great for. Rather than put it away, I ended up using it extensively on wet roads. A lot of my road shoes are useless on wet roads for some reason, slipping at speed if form is not perfect. By contrast, the Switchback ISO are awesome! So much grip on wet tarmac and pavements that it's more fun than a super light racing flat, flying round corners with ease, and accelerating and decelerating very quickly. Total confidence. The waterproof layer at the front kept splash dampness to a minimum too.
Very much looking forward to the trails drying out again so I can get back to using them as intended.
---
Thanks for reading. If you'd like to
get better at running, then press here
to check out Runningversity.com. There are online running courses and running coaching options available.
---
If you have any questions or if there is a product on this page you own and you'd like to add your own thoughts, then please use the comments box at the bottom.
We aim to provide unbiased feedback that we hope is useful to both manufacturers and consumers alike. Disclosure: we may earn a lead generation commission from purchases made after following links from our site. This does not affect your purchase experience in any way and allows us to keep this site running.