This is a review of the On Cloudflow. It's the original version. I'll look at who it's for, the features and what it's like to run in.
Who's it for?
The On Cloudflow reviewed here is designed for people looking for a lightweight road running shoe that can be used for training, and not just for race day. In terms of racing, it's most suitable for 5K, 10K and Half Marathon. It can be used in training for anything from interval sessions to long easy runs.
The Build & Weight
Starting with the sole, the Cloud pods along the bottom are fairly chunky and firm compared to the more bouncy ones found on shoes like the Cloudrush and the Cloudsurfer. They are glued to On's "Speedboard". Whilst the On Cloudflow is a neutral shoe, the combination of wide forefoot Speedboard and firmer lugs does lend it a decent amount of stability, so people that normally like a mild support shoe could give this a go too.
The On Cloudflow reviewed here is the original version, so the Clouds are made from the same foam the whole way along (in the following version, On changed to Helion Foam at the heel). Patches of carbon rubber cover the heel and forefoot. The Clouds will normally compress before the rubber wears away, from examining other runners' shoes. On mine, after 40 miles, there's almost no sign of wear, although I'm light on my feet.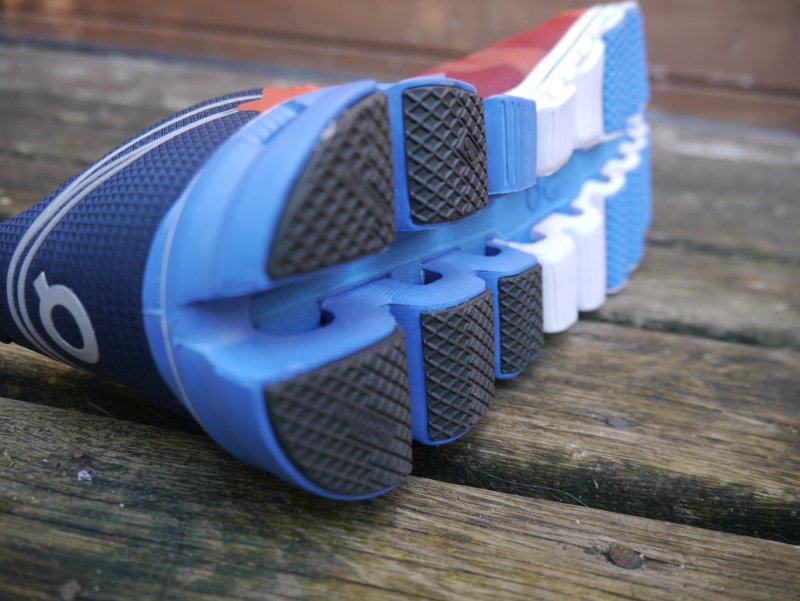 In between the Speedboard and the shoe, there's a thin layer of foam.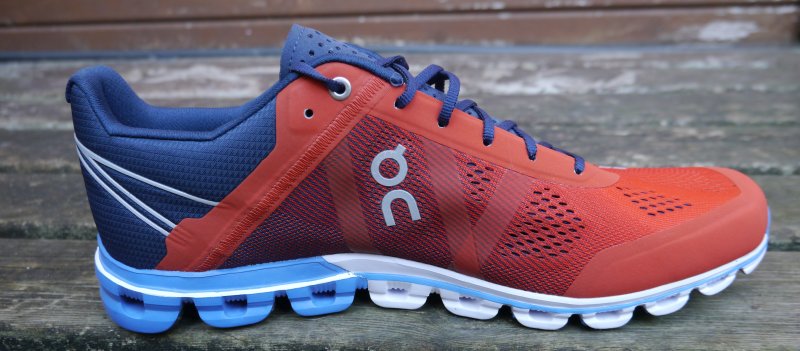 The On Cloudflow heel drop is 6mm. That change of stack is not quite as pronounced as with other On models (like the Cloud), which is good thing, being a smoother line between heel and toe and less of a feeling under the arch, leaving the foot to get on and do its own thing, rather than being supported by a step / shelf. It's not quite a smooth as the Cloudflash, but close.
The upper is pretty breathable and the tongue is super comfortable. Thin overlay strips provide some structure whilst keeping the whole thing very light.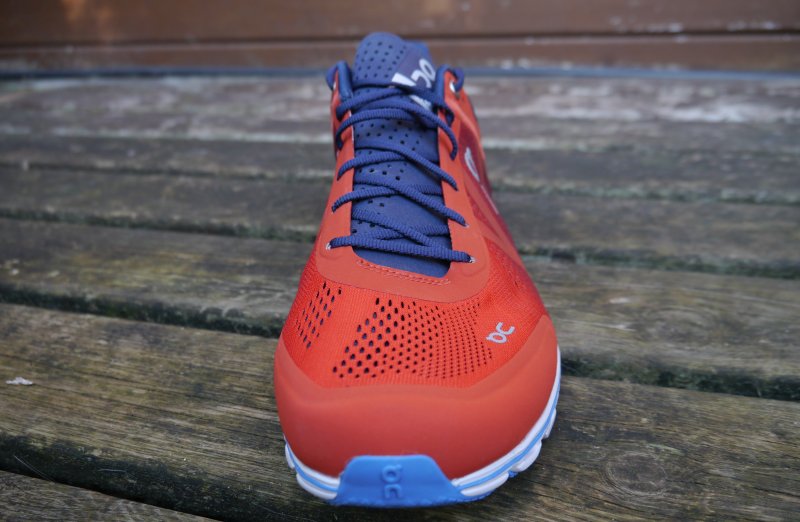 The heel on this original Cloudflow is very straight up at the back. I've not had any issues with movement myself, but I've had a number of people tell me they got heel slip and enjoyed the more curved shape of the follow on version. This is probably more of an issue if you land on your heels out in front of you.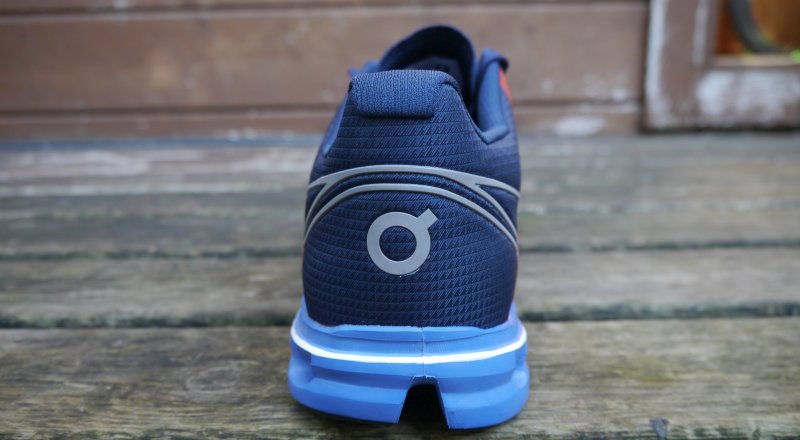 The insole is memory foam with holes drilled through it. They are very comfy over any distance. Sweat does soak through the holes to the underneath (I recommend removing the insoles after each run to dry out), which keeps your feet drier.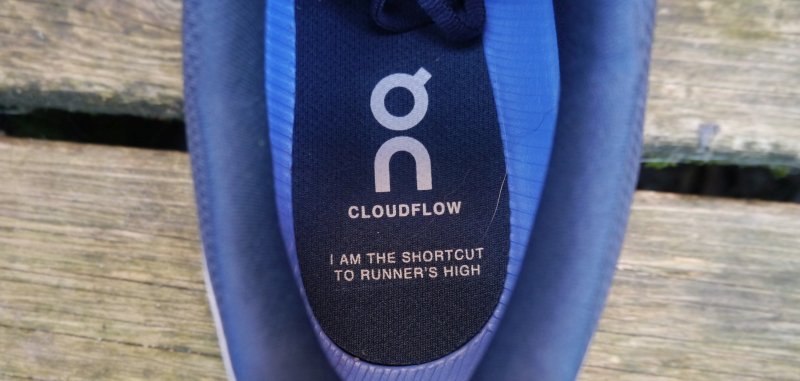 My size 11 On Cloudflow weigh 272g, so it's light, but not in racing flat territory, which is probably why it spans the gap between racing and training so well.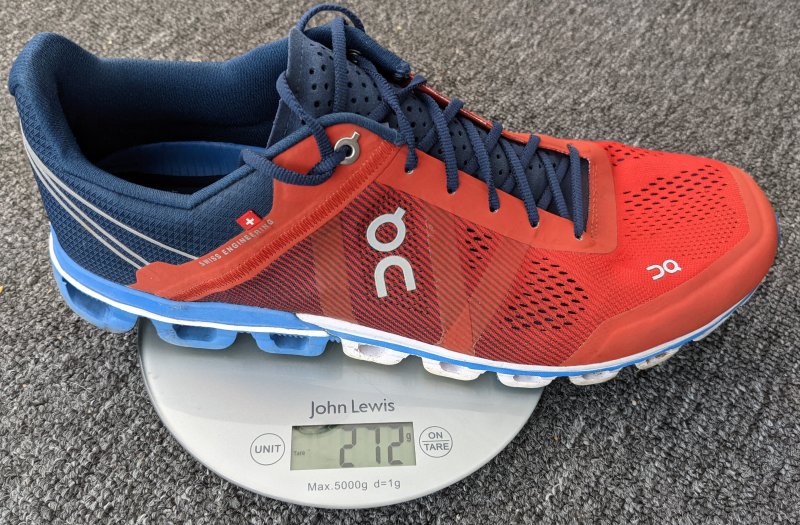 On the run
The On Cloudflow are a quite a natural shape, so they don't squish my toes anywhere while running. I have narrow feet, but enjoy a wide toebox.
The landing is not super bouncy – I like it. If you land on your heels, the transition when rolling from heel to toe is super smooth. If you land on your forefoot or midfoot, it's stable and the Speedboard provides a quality snappy feel when lifting the feet back off the ground again during knee drive.
It's fairly quiet too, apart from a bit of squish in the rain in the Cloud pods.
I did have to do a Lace-Lock lacing method, using the extra eyelets, to stop my narrow feet moving forward on steeper downhills. On the flats, it's not an issue and I imagine anyone with normal width feet would not notice this either. The lacing solved it fully though.
As usual, I did try them off-road in the dry, which is not their intended use. The stability made them fun, but they did pick up the occasional twig, but no stones.
Running fast during an interval session, they totally disappear, even if you are driving hard off the line. They provide a lot of confidence. In Tempos and Easy Runs, the comfortable shape lets you get on with the job of running without being intrusive. I'll definitely be enjoying running in these for their whole lifetime.
---
Thanks for reading. If you'd like to
get better at running, then press here
to check out Runningversity.com. There are online running courses and running coaching options available.
---
If you have any questions or if there is a product on this page you own and you'd like to add your own thoughts, then please use the comments box at the bottom.
We aim to provide unbiased feedback that we hope is useful to both manufacturers and consumers alike. Disclosure: we may earn a lead generation commission from purchases made after following links from our site. This does not affect your purchase experience in any way and allows us to keep this site running.