In this Brooks Launch 7 review, I look at what it's like to run in, who it's aimed at and a few of the geeky stats if that's your thing.
Who's it for?
The Brooks Launch 7 is a fairly lightweight road running shoe. It's neutral in terms of lateral support. It is suitable for anyone that is looking for a shoe that is lighter than a normal trainer, but is still fairly cushioned and doesn't feel like a racing flat. You would use it for faster sessions, but you would wear it for longer easy runs too.
The Build and Weight
The Brooks Launch 7 upper is an engineered mesh. It's non-structured at the front end of the shoe for lightness, having no welds or overlays until further back at the logo on the sides. However it's not too stretchy which keeps it light weight but still provides a secure fit.
At first glance, the shoe looks pointy and narrow, but this is deceptive. The toebox is very spacious and the toes have a lot of room to splay properly. I have narrow feet, but a lot of similar shoes feel like they touch on my smaller toes a little, so this was a pleasant surprise in the Launch.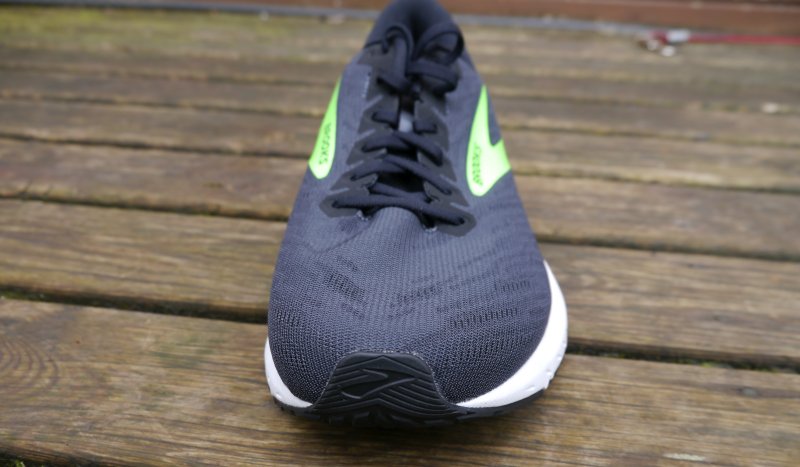 The heel area has a mild heel counter, which is expected on a shoe like this, to keep weight down and assumes a neutral runner that doesn't land too heavily on the heel. The padding around the heel is quite thin, which is great – I prefer shoe that stays where you expect rather than moving around in lots of squishy padding.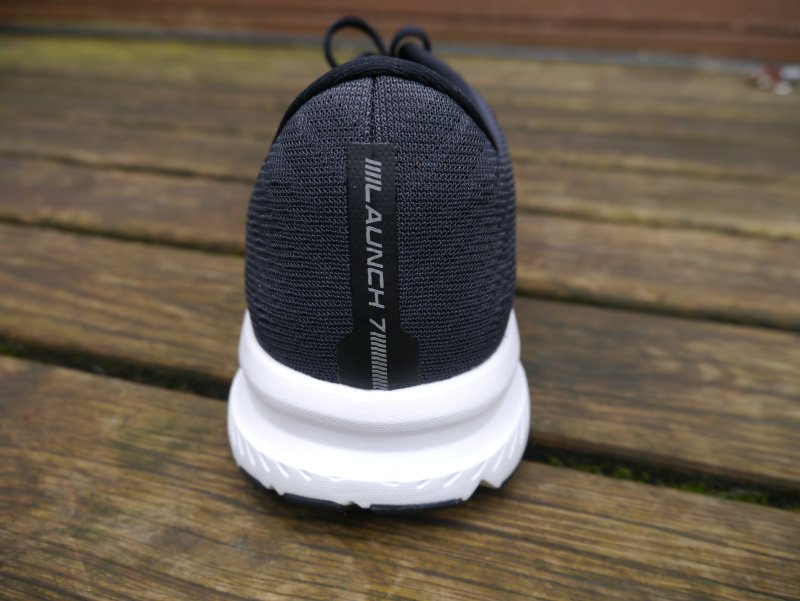 The mid-sole is made of Brooks' BioMoGo DNA foam. This is designed to be a little firmer and provide more ground feel (than something like the DNA LOFT in the Brooks Ghost). The BioMoGo refers to the way it decomposes much faster than normal foam once it gets to landfill.
The Brooks Launch 7 has a 10mm drop, which is more than I usually go for, but the board under the foot is straight / flat without any particular step, so it feels fairly natural.
I did like the way the toe spring (where the toe curls upwards) is not too pronounced. It lets the toes relax.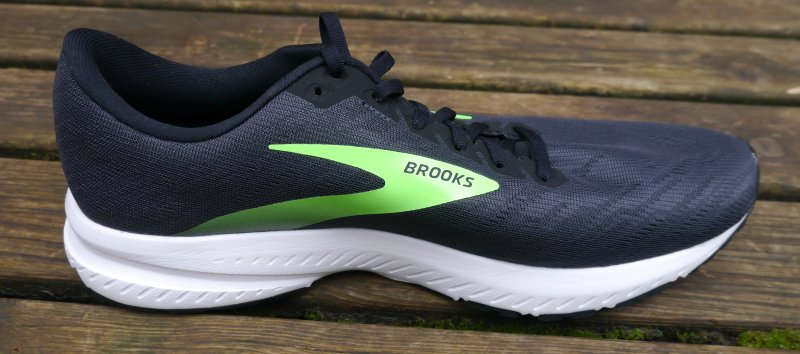 The outsole has quite a lot of black carbon rubber. I expect it will do many miles without issue. After 50 miles, there's almost no sign of wear. The tread pattern is quite smooth under the forefoot, so there are better shoes if you do a lot of running in the rain.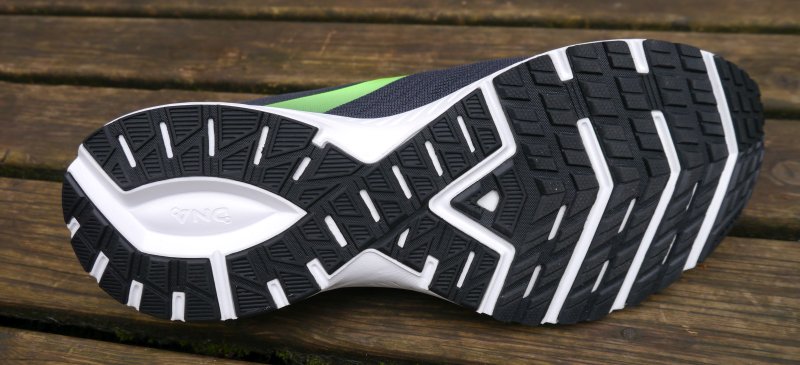 My pair of size 11.5UK Brooks Launch 7 weighs 276g, so it's light enough. The carbon rubber is the main thing stopping it being a super light shoe, but you get the durability instead, so you can use it daily.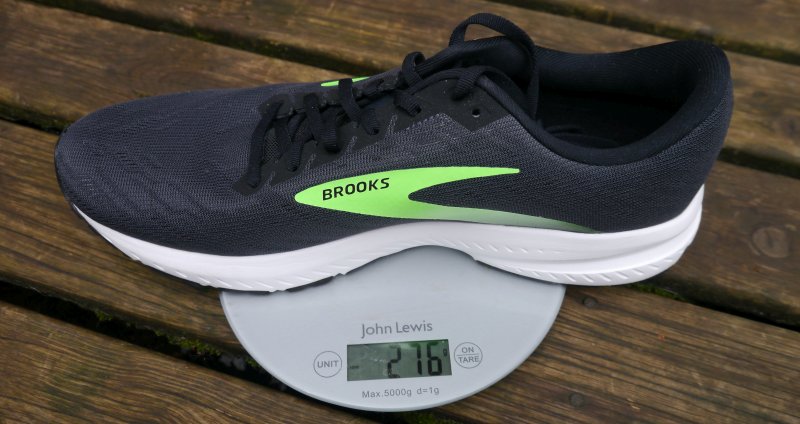 On the run
My first impression of the Brooks Launch 7 was that it felt dead and unexciting, whether I was running at a hard or easy pace. However, I carried on using them for a variety of road, hills and dry trails and after around 15 miles, they became more smooth, spritely and fun.
In the initial few miles, it felt like all that cushion was there for no reason and definitely worked better landing on the heels, for which the transition from heel to toe was quite smooth. Landing forefoot, it felt like it was just damping everything, rather than giving anything back.
However, after a while of running it in, it redeemed itself, giving a more springy feel on toe-off and was generally much more fun. It never reached exciting, but it does give a good level of proprioception feedback from the ground underneath.
In the rain or damp on smoother roads or pavements, it has very little grip. If you do a lot of this, I'd recommend looking elsewhere.
On rough terrain (for which it is not intended), they didn't feel particularly stable, with a few moments of wobble on cambered surfaces. However, other similar road shoes with the same target audience perform better.
On road, that all disappeared and you can take dry corners with confidence, plod along forever at an easy pace or get going up on the toes in a reps session.
Whilst the Brooks Launch 7 doesn't give top end excitement, it does give durability with value for money for an all-rounder.
---
Thanks for reading. If you'd like to
get better at running, then press here
to check out Runningversity.com. There are online running courses and running coaching options available.
---
If you have any questions or if there is a product on this page you own and you'd like to add your own thoughts, then please use the comments box at the bottom.
We aim to provide unbiased feedback that we hope is useful to both manufacturers and consumers alike. Disclosure: we may earn a lead generation commission from purchases made after following links from our site. This does not affect your purchase experience in any way and allows us to keep this site running.