In this On Cloudrush review, I'll talk about who they are for, what the construction is like and what they are like to run in after more than 50 miles of use.
Who's it for?
The On Cloudrush is a lightweight, low-profile shoe designed for fast training and racing. Whether you are looking to smash out a 5K, 10K, do a tempo session or get some interval training in, the On Cloudrush is designed for that. However, if you are a lighter runner with a soft foot placement, you could also use this for longer runs too. The sock-liner makes it suitable for sockless running in Triathlon.
It's neutral, although due to the low profile that minimises potential movement from cushion compression, it's pretty stable, runners that need a fast mild-support shoe might want to try a pair on.
If you have used the On Cloudracer previously, this is a newer version of that.
On Cloudrush Constuction
Being an On Running shoe, the Cloudrush looks a little different from most other brands mostly due to the Clouds themselves. These little springy pods along the sole provide cushion whilst minimising weight. The inside of the Clouds has a ridged shape which locks into the midsole when the foot is placed on the floor, making them feel stable as you land and then springs back out again as you toe-off.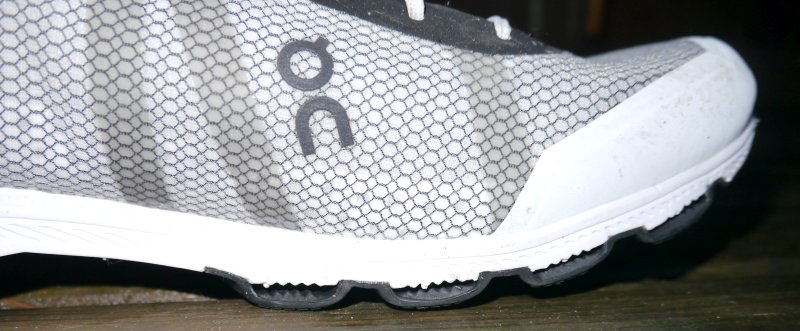 The grip on the Clouds is pretty decent. In the rain, some On shoes have sacrificed a little grip for light weight (there's less rubber touching the floor than a traditional trainer), but the Cloudrush carbon rubber material was more confidence inspiring in adverse road conditions.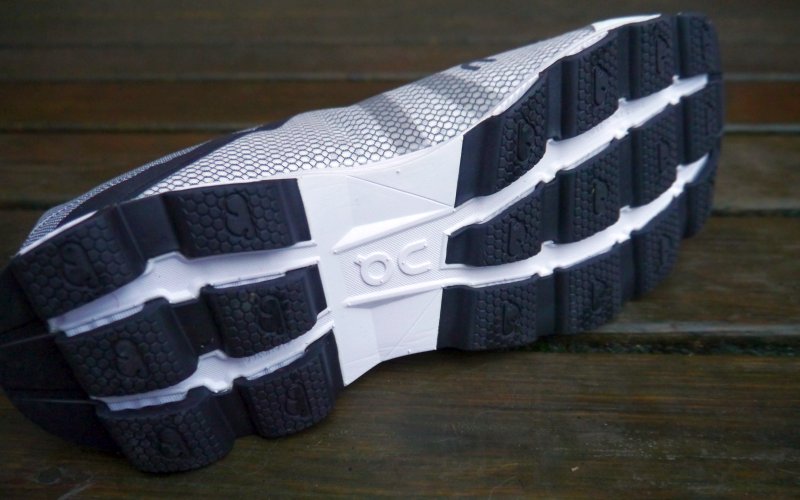 The midsole is minimal and the On Cloudrush Heel Drop is 5mm.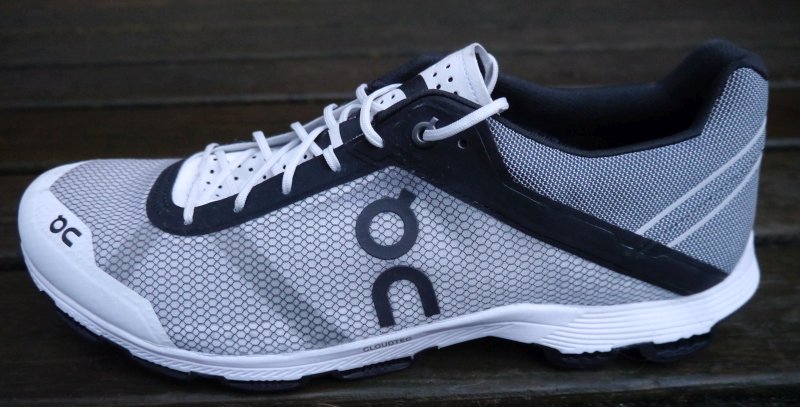 An integral sock-liner is designed to let you use it barefoot, for example in Triathlons after the bike. I've only tried this around the block – there is nothing for your feet to rub on and it feels very comfortable barefoot. The top of the shoe opens up a lot, so it will be easy to get your feet in.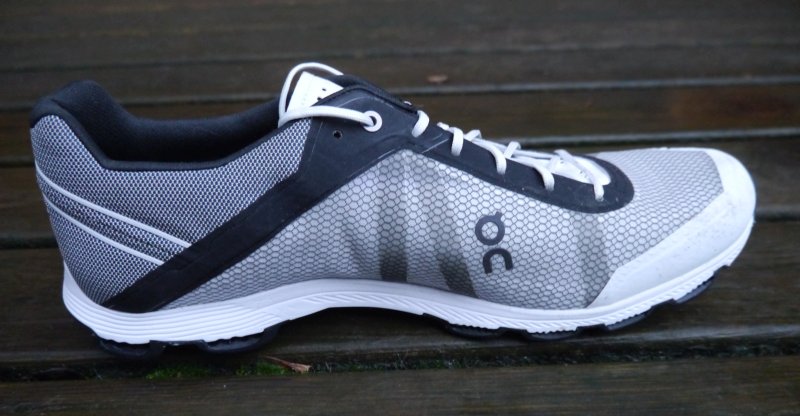 In between the midsole and the upper, there is a full length speedboard to give it some extra energy return. To add to the comfort, there is a foam pad in the heel area.
The toe-box is generous, letting the toes splay and nothing rubbed. The upper is flexible with very little reinforcement. It all looks brand new after 50+ miles. The logos are reflective.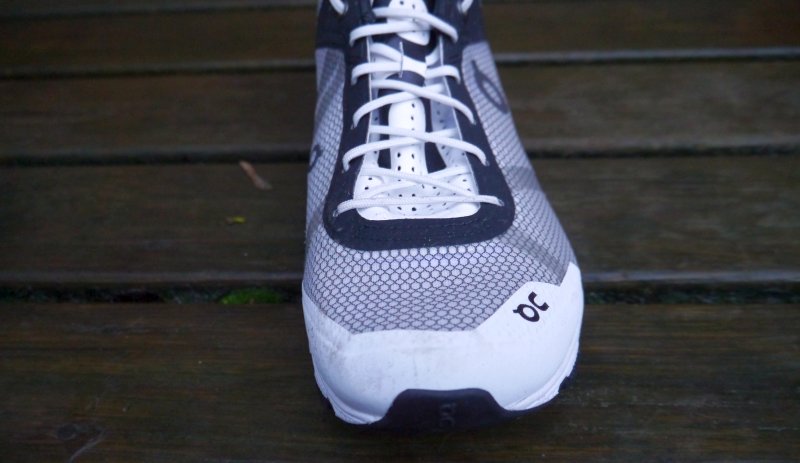 There's only the smallest of heel counter on either side and nothing at the back, so if you land heavily on the heel, you had better be a neutral runner.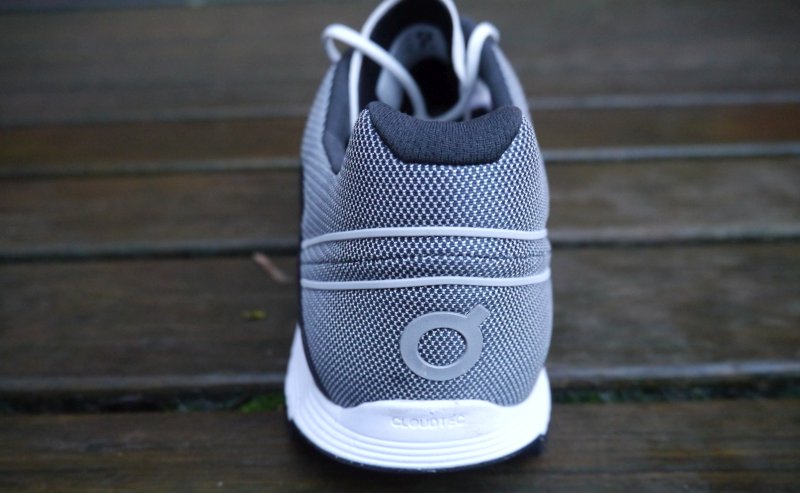 The insole is well padded with memory foam. Again, this looks brand new after 50+ miles, with no permanent compression and I expect it to stay that way.

My size 11UK On Cloudrush weighed 257g, making it light enough to forget about when they are on.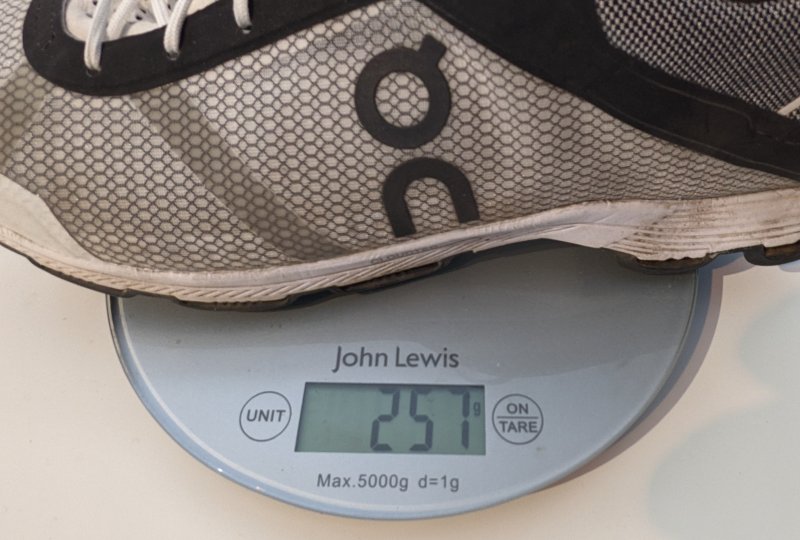 On the run
I enjoy running in the On Cloudrush. It's a liberating experience having so little structure and such a good proprioception of the road underneath your feet. Whether running slow or fast or flat out, short intervals or an hour steady, they handled it all. The additional cushion beyond some other minimal shoes and their own previous Cloudracer is welcome, making it a decent all-rounder. I haven't taken it for any long easy runs yet, but I have confidence it will do it.
Because of the low profile, it's stable in corners, jumping off kerbs and generally having fun. Racing in this shoe for a town challenge course will be excellent.
Because I'm me, I took it on a steep 10K trail run, with flint and gravel. I wouldn't recommend this because the Cloud pods will wear down too quickly, but it was a good test of how much feel there is. Rocks were noticeable but still safe on the downhill.
The difference in cushion between the foam pad under heel and the firm speedboard further forward gives a slight feeling on the arch when still, but this goes away in motion. I certainly enjoyed the way the pad felt towards the end of speed sessions when I might have landed on my heel instead of forefoot a few times due to tiredness.
I run forefoot most of the time. Landing on the heels felt cushioned enough, but the transition to the forefoot afterwards felt a little stepped since there is quite a gap in Clouds under the arch area. I'd suggest you'd be a midfoot or forefoot runner to get maximum enjoyment from the Cloudrush.
Whilst secondary to how the shoe performs, I love the way the Cloudrush looks! The black mesh atop white upper is exciting and the bold black lace hole structure is striking.
You can probably tell that I like this shoe. I'll be using it for its full lifetime.
---
Thanks for reading. If you'd like to
get better at running, then press here
to check out Runningversity.com. There are online running courses and running coaching options available.
---
If you have any questions or if there is a product on this page you own and you'd like to add your own thoughts, then please use the comments box at the bottom.
We aim to provide unbiased feedback that we hope is useful to both manufacturers and consumers alike. Disclosure: we may earn a lead generation commission from purchases made after following links from our site. This does not affect your purchase experience in any way and allows us to keep this site running.