I've done 50 miles in them, so in this 361 Meraki 3 review, I'll give you an idea of who it's for, how it's constructed and what they are like to run in.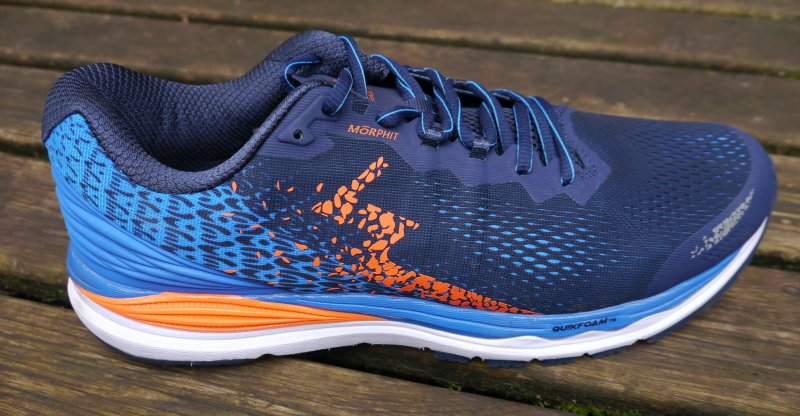 Who's it for?
The 361 Meraki 3 reviewed here is an all-round daily trainer for neutral runners who like a bit of lateral stability without it being biased towards the outside. It can be used for long runs or fast sessions.
Very light runners might find it a little too much shoe.
The high V-shaped heel makes it a possible option for people that run with orthotics.
I'm a big fan of the original 361 Meraki, so let's see how this 3rd iteration goes.
How's it made?
The design is pretty funky. The flowing ridges around the heel and down the midsole look a little like muscles and the 361 logo breaking apart towards the back is striking. Colours are on-point too.
The overall design is breathable mesh on top of a carbon fibre shank, sandwiched between foam and durable outsole.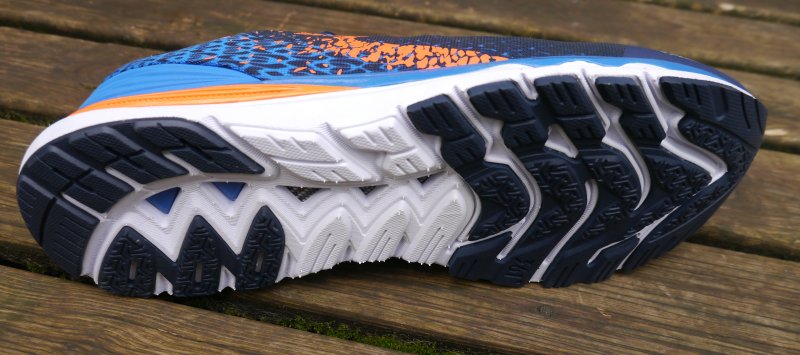 Starting with the outsole, there is a large amount of quite thick carbon rubber. It's pretty certain the outsole is going to outlast the rest of the shoe. After 50 miles, I could only notice minimal wear. It's grippy enough in the rain too.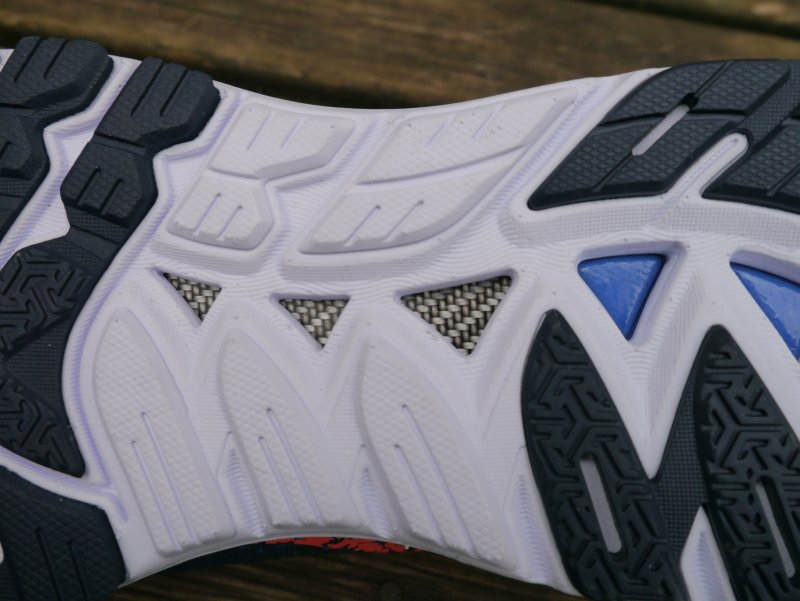 Above that, there's a layer of EVA foam, with a carbon plate wedged in the middle. It's not a full length plate and is more for keeping the middle of the shoe from twisting excessively.
On top of the EVA, there is a layer of the Qu!kfoam that I really enjoyed in the first version which also drops down into the heel for extra bounce.
The Meraki 3 then has an Ortholite memory foam insole, which is a change from the first version which had a thinner foam that compressed over time.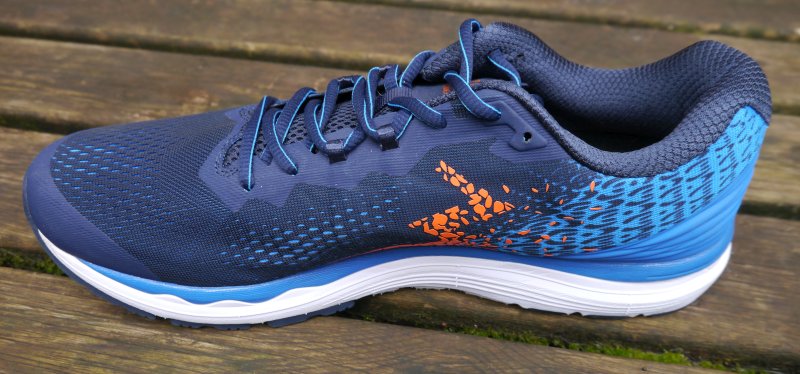 The upper is engineered mesh over a reinforcement layer. I'll be interested to see how this holds up on extended use.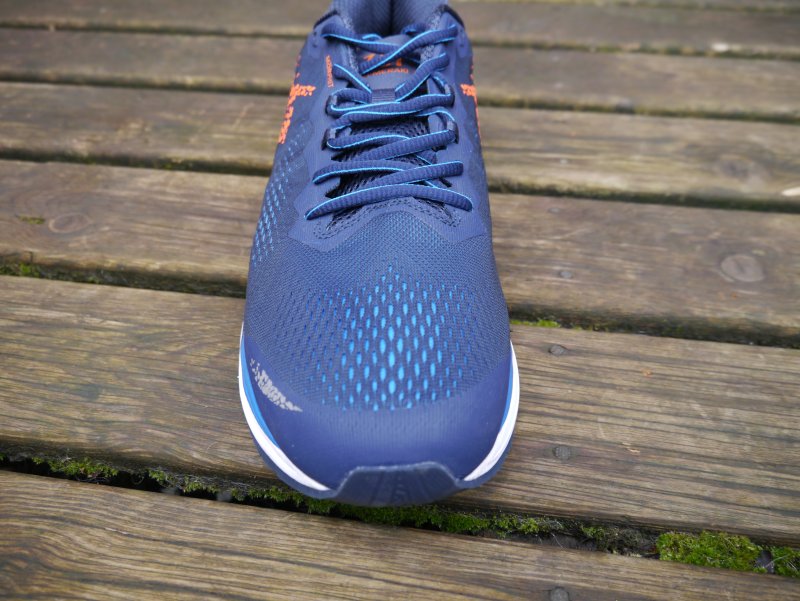 The toe box is plenty roomy enough for me to move my big toe around, but it came in a little tight on the little toe. This didn't notice in long runs though, so the mesh is stretchy enough. The laces don't move at all, locking in place through the eyelets well, which is great.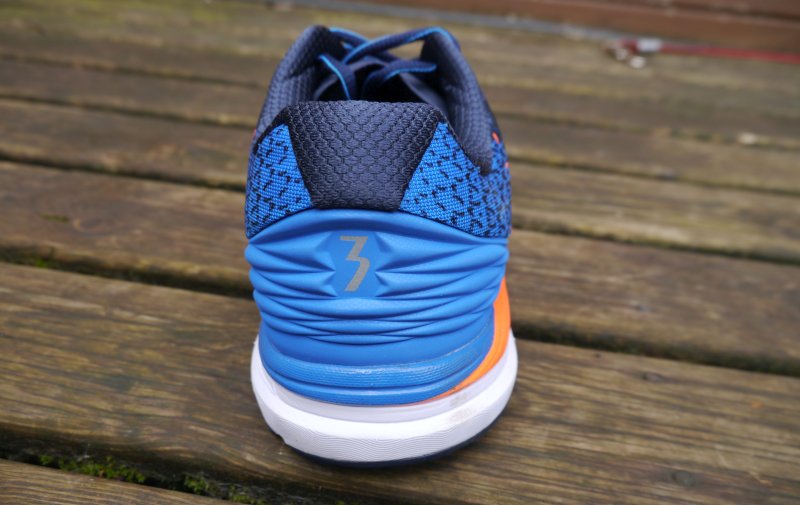 The funky heel has quite a major heel counter. As a neutral forefoot runner, I didn't notice it at all. When running heel-first landing style, it kept the foot in line without anything rubbing.
361 Meraki 3 Heel Drop and Weight
The 361 Merkai 3 heel drop is 9mm, making it accessible to those that normally run in higher drop shoes. It's a balanced choice for a trainer like this that will be predominantly used by people landing on their heels. The slope is flat, so there are no steps or ridges pressing against the base of the foot, which is excellent, letting the foot get on with the job moving naturally.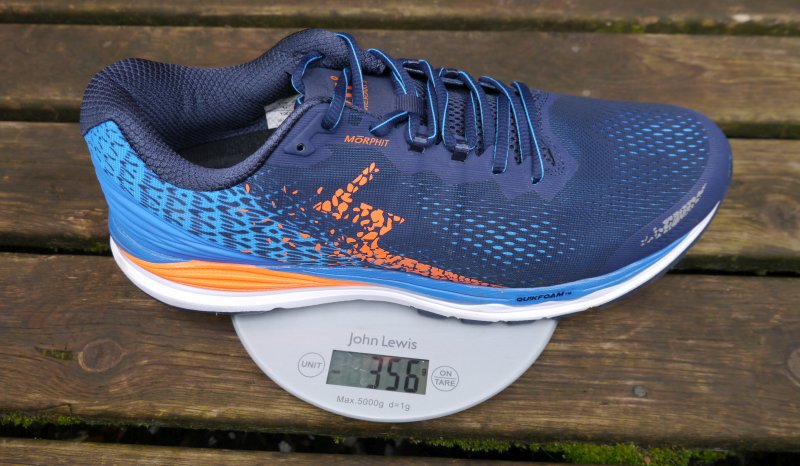 My size 11.5UK is 356g, making it a little heavy for my liking, but in-line with the competition for shoes of this amount of cushion, heel counter and outsole durability.
I had to go up half a size compared to most of my other running shoes to ensure decent width and gap at the front.
361 Meraki 3 Review – On the run
One of the best things about the Meraki ethos is that it can be used for everything. Trotting along for a couple of hours at an easy effort feels just as good as getting going in some fartlek or interval training. Comfort for my relatively narrow feet is excellent, almost disappearing on my feet immediately.
The carbon plate makes it really snappy and responsive when you decide to really pick up the pace. It an easy pace, the plate make it stable and sure-footed and the mix of Qu!kfoam and EVA soaks up the miles effortlessly. If you land on your heels, you will love the the super smooth transition from heel to toe that this combination gives.
My only gripe is that my feet got a little warmer in the longer runs and I don't remember that happening in the first version. Perhaps it's due to the Ortholite insole or the breathability of the upper. I've only used them up to 13°C so far, so I'll do an update once I've tried them in the Summer. It hasn't been caused any issues in runs up to 90 minutes though.
Personally, I'd keep them for training and choose something a little lighter for racing, but it's designed as an all-round workhorse, so that makes sense. I expect heavier runners will love these for racing.
Bottom line, these make an excellent staple shoe for neutral runners that want to have just one shoe, or have a shoe they can chuck on for a session without thinking if there's too much choice in the cupboard.
---
Thanks for reading. If you'd like to
get better at running, then press here
to check out Runningversity.com. There are online running courses and running coaching options available.
---
If you have any questions or if there is a product on this page you own and you'd like to add your own thoughts, then please use the comments box at the bottom.
We aim to provide unbiased feedback that we hope is useful to both manufacturers and consumers alike. Disclosure: we may earn a lead generation commission from purchases made after following links from our site. This does not affect your purchase experience in any way and allows us to keep this site running.