After more than 100 miles, it's time for a Vivobarefoot Primus Lite review, so I'll tell you who it's for and what it's like to use and run in so you can decide for yourself if it's a shoe you should be considering.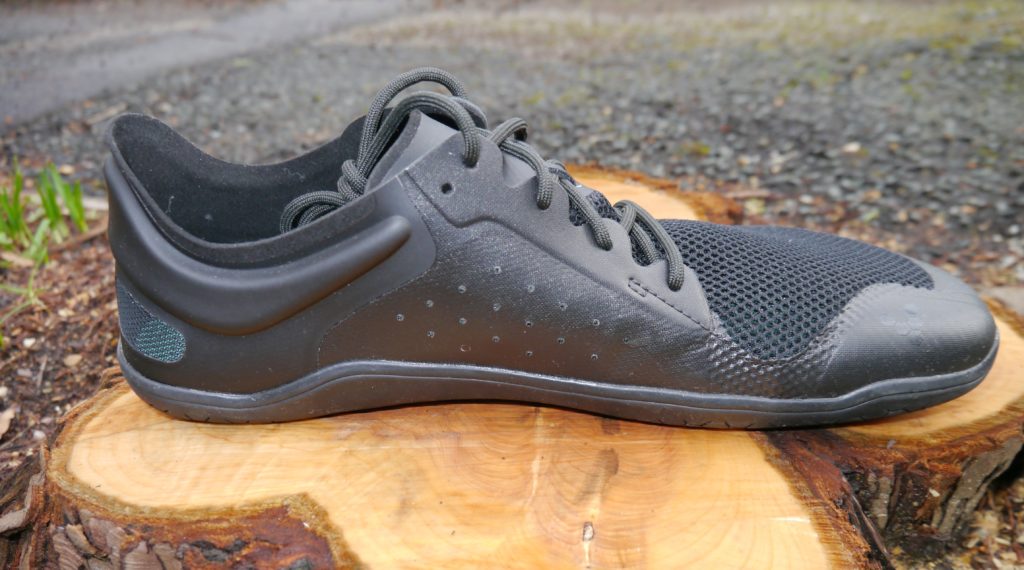 Who is the Vivobarefoot Primus Lite for?
The Vivobarefoot Primus Lite is a minimal, barefoot-style running shoe, so it's for runners who are either used to using shoes without any cushion, or runners wanting to learn how to run more softly without going fully barefoot. Unlike the previous Vivobarefoot One I used, the Primus Lite does come with insoles, so there is a slight concession to comfort – they are removable though.
The Primus Lite will be suitable for any distance of run, long or short, as long as you are ready for it. In fast runs, it will be more fun on flatter surfaces like roads, rather than trails, but in easier runs, you could use them on trails too.
How is it put together?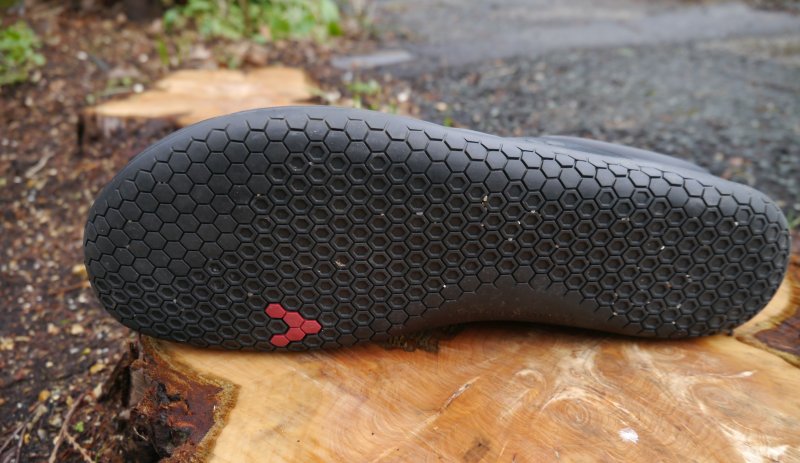 The outsole is 4mm thick rubber and thus pretty flexible. It's completely flat, with no intrusive shape to the arch of the foot, which is great. The grip pattern uses Vivoebarefoot's hexagon theme in a grid of tiny flat and dimpled pads.
It rolls up the sides, welded to the outside of the upper.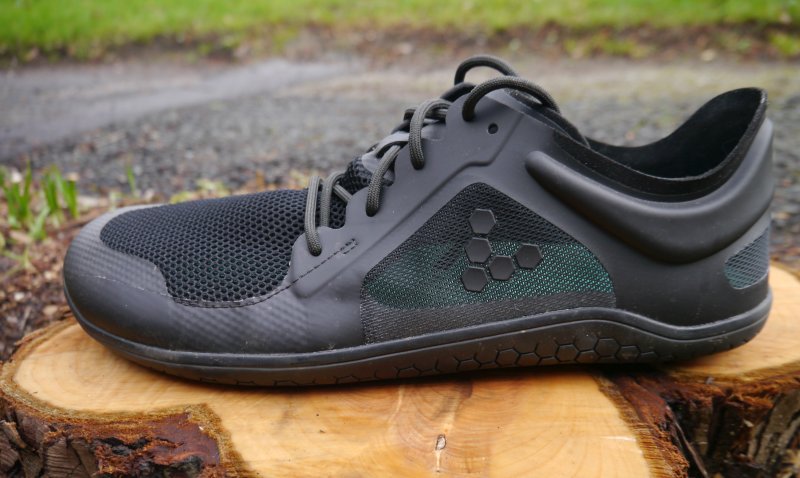 The upper is a mix of thin rubber panels and super breathable mesh. The rubber panels come up high enough to stop a bit of water or mud going in on rubbish days.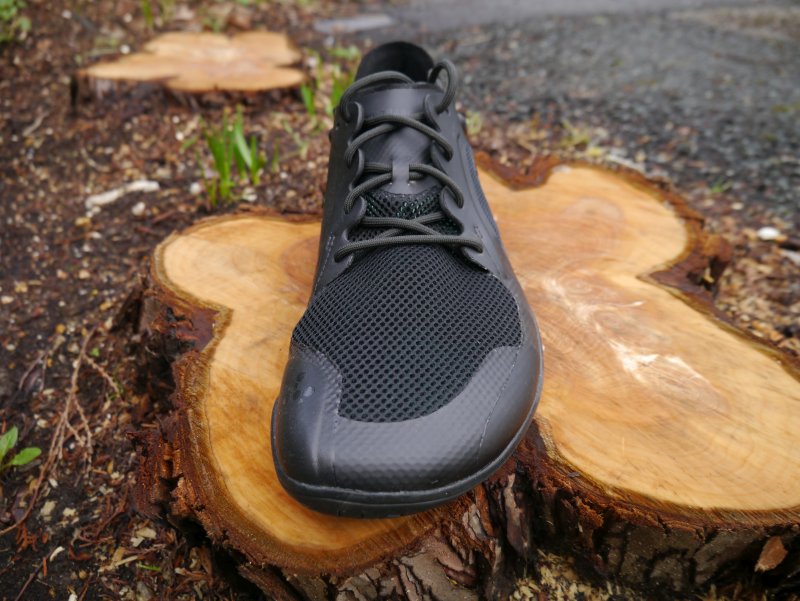 The Primus Lite toe box includes a bit of padding around the big toe for protection. I was actually pretty glad of this at one point when I clipped a protruding stone while looking at a view. Whilst my foot stopped dead, the toe was fine.
The laces are great – they don't move at all once in place.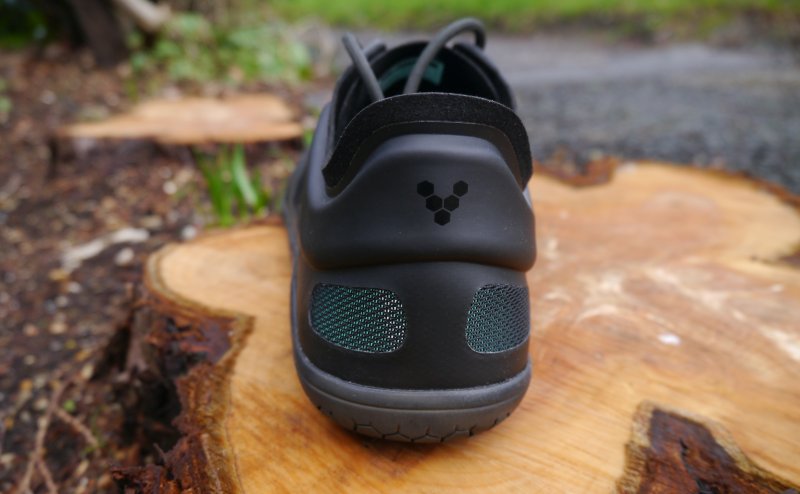 The heel has a padded surround, with no structural rigidity.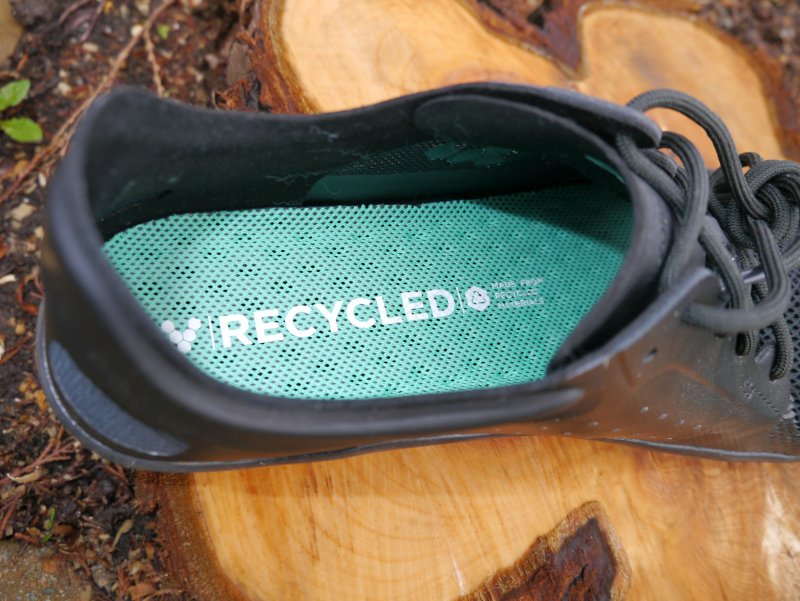 The removable insole has holes drilled through it all over and a tiny thin piece of fabric over the top. Underneath the insole, there is a tiny thin piece of material attached to the base of the shoe, so you can use it without the insoles if you desire.
I've been using the version 2. Version 3 has a few small changes. The insole has changed to moulded, recycled Ortholite. The sides are repairable TPU. Otherwise it's very similar to the version 2 reviewed here.
Size and Weight
The Vivobarefoot Primus Lite reviewed here is size EU45. For reference, I'm normally a size UK11 or UK11.5 in most running shoes. It was a great fit, with nothing pressing on my toes in the toe box (unlike the similarly sized Primus Trail I tried which came in narrow far too quickly on the toes).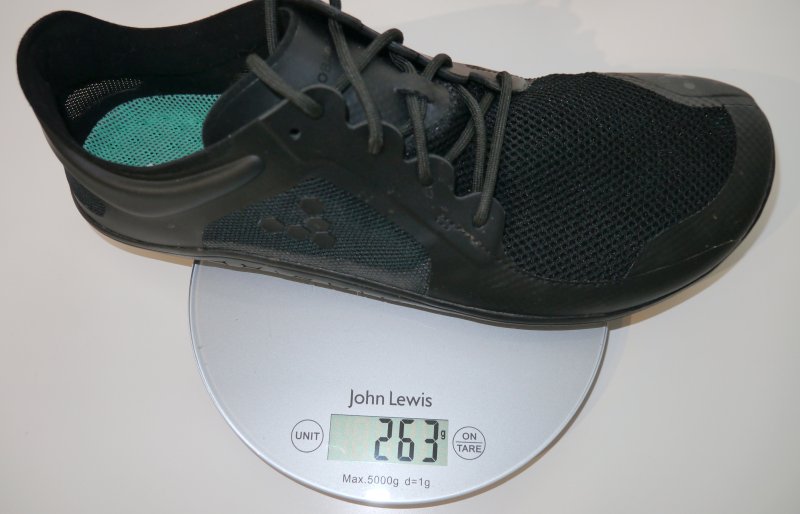 That sized Vivobarefoot Primus Lite came out at 263g, making it pretty light for a shoe that's mostly rubber rather than foam cushion.
On the run
The first thing I noticed putting my feet into the Primus Lite 2 is the way it holds you over the top of the foot. It feels very secure. This is sometimes a problem for me in minimal shoes with large toe boxes because my narrow feet end up submarining down into the shoe on downhills. Once out on to the runs, it was clear that it isn't just a feeling – the fit is excellent for me.
The second thing I noticed when putting them on is that when I stood up, the insole was really weird. I could feel all the little holes in it. I tried a few runs with them in, but eventually just binned them and tried both using them without and also grabbing some thin insoles from another shoe. Either of these was a sound option. The width of the shoe I think is designed to work with an insole, but to their credit, they worked perfectly well without. The first time I tried them without was actually an accident – I had removed the insoles as I normally do to allow them to dry properly and forgotten to replace them before the next run. When I got back from the run, I went to remove them and there was nothing there obviously!
Comfort on runs up to 90 minutes in testing was great. No hotspots. No unnecessary movement and plenty of breathability.
The toe box is a lovely shape. It perfectly has a few mm spare all round, so no squeezed toes, but no excessive play. I have some 4mm sandals which flap down at the front too much in my huge size, so running in these was a joy to have decent ground feel due to the thin rubber, but still feel in control at all times.
The grip is surprisingly good in the wet on tarmac and other paved surfaces since there is a lot of rubber touching the floor. Whilst it's good on dry grass, it's not so much fun on morning dew grass. It's protective enough for easy paced dry trails without worrying too much about exactly where to put feet down each step.
After 100 miles, there is still almost no sign of wear, so I'm looking forward to using these for a long time to come. If you are looking for a minimal running shoe with a 4mm sole, definitely consider these Vivobarefoot Primus Lite.
---
Thanks for reading. If you'd like to
get better at running, then press here
to check out Runningversity.com. There are online running courses and running coaching options available.
---
If you have any questions or if there is a product on this page you own and you'd like to add your own thoughts, then please use the comments box at the bottom.
We aim to provide unbiased feedback that we hope is useful to both manufacturers and consumers alike. Disclosure: we may earn a lead generation commission from purchases made after following links from our site. This does not affect your purchase experience in any way and allows us to keep this site running.