I wanted a shoe with a bit more cushion than usual, so after trying a few in store, I went for the On Cloudsurfer. So after 100+ miles, in this On Cloudsurfer review, I'll explain who it's for, how it's made and what it's like to run in.
Who's it for?
The On Cloudsurfer is ideal for anyone looking for a cushioned shoe that is still good for running fast. It's more cushioned under the heel than something like the On Cloudrush so is suited for people that land on the heel as well as forefoot / midfoot runners.
It could be used for most distances from a fast 5K to a two-hour easy run.
How's it made?
As with other On Running shoes, the Cloudsurfer is constructed by sticking bouncy pods and cushion to a flexible Speedboard. This allows it to have a degree of cushion whilst still remaining responsive and fun, plus adds a bit of lateral stability.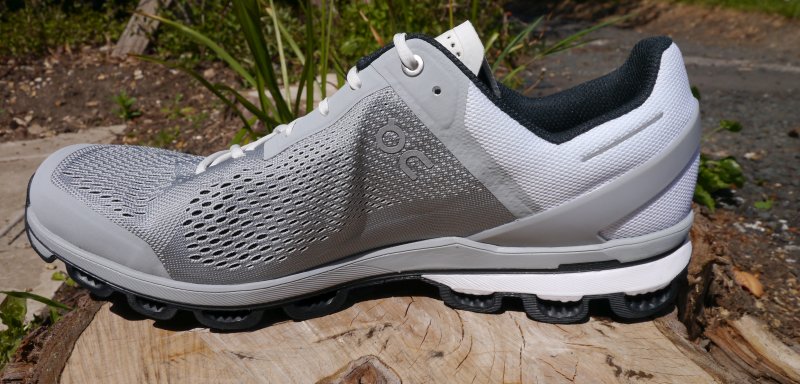 The Cloud pods are grooved like teeth on a cog so when compressed on the ground they mesh into similar shapes in the foam above and the Speedboard. Once meshed, they feel secure with more proprioception than more foamy cushioned alternatives. Once the foot extends back off the ground, the pods pop back out again to combine with the Speedboard flex for a bit of extra responsiveness.
There's a bit of foam cushion along the full length too, with a bit more in the heel area than the forefoot. On claim the On Cloudsurfer has a 6mm drop and it does feel like a relatively low drop.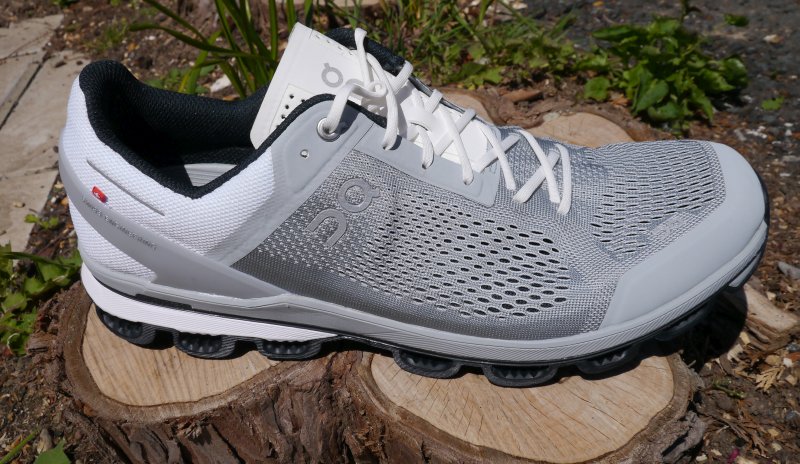 The upper is a stretchy dual-layer engineered mesh towards the forefoot, with layers of reinforcement hidden underneath the top layer. Towards the back, there's a padded ankle zone.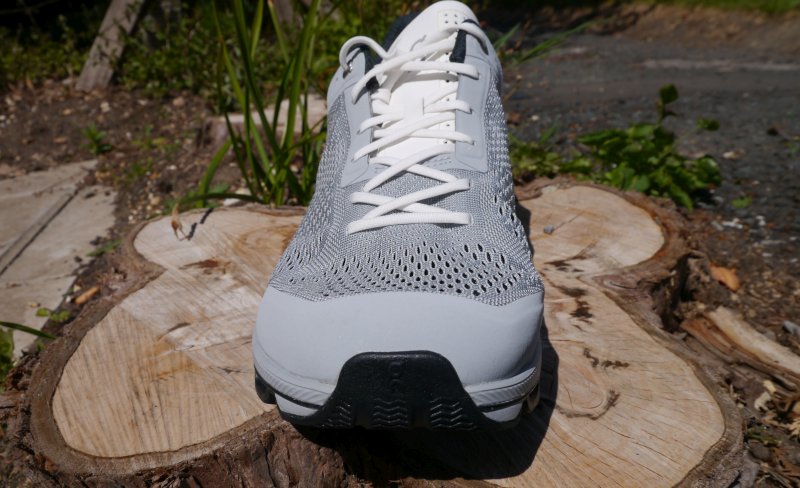 The forefoot is roomy and foot-shaped – if you liked the original Cloudflash, your toes will be right at home here. There's a fairly sturdy toe reinforcement.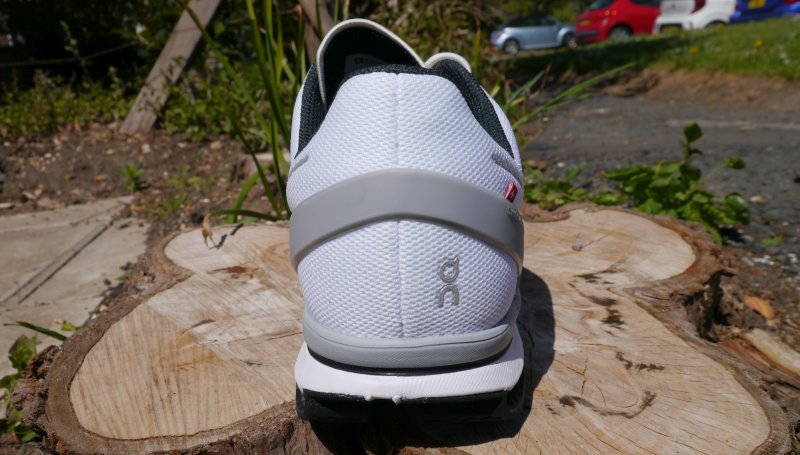 At the back, there's a fairly rigid heel counter hidden inside, plus a plastic bar wrapped around at the height of the top of the heel counter.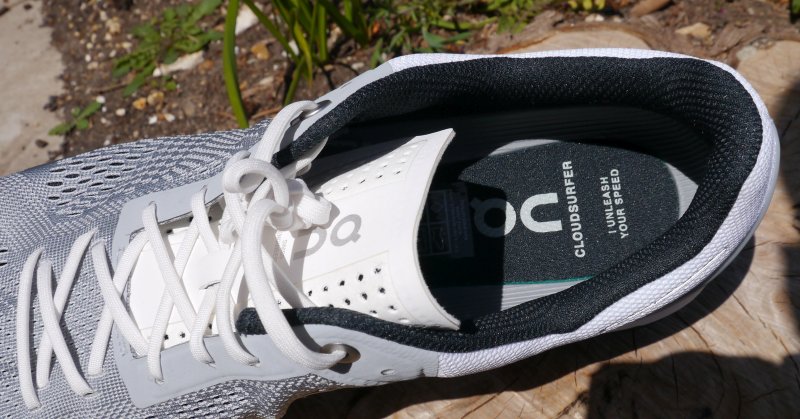 The insole is monikered with "I unleash your speed". It's a memory foam insole, with a padded surround at the back.
As usual for On Running shoes, the Cloudsurfer looks stylish and modern.
Size and weight
I went for the size UK11.5. I normally wear UK11 or UK11.5 in On Running shoes and most other brands.
My size UK11.5 On Cloudsurfers in this review weighed 370g. This isn't quite as light as most of the shoes that I'm used to – if you look through the rest of my reviews, you'll see I'm normally using lightweight road and trail. Most people will find this weight completely normal.
On the run
First, off the toe box is excellent. From the moment you set off, the forefoot feels totally marvellous. The top of the shoe keeps your feet in place snugly, so the lovely shape at the front leaves your toes room to wiggle. Even on downhills, the roomy area and stretchy, soft mesh meant the toes were happy.
The base / back of the heel has a little cove under the ankle cushion to fit into. At first I thought this was going to let my heel move around rather than hold it in place properly, but this was unfounded.
The next thing you'll notice is the great feel of the Cloud pod design. On has added new pod designs over the years, but these are close to the original design that launched with their brand. The combination of pods and foam makes them feel a little bouncy without being over the top, and damped enough that it doesn't feel like a pogo stick.
They are super quiet when landing and if you land on your heels, they are super smooth in transition from heel to toe.
One of the things I've noticed with some On shoes, like the Cloud, is a feeling of a step under the arch. The Cloudsurfer instead feels quite smooth and flat underfoot, ,with very little feeling under the arch, which is my preference.
Grip in the wet is not great – less carbon rubber touching the ground, a common issue for fast shoes like this. In the dry, it's very sure-footed due to the way the pods mesh into the Speedboard.
The laces are quite thin and smooth, so I looped them round each other twice instead of once before tying the bow – hope that makes sense! It keeps it in place better without coming loose slightly as you grab the loops for the bow.
The lacing area width worked well, even for my narrow feet which sometimes require shoes to be crushed a bit for a secure fit. The tongue was also flat and comfortable without moving around by the end of a run.
I've used the Cloudsurfer on a few different length runs, up to two hours, in the heat. On uppers are usually super comfortable and breathable and this one is no exception. My feet didn't get hot.
These are a road shoe and I'd only recommend them to be used on the road, for looking after those pods. However, I used them on a 2 hour trail run up and down hills in the South Downs in the dry. They were great fun. What a rebel…. There ground feel under the forefoot is significant, so I had to place softly on lumpy flints. This is part of what makes them fun on the road though, where you appreciate being able to feel when to respond with your legs.
I used them for both fast session and easy, long runs and they were comfortable for both. The responsiveness in toe-off in hill sprints and strides was better than most shoes in this weight category. Personally, I'll be using them more for longer runs (because I have a pair of Cloudflash!), but I expect most people looking for a shoe that can do both fast and easy will be happy.
If you are looking for an all-round shoe with a slightly more foot-shaped toe box, definitely consider the On Cloudsurfer.
---
Thanks for reading. If you'd like to
get better at running, then press here
to check out Runningversity.com. There are online running courses and running coaching options available.
---
If you have any questions or if there is a product on this page you own and you'd like to add your own thoughts, then please use the comments box at the bottom.
We aim to provide unbiased feedback that we hope is useful to both manufacturers and consumers alike. Disclosure: we may earn a lead generation commission from purchases made after following links from our site. This does not affect your purchase experience in any way and allows us to keep this site running.