Ok, so I'm a bit late to the party, but I've done 140+km in my Vivobarefoot ONE now, so it's time for a review. I got the ONEs because I wanted something like a Xero sandal but enclosed. The promise of a big toe box sealed the deal. I ordered direct from Vivobarefoot's website.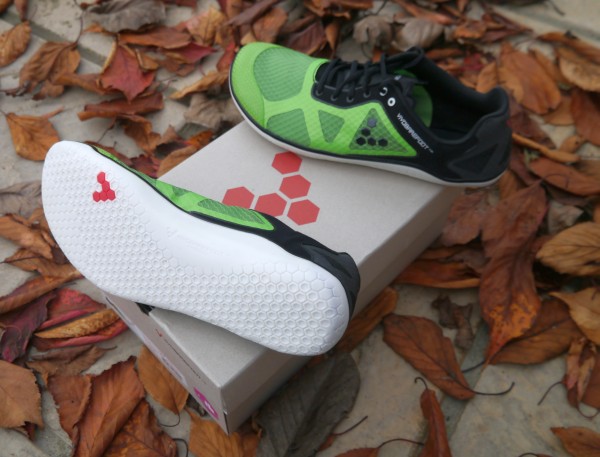 Who's it for?
The Vivobarefoot ONE is a barefoot style shoe, so there is only a 3mm sheet of rubber, with a wafer thin sweat layer, between your feet and the road or trail. There is no structure to the sole apart from a very slight raise at the arch, but it's not a support – more form than function. Therefore, this is for barefoot runners that want some puncture protection, or for runners that want to learn the barefoot style without having to spend months developing foot pads capable of running on road. It shouldn't be regarded as a real shortcut to barefoot though. You won't be able to learn the style in these and then discard shoes and expect to run pure barefoot straight away. If you have the time, start properly barefoot. You won't be able to leap straight into these from heel landing in normal trainers and do the same speed and mileage without doing yourself some serious injury – any major change like this should be gradual to stay safe. To give you an idea, I can do 5km barefoot on tarmac before I get blisters (still learning proper form), but I have done up to 29km in the Vivobarefoot ONE without any issues. However, I'd expect that if you came from normal trainers to these, you'd start with 1km and still find your calves ache the next day and beyond. They are also for people that wear running sandals like Xero but want something a bit warmer at times, or maybe people with big feet that find the Xeros a bit floppy (me).
Construction
The hard wearing 3mm rubber sole has a hexagon grip profile. After 140+km it is showing almost no sign of wear. It grips well on road in the wet and dry. Off road it grips in the dry, or wet rocky stuff but does work on mud (as you'd expect).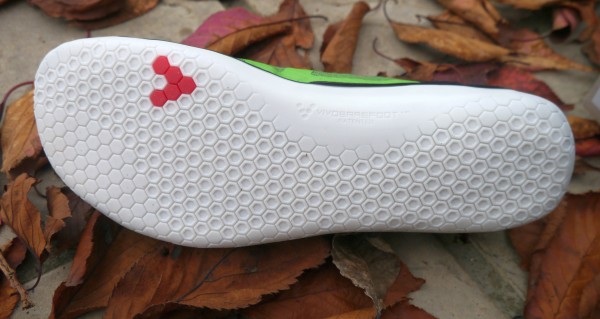 The upper is a thin 3-layer device. The inner layer and the middle layer move freely against each other. A flexible web overlay keeps the shape a little, but doesn't give any support. It is surprisingly splash proof, so bashing through a few small puddles won't get your feet wet.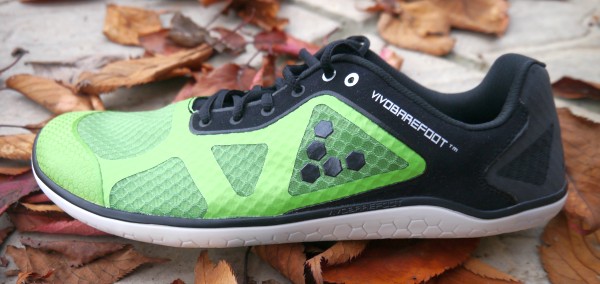 There's an extra layer around the toe to keep it together.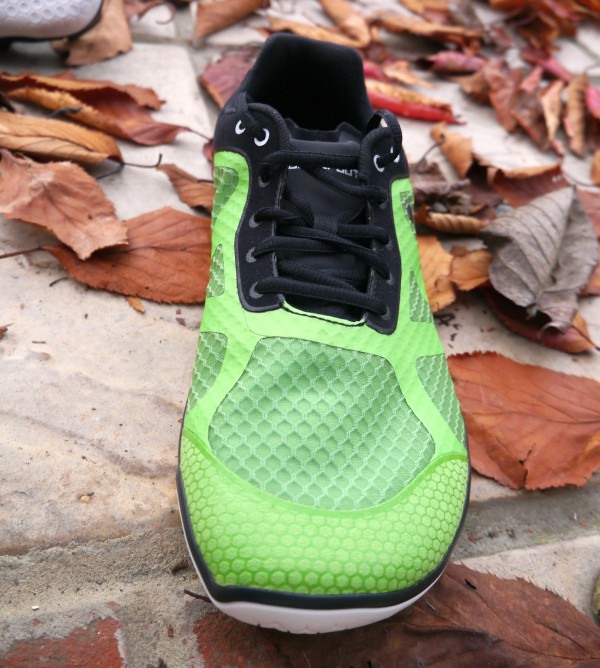 The heel area has a slight bit of rigidity to stop it flopping about too much, but not enough to be obtrusive.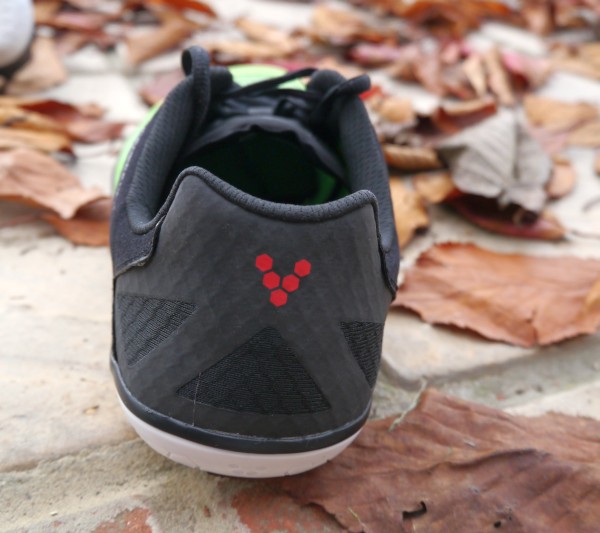 There is some puff around the foot entrance which effectively stops ingress. I don't remember ever having to stop to remove anything mid-run. The insole is just a very thin bit of material to stop the foot sticking to the rubber sole.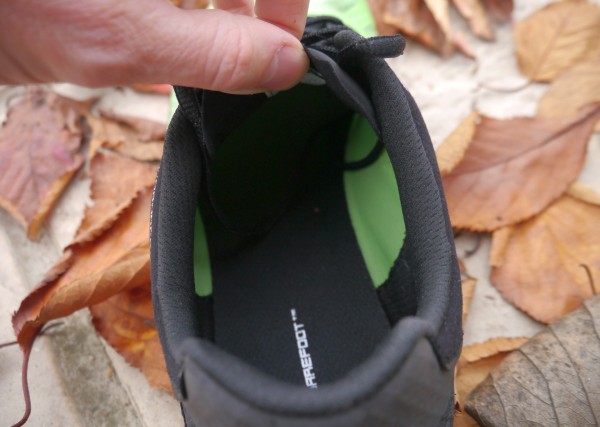 Size and Weight
My size 46 / UK12 are 214g, so not super light, but pretty good for a complete shoe with a solid rubber sole. For reference, I wear a size UK12 adidas Takumi Sen 3, UK11.5 Saucony Peregrine and 45 Vibram Treksport Sandal. This gives me masses of toe wiggle room, but does mean the laces need to be done up tightly which introduces a slight crease near the front of the laces. This happens to me with a lot of shoes due to my narrow feet. Anyone with normal to wide feet will not notice.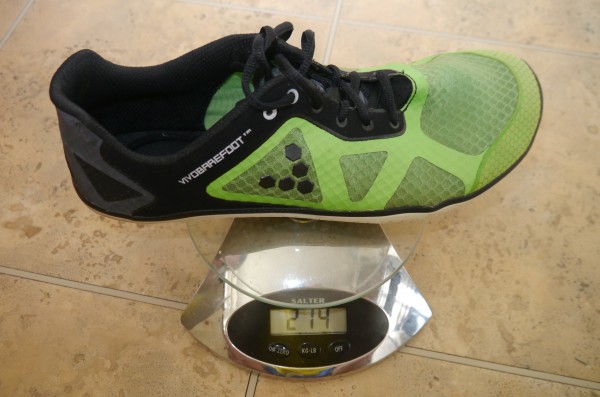 On the run
The toe box is massive. Coming from sandals to most shoes feels cramped but these have enough wiggle room that it's a pleasure to put on. In almost all environments this works perfectly. The only time I wanted something more snug was on a super steep downhill road segment – it was tough to maintain  the speed without submarining a bit. It got better if I tied the laces more tightly than was normally comfortable, but for all other scenarios, it was a great fit.
I originally got them for road use, and expected to have to work up to long distance quite gradually, but within that first 140km I did a 29km run on a mix of road and trails at aerobic base pace – no blisters / hotspots and the shoe coped with everything I threw at it, including road, deep gravel, dirt trails and stoney trails. Large shingle beach was a bit much for me though at this point! My "princess and the pea" feet will have to work up to that.
Something I liked about the Vivo was that even though I have fairly big feet, the rubber sole tracked to my foot, going down smoothly from ball to heel. In 4mm Xeros, the material at the front of the toe strap is a bit flappy and sometimes catches on the ground – I should probably try the 6mm of those at some point. It's a lot easier for me to run flat-out in the Vivos. At faster speeds on the road, close to being barefoot, you feel all many of the small details of the ground and it encourages an even smoother style. Thumping down on to a large piece of gravel is not an option.
I haven't raced in them (yet) – I'm still getting used to them, not being a barefoot style master yet. I'm sure there will come a point soon where I'll have the confidence to try a shorter race like a 5k – when I do, I'll add some notes. The fastest I've done in the Vivobarefoot ONE is a 10k @3:57/km in training – this is about half a minute per km off my race pace. It felt sustainable – could have gone on for longer with happy feet.
I've also used them for walking around town or driving and will often reach for these first when heading out.
The ONE has now been replaced by the Stealth, and if you want something even more stripped back, there's the Pure. Both have 3mm sole, but the latter has a lighter upper. Based on my experience with the ONE, I'll definitely be trying more of Vivobarefoot's range.
---
Thanks for reading. If you'd like to
get better at running, then press here
to check out Runningversity.com. There are online running courses and running coaching options available.
---
If you have any questions or if there is a product on this page you own and you'd like to add your own thoughts, then please use the comments box at the bottom.
We aim to provide unbiased feedback that we hope is useful to both manufacturers and consumers alike. Disclosure: we may earn a lead generation commission from purchases made after following links from our site. This does not affect your purchase experience in any way and allows us to keep this site running.