I've done 260km in them, so it's time for a Mizuno Wave Universe 5 review. I was looking for a low drop, lightweight shoe and so got my local running shop to do a special order to get the Wave Universe. When they handed it to me, I thought they had given me an empty box as a joke. Opening it up to reveal the shoes was pretty special. The vibrant colours of the numbered graphics on the black background really stand out. Comments when I'm wearing them have been positive, such as "Those look fast" and then astonishment when they feel how light they are. I got the 2014 colours. The 2015 shoe is identical and comes in a light green background with white numbering.
It is aimed at performance runners with good form, doing a fast pace on road.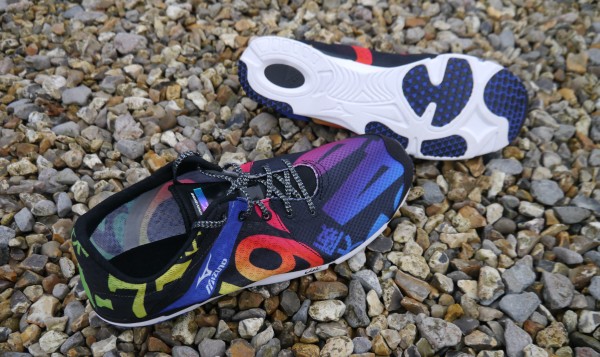 Size, Weight and Drop
I haven't had Mizunos for a while so wasn't sure what size to go for. I'm UK11.5 or 12 in adidas and 11 in Saucony, so I went for a UK11 in the Wave Universe 5. This was perfect, giving me loads of room in the toebox. I have narrow feet so in some shoes the upper reshapes if I tighten the laces enough to prevent interior slip, but the Universe had almost no reshaping and wouldn't matter anyway because there is no structure to get in the way.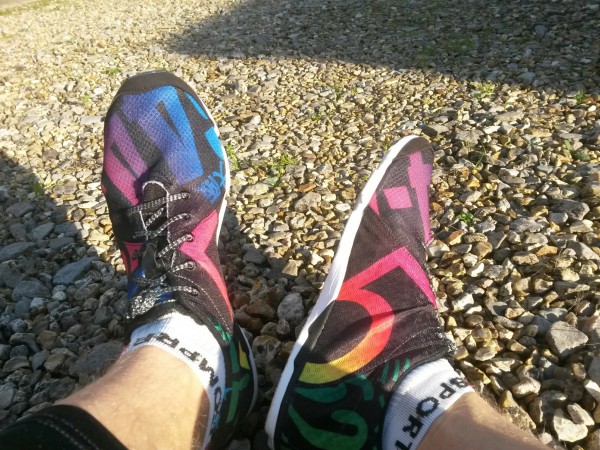 My UK11s weighed in at 102g each. Yeah. 102g. This is lighter than my Xero sandals and yet there's a full sole, upper and laces. What witchcraft is this?? :D Incredible achievement.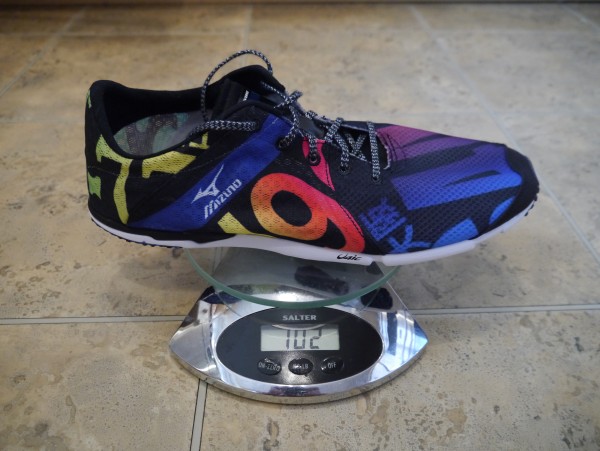 Drop is listed as 4mm.
Tech
Mizuno have still managed to slot their Wave technology into the sole, although as I understand it, this is primarily designed for people landing heel-first and I'm guessing no one will be using these to run very far like that unless they are super smooth. I'm a forefoot / midfoot runner and the design allowed them to disappear from focus while running and just get on with keeping a high cadence. The cushion is minimal but somehow still manages to provide an unexpected level of comfort.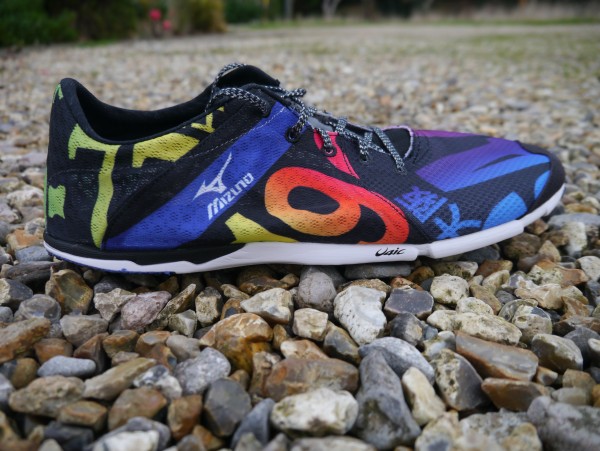 The outsole is a mix of bare U4IC compound foam and G3 grip areas – a grid of hardwearing rubber shapes distributed around strategic areas (heel, ball, outer edge, toe edge). The G3 is makes a light tapping noise on landing.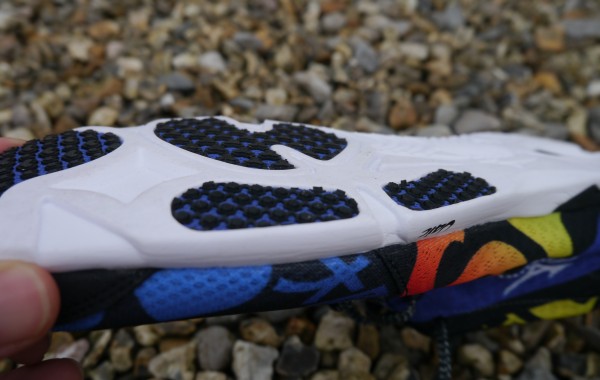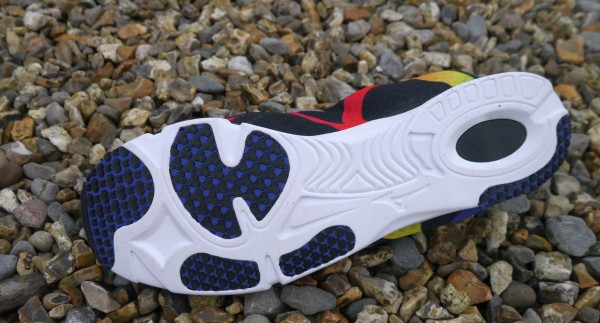 The heel has a cut-out in the middle. If you find yourself standing on a super smooth floor long enough for the heel to compress (like marble in a hotel), there's a tiny suction cap action when you move off – made me smile. This doesn't occur on any normal surface though.
The upper material is necessarily extremely thin and light, with almost no structure worth mentioning. I'm very pleased the designers were confident enough to eschew the norm and realise runners with good form will not need anything other than laces to hold the shoe in place.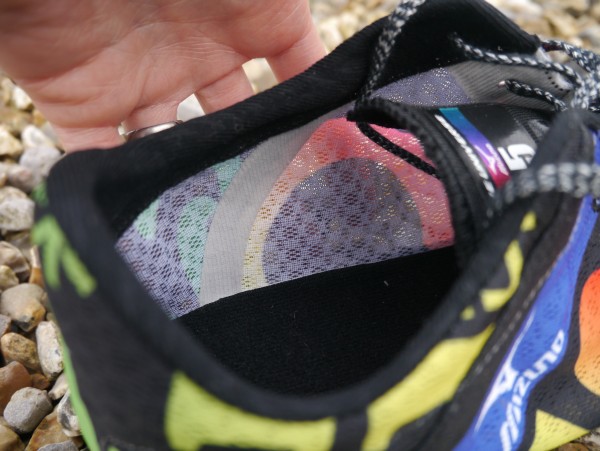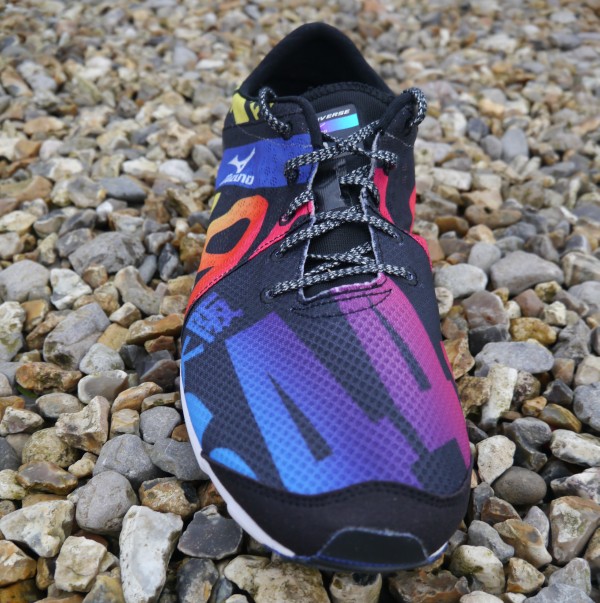 The heel has a basic nod to shape, with padding around the foot entrance to keep out debris and the tiniest backplate, but basically relies on being held tight against the foot.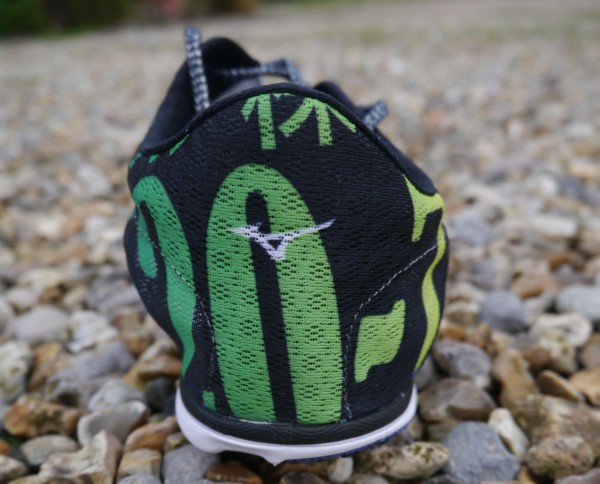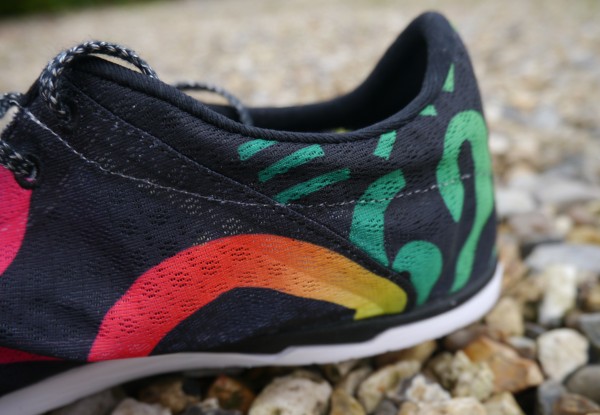 The inside has a wafer thin layer of material placed directly on the foam – no removable insole here. There is no arch to speak of either which is exactly what I was looking for.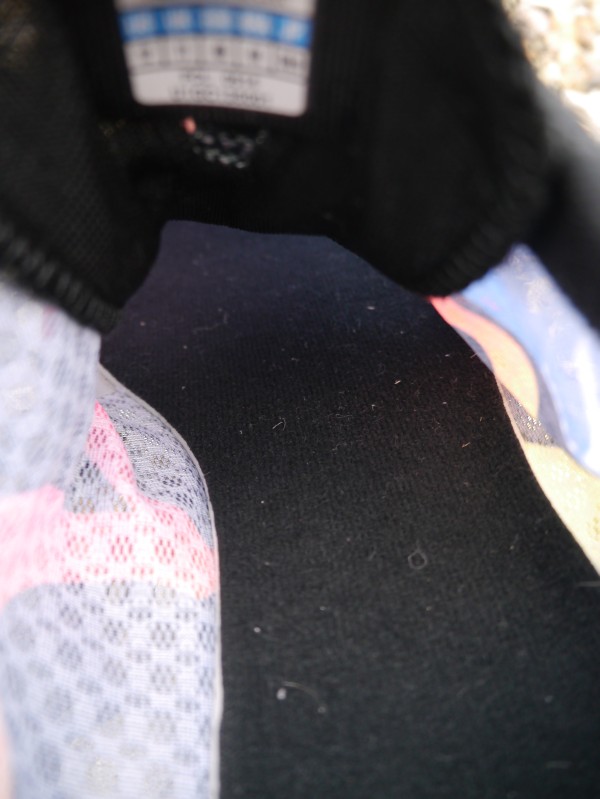 In action
I've used the Wave Universe 5 in a lot of different situations, from training to race and road to trails. I wore them to achieve a PB in my first race of the year, the Chichester 10k, coming home in 35:23. Result! My feet were comfortable throughout the race and at the end, they were ready to go the following week. What a joy. :)
In training I noticed that you have to focus on your running form, avoiding scraping motions otherwise the ball of the foot will heat up on the long runs. The shoe doesn't hide any personal flaws and leaves everything up to you! Love it.
There is no specific point of flex in the sole, so it goes down very smoothly.
In the interests of completion, I tried landing on my heels in them and it's possible, but I'd be looking at something with a little more cushion like the Ediken upwards.
The first time I wore them off road, on a dry stony trail, they did lull me into a false sense of security. There is no rock plate so I had a couple of moments on bigger stones digging into my foot, because guess what? It's not designed for trails! Once I had learnt that lesson, I ensured I used a super soft foot plant off-road without relying on the cushion. A 24k hill run on the South Downs with only a little mud was a whole lot of fun, bounding over the uneven terrain.
I will be doing a long road run in them soon (20+ miles), so I'll edit in some comments on that once done.
I also took them to Bali and Singapore as my only shoe choice because of their light weight and easy packing, racking in the miles along the shore paths in Bali and the city routes in Singapore.
I have to admit, longevity was a bit of a worry, so I was prepared to get new ones fairly soon, but this was completely unfounded. After 260km, there is almost no sign of wear, with the upper still intact everywhere and well attached to the sole, which itself has only a tiny bit of scrub on a couple of areas of foam. I expect to double that. I'm still regularly using them in training and they are now an essential part of my arsenal.
Anyone with great form looking to select an ultra-light minimal racing flat should definitely check out the Mizuno Wave Universe 5. It won't be for everyone, but the target market will enjoy the feeling of being close to the floor, with excellent ground perception, lack of weight and a flexible sole.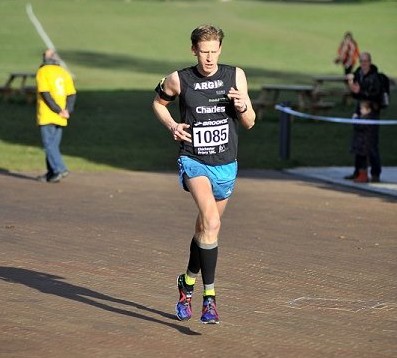 I got mine from i-Run in Chichester.
If you like Mizuno Running, you can follow them on Twitter here.
---
Thanks for reading. If you'd like to
get better at running, then press here
to check out Runningversity.com. There are online running courses and running coaching options available.
---
If you have any questions or if there is a product on this page you own and you'd like to add your own thoughts, then please use the comments box at the bottom.
We aim to provide unbiased feedback that we hope is useful to both manufacturers and consumers alike. Disclosure: we may earn a lead generation commission from purchases made after following links from our site. This does not affect your purchase experience in any way and allows us to keep this site running.