The Wings For Life World Run 2015 is a race I loved being a part of. Wings For Life is a charity that is devoted to funding spinal cord research projects. The race is entirely backed by Redbull, so 100% of the entry fee goes to the charity. The race itself is a little bit different, which is what makes it special. In a normal race, everyone has a set distance and the less time it takes the better. This is good right? The faster you are, the earlier you go home. However, in the Wings For Life World Run, the winners are the people who go home last! 30 minutes after everyone sets off, a car starts rolling at a gradually increasing pace and when it reaches you, the race is over. So the finish line chases you!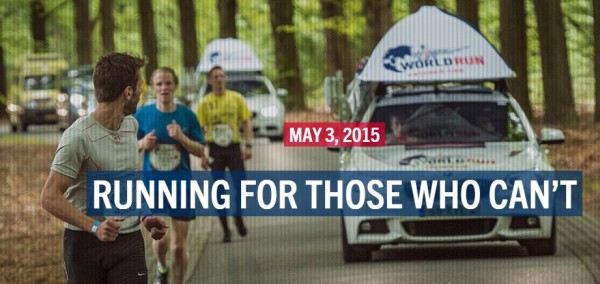 This design makes it a little hard to predict how far you'll get, so the website helps out with a fairly accurate goal calculator – put in a distance you like the sound of, and it will tell you how fast you'll need to run to make it. You then hurriedly adjust it to something else and spend ages fretting over what is achievable :D Then on the day, if you are anything like me, you'll change your plans again.
In addition to the unusual format, the race also has another trick up its sleeve; you are also racing against many runners in many other countries, who all start at exactly the same time. So in Japan, they are running in the dark.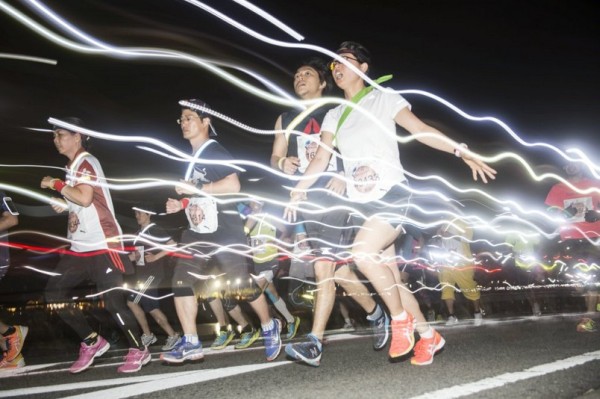 I was invited to run at the UK track, so thanks to Redbull who put me up for the night at Silverstone race track. I was fortunate enough to have dinner with the eventual winners and a whole group of other awesome people. I got a few tips from the experts and those who had run the race previously. I confidently announced I would be doing a marathon. What they all completely failed to mention was how hilly the UK course is. Cheers guys. "Undulating" was mentioned by the race director. Yeah, right. Silverstone circuit itself is fairly flat, but that's only the first 7km. After that, it disappears into the countryside and the rolling hills. Don't get me wrong, I love hills, but before you tell everyone what you are aiming for, figure out if you are getting far enough to reach the aforementioned undulating sections which started around 14k on the 2015 course. If you are aiming for 10k, you should be fine because the last 2k are downhill :) However, the long hill at 26km is particularly exciting if you aren't expecting it. It's not like a mountain race or anything, but there was 360m of elevation in the total distance I ran – read on to find out how far that actually was. Or cheat and look on my Strava upload here.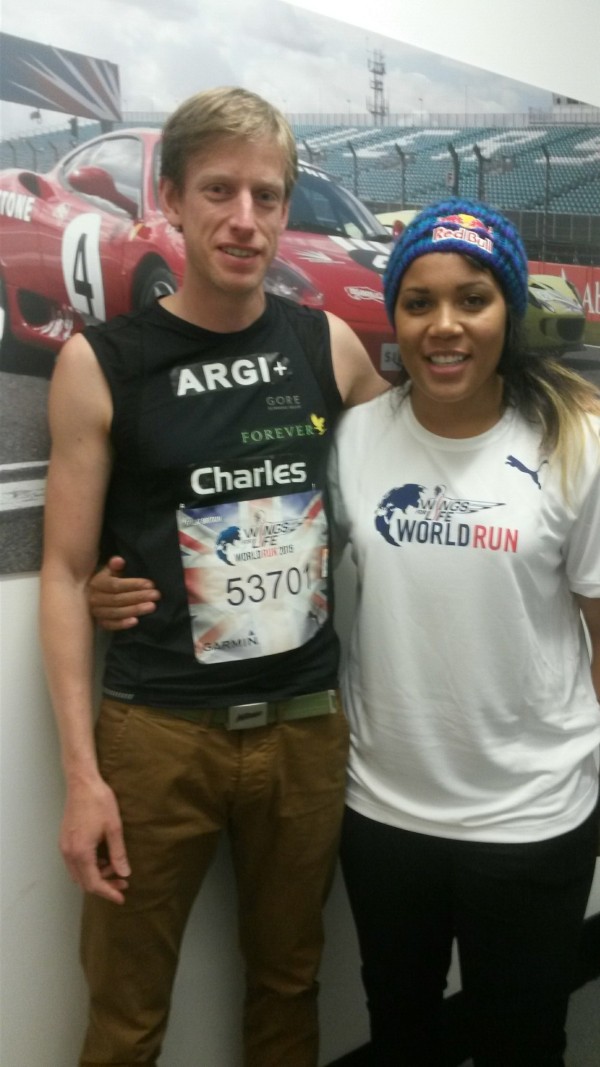 Arriving at the circuit, the sign-on was super efficient and with the wind blowing and drizzle, they even had ponchos for everyone to use at the start line – top stuff! Then I ended up chatting to my first Redbull hero of the weekend: Shanaze Reade, superstar BMXer – if only I had half as much talent on a bike as her. Shortly afterwards I made my way to the start line and confidently stood at the front. I had decided to try out nasal strips for the first time in a race, so am looking super-sexy in the photos right? However, they worked and I could breathe through my nose when I wanted to relax a little.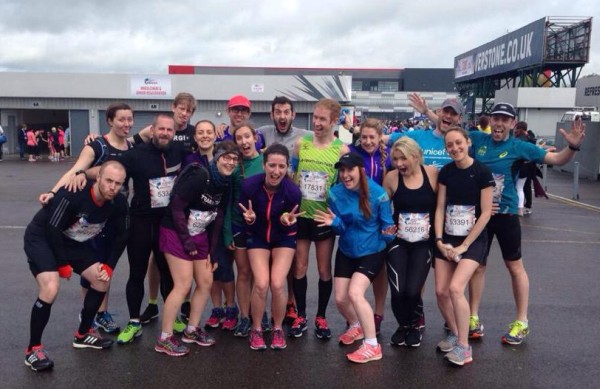 In the UK, David Coulthard, F1 star, had jetted over from his Monaco residence to take the wheel of the chase car. "Is this the slowest you'll have ever driven?" "You obviously didn't follow my F1 career!" :D After getting us warmed up, at midday on the dot, we set off. It was weird running round a race track – I have driven around Silverstone in a race car, but running it was a little surreal, with little to see apart from the wide stretch of tarmac, tyre walls and the occasional bridge. I kept myself amused by making F1 style noises around all the corners and taking a few selfies.
You can just about spot me wearing my adidas Takumi Sen 3 Boost on the right of the start line in the pics below. The guy on the motorbike is clearly cheating.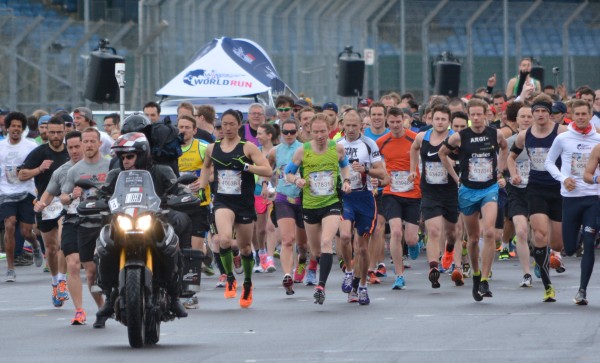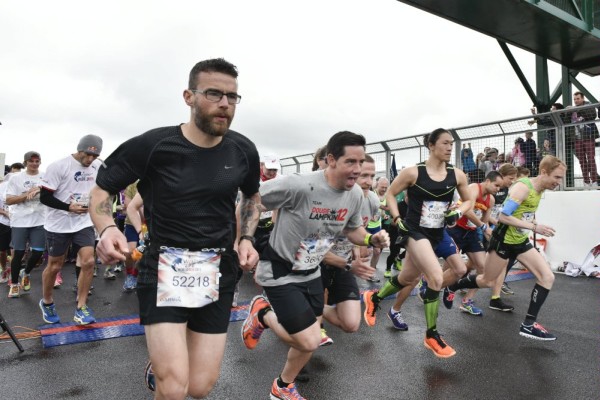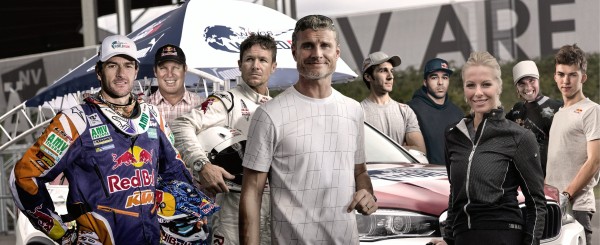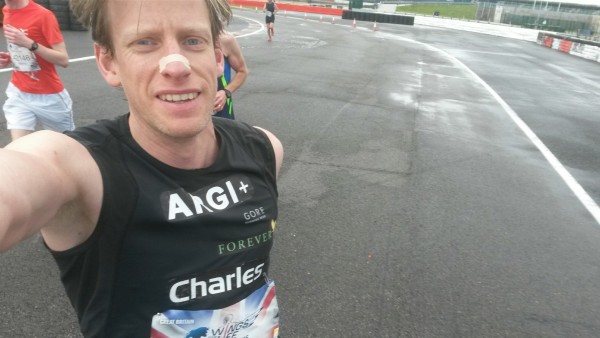 Having no idea what the course was like outside the track, I took it easy to start with. Very glad I did, because from 15k onwards the hills started. Good training for the South Downs Way Relay though :) Thinking that I had no chance of making the marathon distance due to the hills and the sun (got sunburnt!), I picked up the pace for a readjusted goal of 36k. However, the new pace meant I picked off huge numbers of people and was back on track for a marathon after a while, even though my heart rate was going nuts, suggesting I had no hope of keeping up that pace. Somehow though, with a little help from people cheering in villages along the way I kept it pinned, doing my best to ignore the serious wind speed at some points. In one village, some boys tried running along next to me as long as possible. I shouted at them to really go for it and we had a little impromptu race. I think I made their day. I was using Maxifuel viper gels on the day. I managed to open one of them squeezing too hard and most of the contents went up my nose, across my face and down my leg. Later in the race, I thought my knee was seizing up, but it was just the gel crusting over :D
It got pretty lonely towards the end of my race. I picked off a runner every once in a while and then just as I started to flake, Rachel Atherton (World MTB DH champion), another personal hero of mine (I love mountain biking), rode up next to me on her road bike and told me to get a shift on because David Coulthard was close behind. Gee Atherton (also world champ) rode past on his bike making a hell of a noise – seemingly unperturbed by the complete lack of tyre!! He was just riding on the rim. I highly recommend having a world champion riding next to you to find some extra energy – I realised it was time to impress. I looked back and glimpsed the car a way back, but by this point my legs were feeling interesting. I won the mental battle and picked up a searingly painful 3:45/km pace for what felt like forever. Poor old Rachel had to hear me swearing away under my breath due to the effort – I was well on track for a marathon PB even despite the hills!!!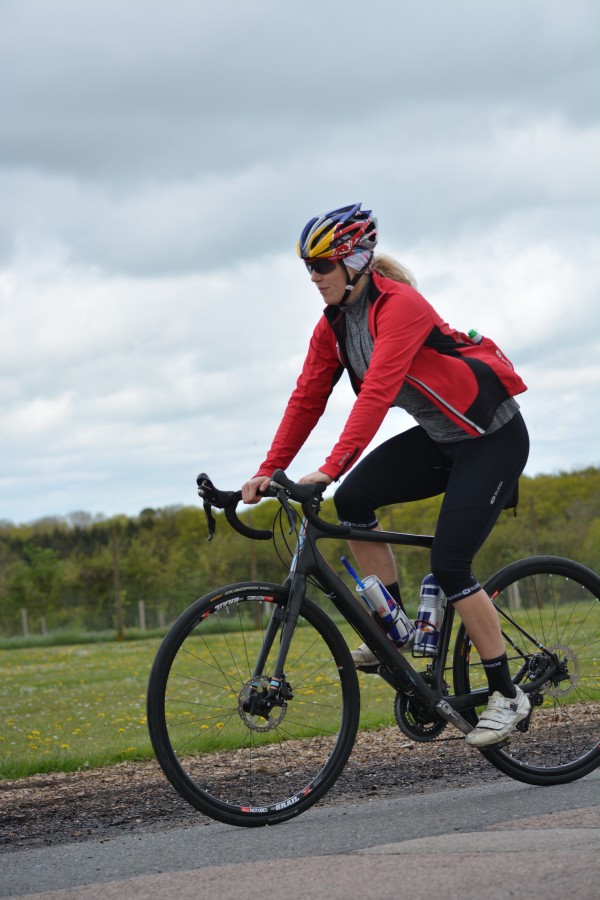 We spotted another runner in front of us and we were gaining on him fast and she told me we could close the gap before the car got to us. I tucked into her slipstream and realised I was going very fast indeed – every ounce of my being was shouting at me to give up. Finally my body told me to get lost and introduced cramp in both hamstrings at once to end my race just before I reached him. David drove past 30 seconds later while I was busy keeping the cramps under control. It was good enough for 41.94km in 3h08m – only 240m away from my goal. :D My average heartrace for the race was 171, which is totally bonkers. I was definitely trying hard enough.
I jumped into the final minibus to be greeted by the top few runners. They told me I was in 3rd place (UK) which was pretty thrilling! Only one person got on the bus after me and he thought he was in 2nd. The official results said that I was 4th though, so there must have been another runner that got put in a different transport somehow. We cruised along for a while drinking water and Redbull, chatting about the race. On reflection, the race director did great! There were water/Redbull stops at regular intervals, with bananas and stuff if you wanted. For the top few runners, there were motorbike riders coming past, offering bottles of water on the run – an amazing touch :o The course was very well marked and marshalled.
As the bus cruised through one village, a group of people sat outside a pub with pints made "L" signs ("losers") against their heads as we went by. Pretty funny :)
Once we knew the winner, Tom Payn (Run Fast), had been picked up by the chase car OK, we headed back to Silverstone. He had held off for a rather impressive 61k. Monster!! Much as I'd like the pic below to be of me, it's Tom.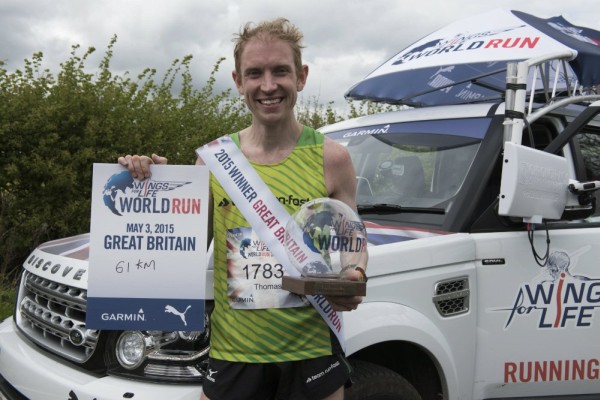 Kate Carter (Guardian) won the women's race. Back at the track, we met the real winners of the race – people with Spinal Cord Injuries who will benefit from the $4m+ raised by the event. Incredible!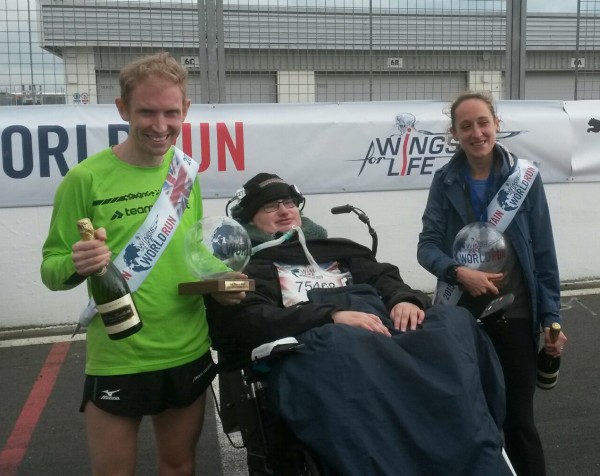 In true Redbull style, the after-party with free beer and a DJ was well worth it, albeit with more sitting down than the DJ was probably used to! I had a chat with David Coulthard about every day life. Inspiring hero day to the max.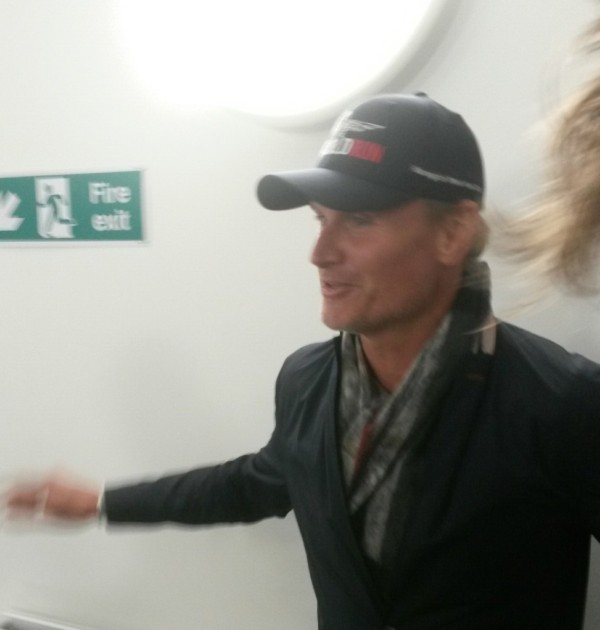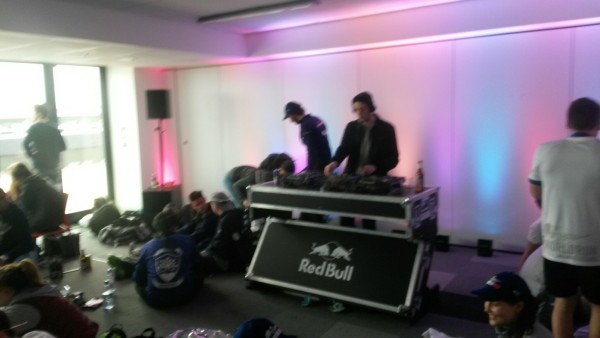 It was an excellent, fun event, with some great people and I'm sure the circuit could cater for double the amount of people, so make sure you preregister for next year's wings for life world run. On a personal note, I've never run so hard in a race in my life, but there were plenty of people just out to enjoy it as a fun-run, so it's entirely up to you what you make of it. All good.
---
Thanks for reading. If you'd like to
get better at running, then press here
to check out Runningversity.com. There are online running courses and running coaching options available.
---
If you have any questions or if there is a product on this page you own and you'd like to add your own thoughts, then please use the comments box at the bottom.
We aim to provide unbiased feedback that we hope is useful to both manufacturers and consumers alike. Disclosure: we may earn a lead generation commission from purchases made after following links from our site. This does not affect your purchase experience in any way and allows us to keep this site running.