With no sign of winter ending and being fed up of my fingers taking 30 minutes to warm up, I bought some SealSkinz waterproof winter cycles gloves at level 4 on their thermal rating from Geared Bikes in Chichester.
Hardcore water test
I wanted something waterproof and breathable, and these ticked all the boxes. When SealSkinz say they are waterproof, they really mean it. After a few rides without rain, I decided to check their claims by plunging my gloved hand under cold water in the sink. After 60 seconds of squeezing and swishing about under the water, absolutely zero water got through to my hand. This was a pretty extreme test and I was fully expecting to find some limitation in the waterproofing, but the results were perfect! The back hand is waterphobic, with any sign of water just rolling off it. The palm absorbs water, but this would normally be protected by the handlebars.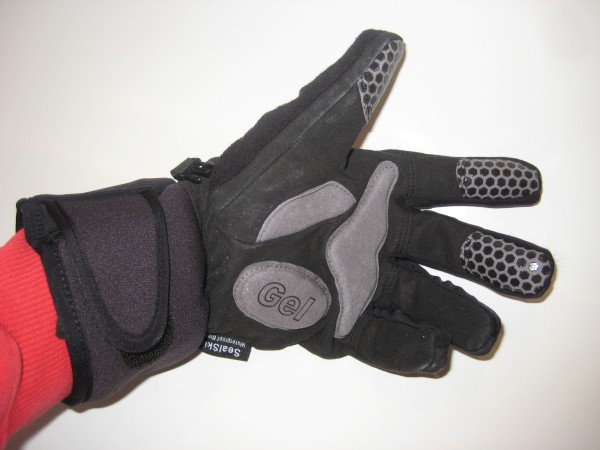 Breathe
The breathability was proved out on the rides. My hands stayed warm and sweat free on rides down to 0degC, apart from a slight sweat area around the wrist that was unobtrusive. A small price to pay for warm hands on a cold ride. For even colder rides, there is a version with "thermal rating 5".
My middle finger is 87mm from tip to where it meets the palm. I therefore needed the size XL. I have narrow hands, so for me there is a bit of excess room under the palm, but this is only noticed when not resting on the bars. Anyone with normally proportioned hands will find them perfect.
It did take me a little while to get used to the multi-layer construction; it allows for a fair degree of movement. This is because previously I've always ridden with single firm layer gloves that don't allow any movement. It's a necessity of the super soft and comfortable materials used in this SealSkinz glove, but warm hands with a bit of movement wins over fixed cold dead hands with no feel!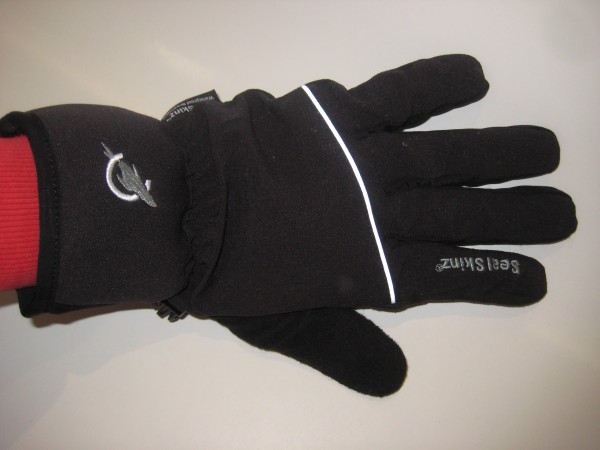 Tech Features
The nose wipe is huge being the entire back of the thumb and is very easy-going on the skin. Gel pads on the palms are positioned to be around the bar to relieve pressure rather than be protection pads during an off. I haven't fallen off in anger with them yet, but if I do, I'll report back on how the gloves hold up. There are silicon pads on the first two fingers for extra grip on the brakes and on the thumb for gear selectors and these work very well, providing a noticeable amount of drag on most smooth surfaces. A highly reflective strip is positioned all the way across the back of the glove such that it will be facing straight forwards towards cars. A velcro adjuster on the wrist / arm section allows tightening around clothes if need be.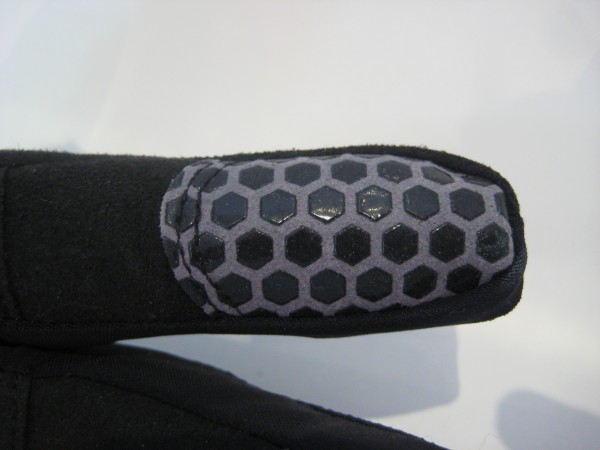 Warm Hands for the Win
Literally the only way this glove could be improved would be by providing a custom sizing service! The glove does everything right, being warm, comfortable, tremendously waterproof and highly breatheable, so long rides in cold and wet weather become so much more fun.
If you like SealSkinz products, you can follow them on Twitter
---
If you have any questions or if there is a product on this page you own and you'd like to add your own thoughts, then please use the comments box at the bottom.
We aim to provide unbiased feedback that we hope is useful to both manufacturers and consumers alike. Disclosure: we may earn a lead generation commission from purchases made after following links from our site. This does not affect your purchase experience in any way and allows us to keep this site running.