In December 2011, my sister called me with a bit of a surprise, saying that she had a Charity Bond ticket for the Virgin London Marathon 2012, and that I was going to run it and raise money for her charity, South Bucks Counselling, part of WPF Therapy which provides high-quality, affordable counselling and psychotherapy. 26 miles and 385 yards is about 20 miles further than I'm used to running, so after the initial shock, I decided I had better say "Yes!". Many people enter the ticket ballot every year and are turned down, so since it was being handed to me on a plate, it was time to make 2012 the year of my first marathon. This is both a review of the event and also of my performance on the day.
After confirming my entry on the VLM website, the race information started arriving from Virgin in the form of a variety of magazines spaced over the coming months, including advice on how to prepare, how to raise charity money and suggestions for charity causes if you hadn't already decided. The final magazine including very detailed and essential information and advice for both runners and spectators / family support crew. It set out every detail and answered almost every question you could think of about the organisation of the race and what will happen on the big day. It also included some very good safety advice about not running if you have been ill. You are allowed to defer your ticket to the following year if you cannot run – Virgin are very concerned about your health and safety. Good to see!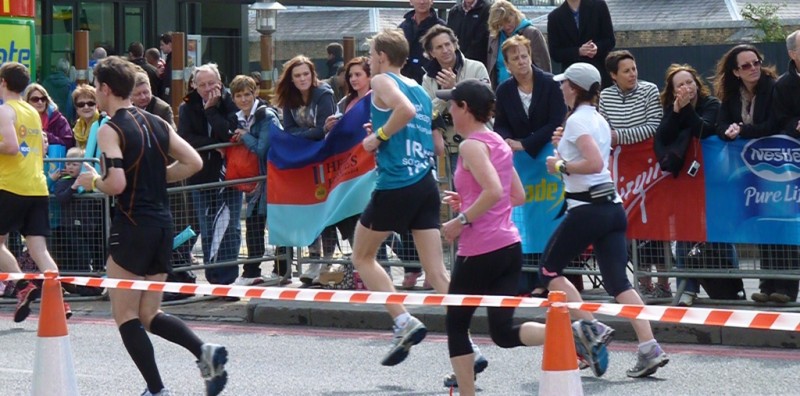 Race Packs were collected in the week leading up to the event at the Virgin London Marathon Expo. This exhibition is a running fanatic's dream is no doubt of interest to anyone else attempting to finish the marathon too. A vast hall of exhibitors covering all aspects of the sport were there to display their wares, from clothing and food to magazines and support organisations. Additionally there were regular stage presentations and advice from sports personalities and experts, although at this late stage, you should be careful about changing any of your race plan and just store up the advice for next time.
The Race Pack included freebies – some odd (beer from the sponsor, London Pride) and some not so odd (some wholegrain rice), as well as the expected race number, race guide and timing chip. The chip ties on to your shoelaces and triggers your start and finish time, as well as at various points along the route so that anyone with web access can track your progress in real time. It also ensures that your time is personal, since it can take you a while to even reach the start line – there are 35,000+ other people all trying to get to the line too.
WPF Therapy were very supportive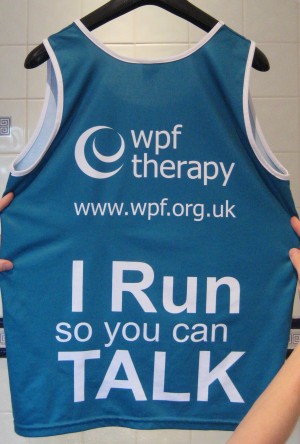 and sent me a quality running vest with a charity themed message on it.
On Sunday morning, April 22nd, I headed into London, showing my race number to Underground staff to get free travel – many thanks! Things didn't go quite to plan after someone threw themselves in front of the train, but after eventually finding a way to get to Greenwich park with minutes to go till the start, I threw my kit bag on the relevant numbered lorry and ran to use the loos which were by now almost empty. I then ran up the hill towards the start area – not quite the gently warm up I had envisaged! During registration on the website, you need to guess your expected finish time so that you can be put in with a group of similarly paced runners and don't get in the way of faster runners, but my start pen was full with no clear way to get over the barrier. So I ran as near to the front as I could just as they all started running and just waited for 30 seconds before joining at a gap in a barrier with runners that seemed like a similar pace to that which I hoped to achieve. From looking at everyone's relaxed nature, I'm sure that if I had arrived on time, the start pen procedure would have been as efficient as everything else was on the day. Unfortunately due to worrying about even getting there and my unusual warm up, I was pretty far from relaxed, but the sun was shining which was a great change from the few days before hand, so that cheered me up a bit.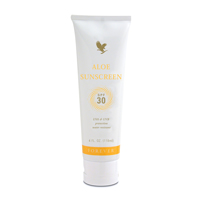 As I ran across the start line, the cheering from spectators started and barely stopped for the remainder. This was truely stunning for me – I'm used to running when there is almost no support and to have the constant noise from the crowd was very uplifting and I found myself being dragged along with the runners around me as I started to settle into a ryhthm. Along the way, I saw regular portaloos and even a cooling shower section to run through which I made use of because I was feeling very hot. At the end of the day I discovered that I had sunburn on my shoulders and neck. Forever Aloe Sunscreen Skincare added to my kit bag list for next time!
The Mile Markers were big red arches across the road, visible from a long way off, so keeping to a strict time per mile was pretty easy. The water stations were mostly very good, being long enough so that it was safe to grab a drink without too much worry of being intercepted by another runner.
After 8 miles of taking it all in and forgetting all about my race plan, going a fair bit quicker than I had intended, I remembered to look at my heart rate, because I was starting to sweat quite a lot in the unexpected heat. I noted that it was rather higher than I had expected, but instead of taking action, I pretended everything was fine and carried on at the same pace. I passed the half marathon in 1hr36m which was too fast for my target of 3:15 – I had intended to run slower in the first half to save energy and then speed up in the second half. Unfortunately, the damage was done and I had already started to slow. By mile 15 I was in trouble and at mile 16 cramp arrived in both thighs, presumably from not replacing enough salt lost through sweat by running too quickly for the conditions and my fitness.
The pain was searing and I had to stop, but just as I did, a voice next to me said "Can I help?" A young lady with "Medic" on her t-shirt appeared like an angel and massaged my legs back into life. I saw a lot of them after this, so the on-road support by the Virgin team was superbly well organised. This got me going again for a few miles, albeit at a much slower pace but after that I had to start resorting to a weird "ministry of funny walks" style shuffle, my knees being too painful to bend properly. Regardless, each step was agony, and the mental battle commenced. I can quite honestly say I've never been in that much pain for so long and I was on my fall back plan of "get to the finish no matter what" – there was 1500 of charity money to get! You can probably imagine the devil on my shoulder saying to stop and give up, but I blocked everything out and continued on. The crowd were amazing in the later stages of the race. Every time I tried to stop running (or shuffling), the crowd surged and you couldn't help but smile and put a fraction more effort in to keep going. I saw my family at 20 miles and then followed a life enhancing 6 miles of hell :D
I made it to the finish line and although it didn't at the time, thinking about it now brings a tear to my eye. The support crew grabbed me to stop me falling over, gave me a medal and took the timing chip off my shoe, whilst congratulating me and giving me a finisher's bag, including a brilliant t-shirt.
The meet and greet with the family was seemingly chaotic, but I met up with everyone quickly and easily even in my dazed state. I was disappointed with my time, but impressed that I'd even finished, given the cramps, but the family cheered me up no end.
I noted with a smile that the GPS on my phone had gone crazy in the tunnels in the latter stages of the race. I use sports-tracker.com and it said I had teleported across the river and back! So watch out for this if you rely on GPS – you need a watch too.
One of the best things about the Virgin London Marathon is the set of landmarks you run near, so be sure to look around you and enjoy the view while running.
I can't compare to other marathons (yet), but the organisation of the Virgin London Marathon 2012 met all my needs perfectly. I came armed with all the information I needed about the event and had all the facilities I needed, before, during and afterwards. When I do the Portsmouth Coastal Marathon 2012 in December, I'll just need to come armed with the experience learned from this one to do better.
Did you also run the Virgin London Marathon 2012? If so, we'd love to read your review – click the button further down.
---
Thanks for reading. If you'd like to
get better at running, then press here
to check out Runningversity.com. There are online running courses and running coaching options available.
---
If you have any questions or if there is a product on this page you own and you'd like to add your own thoughts, then please use the comments box at the bottom.
We aim to provide unbiased feedback that we hope is useful to both manufacturers and consumers alike. Disclosure: we may earn a lead generation commission from purchases made after following links from our site. This does not affect your purchase experience in any way and allows us to keep this site running.