I've been using an L-Arginine supplement called ARGI+ for almost a year now, during which time I have seen tangible benefits in performance improvement and decreased recovery time between exercise sessions. However, the first question that people normally ask me is if tastes good too, to which the easy answer is yes! It is also dope tested / certified by HFL Sports Science / LGC Group , one of the world's premier independent drug surveillance laboratories, providing internationally trusted expertise in all aspects of doping control for professional sports.
You can buy it direct by clicking here. Forever offer a 60 day money back satisfaction guarantee, so you can try it with confidence.
ARGI Review
ARGI+ is by Forever Living Products, a manufacturer and global supplier of natural health and nutrition products, so quality and consistency is assured, but what does it actually do? It is being marketed as promoting healthy blood pressure via boosted nitric oxide production in the body, with anti-oxidant ingredients.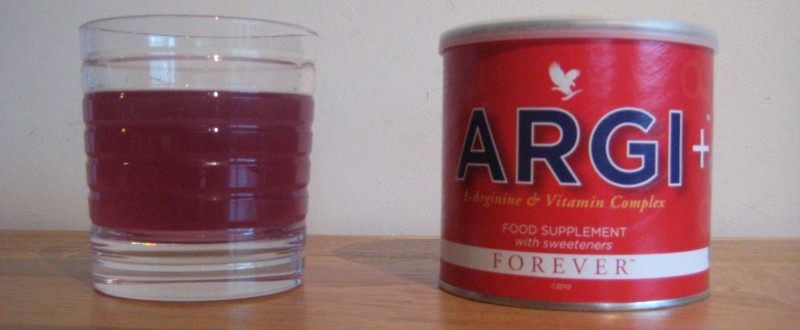 Here's the science.
Nobel prize winning research shows that the presence of a sufficient quantity of nitric oxide dilates the blood vessels, getting oxygen and nutrients more easily to all of your body tissues. To make nitric oxide we need L-Arginine (an amino acid), an enzyme (nitric oxide synthase), and cofactors (vitamins / antioxidants). Our bodies naturally produce L-Arginine, but it is classed as semi-essential, so we need to get extra L-Arginine from the food we eat. However, those with poor diets are not getting enough, resulting in high blood pressure, compounded by the poor condition of the blood vessels associated with such diets. Additionally, the body uses a costly amount of energy when it synthesises L-Arginine. Therefore anyone taking an excess of L-Arginine will save energy that can be used elsewhere, which should be especially beneficial to anyone taking part in higher level activity like sport, both during exercise (energy saved) and during the recovery phase (increased blood flow).
So in case you glazed over during that, in summary: Have a poor diet? Take L-Arginine (and sort your diet out!). Want to run faster for longer? Take L-Arginine. Want to recover quicker? Take L-Arginine.
The missing link.
Taking L-Arginine alone isn't enough – without enough of the various cofactors (vitamins and antioxidants), the reaction to create nitric oxide can't take place. ARGI+ provides both, ensuring you have all the necessary ingredients together at the right time.
The Nobel Prize winner Dr. Ferid Murad talks about his research and ARGI+ in the video below.
The benefits.
So now that we have a way of helping our blood vessels dilate, what benefits can you expect to see? Forever lists the following:
Healthy blood pressure levels, Overall cardiovascular health, Immune function, Muscle growth, Bone & tissue growth & repair, Male sexual function, Fat and glucose metabolism, Anti-aging hormone production.
I have been taking ARGI+ with the aim of training harder and recovering more quickly.
The taste.
ARGI+ contains grape, pomegranate, black currant, elderberry, raspberry, cherry blackberry and blueberry, so naturally it tastes really good. It also does a fascinating magic colour change when mixing. See my video below!
My results.
My first experience with taking ARGI+ was half an hour before a 14 mile marathon race pace run. The first mile of the run was a little odd as my heart rate was higher than normal which was worrying, but after that mile, heart rate quickly dropped back down to a few BPM below normal for the level of exertion / pace. I pushed on a little faster than I had expected to get the heart rate back to its normal level and this continued throughout the rest of the run. So I finished a few minutes quicker than I had expected. Forever advise taking 10g, 30 minutes before exercise, but I tend to have it 45 minutes before.
Since then I have been taking it regularly, both before exercise for an added boost and afterwards to help my recovery time. I have also experimented with sometimes taking it, sometimes not, for example before structured interval training. I do sets of 800m at a set pace, with 400m of recovery jog to get my heart rate down under 140bpm ready for the next 800m. If I don't take the ARGI+, I normally have to walk for a few seconds at the end of the 400m recovery jog to get the last of the heart rate down, but if I have taken ARGI+ it drops more quickly during the jog, already dipping under 140 with 50m to go, and sometimes dropping even faster than that. The heart rate during the 800m is sometimes lower with ARGI+, although marginal, so tough to directly attribute this to the L-Arginine.
I also take ARGI+ after exercise to speed up recovery. If I do not, my legs have noticeably more ache the following day and less willingness to do the following day's training at the required exertion. If I've had a tough session, I take it just before bed so that it keeps my blood vessels dilated while I'm asleep, while the body is in repair mode.
During the summer I slipped and broke my shoulder blade during a very wet cross-country race in a bizarre plank-over-ditch incident. The doctor told me to avoid exercise for a few weeks and that it would still be painful after 6 weeks, whereupon I should come back and see him to check it was healing OK. You should listen to your doctor, but I chose to bend this advice and got back into it as soon as possible, back up to 10k runs in 3 weeks while taking lots of ARGI+. At my 6 week check-up, the doctor was surprised that he couldn't find anywhere that hurt, no matter where he prodded.
While using ARGI+, I have had my PBs for 5k (17:23), 10k (35:21), Half Marathon (1:23) and Marathon (2:58). I came 3rd in the Redbull Wings For Life chase race (reaching 42km with 350m of elevation in 3:08 before I was caught).
If you are an athlete and looking to be a better runner, contact me for coaching or online courses at my site that helps you be a faster runner.
What the experts say.
Many top athletes are using ARGI+. Whilst I'd love to be able count myself amongst them, I have a fair way to go yet, so here's what those who are at the elite end of the fitness spectrum have to offer.
Gemma Steel, Team GB runner, uses ARGI+ as part of her training regime, as well as various other great Forever products.
Kristin Möller: 2016 Sweden Ironman winner – "I trust in the power of ARGI+. During training for middle and long distance, regeneration plays a very important role. ARGI+ helps me do the next training sooner and more refreshed, even after hard training. ARGI+ is now an integral part of my training, competition and everyday life."
Stefan Schmid: 2015 Ironman Mexico 1st place, 2010 Ironman World Champion Hawaii – "Since ARGI+, I am recovering faster, I'm ill less often and feel more energetic. Also, an arginine product that actually tastes good!"
Robert Förstemann: Bronze in the Velodrome team sprint at the 2012 Olympics – "Thanks to ARGI + which has increased my mobilization and improved my ability to recover detectably"
Katherine Mueller: 2012 – first Place ETU European Triathlon Cup – "I use ARGI+ as my regenerative supplement"
Guenther Weidlinger: 2011 Austria Half Marathon champion – "Since using ARGI+ I've seen a huge jump. ARGI + has enabled me to better performance."
André Pollmächer: 2011 Germany Half Marathon champion – "ARGI + is absolutely fantastic, I drink it every day before my workout. I am able to regenerate quicker and relieve my pain in the feet"
Summary
ARGI+ is a great tasting L-Arginine supplement which benefits from the added proprietory blend of vitamins and antioxidants which are needed during the creation of nitric oxide in the body which dilates the blood vessels, helping increase performance and decreasing recovery time. It is endorsed by many expert athletes and by Nobel Prize winning researchers. I use it daily.
You can BUY IT DIRECT by clicking here to ensure you get the 60 day guarantee. Look in the supplements section. For enquiries, call 079 06 05 80 62. As with any supplement, you should consult with your doctor before use if you have any medical condition or are pregnant.
---
Thanks for reading. If you'd like to
get better at running, then press here
to check out Runningversity.com. There are online running courses and running coaching options available.
---
If you have any questions or if there is a product on this page you own and you'd like to add your own thoughts, then please use the comments box at the bottom.
We aim to provide unbiased feedback that we hope is useful to both manufacturers and consumers alike. Disclosure: we may earn a lead generation commission from purchases made after following links from our site. This does not affect your purchase experience in any way and allows us to keep this site running.