Most of us spend a lot of time choosing the right trainers, to match their intended use and ensuring we purchase the best possible technology given a certain budget. However, when it comes to our kids, there is a tendency to just head down to Clarks or similar high street shoe store and get a pair of trainers that they can use for everything. This is exactly what I did for the first couple of pairs of trainers for my son, but this time around, I decided to do consider other options.
I found that adidas do some kids' shoes called AdiFast for a very reasonable price and after showing him the photo on the website, I ordered a pair. When they arrived I was astonished at how light they are compared to his Clarks and they aren't even part of the Adizero range (within which adidas do a kids' Feather and kids' F50 2). I hoped that they would fit the bill as an all-purpose shoe, as versatile as the sturdy Clarks.

Light Weight
Once I had the opportunity to get them back off him, I grabbed his old size 9.5 Clarks and the new size 12 AdiFast and popped them on the scales. The results are eyebrow raising. The AdiFast came in at a meagre 135g with the Clarks coming in at a monster 210g!
Have a look at our video below which shows the comparison on the scales.
AdiFit
If your kid is trying these on in a shop, note that to help you size them, the removable insole has AdiFit markings on it, so take it out and ask them to place their heel on the diagram and note the toe position. What a great feature – asking children if their shoe fits doesn't really work, so anything to help out in this area is welcome. There is a pronounced reinforcement in the heel, so both correct fit and doing them up snugly are important to prevent rubbing. Wearing them loose without socks gave a blister, but after I showed him the best tightness to do them up, it was solved. The front of the shoe is quite wide, so if they have a super narrow foot, get them to try the AdiFast on to be sure.

Feedback from the next generation
He has been wearing them a while now, so I asked him to think about the trainers while using them and then later took some time to sit down with him and get his thoughts.
Note that he wears them for everything, including walking, running and cycling. He said they are a lot more comfortable than his previous all-purpose trainers, both underfoot and on top. Although Velcro is pretty standard on shoes of this type, he found the large Velcro straps particularly easy to adjust. He was also keen to point out that they work really well on his bicycle pedals – turning them over it was clear to me why this should be so. The base has a wide flat profile and unlike a lot of other trainers, there is minimal waisting in the middle (more like an oval instead of an 8 shape), which makes it perfect for planting on the pedal firmly and going for it straight away, without needing to move around to find the best platform.
I then asked about running to which he said that he lands very flat on them. I believe this is due to the extended heel section which promotes a mid-foot strike. Despite the best efforts of flat plimsoles, most kids have already learnt bad habits from an early age from wearing cushioned shoes allowing them to land as hard as they want on their heels. Certainly watching him running around barefoot in his first Kung Fu class, his heels were thumping hard on the hall's floor the whole time and he complained of sore heels afterwards for a couple of days. However, when he runs in the AdiFast, he lands much more flat-footed, which is great in my opinion.
He also liked what he called the "squidgyness" of the sole which was much more cushioned than the Clarks.
I've noticed that the forefoot is fairly flexible (again, especially in comparison to the Clarks) and since they won't be running long distances at this stage, this flex is good for feeling the road and building strength in the toes.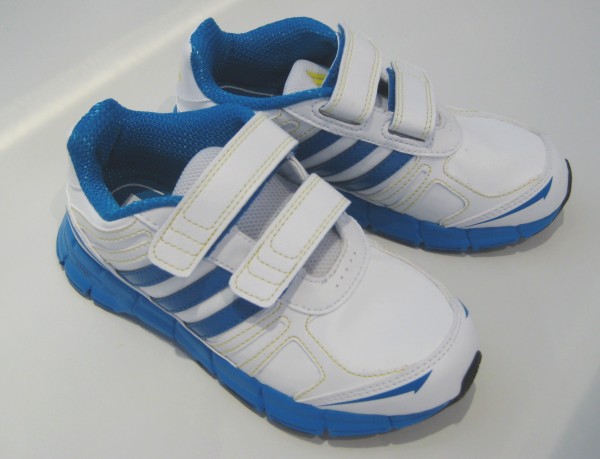 Brilliant White
The whilte leatherish upper cleans very easily. This is important to kids and parents alike! It wipes clean with a wet cloth.
Safeguarding the future
It's in these formative years that kids decide what the like and what activities they want to do. If you give them a headstart by selecting the right gear for them from the off, there's a better chance they will enjoy the experience more, wanting to stick with it for longer.
I'll definitely be looking at brands with sport experience for any future trainer purchases for my kids and recommend that anyone looking to select their children a light weight value for money shoe shoud take a close look at the adidas AdiFast kids shoe. You can buy them direct from adidas.
---
Thanks for reading. If you'd like to
get better at running, then press here
to check out Runningversity.com. There are online running courses and running coaching options available.
---
If you have any questions or if there is a product on this page you own and you'd like to add your own thoughts, then please use the comments box at the bottom.
We aim to provide unbiased feedback that we hope is useful to both manufacturers and consumers alike. Disclosure: we may earn a lead generation commission from purchases made after following links from our site. This does not affect your purchase experience in any way and allows us to keep this site running.