The adidas Takumi Sen 3 boost reviewed here is a lightweight racing flat shoe "Crafted for elite racing by Japanese expert cobblers Omori and Mimura". The review started off for the 2015 version called "3 Boost", but if you want to read my update about 2017 version just called "3", please scroll down. Released with little fanfare at the same time as the adidas Ultra Boost, the Takumi Sen should not be confused with it's sibling Takumi Ren. The Sen is lower profile than the Ren, getting you closer to the ground and although the adidas site says both are the same weight, reports as per the comments section below suggest actually the Sen is substantially lighter. This iteration is the first Takumi Sen to feature adidas' boost midsole, featured in the forefoot area only.
You can buy them here in the UK or here everywhere else.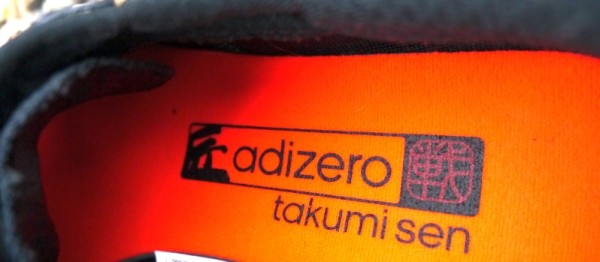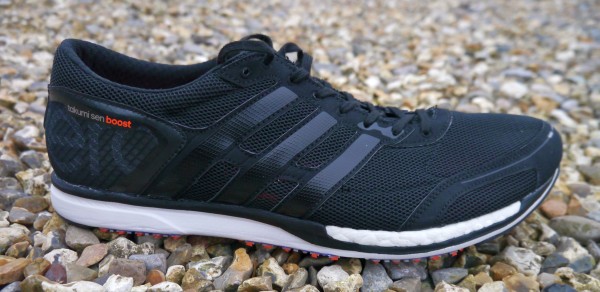 Size and Weight
I had  not tried any previous Takumi. In most of my previous shoe reviews, I've gone for a size giving me just under a thumb width's room for the big toe. For reference, my adios boost 1 was 11.5, Energy Boost 1 was 12, Saucony Virrata was 11. However, I've now moved towards having more toe room with a full thumb width, and since reports on Facebook groups suggested that size is true against adios, for the Takumi Sen 3 boost, I went for a size 12 (half a size up) to give my toes more room. This worked out perfectly for me, but if you already leave a full thumb width, you might be best sticking to size.
The default size is listed at 170g. My size 12 is 201g, so a lightweight shoe for sure.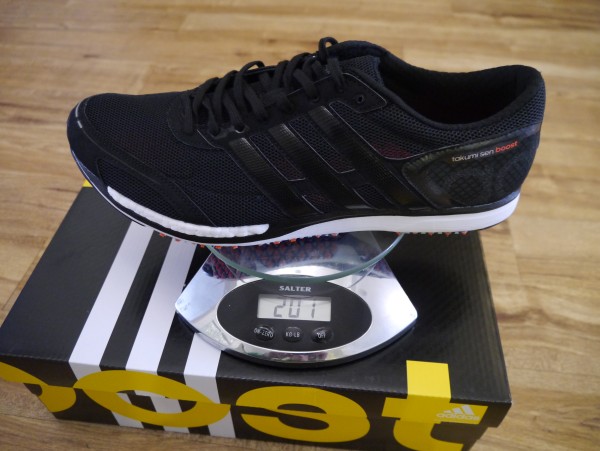 Who's it for?
Whilst it's marketed at faster athletes, I think anyone aiming for a smooth, efficient running style could enjoy them. Whilst it is aimed at 5k to half marathon distance track and road, it copes remarkably with longer distances and a bit of trail too.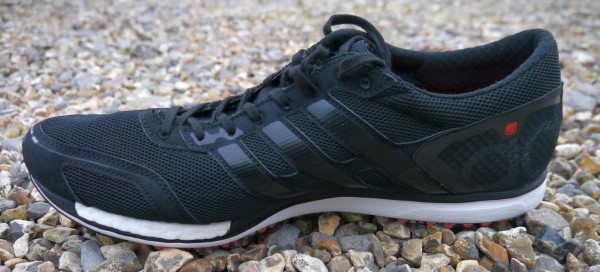 Construction and stats
The size I ordered worked out perfectly for me – the toe box is surprisingly roomy, given that the rest of it is snug and narrow. It is more "foot" shaped than any other adidas I've tried. The upper is mostly a mesh, so it is not water resistant or splash proof, but it is light and cool. The laces have multiple eyelets across a good length which makes for excellent adjustability to match the contours of the top of an individual's foot. The rim around the ankle is not stretchy, so the laces must be loosened each time to allow the foot into the shoe.
There is only a very slight toe-spring which I much prefer to large toe-springs – I like to keep the toes relaxed in the air on the long distances.
Stack height is listed as 23mm / 17mm giving the Takumi Sen 3 boost a drop of 6mm. Therefore it's about as flat as you'll get in an adidas running shoe. It looks flatter than it is due to the black stripe curving up the side.
The UK gets a black on black upper with a white windowed boost section and white EVA. Other regions get various bright colours.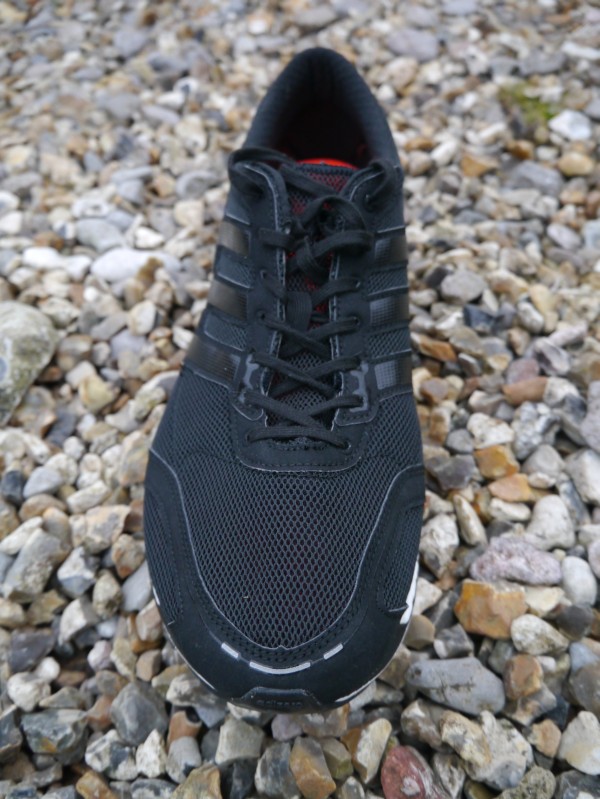 The heel counter is a bit stiffer than most of my recent minimal shoes, so I was a little worried about it rubbing, but this was unfounded – it's just a really great fit.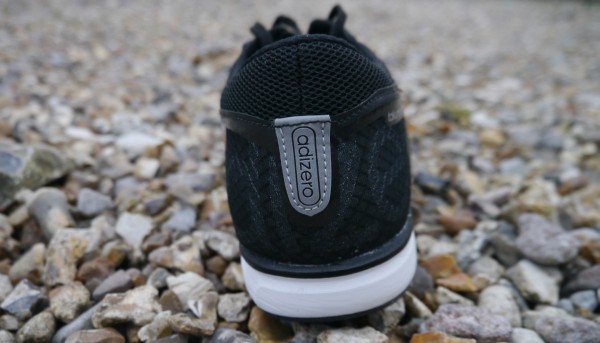 The sole has continental rubber around the toe and heel edges for grip in the rain, but the majority uses what adidas calls QUICKSTRIKE. This saves weight by using many small diamond dots of rubber, but also allows the sole to flex for grip and ground feel.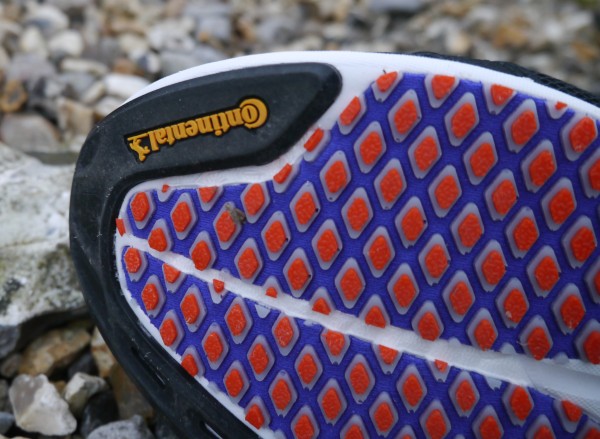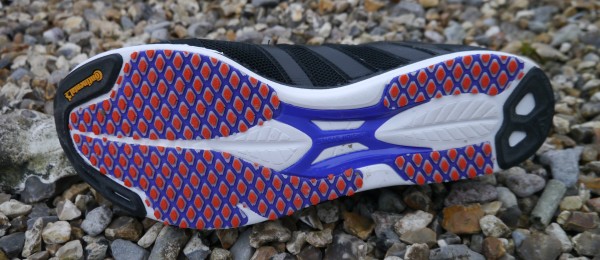 The forefoot has a section of boost midsole, with EVA elsewhere. The forefoot is more naturally foot shaped than a lot of adidas shoes, so there's a tiny bit more toe wiggle room than for example the adios.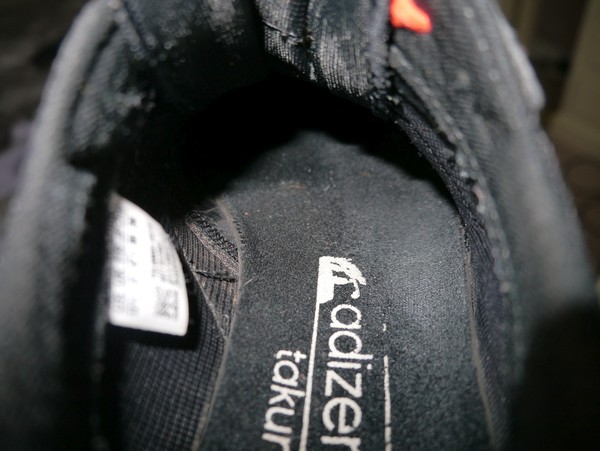 On the run
When they arrived, I put them on and knew immediately that this is a great fitting shoe. I did a quick run for 3k to double-check they were the right size and then felt so confident that I went straight out for a 35k run as their first proper outing! This was a mix of road, some hardpack trail and a bit of gravel and mud. I arrived home, with no blisters, comfy feet and ready to do it over again.
Their next run was a 29k on similar surfaces and again, the outcome was perfect.
Those runs contain a mix of slow / steady, and fartlek style fast sections, so to test a more continuous fast pace I went out for an 8k at threshold and they were a dream for my forefoot / midfoot style, so I could enjoy the fast pace and high cadence.
As well as my normal style, I also ran with a rearfoot / heel style – when rolling from the heel to the toe, the sole was firm and wanted to get the front down quickly which will suit high cadence heel strikers the best I expect.
So, pay attention! I decided to pull out all the stops and really test them to the limit. I wondered how far I could really go in them and still remain comfortable. The extreme test I chose was a 50 mile trail run, with 2km elevation, along the stony, chalky, often muddy, South Downs Way. Not what it's designed for, but it showed just how versatile they really are. Again, not a hint of blister or even hotspot, and the Quickstrike's profile actually provided a decent amount of grip on areas that hadn't dried out. I remained stable the whole way, confident on all of the uneven terrain. To be so friendly for such a hardcore run is wonderful for such lightweight, low profile shoe. I'll also note that there is almost no sign of wear after those first 150km of use as above, so I'm expecting I'll get value for money.
edit: A couple of weeks later, I did my first sub60 10 miler (59:18) and appreciated the light weight and surefootedness of the Takumis under pressure on the road. I also used them to come 3rd place in the Redbull Wings For Life World Run race report UK which was a hilly marathon for me in a marathon PB time.
Simply one of the best shoes I've ever used.
Edit: P.S. I liked them so much I had to get the AW15 too. In the UK, it's black with white stripes and pink laces. Win!
Edit: My AW15s have 1000+ miles on them now. The upper is LIKE NEW!! I kid you not. The sole it trashed but is still a joy to run on.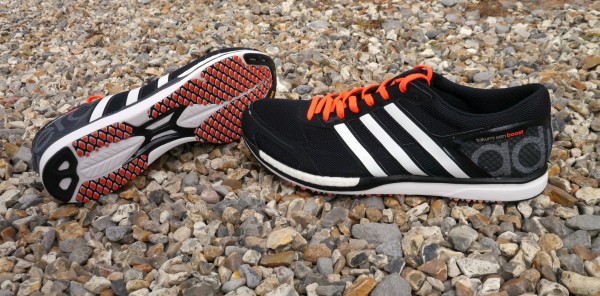 adidas Takumi Sen 3 2017 review update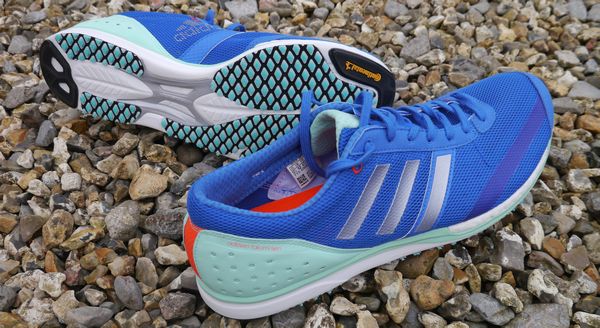 I bought some 2017 SS17 adidas Takumi Sen 3 (no "boost" in the name now) to use in the Milton Keynes Marathon. I'm still using the AW15 in training which have 600+ miles on them. In the race, I used the SS17 and for the first time ever, went Sub3! 2:58:42. Yeah, I cried with joy at the finish line. :)
There are some subtle differences, but overall they make little difference, i.e. it's still awesome.
The adidas site says it's now 9mm. I haven't measured it, but it's identical to the AW15 drop as far as I can tell, which was listed as 6mm and it certainly feels quite flat. I would stay 6mm is more realistic. I run a lot in 0mm drop and it's a much more similar feel to those than, for example, the On Cloud (listed as 9mm, but have a distinct step).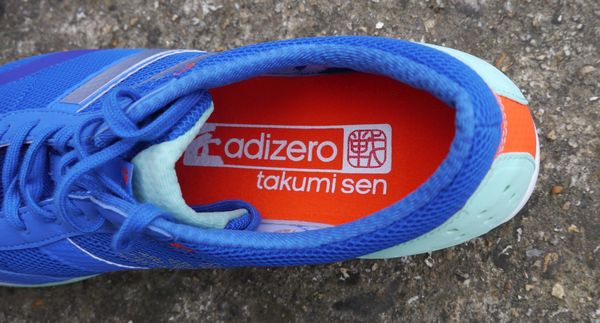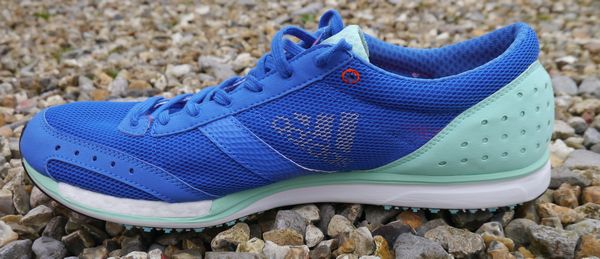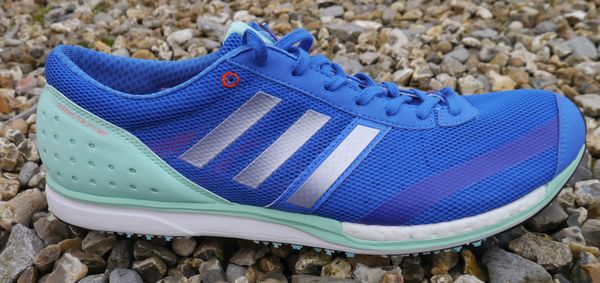 The new tongue is much fatter for comfort but only at the top where the bow is. Rest is same as before, ie super thin.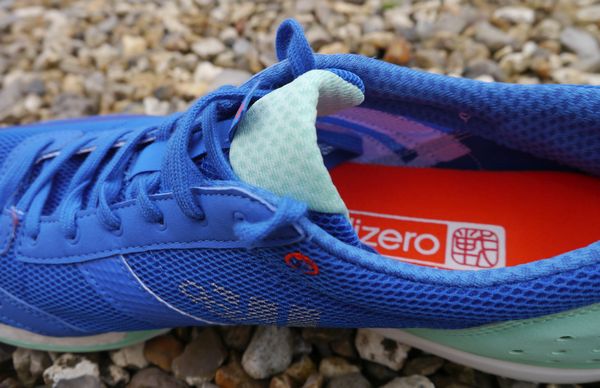 The toe box feels identical, even though structure is a little different. There is a weld down the outside of the toe, instead of the leather reinforcement.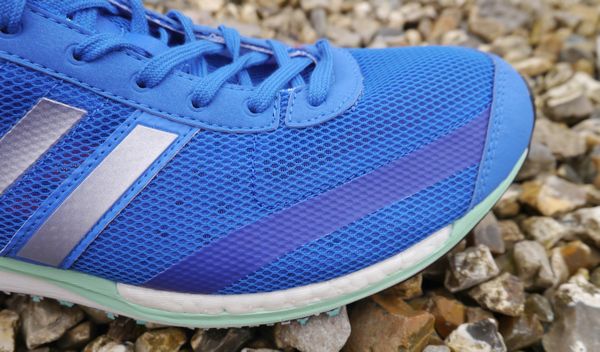 No changes to the sole so it's still going to split across the forefoot no doubt.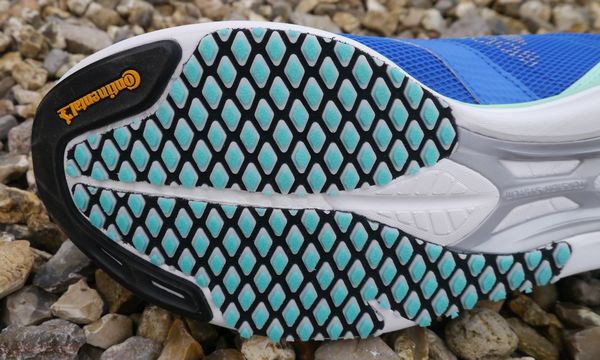 Heel counter is…. Different to look at. It feels the same apart from inside of the heel which has slightly more supportive action. I prefer the old counter, but it makes almost zero difference while running.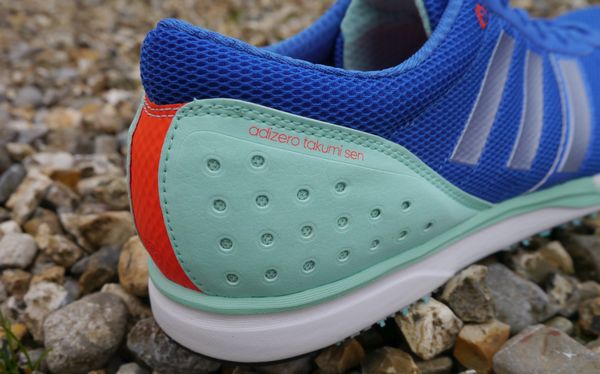 Weight. I got 208g which is 7g heavier than my 2015 were new.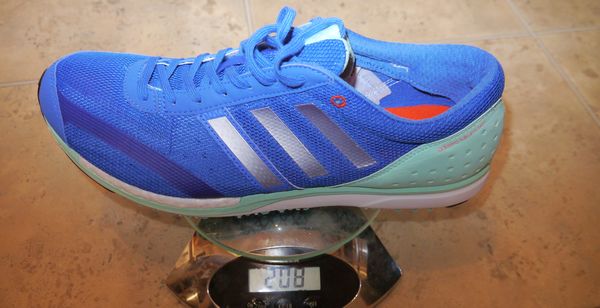 ---
Thanks for reading. If you'd like to
get better at running, then press here
to check out Runningversity.com. There are online running courses and running coaching options available.
---
If you have any questions or if there is a product on this page you own and you'd like to add your own thoughts, then please use the comments box at the bottom.
We aim to provide unbiased feedback that we hope is useful to both manufacturers and consumers alike. Disclosure: we may earn a lead generation commission from purchases made after following links from our site. This does not affect your purchase experience in any way and allows us to keep this site running.