These CompresSport Pro Racing socks do a great job for a number of reasons and CompresSport are so confident in their products
that they offer a 30 day money back guarantee, so you can try them out with ease.
I have a few pairs of the trail versions that include ankles and a pair of the low cut version that has no ankle. Here's a pic of the trail version: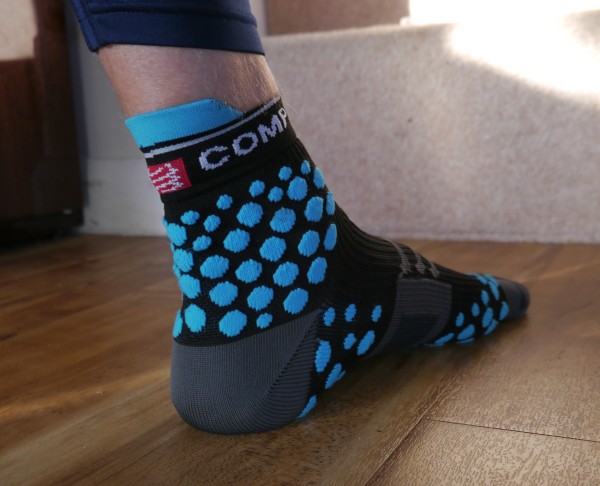 Dots in front of your eyes
The first thing you'll notice is the plethora of "3D Dots". These substantial bobbles are designed to perform a few different functions. They increase grip to stop the sock moving around in the shoe with less chance of rub / blisters. They certainly do feel very firmly fixed once in my shoes. Additionally they stimulate blood circulation via massage. You'd think having raised lumps in your shoes would be intrusive, but in reality they are large enough to perform a genuine layer of comfort.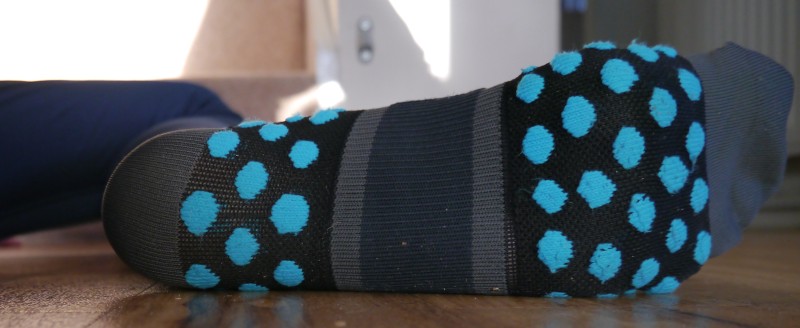 Also, these dots allow airflow which prevents feet from over heating on all but the warmest days (when I prefer a thinner sock). For most of the conditions the UK throws down, these are perfect.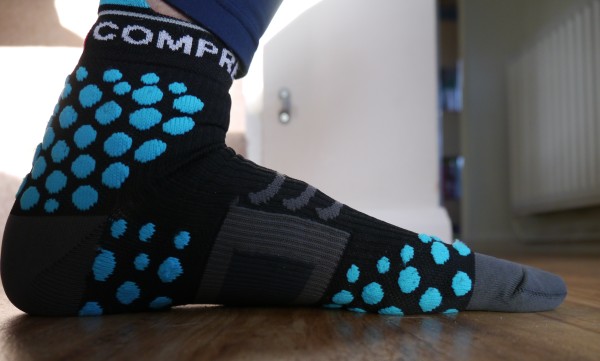 Arch Compression
In the pic above you can see the arch compression area – the arch is quite fiercely compressed which in theory should increase blood flow to aid muscle recovery and also more importantly reduce vibrations that cause fatigue to keep your feet going for longer, which is especially relevant to distance runners (from 10km to Ultra). As such, they have to be pulled on firmly, but once in place they feel fantastic and snug.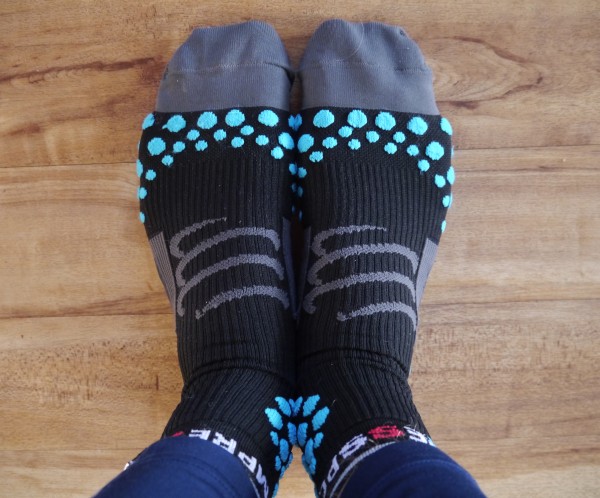 Version control
The trail versions have a degree of compression around the upper ankle / lower calf and the neck of the sock is quite tight which stops debris entering the sock. Additionally the toe cap is noticeably padded which CompresSport say is to protect the toes on steep downhills. In contrast, the low cut version, seen in the pic below, has no lower calf compression and the neck is less tightly sprung and the toe cap is a much lighter material. There is a brand new version 2 of the Pro Racing sock – the low cut V2 has an additional achilles pad and keeps the sock in position, although I've never had the V1 sock drop into the shoe.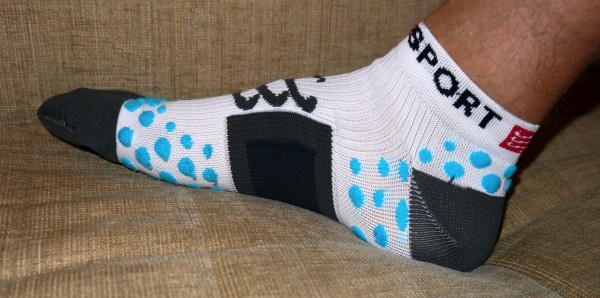 On the road and trail
Your socks work with your shoes to form the interface between your entire body and Planet Earth while running. Therefore it's important to get the right sock for you. Unless I fancy a very thin sock (like a DeFeet Aireator), then I'll always pull on a CompresSport sock before going out running any distance because they stay in place better than most socks, cushion my feet and I like the benefits of the arch support. The socks are very snug and comfy, while staying cool. I also default to the trail version while mountain biking too because they really help with the pounding you get on singletrack trails.
Try them out to see if you like them and remember the 30 day satisfaction guarantee!
If you like their products, you can follow CompresSport on Twitter here.
---
Thanks for reading. If you'd like to
get better at running, then press here
to check out Runningversity.com. There are online running courses and running coaching options available.
---
If you have any questions or if there is a product on this page you own and you'd like to add your own thoughts, then please use the comments box at the bottom.
We aim to provide unbiased feedback that we hope is useful to both manufacturers and consumers alike. Disclosure: we may earn a lead generation commission from purchases made after following links from our site. This does not affect your purchase experience in any way and allows us to keep this site running.