The DeFeet Aireator sock is great. It's super comfy, keeps your feet cool and is a good price. I bought a pair of DeFeet's high length cycling socks from Tri it Sports in Chichester and decided they were so comfy, I'd try them for running too.
DeFeet are an American brand and if you take a look at the DeFeet website you can see that they specialise in extremities. Their Aireator sock is a synthetic material finely crafted for each part of the foot and featuring a thing mesh panel on the top of the foot to let heat out.
They have been great in the hot summer sun and they also stood up well to being drowned in the mud and water of the Thunder Run. They wash well, remaining soft and comfy afterwards.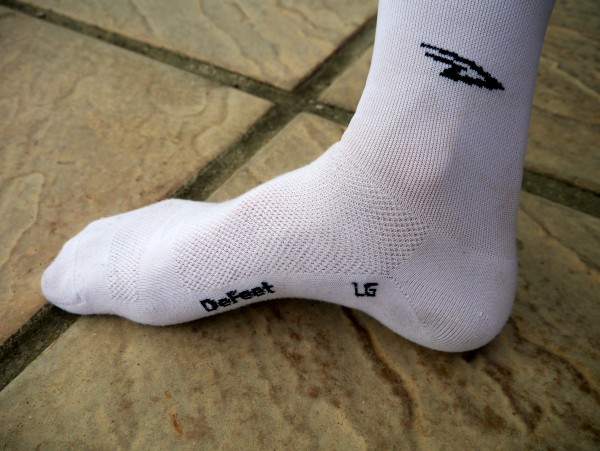 There's not much more I can say about a sock – the fact that I was compelled to do a review of them at all should say it all. If you are looking to select a new pair of socks for cycling or running, these come highly recommended. In the USA you can buy DeFeet socks direct at their website, or elsewhere hope your local specialist stocks them.
You can follow them on Twitter here.
---
Thanks for reading. If you'd like to
get better at running, then press here
to check out Runningversity.com. There are online running courses and running coaching options available.
---
If you have any questions or if there is a product on this page you own and you'd like to add your own thoughts, then please use the comments box at the bottom.
We aim to provide unbiased feedback that we hope is useful to both manufacturers and consumers alike. Disclosure: we may earn a lead generation commission from purchases made after following links from our site. This does not affect your purchase experience in any way and allows us to keep this site running.