"I've done a lot of brutal races, and that was right up near the top of the list" – this is how the winner of the solo category at the 2013 Thunder Run, Paul Giblin, described his race experience. I was running in a team, so I had loads of fun and would do it again in a flash, even now that I know what might happen. However, beforehand, I had no idea what I was getting myself into. Hello this is adidas, is that Charles? Would you like to join our team for the Thunder Run? Yes sure – what's that then? A 24hr off road running event sponsored by adidas! Oh!
To get ahead in life, you must say yes as often as possible, especially to opportunities to do things you've never tried before. I'm so glad I said yes to the invite to join the adidas media team for this race for so many reasons, not least because it's something I've never done before, but also due to the amazing people I met, the challenges we overcame and the fantastic feeling of achievement, both personally and shared with the team.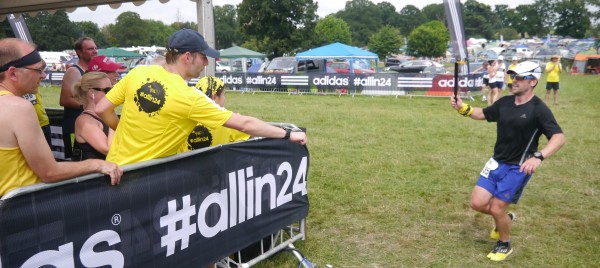 If you are reading this trying to decide if you should get a ticket for next year's race, my advice would be to go for it immediately before tickets sell out. Or go #allin24 as the wristband we were given said. There were almost 3000 people racing and the organisers told us they had to turn 1000 away, so get in there fast! CLICK HERE to express your interest and be in with the chance of winning a full adidas VIP package – a free team place where all members will be fully kitted out!
The Thunder Run Course
In Catton, Derbshire, in a big horse jumping field at the bottom of a hill we found a huge campsite and set our tents in the dark. As morning arrived, emerging from the tent, I could see the first corner right next to me and the start / finish line just beyond. Soon to be trampled grass for that section, I wondered what the rest of the course would be like.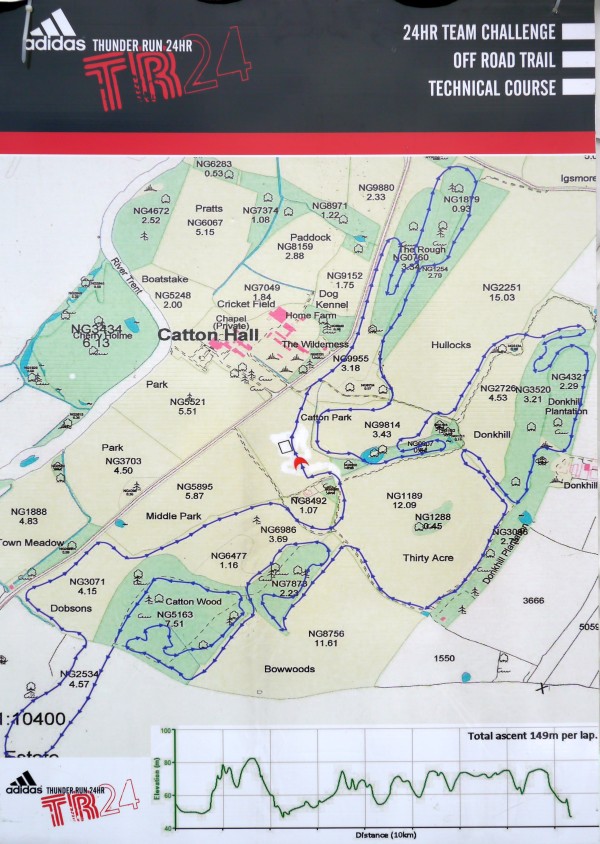 This map shows you the superb design that has a 150m climb each and every 10km lap. Yes thrill seekers, if you are looking for a full leg workout, this is a good place to run. The red crescent represents the start line and involves a grassy warm-up, until veering off up a very sharp incline on a dirt trail into some woods. The track winds up and down some more before exiting back down towards the solo runners' campsite near the start line. After negotiating some horse jumps (around not over!), it's a gradual climb back through some more woods and along the edge of fields, followed by a few sharper descents and climbs to wear you out a little more. At 5km, the water station arrives with seemingly perefect timing for my needs for a quick sip and head douse in the heat.
Continental Challenge
Immediately after the drinks station, there is a medium ascent where a timed 100m dash had been staged by Continental Tyres, including full timing-chip mats. Between 6 and 7pm, these mats were enabled, with the promise of winning a new pair of adidas trainers for the entire team of the fastest runner up the hill. This occurred during my first lap, so I left myself a few seconds of slow running to recover beforehand and then pinned it up the 100m hill in 9.5 seconds in a blur of legs, leaving a vapour trail behind me and making that whoosing noise that all swords in ninja films make. Ok, maybe not, but I gave it my best shot. However the winner managed it in a little over 14 seconds which, given the slope and ground conditions, was eyebrow raisingly fast.
Course continues
After that, the super technical woodland area arrives, with the course twisting and turning incredibly tightly around trees, with uneven rooty ground to contend with, as well as dodging slower runners. On my first lap, I realised this was going to be a potential minefield in the dark and predicted rain, whilst providing both a mental and hilariously fun physical challenge. There was also a large and deep puddle hidden hehind a bush, involving disappearing up the to knee! Breaking out of the woods and running along an exposed ridge with 4km to go, you can sense the finish with distant glimpses of tents over your shoulder, even though it's a fair way off yet, so with renewed vigour, you switch back towards them and arrive at the "Roly Poly" hill. I only named it this because I saw several people doing foward rolls down it. It was probably safer than running down it since it was pretty steep and long enough that just "letting yourself go" could end in a heap on the floor anyway!
Finally some marshland with energy sapping but cool puddles gives way to the final ascent. On my final lap, I found this hill incredibly tough even though it's short, so afterwards I returned to the hill to motivate others up it. So many people were walking up with broken wills, so I managed to help many people (a) smile and (b) get their legs moving to a jog up the hill, with promises of it being the final downhill to the finish straight afterwards. Those that were still going strong, I applauded and egged them to go even faster. Solo runners with another couple of laps to go weren't so keen, but most people were very grateful for the encouragement on their final stretch, including Harry Benyon in my team who powered up it.
Organisation
Due to the layout of the course, marshalls were always nearby, making for a very safe race if anyone got into trouble. The whole event was very well organised with a well stocked food tent right next to the finish line with plenty of tables and chairs and a comprehensive menu suitable for runners and spectators alike, with pasta specials for the day. Many thanks to adidas for providing me with a team pass for the food so that we didn't have to worry about returning to the our campsite for cash.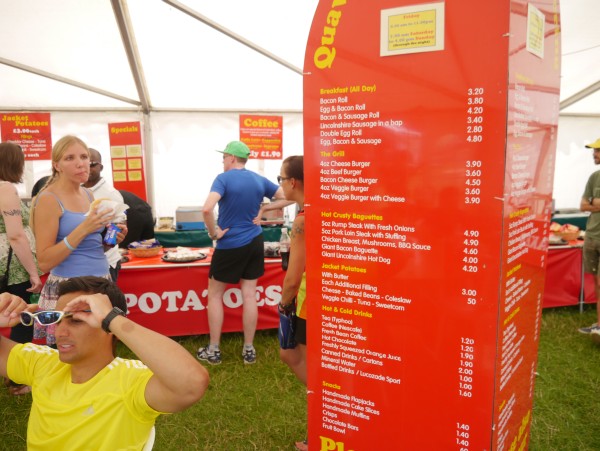 Team "Boost Your Speed"
Our team name, inspired by adidas' current advertising campaign, predicted great things, so once we had met each other at adidas HQ in Covent Garden, we had a bus journey to Derby to get to know each other and finish off the team plan. The team consisted of 8 runners, 1 team manager, and the adidas support crew who came bearing gifts to help us along the way:
Simon and Julie Freeman from Freestak. Simon was our nominated team captain and Julie was our essential female for the mixed team.
Tobias Mews who loves putting himself through the toughest challenges
Sam Van Gelder from SportLocker swapping his normal football boots for trail shoes and is thus a total hero
Adam Purser from Run247, my running partner for the weekend
Kieran Alger, editor of T3.com who proves that keeping fit and fast can go side by side with new tech.
Harry Benyon from SpeedCommunications who says he's not a runner, but proved he probably should be
Charles R from Gearselected, legend, all round amazing guy, leaps tall buildings etc. ;) (me)
Ciaran Pillay from SpeedCommunications who was our Team Manager, without whom we probably would have been asleep in our tents at handover time
adidas, who gave us support with suitable footwear for the event (adizero XT4 light race trail shoes, Supernova Riot mid range cushioned trail shoes and Kanadia XC TR minimal fell shoes which I will be reviewing shortly so look out for that) and fresh dry sets of running tops and shorts. Please visit adidas here to view their product range.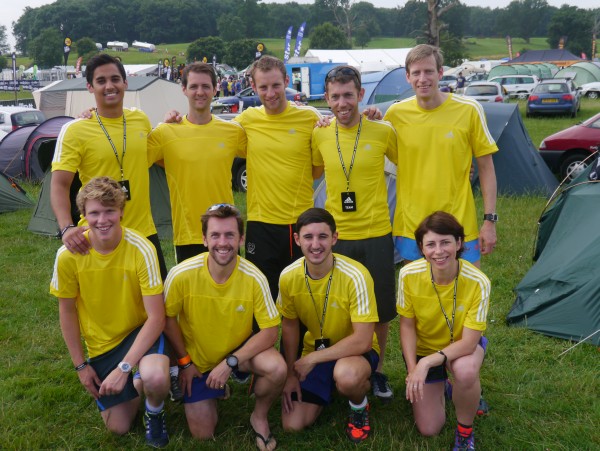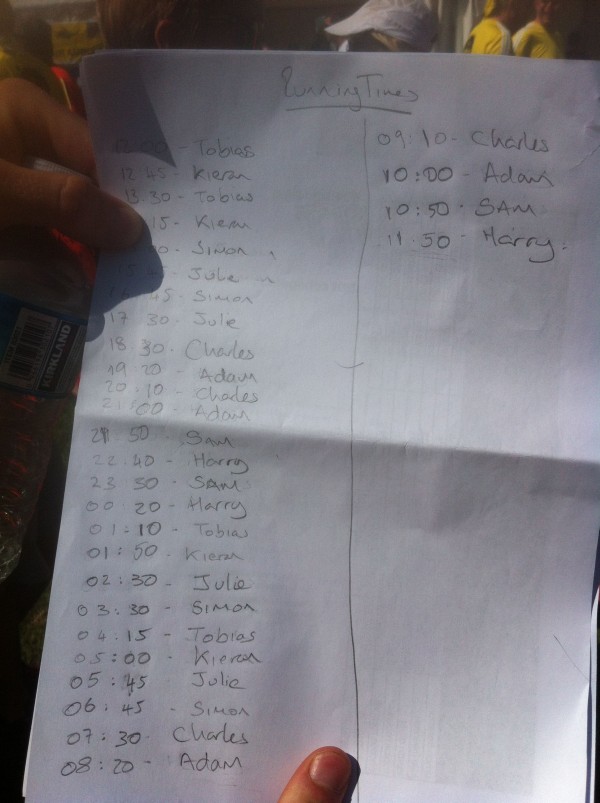 The Race. And The Weather
We decided to run in pairs, so doing a 10km loop, with a short break while a partner ran a loop, before doing a 2nd loop, then leaving a useful long break to recover / eat / sleep. We set up a base near the start so that there would always be someone keep the next waiting team member company and welcome the finishing runner. This wasn't decided but just happened and kept morale high in the filthy conditions to come!
Tobias set off at midday Saturday as the race started in blazing sunshine and set a cracking pace. The sweltering heat continued through the afternoon and although everyone was predicting rain, there was no sign of any significant cloud. But then at 6pm, shortly before my first lap started, clouds rolled in with ominous intent. The trail was bone dry and dusty, making the tight sections through the woods an absolute joy for anyone like me that loves technical running on rooty, twisty trails. For every short climb, there was a short descent to enjoy. After a joyeous but tough lap, I slapped my baton on Adam's wrist and went to join the rest of the team, where Ciaran had prepared me some Maxifuel recovery drink. I also caned a Forever Fast Break bar and some Maxifuel ViperActive gel.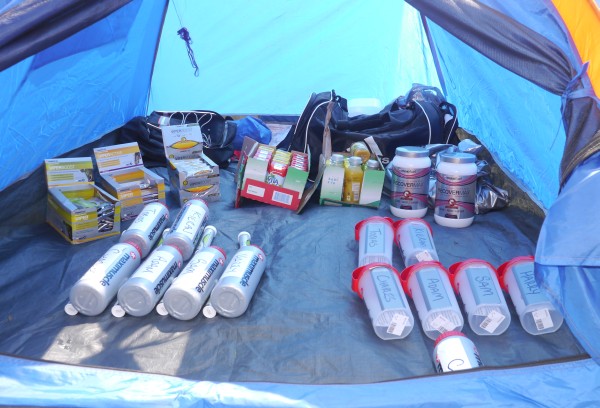 It seemed like only moments before Adam reappeared and slapped the baton back onto my wrist and off I went for my next lap. The rain had already started and the conditions were getting interesting under-foot, with a few slippy sections. The dark clouds necessitated concentration where the tree cover was thick and visibility was dropping fast – not enough to need a head torch, but it certainly wouldn't be long! Then suddenly, the Thunder and Lightning started, with only a second gap between them, meaning the eye of the storm was very close. I've never run in a lightning storm before and it was both scary and exhilarating. I was fully ready to run and lie on the floor away from the trees if need be, but fortunately the lightning moved further away. By the middle of the lap, I was soaked through and some people were struggling, but I run in all weathers normally, so I picked some great lines, finding traction where others were sliding and pulled off a second lap at the same speed as my first. I made a bee-line for the massage tent where Jamie from Posturite sorted my legs out – I don't do much training on hills, so they were in need of some TLC. This gave me a few moments to contemplate the race so far. Something I had noticed was that trail runners at the 24hr are intensely polite, pulling over to let faster runners through, encouraging each other and checking fellow competitors if they looked in trouble. Great stuff.
Then the heavens opened and for everone after that, the night consisted of running through driving rain, by torchlight in horrendous conditions, with thousands of runners churning up the trail, exposing previously covered roots and providing a race they'll never forget.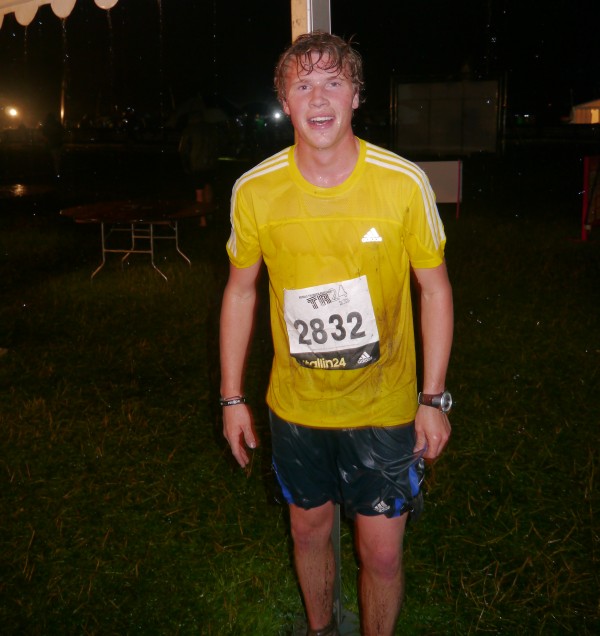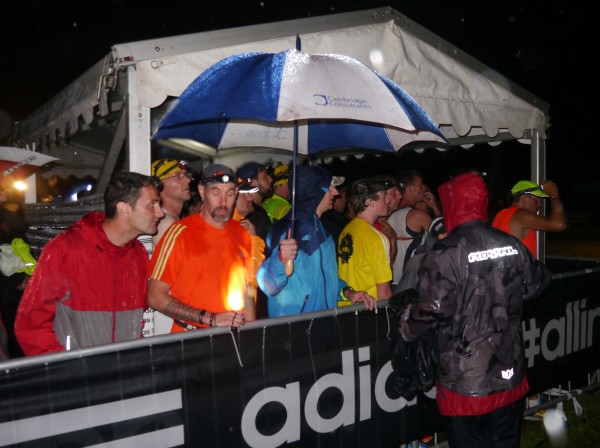 I managed to get a few hours sleep and woke naturally with the sun at 5.30am on Sunday. I emerged from my tent and looked at the track a few meters away and whilst I knew what to expect, it was still amazing to see people churning out lap after lap, although many were showing signs of fatigue and I wondered what the course would be like after so many hours of battering. I soon got my chance to find out as we were ahead of schedule and I tightend the laces on my adidas Kanadia XC TR fell shoes and set off into the unknown.
The rain had stopped but the mud remained, but the Kanadias turned it from a swamp into a playground. These XC TR are very different from the traditional Kanadias, featuring a 5mm drop, very little cushioning and a super grippy, super mud-shedding outersole along with a 250g weight for my size 12s. I had confident grip almost everywhere, being able to rail around wet grassy or muddy corners. On one occassion there were runners struggling to make any progress at all on steep cambered corner, whereas I just run past them like normal.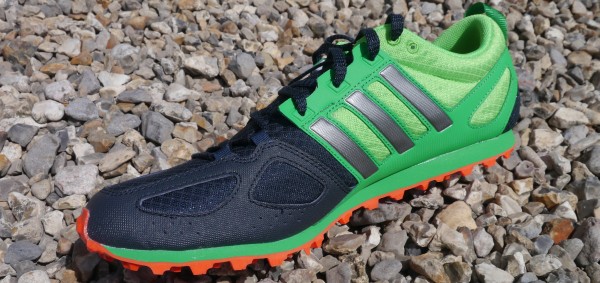 After handing the baton to Adam again, I could feel myself getting tired and with Simon warning that 10 teams were only a lap behind us, but with no clue how close, I got ready for my final lap with some mental prep and a bottle of ARGI+. The final lap was interesting because the sun had started drying the mud to a clay-like consistency, with some sections of course doing their best to tear my shoes off, sucked into the gloop with each step. I remembered my smile and powered on and made it round quicker than my previous lap, so I was ecstatic, both with the time and the realisation that my running contribution was done. With almost a marathon distance run through the 24hrs, but in super technical conditions, up and down hills in mud, it was a very different type of race.
Result!
Our team came in 7th out of 253 teams, 4 minutes ahead of the team in 8th and one lap ahead of the next 10 teams, a result of which I am very proud. We managed 29 laps. We started as a group of strangers, sharing only a love of exercise and challenge as a common thread. We finished as a group of friends. There was something special about the group that adidas had assembled though – everyone was so positive in the face of adversity, be it failed torch batteries, injury, falls, crazy weather, rivers of mud, or dragons. The whole team WANTED to run in the stormy darkness. Everyone came in from their laps smiling. It was the people that made the experience many times better than it could have been. Whilst I have an enormous admiration for the solo runners, it was the team factor that made the event so enjoyable, sharing our thoughts on the terrain and weather, and all being there at the finish for Adam to cross the line on our team's last lap.
Thanks again, to adidas, Speed and the rest of the team for making it one of the best races ever.
An extra thank you must go to Patrick Adams who created the event. He hinted at a road version with possible seaside views for the future.

[starreview tpl=16 size='46']
---
If you have any questions or if there is a product on this page you own and you'd like to add your own thoughts, then please use the comments box at the bottom.
We aim to provide unbiased feedback that we hope is useful to both manufacturers and consumers alike. Disclosure: we may earn a lead generation commission from purchases made after following links from our site. This does not affect your purchase experience in any way and allows us to keep this site running.