Keep On Running by Phil Hewitt has the subtitle of "The highs & Lows of a Marathon Addict". As such, Phil's autobiographical account of his marathon running hobby turned addiction is a roller coaster of new things tried, goals achieved and dreams shattered. I read it because as a beginner marathon runner with only one under my belt, I hoped I would learn a lot. As it turns out, I did learn loads, both what to avoid and what might work.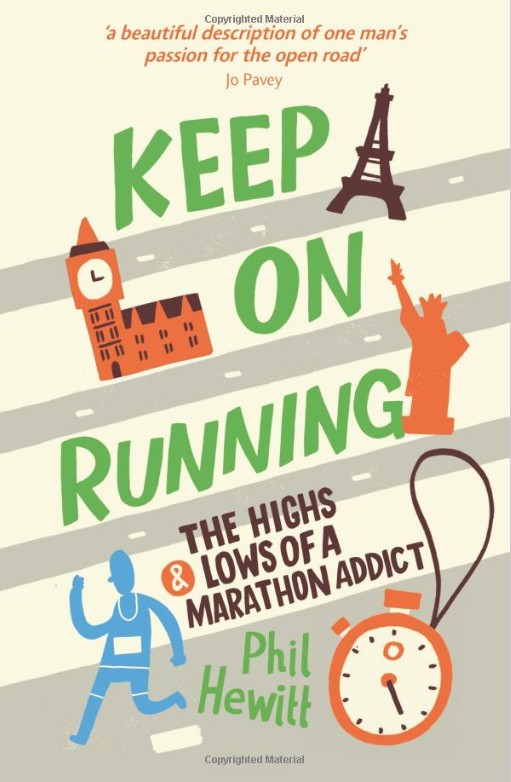 The book may almost have been written about me at the start. We were both provided with a charity ticket for the Virgin London Marathon, having never done one before and at a point in life where most people start slowing down rather than speeding up. So that first marathon came with double the pressure – raising money for charity and training to get round the course. Phil's description of the London course and the feelings when nearing the finish line (and actually crossing it) brought a tear to my eye as all the memories flooded back – marathon runners dedicate so much of their time to training that it becomes part of their life for 20 weeks and the culmination of that first marathon is a crazy feeling, whether it goes well or not to plan. I hope that those who have never run a marathon will read Phil's prose and get a feel for at least some of the emotions they can expect.
Mr Hewitt is clearly a digital person, and the attention to detail is what makes this book stand out. The detailed stats and obsession with improvement will appeal to other digitals like me along with anyone super-competitive, and the stories and funny or odd events that wrap it all together in an engaging way will drag everyone else in, wanting to know more. What will the next marathon bring?
Keep On Running is laced with a fine element of humour, much of which stems from the safety mechanism needed to survive the inherent highs and lows that are par for the course. There is so much that can go wrong on the day, be it weather, clothing choice, forgetting the Body Glide, ignoring "the plan", falling on a sea of water bottles, dehydration, cramp and more. To survive the possible pitfalls and disappointments, a sense of humour is essential and Phil's clearly shines through.
A line from the book that struck a chord with me was after a disappointing run: "I had to prove to a world that isn't remotely interested that I could do better". There is discussion of how much of a very personal achievement marathons are, which is immensely helpful to a novice marathon runner – most people just don't care or even understand quite how ridiculously far to run 26 miles (and a bit) is. Getting support from your loved ones both with time for training and on race day might be hard, especially as you do more and more marathons, so take the advice to thank them as often as possible.
Addiction to marathon running is also covered – the amount of times he says "this is the last one" is telling. If you haven't started marathon running yet this book will give you all the insight you need to be forewarned and might even predict your running future fairly accurately!
Often while running, it is easy to zone out and run inside a tiny bubble, so you fail to see the beautiful scenery or architecture around you. Luckily Phil has tried to pay attention and the visions he provides of the different races all around the world are a joy to read.
Some people may find the scrutiny of minutes per mile pace changes and how many seconds were shaved off here, or time lost due to some factor there, a bit intense (personally I loved it), but the prose wrapped round it all will be enjoyed by everyone. Keep On Running is one of the best books I've read in ages.
[fusion_builder_container hundred_percent="yes" overflow="visible"][fusion_builder_row][fusion_builder_column type="1_1″ background_position="left top" background_color="" border_size="" border_color="" border_style="solid" spacing="yes" background_image="" background_repeat="no-repeat" padding="" margin_top="0px" margin_bottom="0px" class="" id="" animation_type="" animation_speed="0.3″ animation_direction="left" hide_on_mobile="no" center_content="no" min_height="none"]
You can buy Keep On Running by Phil Hewitt here
You can find him on Twitter here
If you have read it, please review it using the "Have you selected this gear?" button below, or if have you have any questions, please use the comments box.[/fusion_builder_column][/fusion_builder_row][/fusion_builder_container]
If you have any questions or if there is a product on this page you own and you'd like to add your own thoughts, then please use the comments box at the bottom.
We aim to provide unbiased feedback that we hope is useful to both manufacturers and consumers alike. Disclosure: we may earn a lead generation commission from purchases made after following links from our site. This does not affect your purchase experience in any way and allows us to keep this site running.