In 2002 I bought a Rocky Mountain Hammer mountain bike. It's now 2012, so with a decade of ragging it senseless behind me, it's time for a very long term test review!
In 2002, the Canadian built Hammer was a steel framed hard-tail with bang up to date geometry and disc mounts as standard. It came with 80mm of coil / oil suspension courtesy of Manitou, a smattering of Shimano gear train and some Race Face chunky bits (bars / chainset / stem and post)
I took advantage of the disc mounts, junking the V-brakes and selecting Shimano Deore hydraulic disc brakes before picking it up from the shop, which in 2002 were a revelation of control and power and the frame is designed to cope with the increased braking power.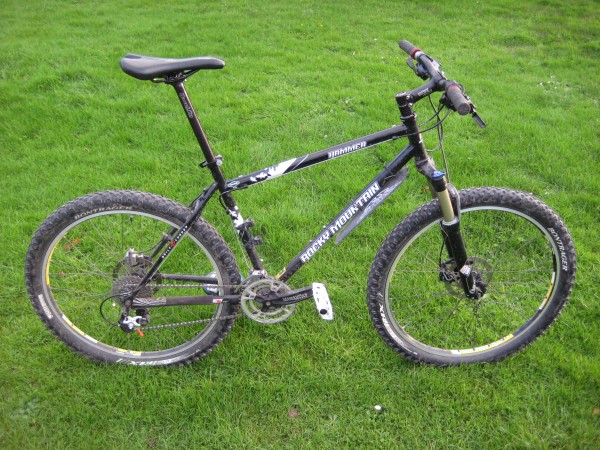 The Frame is the Star
However, the main product I was buying into was the steel frame. The rest of the components all eventually fell apart and have been replaced, but the frame has hung on in there. It uses Rocky Mountain's famous ST3 geometry which has been in use since the 80s and is still used today. Sloping Top Tube Technology (ST3) meets the seat tube at a lower height than the seat stays which provides more stand over height during those pedal interface failure moments and spreads the stress at the seat tube providing more longevity. It also brings the front triangle smaller to provide a stiffer, more responsive ride than if it had been joined straight through.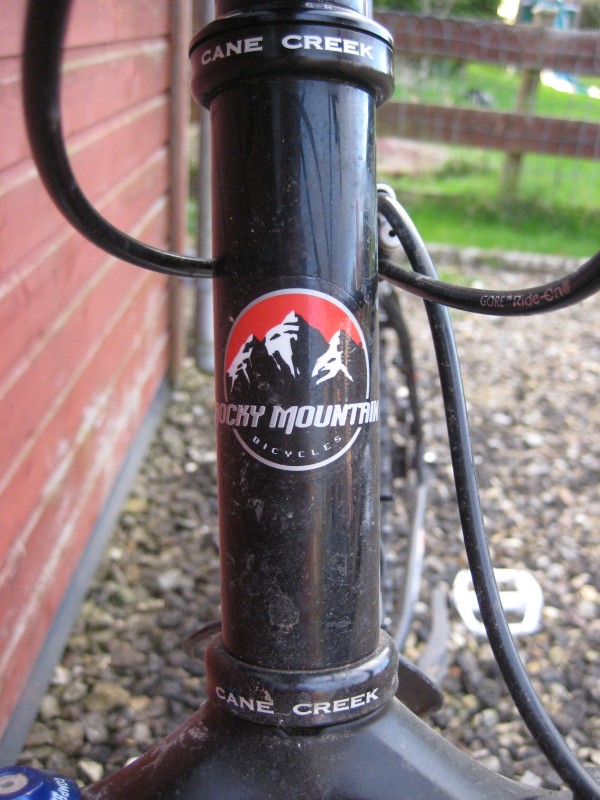 The stay width is quite narrow and the tyre to fork gap is also small. I run 2.2×26 Bontrager XR4 Team Issues in the summer which come out pretty wide (they look like a 2.3 or more) but in the winter the frame and forks fill up with mud very quickly on these tyres due to the lack of clearance, so proper mud tyres like the narrower Bontrager XR Mud (Jones MudX), which shed fast, are a must when the weather turns.
It has mounts for a bottle cage and panniers, but I've never used them.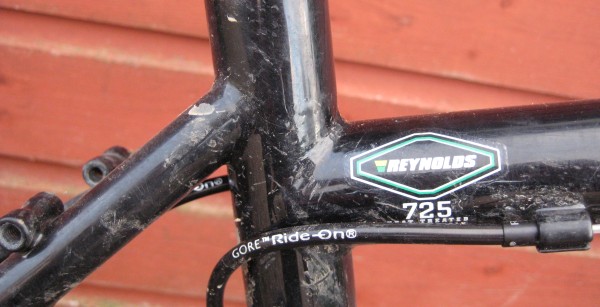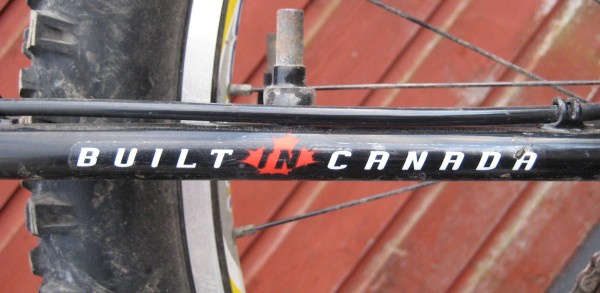 The Reynolds 725 in the main tubes and cro-mo on the stays in the rear triangle work together to provide a ride that excels at battering singletrack or tackling an all-day rough ride through the mountains. If you have never ridden a steel frame before, it's not as stiff or light as an equivalent aluminium frame, but it has a more supple feel that keeps you comfy all day and once rolling, soaks and flattens the bumps on my local trails giving me a huge grin. I have ridden for hours on end, during week long excursions through the mountains in Italy, Switzerland and the Pyrenees. At the end of the day, I was still able to walk and at the beginning of the next day, I was still looking forward to jumping on and doing it all over again. Until 2002 I had ridden a variety of Giant and Specialized full suspension and hard-tails, but the Hammer blew me away with how well it coped with everything I threw at it.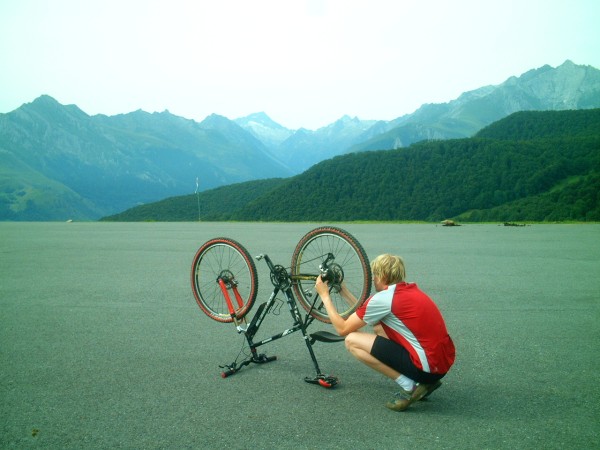 2004 when most of the parts were still original
The Corners
After changing the forks from 80mm to 100mm, the increased rake and trail slowed down the steering slightly but noticeably. The only area it really loses out due to this change is in really slow tight corners where it is less than willing to turn in and the occasional unexpected manual up steep hills. However it gains everywhere else and out on the trail I really appreciate the new found abilities while aiming downhill and the more relaxed nature in muddy corners. When I line it up against a similarly equipped modern aluminium hard-tail and session the same bit of downhill, the Hammer keeps an advantage. The Hammer moves around underneath me, flexing slightly as it compresses into the corners, inspiring confidence and letting me just get on with looking at what's coming next. In comparison the aluminium framed bike is skittish, bouncing around more and losing the rider's confidence on the edge.
The bars are too narrow for high speed corners and berms, but I added a bit extra by replacing the original grips with lock-ons and leaving an overhang which made it less twitchy and more friendly.
Occasionally the front end steps out in low grip conditions, but you can normally save the slide if you stay relaxed and wait for it to grip again unlike some other bikes that wash away really fast on the same tyres.
Not a function of the frame, but the original Race Face stem was long by today's standards and a slightly shorter version would help with hustling through berms and switchbacks with more confidence.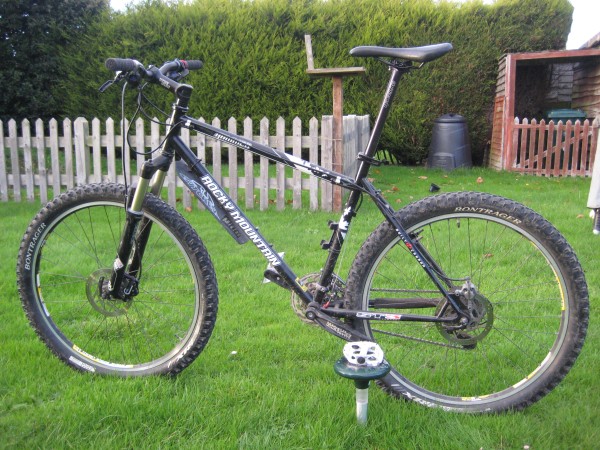 Now with Rockshox, XT, Cane Creek and Gore Cables
Attacking everything
Out of the corners and the aluminium framed bikes pull away with better pedalling efficiency but once rolling the Hammer is easy to keep at speed. It is designed as a cross-country mountain bike, but can cope with most situations. It can get a bit out of hand while pedalling over fast bumps like roots, but rolling through them, heels down, is safe, even in rock gardens, as I discovered at Stoughton freeride downhill. I've ridden the Hammer on all sorts of terrain, including teeth chattering 4×4 tracks, deep mud, the PORC 4X course, Welsh trail centres, Gorrick XC races, downhill enduro races, Pyrenees rocky mountain (!) tracks, 5 foot drops, black runs at Aston Hill and it has done them all with confidence. For reference, the only thing I don't do on it is big jumps. I'm not a heavy rider at 11 stone, but I have certainly put it through the mill over the course of the last ten years and I've loved every minute. I've crashed it so many times it's surprising I still function, let alone the bike, but even the paint is durable.
During my years of ownership (thus far), I've used the Rocky Mountain Hammer to hone my skills, finding the edge of what this bike is capable of (and beyond – oops), and at the end of every ride I'm grinning my face off.
Edit: Moe asked for this in the comments, so I hope it helps!
---
Thanks for reading. If you'd like to
get better at running, then press here
to check out Runningversity.com. There are online running courses and running coaching options available.
---
If you have any questions or if there is a product on this page you own and you'd like to add your own thoughts, then please use the comments box at the bottom.
We aim to provide unbiased feedback that we hope is useful to both manufacturers and consumers alike. Disclosure: we may earn a lead generation commission from purchases made after following links from our site. This does not affect your purchase experience in any way and allows us to keep this site running.