Having always used whatever cotton hat I had lying around for cold runs, I decided to pay more attention to my head and get it a properly wicking alternative. The cotton hats always left me a bit sweaty and in theory, man-made fibres should be able to offer me huge benefits. There wasn't a lot of choice at my local running emporium, and most of them were either black or white which aren't really my colour, so given that they all claimed to do much the same things, I went with a Drylete Beanie hat by Saucony purely based on colour choice. In the main, it is silvery grey and the sides have a flash of colour, in my case, bright orange. Saucony also have the option of a single colour all over. It's a one-size-fits-all affair.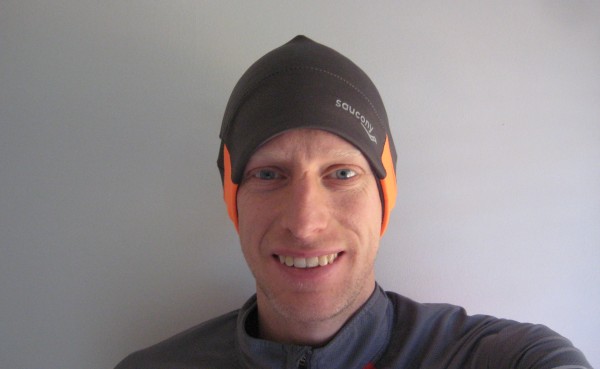 Trying it on
The hat is made from 92% polyester and 8% spandex and when you first put it on, you'll notice how snugly it fits on the head due to the stretch. In theory this should increase its ability to wick moisture away from your head. The stretch still allows you to wear glasses comfortably though.
There is a generous depth, ensuring that your ears are completely covered and for me that is important as my ears get cold just as quickly as my fingers.
The strip around the forehead (which extends all the way around) is super soft and comfy.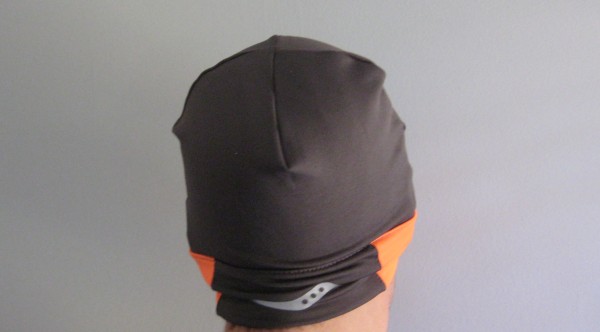 Safety
Both the Saucony inscription on the front and the swirl logo on the back are reflective for being seen at night. Additionally this orange colour choice will make you seen during day as well. It also claims to protect from UV at the 50+ range, so your head is safe from the sun's rays if you decide to go running in the mountains above the clouds.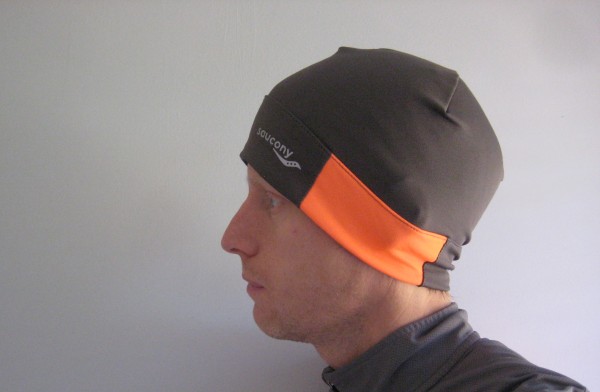 Performance
In cold weather, tested down to a few degrees below zero C, my head stayed dry and warm, without overheating on both short fast runs and 3 hour marathon training slower runs. My cotton hats would be very sweaty at the end of long runs and need a lot of drying on a radiator, or just thrown straight in the wash. However the Saucony Drylete Beanie was almost dry in comparison. It also shrugs off high winds and rain, leaving you free to enjoy the run regardless.
I also tried in warmer weather for completeness. Once the temperatures reached 7degC it becomes too warm for runs at a fast pace, but at this point, I don't really need a hat anyway.
Washing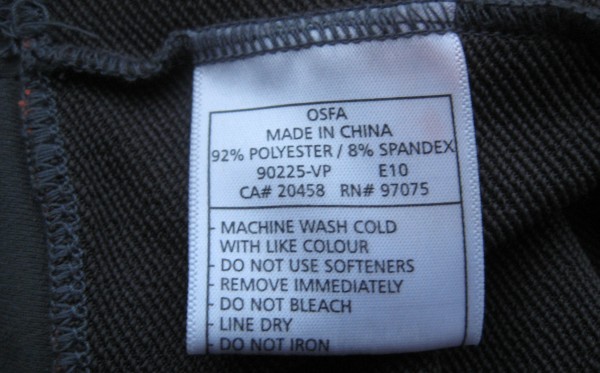 I tend to give up on clothes that don't survive in the wash at 30 or 40 deg C. This hat is doing fine after a few washes, although it doesn't need washing that often because it remains so fresh and dry.
Overall
The Saucony Drylete Beanie performed admirably throughout the winter, doing exactly what I expected it to do by keeping me sweat-free, dry and warm. Anyone looking to select a well performing running hat with a good choice of colours and reflective elements should check out the Saucony Drylete Hat.
---
Thanks for reading. If you'd like to
get better at running, then press here
to check out Runningversity.com. There are online running courses and running coaching options available.
---
If you have any questions or if there is a product on this page you own and you'd like to add your own thoughts, then please use the comments box at the bottom.
We aim to provide unbiased feedback that we hope is useful to both manufacturers and consumers alike. Disclosure: we may earn a lead generation commission from purchases made after following links from our site. This does not affect your purchase experience in any way and allows us to keep this site running.