With the weather changing on an hourly basis up on in the mountains, I decided I wanted some goggles that would do it all, so Twinner Sport in Reberty advised me to go for some Scott goggles with "Light Sensitive" lenses.
Because I have a narrow face, I ended up with Scott Aura, which are women's goggles, in black for me and the white Scott Aura for my wife. I find that many larger goggles get peeled open at the sides by my helmet, or just don't fit in the gap at all. I think they look very cool – check the photo below – and they fit perfectly, with no cold forehead action.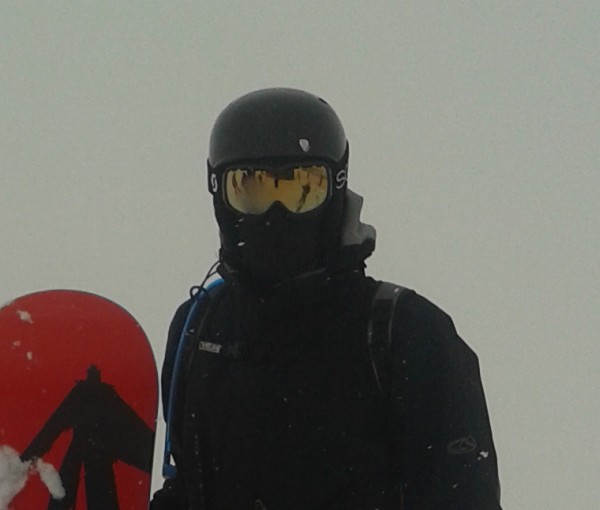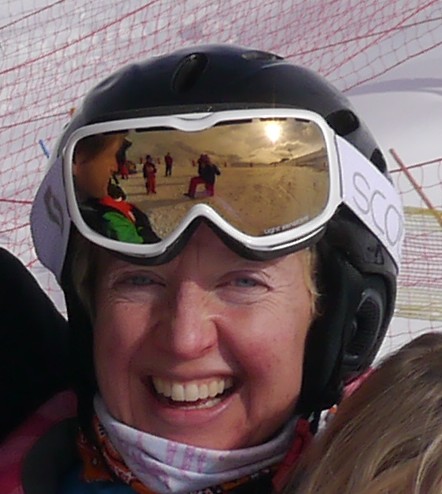 Light Sensitive
The Scott Aura lens is classed as category 1-3 which covers from 20% (foggy / cloudy) to 90% (bright sunshine) light conditions.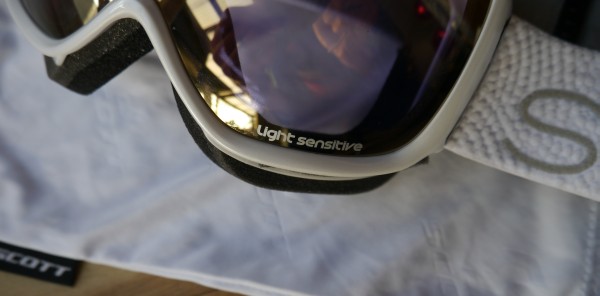 I've no idea how they work, but incredibly, I could see bumps and contours in dismal conditions as well as look right next to the sun in very bright conditions. There were a couple of occassions where I wasn't sure if they were working or not because I couldn't see any bumps on a pisted slope, but I grabbed a pair of Cat1 yellow goggles to check and the Scott Aura Lens was just as good. This is exactly what I was looking for – a goggle that works in all weather!
The lens gives a slightly pink tint but also has a reflective gold look in some light conditions.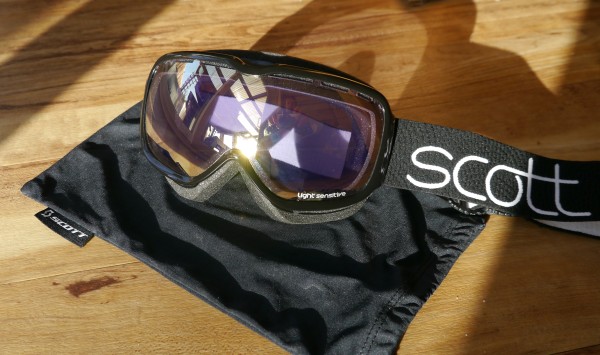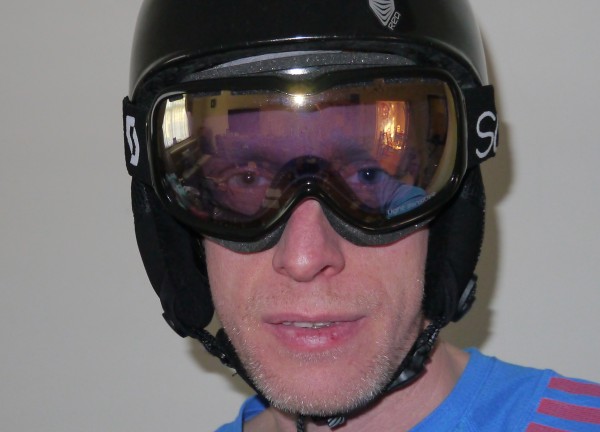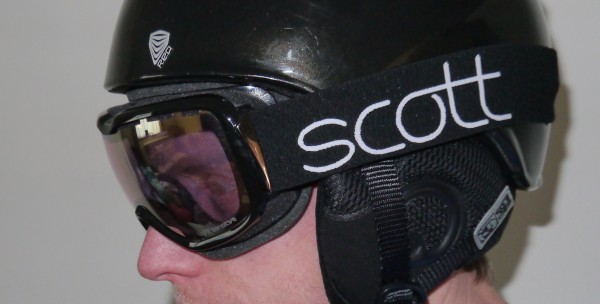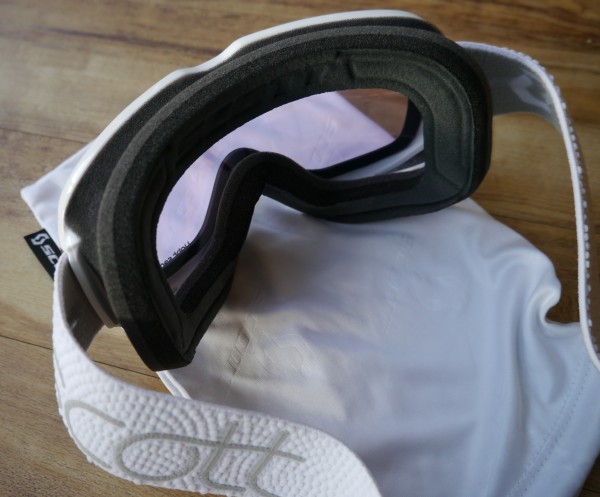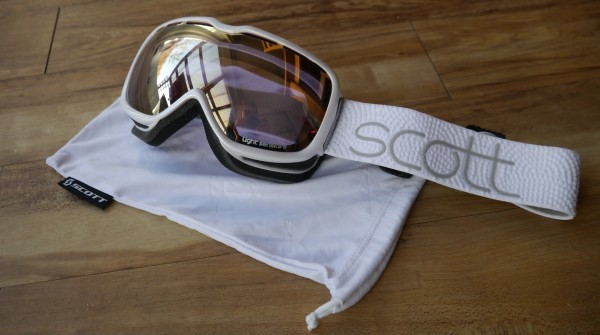 No fog
Other tech in the goggles include vents and an anti-fog coating which eradicate fogging while moving. The anti-fog coating needs to be treated with immense care to avoid removing it – dabbing gently with a wet cloth and leaving to dry works for me, but Scott Sports recommend soap and running water. I haven't tried removing the lens though – it is a major part of the cost of the goggles, so I'm leaving it well alone. Avoid wiping it even with the inside of a lens bag.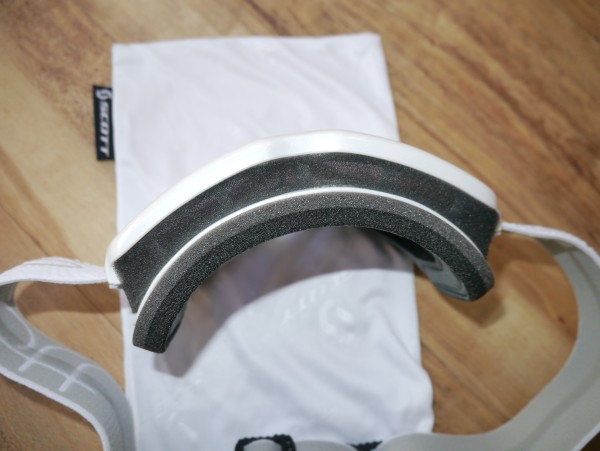 The foam is comfortable, fitting round my face perfectly and the adjustment had just enough slack to fit around my helmet.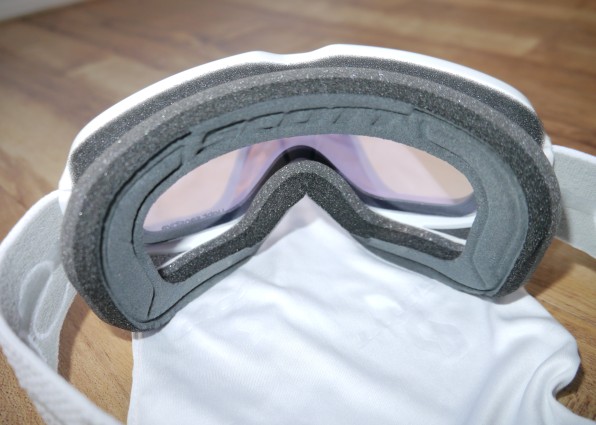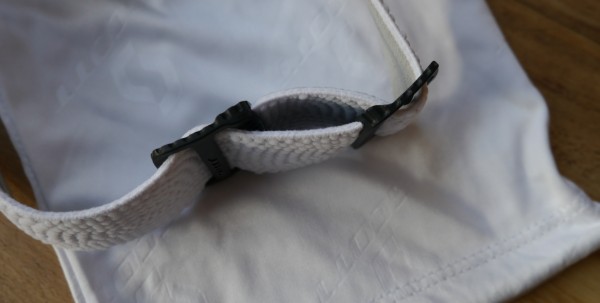 There is a gummy strip all the way around the strap which sticks to your helmet and stops the goggles moving around – fit and forget!
If you are looking to select some eye gear for snowboarding or skiing that works in all weather, you should check out Scott goggles with Light Sensitive lenses. The Scott Aura is a women's goggle but is great for men with narrow faces too.
If you like Scott products, you can follow them on Twitter here.
---
Thanks for reading. If you'd like to
get better at running, then press here
to check out Runningversity.com. There are online running courses and running coaching options available.
---
If you have any questions or if there is a product on this page you own and you'd like to add your own thoughts, then please use the comments box at the bottom.
We aim to provide unbiased feedback that we hope is useful to both manufacturers and consumers alike. Disclosure: we may earn a lead generation commission from purchases made after following links from our site. This does not affect your purchase experience in any way and allows us to keep this site running.