After one of the team had to drop out, I was asked to join one of the Chichester Runners teams for the South Downs Way Relay on 7th June 2014. I said yes – I've been doing a bit of hill running this year, so how hard can it be?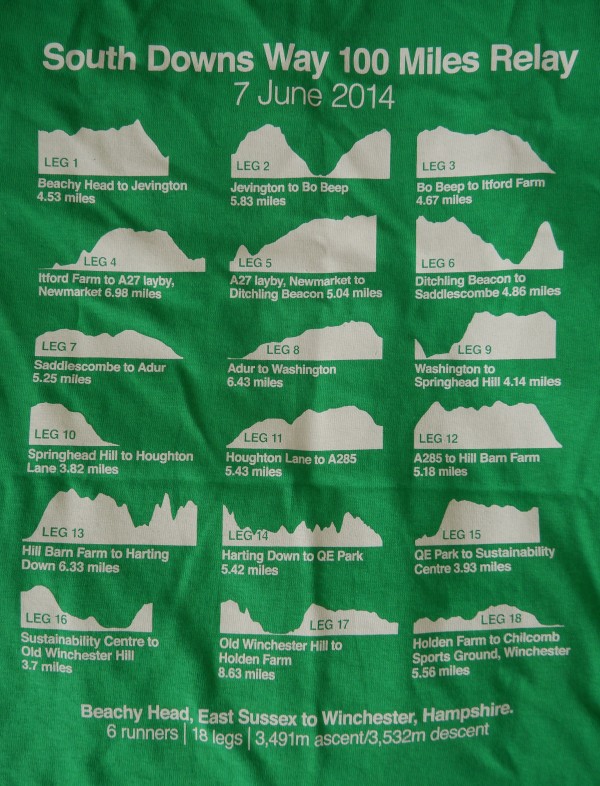 The format is teams of 6, with each runner required to do 3 legs, totalling ~100 miles along the South Downs Way from Beach Head to Winchester. It's all self supported, with hops in a minibus along the way. Start times are staggered to avoid having 50 minibuses all trying to park in the same place at once. You predict your finish time in advance and those who take longer start earlier. With a prediction of 13 hours, we were due to start at 7AM.
So, up at 4am (after 3 hours sleep…. ooops), I met the rest of the team in Chichester with the minibus driver, Tony Cooley who would ferry us across the South of England for the day, starting at Beachy Head.
David Worcester
David Dorning
Tom Blaylock
Chris Benham
Robert Wiggins
Charles Rodmell
That was our team line up for the day and apart from me, they all had many years of experience in the race. They also appear to be superheroes because their average age without me was about 60 and they still pinned it around the course incredibly quickly. Our main rivals for the day were the other Chichester Runners men's team.
I was allocated stages 5, 11 and 17. As you can see from the stage profile picture from the back of the T-Shirt above, I was stitched up.
Stage 5: Run up a hill (Ditchling Beacon) for 5 miles.
Stage 11: Run up a hill (Bignor) for 5 miles.
Stage 17: Not so bad on the overall profile, but at almost 9 miles as a final leg, it would be tough to pace. On advice from the more experienced team members, I did a recce of this stage a couple of weeks in advance due to some confusing routes and interestingly steep sections. I'm glad I did.
As we arrived at the start line shortly after dawn, there was a little trepidation over the weather. All the forecasts had predicted all-day rain, but we got lucky, with all the rain staying north of the Downs apart from a couple of the early legs. At midday the sun came out and started cooking everyone, but we were happy with that.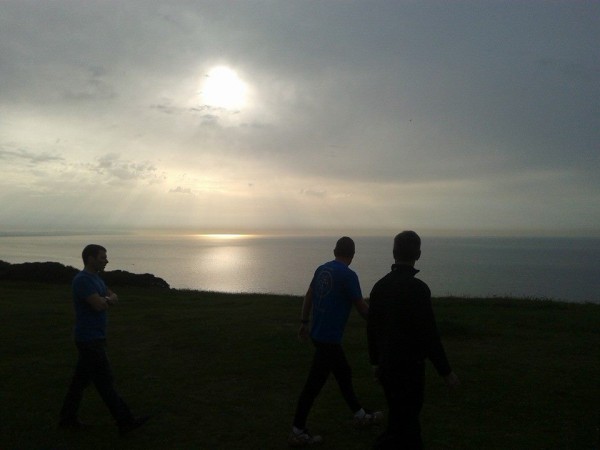 Chris had the first leg, so we watched him start and then jumped in the minibus to head to the start of stage 2.
The other Chichester team was always the favourite with young blood trumping experience, but we reckoned it would be close, so we aimed to keep them within striking distance and hope they had blown all their energy too early in the race. In fact we were never more than 15 mins behind them. Very close for a 13 hour race.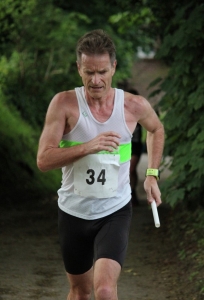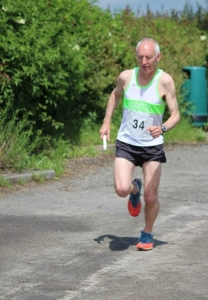 After what must have been a filthy wet stage 4, I nervously waited for the baton at the start of stage 5. Nerves aren't normally something I get during races, but this was a team event so more was riding on it than just personal pride. So, stage 5 then. Ditchling Beacon. Apart from a short section at the start, it's not particularly steep, being up the south side of the hill, but it's relentless with almost no flat or downhill relief. My heart rate quickly jumped to 180bpm as I powered up the initial incline, so I figured I could sustain nearly that for 5 miles and hovered around 175. The finish line came into view, so I made a final effort to overtake someone in another team on the way in. I was pretty battered from the effort and immediately worried if I'd used up too much for later in the race. Fortunately, I recovered fast and soon felt it had been about right.
Grabbing food and drink in the bus, I was left with time over the next few stages to ponder how incredibly fit you have to be to beat the course records on each stage which seemed impossibly fast.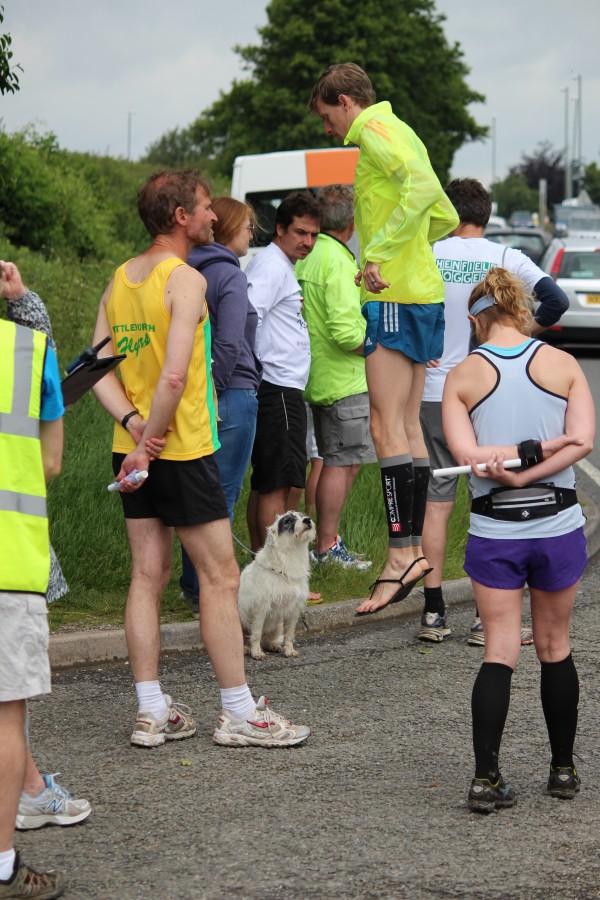 Stage 11 then. This involved running up a ridiculously steep hill and then running up an impossibly steep hill, all the way from the Bury valley up to the top of Bignor Hill. My heart was bursting out of my chest, but I felt like it would have been quicker to walk – I plodded onwards and upwards. Once it shallowed out a little, the cobbles started – with almost nowhere to run that was flat, I just tried hard to avoid twisting an ankle. Eventually the course levelled off and as it started to head downhill again for the final stretch, I breathed a sigh of relief. It was short-lived though because the descent was too steep to enjoy to the max, so I concentrated on good downhill running form and making it to the line without injury. I was spent, but longer to go till my final stage, I hoped I would be OK.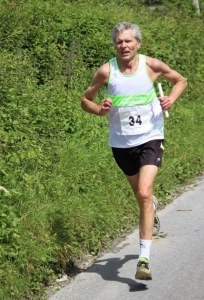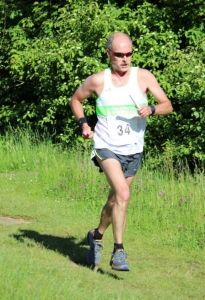 Then at 6PM, it was time for final leg, stage 17. Starting at the Old Fort on Wichester Hill, it started with a 25% drop down the hill requiring a lot of care, followed by a swamp for which there was no option but to plough through and hope the shoes didn't get sucked off my feet. Then the SDW splits for walkers and cyclists, with the shorter walking route being a very technical singletrack next to a stream. I loved this section, being exactly the sort of trail running I do normally, so started to have fun. Having scoped the route in advance, I was mentally prepared for the uphill to come. When it arrived, I made a brief attempt at running the steepest section and thought better of it and walked for 20m or so between a couple of gates, after which the trail curves off round and up the hill, but not quite as steeply. I had managed it in 1st gear on the bike, so I was sure I could run it, even though I spotted a couple of racers walking it. I put the hammer down and overtook them both and realised I was on form. Maybe my body was starting to adjust to the hills! At the top, after 8km, it was just a small matter of a gradual 100m descent over the remaining 5km. Being the last stage, I went all out, running as fast as I could the whole way. By the finish line I could hardly breathe, with my lungs and diaphragm deciding to give up from the effort. The gap between me and the other Chichester team in front was 12.5 mins before the start of stage 17 and was only 5 mins by the end after 1hr 6mins of fierce attacking. Now… here's a thing. The course record for that stage is 45min! I averaged 4:30/km on that stage which considering the hills was mental for me. Then handed the baton to David Worcester to run the final stage.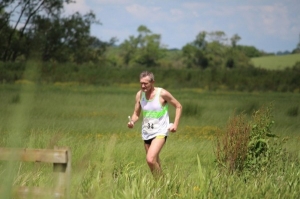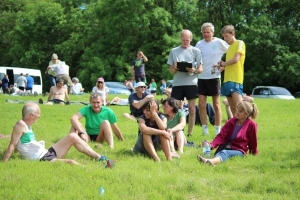 So, a 5 mile hill race, followed by another 5.5 mile hill race, followed by another 8.5 mile hill race, all in the same day. 19 miles total. Brilliant! The team finished the 100 miles in 13 hours at 8pm. In the age / sex adjusted rankings for the "Cooper Cup", we came 7th out of 52 teams, so not too shabby :)
It took a few days for my legs to recover from that one! Thanks to the veterans for allowing me in their team (I just qualified!) and thanks to the Chichester A team for putting up such a tantalisingly close challenge. I hope I can take part again next year.
As I proudly donned my commemorative TShirt to show my wife, I wondered why she fell about laughing. Somehow I'd ended up with a Chichester Runners Ladies version :D
Thanks to Rob for use of photos.
Strava Segments for SDW Relay Legs
Because the course changes, please comment below if there are now better segments and I'll update them!
---
Thanks for reading. If you'd like to
get better at running, then press here
to check out Runningversity.com. There are online running courses and running coaching options available.
---
If you have any questions or if there is a product on this page you own and you'd like to add your own thoughts, then please use the comments box at the bottom.
We aim to provide unbiased feedback that we hope is useful to both manufacturers and consumers alike. Disclosure: we may earn a lead generation commission from purchases made after following links from our site. This does not affect your purchase experience in any way and allows us to keep this site running.