I did the QECP gravity enduro last year and really rated it, so when a QECP event was announced for 2014 I signed up immediately. This was a race with a twist though. Practice in the daytime, race at night – because riding downhill as fast as possible, whilst a bit tired from the rides to the top, isn't hard enough right?
Preparation
Tyre choice: It had been a dry few days, so I put a Baron on the front and put an XR3 on the back. These turned out to be a confidence inspiring pair in the great QECP conditions: dry but not totally hard, so the knobbles of the Baron could still hook up a bit in the softer stuff.
Lights: Turning up and seeing people with 6-LED Exposure Six Packs strapped to every limb, helmet and bar, ready to set fire to the forest, I was a bit worried that my single XML-T6 helmet mounted light, combined with a bar mounted XML-T6 weren't going to be enough, but in the race I was plenty confident in my ability to see hazards, with the only problem being the super harsh shadows confusing the line rather than a lack of light. However, having seen the beam weaponry some people were packing, it's safe to say that more is better!
No downhilling: ooops. What with concentrating on smashing all my running PBs earlier in the year, the only cycling I've been doing has been down canal paths and flat dirt trails. Mentally I was prepared to give it a good go, but skills were definitely going to be a bit rusty so I was pleased that the QECP race allows you a practice session.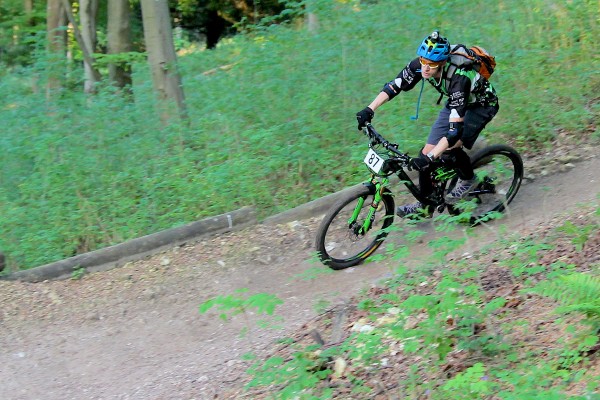 Sponsors
The Hargroves Cycles "Cyclefest" weekender was the setting for the race. Many riders stayed all night with campsite facilities provided and the opportunity to test ride some new bikes the following day. Other sponsors were Windwave, Vectiox, Bird Cycleworks, Exempt, Solent Cycles, Crank Cycles, & Fatcreations, all set up in the race village by the start / finish area.
The 150 places sold out very quickly and the sponsors had stumped up some great prizes for the top 3 riders in all categories.
Racing
The race concept was 4 timed downhill stages added together for a total time. The transitions were steep in places but with time enough to recover for a few minutes at the top.
Stage 1 was a 1.4km 120m drop, much of it freshly cut for the race. There was still a little bit of light left as I started, but I fired up the lights anyway and pedalled hard to the first corner. Shortly after the start, the ground dropped away down a 40% inclined crack-flossing section of soft stuff, flicking the back end around tree stumps, which had me laughing and swearing in equal measure as I nailed some corners and messed some others right up. Staying well away from the front brake I mostly just held on for the ride wished I'd been doing more of this recently. I reckon it will have caught a few people out who thought they were getting into a nice easy ride at QECP. After escaping this unscathed I promptly snagged the bars on a tree just before drop leaving standing next to the bike a bit bewildered but at least with family jewels intact, so leapt back on and cleaned the next off-camber loamy slippery slide section (Nemesis?) and swept down into the valley. Doing this at night seemed a lot quicker than in the daytime, even though it was exactly the same speed (let go of the brakes and go!). A short pedal section to the finish meant I was able to hold off the rider behind me – fitness I can do.
At the stage finish line, all the marshals appeared to be having a great time – many thanks to all of the volunteers who made it such a well organised professional event. On the way back up the transition, everyone including me was rolling out excuses as fast as possible. "A tree leaped out in front of me – the forest is out to get me". "Not ridden my bike since [fusion_builder_container hundred_percent="yes" overflow="visible"][fusion_builder_row][fusion_builder_column type="1_1″ background_position="left top" background_color="" border_size="" border_color="" border_style="solid" spacing="yes" background_image="" background_repeat="no-repeat" padding="" margin_top="0px" margin_bottom="0px" class="" id="" animation_type="" animation_speed="0.3″ animation_direction="left" hide_on_mobile="no" center_content="no" min_height="none"][insert suitable date here]". "There was a 30m section of uphill – I didn't sign up for uphill", "Fell off 12 times", "Well I fell off 13 times" etc. etc. :D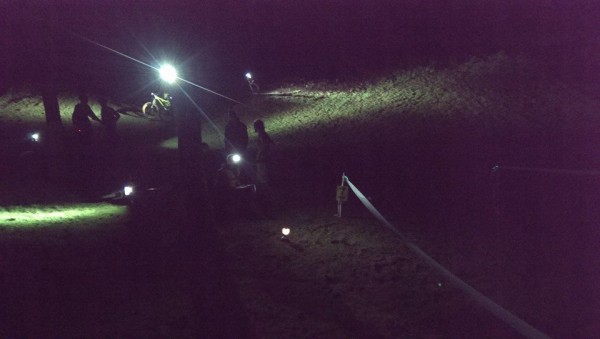 I stopped to watch a few people rolling into the rock garden at the end of stage 2. Everyone was so intent on getting the line right for the drop into the garden that many people failed to see a diagonal root a few yards back from the roll-in. I saw one person pitch over the bars and a few others stamp a foot and come to a stop wondering what had happened. I was determined to remember that for my run.
Back at the top after transition, the organisers had set up some floodlights and since 3 of the 4 stages started at the same place, it was great to stand around and get to know some of the other riders.
Stage 2 was a 1.1km 120m drop, so steeper overall, but not as crazy in any particular place. Much firmer, this was a well worn trail with bumps, roots, cornering ruts and little steps. It eventually opened into a clearing before a magical rock garden lit with fairy lights and two possible lines depending on which side of a tree you dropped in from. The straight-through line as fast as possible was preferable, but many people were caught out, not by the rock garden itself, but by a sneaky root, diagonal a few feet back from the entrance – with everyone's mind on the rocks to come, this root was ignored and threw people off line or off bike! Fortunately my Baron shrugged it off, hooking up and over the root, leaving me just a little wobbly on the way into the garden and to the finish line.
Stage 3 was a super fast 2km smash with only 100m drop, with lots of straightish smooth sections which felt nuts at speed in the darkness. I got a bit excited after almost catching the rider in front and completely failed to notice the tail turning right, so I sailed off down the hill through the undergrowth. Had to run back up – only lost 15 seconds or so though, but the adrenaline from the off-piste action was surging.
The transition to stage 4 was different and almost caught us out, being much tighter on the clock. The rider in front of me was behind me on the climb and we shouted down into the darkness for him to hurry up. He appeared frantically pedalling up the hill, arriving at the start line with literally 1 second to GO.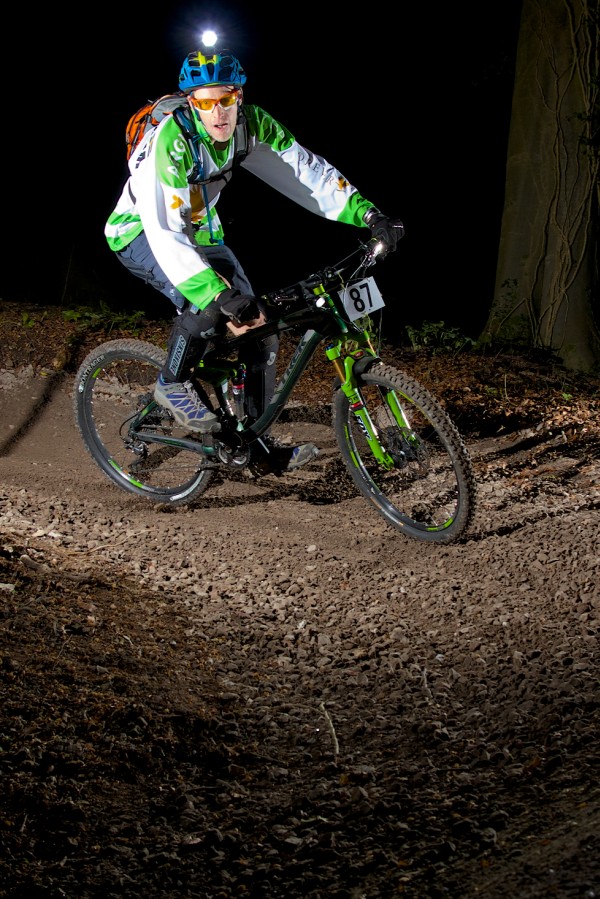 Stage 4 was a 1.5km fast, rooty and wide trail, with 90m drop and various line choices running all the way down the side of the park. I was distracted on the way down by an owl flying a couple of feet above and in front of me down the trail. Transfixed, I was suddenly aware it was pulling up – into a tree – ooops – veered to one side to avoid full tree interface! It ends in some well built up bermed switchbacks where crowds were gathered, shouting encouragement and cheering when you picked up the effort. I mucked up the corners, not getting nearly high enough on the berms.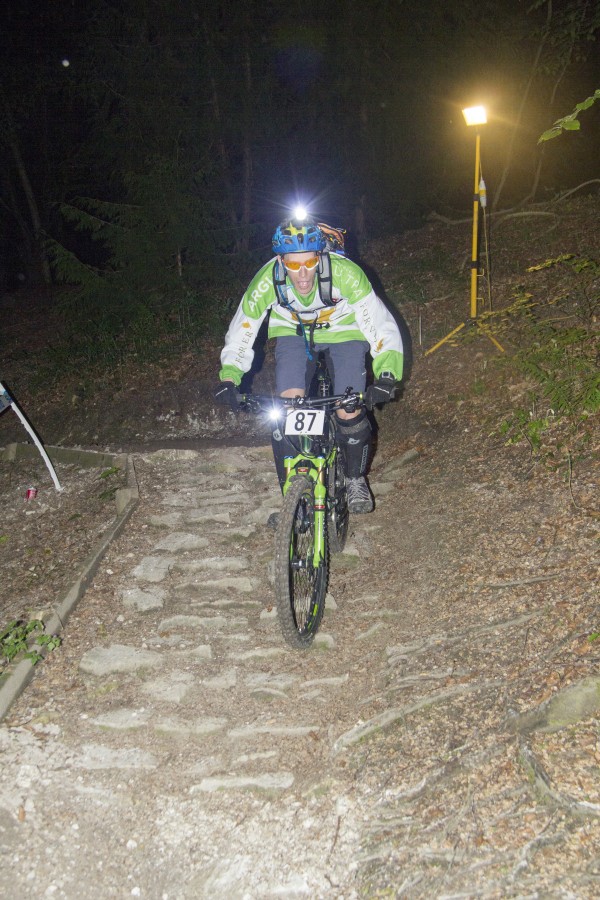 The finish line – yes, the finish deserves it's own section: after the berms, there was a short ride through a field to reach the line, as a beer was thrust into the hand of each thirsty rider. Excellent.
So, a great variety of trails and difficulty levels, friendly riders, brilliant marshalling and organisation was top notch. QECP Trail Collective provides another top quality enduro. Well done!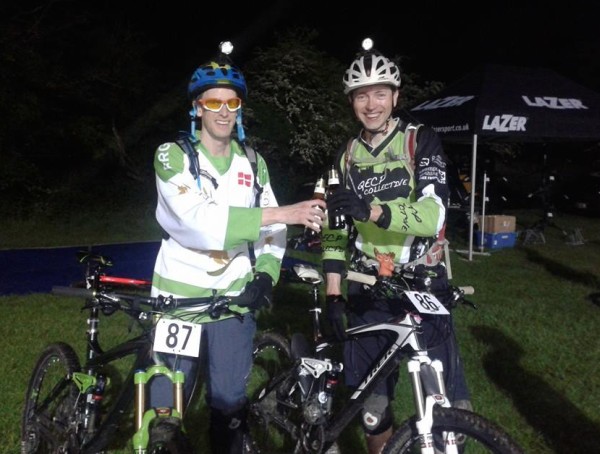 [/fusion_builder_column][/fusion_builder_row][/fusion_builder_container]
If you have any questions or if there is a product on this page you own and you'd like to add your own thoughts, then please use the comments box at the bottom.
We aim to provide unbiased feedback that we hope is useful to both manufacturers and consumers alike. Disclosure: we may earn a lead generation commission from purchases made after following links from our site. This does not affect your purchase experience in any way and allows us to keep this site running.