I bent the front brake lever during a full-tree-interface situation a while back and so installed a cheap and cheerful Shimano BR-M575 hydraulic brake, replacing the entire front brake setup. However, I've never been happy with it. The brakes just weren't as good as the ancient Deores that were on it before. I always thought it was an issue with the master cylinder power, but after reading a forum post about improving the M575, I decided to try out new pads and disc rotor to see if it helped.
Superstar Components
After chatting to the helpful people at the Kingley Vale Mountain Bikers network, I put an order in at Superstar Components for a pair of Sintered Mountain Bike Brake Pads and a Vibe Disc Rotor. It turned up very quickly and came with some stickers and a small pack of Haribo!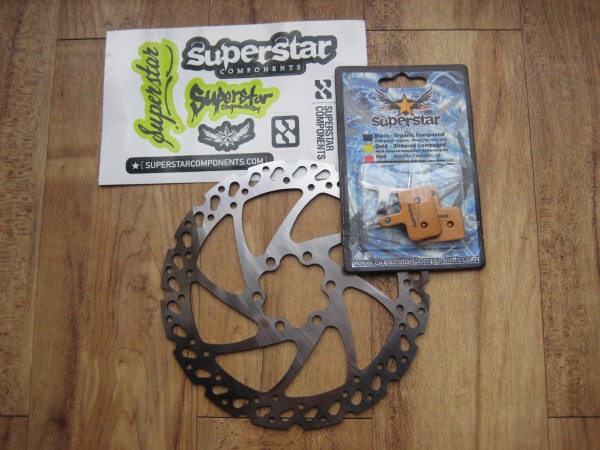 I chose the Vibe because looked like a good design for heat dissipation. It's made from stainless steel which is hardened and then ground flat. They have the size and rotation direction stamped on the disc.
The original Shimano 160mm disc weighed 144g and the Superstar Components Vibe 160mm disc was 10g less at 134g.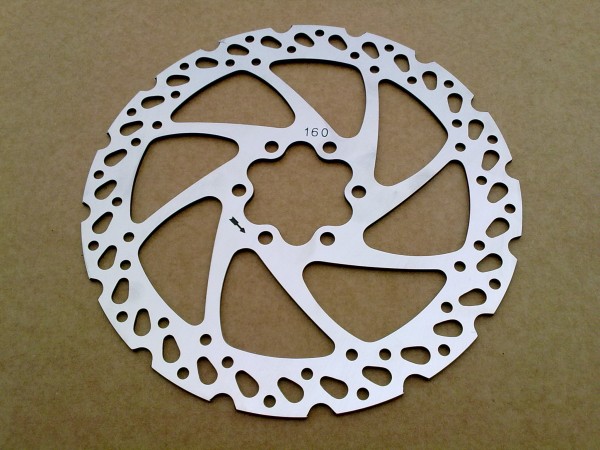 I chose the Sintered pads because although they can be a bit noisier than organic or kevlar, they will last the winter months and hopefully still provide a decent bite. They come with a replacement spring to suit.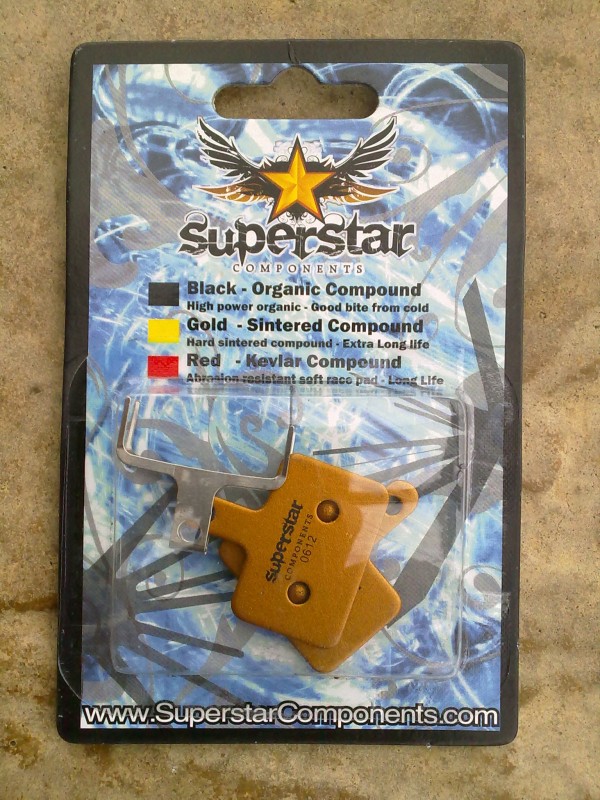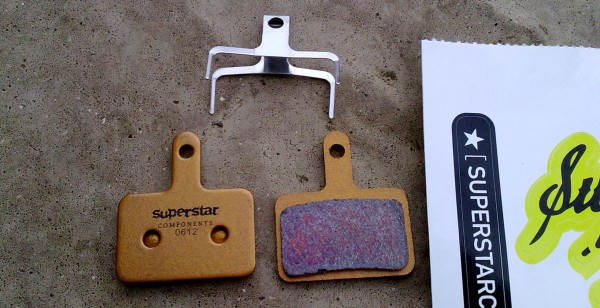 Bedding in the Mountain Brake Pads and Disc
I swapped all the components over and then headed out on to the road to bed the pads in. After a few increasingly firm stops from 20mph or so, I decided the pad had started to transfer over to the disc and so gave the lever a really firm tug with one finger. The wheel immediately locked up which was fantastic news. I repeated the emergency stops till my legs couldn't take any more pedalling up to speed and the bike was still stopping really quickly and with only one finger. The improvement to the braking power was easily noticeable over the original Shimano pads and disc and I wish I had done the swap sooner. They squeal a bit when damp though which is to be expected for sintered pads.
I now have to spend a while getting used to the better brakes because I'm still forgetting about the change and am often giving it too large a handful and locking the front. I did a really mucky short course DH race with them and the front brakes are now locked with a single finger with lots of feel up until that point. Very very pleased.
Anyone who is looking to select replacements for their current pads or disc should take a look at the Superstar Components options – they are reasonably priced and the ones I tried work superbly.
---
Thanks for reading. If you'd like to
get better at running, then press here
to check out Runningversity.com. There are online running courses and running coaching options available.
---
If you have any questions or if there is a product on this page you own and you'd like to add your own thoughts, then please use the comments box at the bottom.
We aim to provide unbiased feedback that we hope is useful to both manufacturers and consumers alike. Disclosure: we may earn a lead generation commission from purchases made after following links from our site. This does not affect your purchase experience in any way and allows us to keep this site running.