The adidas Adizero Climaproof jacket is a super lightweight windproof running jacket that is water repellent, whilst remaining breathable. It is aimed at runners who want a water and wind protection without the bulk of a jacket moving around.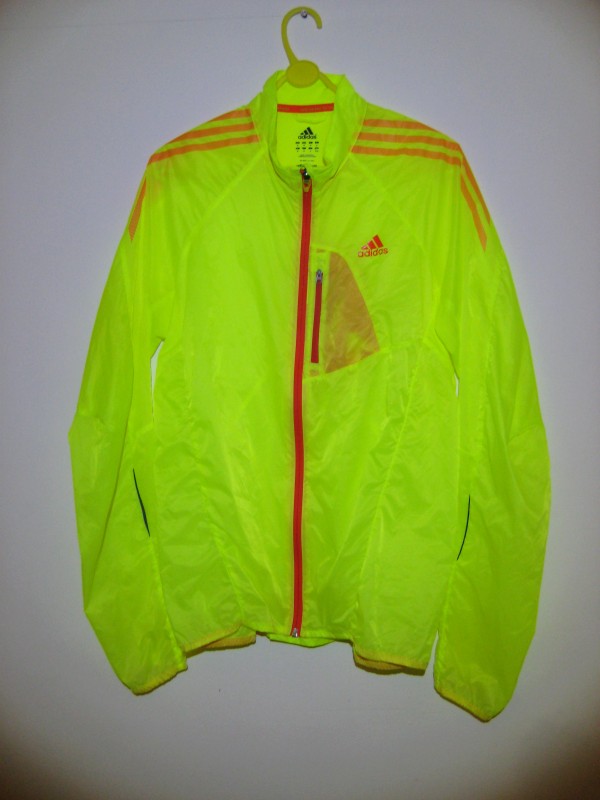 Climaproof
It uses two main materials depending on what is needed. At the upper back in the middle, it uses a high wicking fabric for breathability and the same under the arms. The rest is a water repellent fabric on which water balls up and rolls off. This works remarkably well in drizzle and light rain, leaving the inside dry. In the picture below the repel fabric is on the left and the breathe fabric is on the right.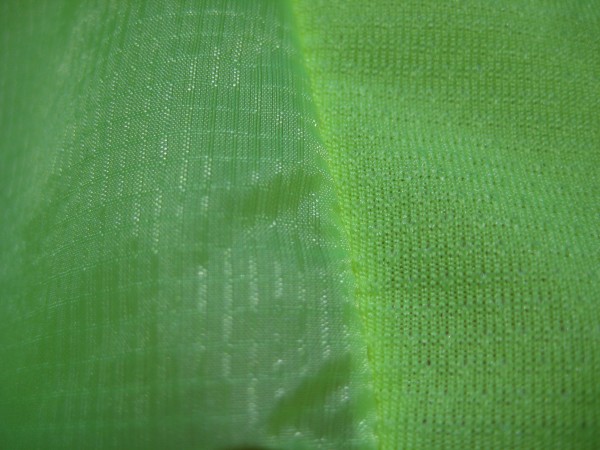 After 20 minutes of drizzle, the horizontal surfaces will start to soak through, first evident on the shoulders and forearms. In normal to heavy rain, especially on windy days where the drops are hitting the fabric with enough force, the fabric does let water through, but because the material is so thin, soak levels are tiny. In these conditions, it still keeps the wind chill off so job done!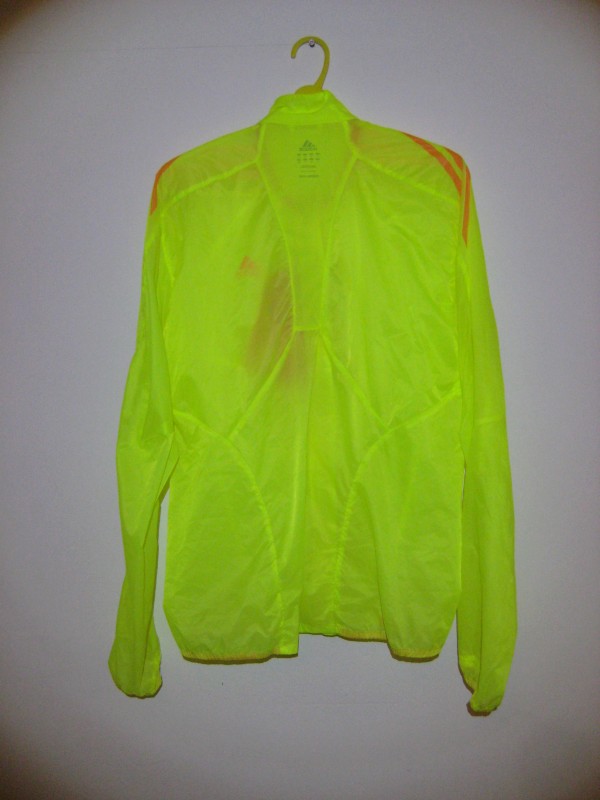 Fit and breathe
I take a medium in most tops and the fit was just right for my slender build. It hangs loose enough to leave room for a long sleeved base layer. At 8degC on a windy dry day, it is too warm for marathon race pace training with a long sleeve layer, but great for long slow runs in similar conditions. With just a vest on a drizzly day in similar temperatures it was spot on for faster runs and the zip is large enough to grab with gloves for adjusting heat at the front if need be. On a rainy day at 8degC at slower than marathon race pace with just a vest, my arms did start to get cold once the rain got through after around 15 minutes – the combination of rain and wind made it feel a lot colder than the windy dry day.

The sleeve ends have thumbholes and elastic, so provide the best of both worlds.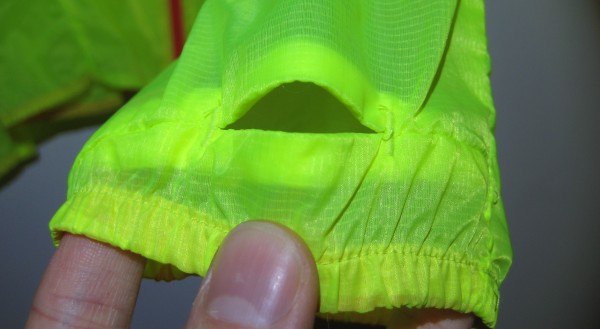 Lightweight performance
At 98g, the adidas Adizero Climaproof jacket is astonishingly light. It is well under half the weight of the cheaper windproof top I have. While pounding the trails, it is almost unnoticeable, and completely avoids that whole feeling of moving up and down separately from you that heavier jackets have. It can easily be removed and tied round the waist or because it is so minimal you can even successfully stuff it down the side of your shorts and forget about it. Even though it is light weight, it is still fairly sturdy. There have been a couple of heart-stopping moments when I snagged it on thorns on the repel fabric, but both times it showed no sign of damage. Excellent.
The only area that is lacking is reflective elements. There is only a small reflective Adizero logo at the base on the back, all part of the the minimal approach to keep weight down.
Washing instructions: Machine wash cold delicate cycle, do not bleach, do not tumble dry, do not iron, do not dry clean, wash inside out with like colours, do not use fabric softener, use mild detergent only, wash with fasteners closed.

Storm test
In a rather extreme test, I aimed a high power shower horizontally at the front of the jacket to simulate being out in a hurricane. You can see the results in the video below. It is worth mentioning that 30 minutes after filming, the Climaproof jacket was completely dry, but the other jacket was still soaking wet.
[fusion_builder_container hundred_percent="yes" overflow="visible"][fusion_builder_row][fusion_builder_column type="1_1″ background_position="left top" background_color="" border_size="" border_color="" border_style="solid" spacing="yes" background_image="" background_repeat="no-repeat" padding="" margin_top="0px" margin_bottom="0px" class="" id="" animation_type="" animation_speed="0.3″ animation_direction="left" hide_on_mobile="no" center_content="no" min_height="none"]
The adidas Adizero Climaproof Jacket is a high end item with a well specified balance of windproof / water repellent abilities and breathability. The water proofing is most suited to drizzle and light rain scenarios. It is extrememly light weight and packs down very small and should be selected as an essential part of any runner's gear to embrace and revel in poor weather.
To see what the 2013 colours for this jacket will be, please check out our adidas 2013 Adizero range preview.
You'll be able to get hold of it once back in stock at the start of the year at www.adidas.co.uk
If you have this jacket please review it using the "Have you selected this gear?" button below, or if have you have any questions, please use the comments box.[/fusion_builder_column][/fusion_builder_row][/fusion_builder_container]
If you have any questions or if there is a product on this page you own and you'd like to add your own thoughts, then please use the comments box at the bottom.
We aim to provide unbiased feedback that we hope is useful to both manufacturers and consumers alike. Disclosure: we may earn a lead generation commission from purchases made after following links from our site. This does not affect your purchase experience in any way and allows us to keep this site running.