The Ultra Mag pedals are Superstar's lightest flat mountain bike pedal. I added the black TiCN Ceramic coated Titanium axles option to ensure lightest possible build and highest amount of money throwing at Superstar. I also ordered some Techno Lime Green pedal pins, so I could have half green and half gold pins. It matches the bike and is important ;)
Sweet!
When the postman handed me the package, I thought perhaps Superstar had forgotten to include the pedals, since it was so light, but they were in there. As usual, the Superstar products were immaculately packaged and even came with a packet of Haribo and some stickers.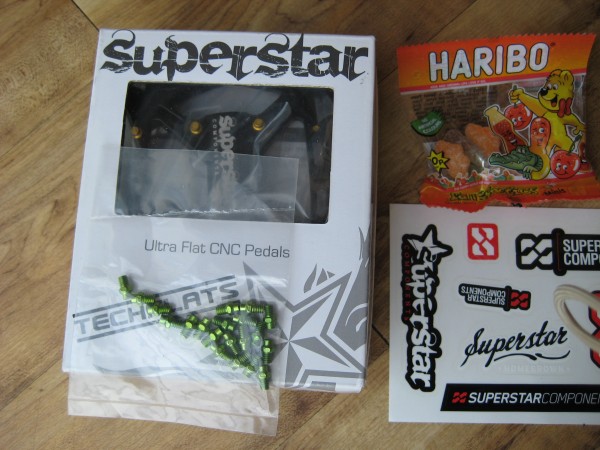 Superstar Ultra Mag pedal weight with Titanium axle
The first thing I did was to check the weight, which at 263g / 0.58lb (for the pair!!) on my scales almost exactly matches the Superstar claimed weight.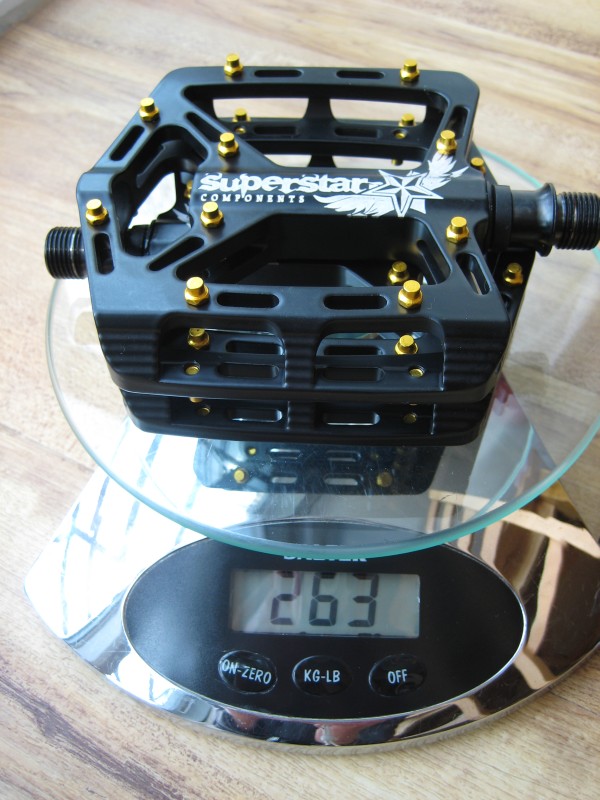 It's CNCd from magnesium billet with lots of through-drilled slots. For ultimate strength to weight ratio, they could have prevented the slots from going all the way through, but that would have made them difficult to clean. It does look very cool. I haven't jumped off any cliffs on them, so if you've used them successfully for big hits, please add your own review at the bottom of the page. They have remained solid, straight and true for my normal riding on singletrack, and DH with small drops, steps and jumps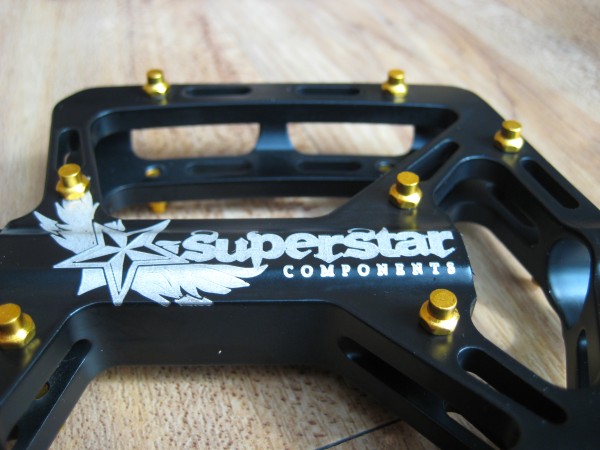 I've bashed them against the ground many times in normal riding and in races – they are holding up well. For reference, I'm 11 stone.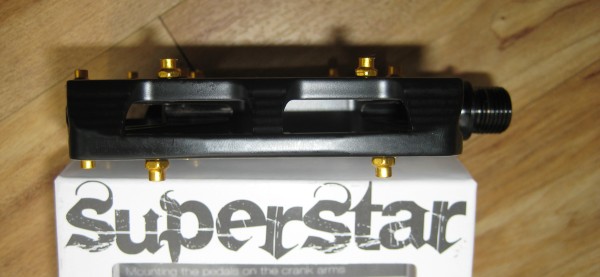 The sealed bearings are not super smooth, but they are maintenace-free.

They are slightly concave so your foot sinks into the middle, helping keep your foot firmly planted on the surface mounted pins, which screw in with a small socket or spanner (not included). The pin positions are well spread and do an excellent job of preventing slip. Here's an extreme close up of the green pins I bought.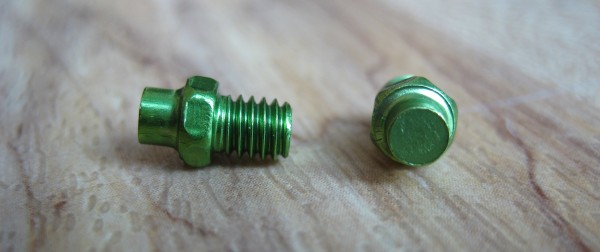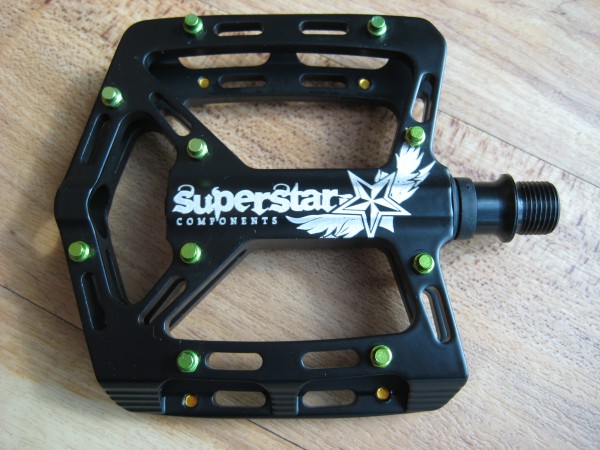 Having used these for a while now for fun and gravity enduro racing, I'm pleased to report that these are excellent pedals. The paint is holding up to abuse, feet stay planted and their ultra light weight is worth the price tag.
If you like Superstar's gear, you can follow them on Twitter
---
Thanks for reading. If you'd like to
get better at running, then press here
to check out Runningversity.com. There are online running courses and running coaching options available.
---
If you have any questions or if there is a product on this page you own and you'd like to add your own thoughts, then please use the comments box at the bottom.
We aim to provide unbiased feedback that we hope is useful to both manufacturers and consumers alike. Disclosure: we may earn a lead generation commission from purchases made after following links from our site. This does not affect your purchase experience in any way and allows us to keep this site running.