The TrekSport Sandals are my first pair of Vibram FiveFingers shoes. I bought them after chatting with Lee from feetus.co.uk, who advised I should consider these because I was looking for a minimal shoe that can handle serious off-road action.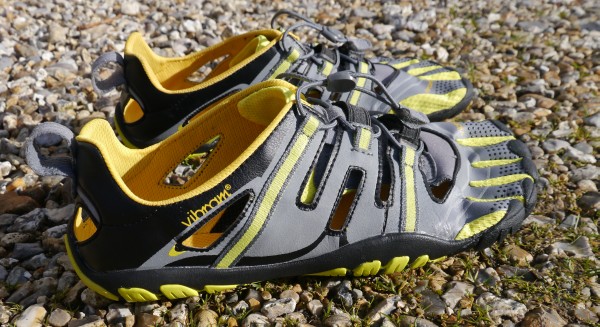 To put this review into perspective:
I run in a "barefoot style", so forefoot lands first (with a light heel touch much of the time) so I did not feel the need for any major transition time
I have never used a zero drop running shoe before (in fact nothing less than 10mm)
I have never used a running shoe with such minimal cushioning before
Change is good
Curiosity – the main reason I wanted to try a properly minimal shoe. I just wanted something new and different to add to my trainer line-up, with the hope that I would get stronger feet and be forced into better running form; after all, we can always improve. Since most of my running is on trails, I needed something with a bit of grip and something that was going to prevent my feet from being injured by sharp stones. There is also a lot of hawthorn near me, a piece of which went right through my wife's trail shoes which fortunately had cushion of enough depth to only allow it to prick the skin slightly. She has also had some Vibram KSO since they originally came out so I was familiar with the brand and would allow me a good basis for comparison for the TrekSport sole.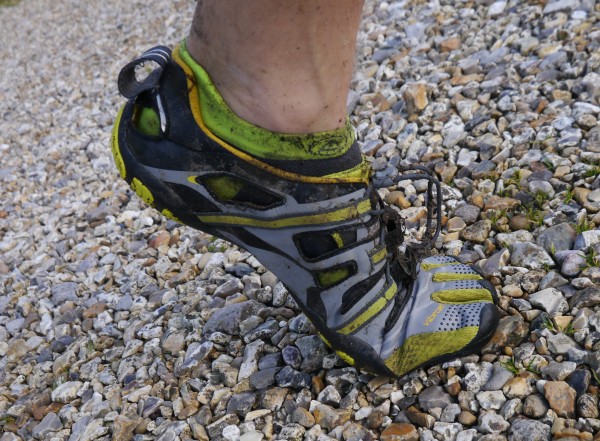 I love the look of the shoe – the bright stripes on the metallic grey and the highlights in between the toes all looking great. The lacing system is fast and does the job well – I'm fairly used to drawstring laces from XA Pros and Ravens. There is a little Velcro pad on the top of the shoe to secure the end of the lace to prevent flap – an elegant solution and again, fast to use.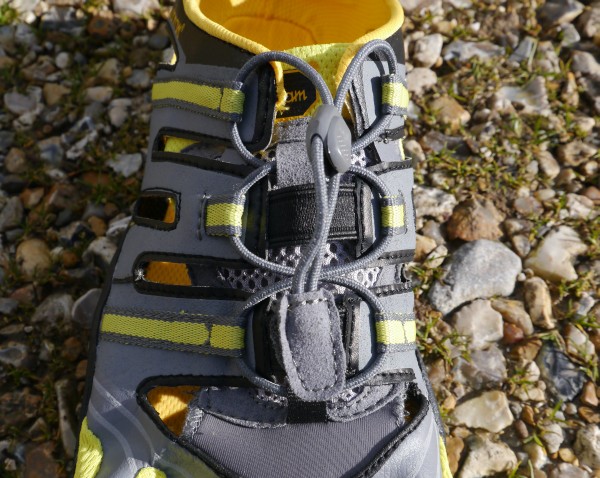 TrekSport Sandal weight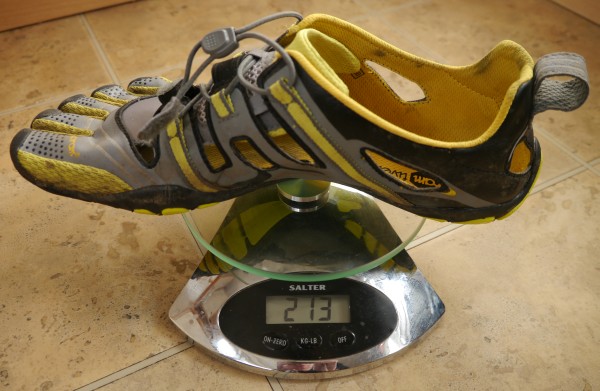 My size 45 TrekSport Sandals weigh 213g per shoe. So not super-light, but certainly the lightest trainer I've owned so far.
TrekSport sole – flexibility and grip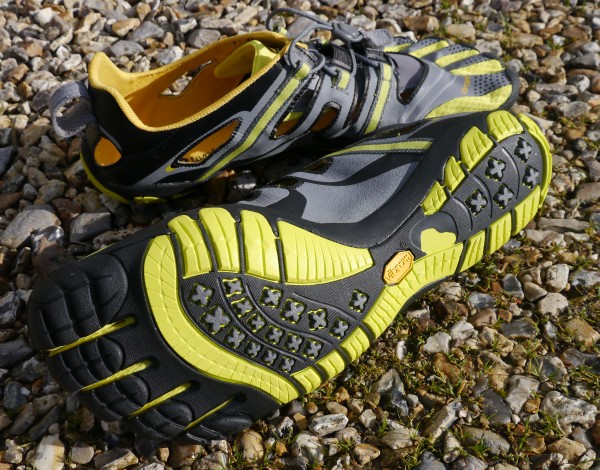 According to the Vibram site, the TrekSport sole is a maximum of 4mm thick, which looks and feels about right. It is designed for running off-road, so is thicker than the KSO sole (and probably all the other road soles used in the FiveFinger range). The aim appears to be to reduce the chance of your feet from being punctured whilst providing a decent amount of grip. The rubber is firm and plated along the outline of the main foot area. Yes, you can roll the shoe up into a ball, but the force required is necessarily larger than than the KSO sole. Toes can be lifted and moved individually upwards, but the design of the sole makes it tough to curl the toes downwards unless you are pressing the ball of the foot on the edge of something (think about curling toes off the edge of a step or a tree root). However, when planting the foot on to the trail, there is still plenty of flexibility to allow the toes to grab and form with the uneven surface.
Grip is increased by traction ridges up the toes as well as cleats (small cross-shaped lugs) peppered near the ball and heel.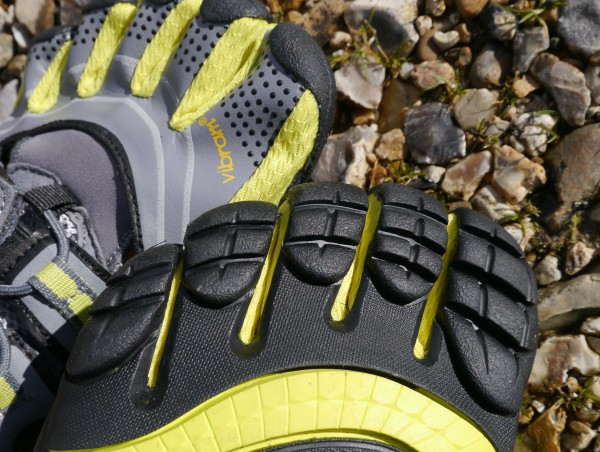 TrekSport Sandal Upper
Being a sandal, the upper has holes in it (Vibram call them "Windows"). So far I've only used the shoes through the British winter between 2degC and 10degC, but it makes sense that these are going to be cooler and more breathable in the hot Summer than other FiveFingers. In the colder temperatures, I have been using Injinji Performance 2.0 Lightweight socks and my feet and toes were plenty warm enough. The only time I found them to be unsuitable were through deep, dirty puddles where standing water was above the height of the shoe. In this situation, detritus from the trail is washed into the holes and enforces a shoe removal for continued comfort. The water itself is not a problem – there's so little absorbent material that there are only a few steps afterwards when you might consider the shoe to still be actually wet. Clean puddles e.g. on road, prove no problem. It easily tackled all the other trail types I threw them at.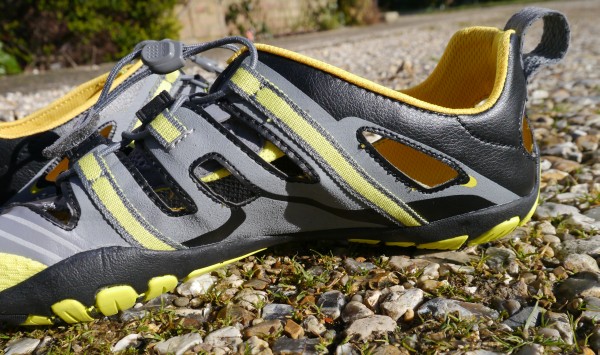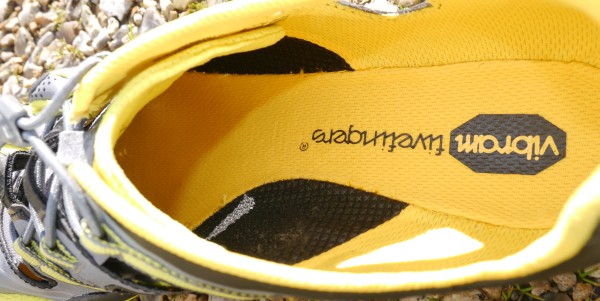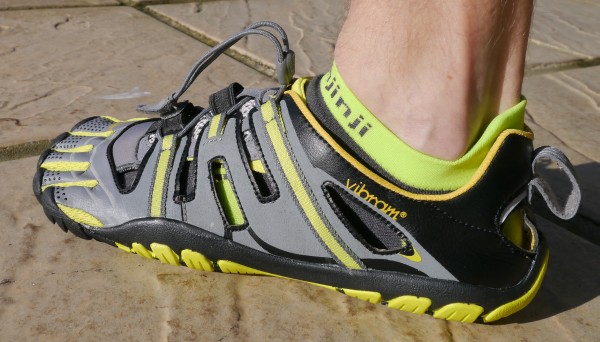 On the trail
After many trail runs in the TrekSport Sandal, with longest so far being 14 miles of hills, and mud and stoney paths, I can happily report that they perform brilliantly! Compared to a traditional trail shoe they required a much more soft approach to the run, which was exactly what I was aiming for with this purchase. You also need to become better at scouting the trail features – a root or rock hidden under mud being applied firmly to the arch of the foot makes you learn quickly! My cadence has increased so that switching to the other foot if need be is never too far away, and my hill skills have become less thumpy and more floaty. These skills have transferred over to my other shoes when I wear them too :) What was interesting was that although my perceived pace was slower than normal, my real pace was actually the same.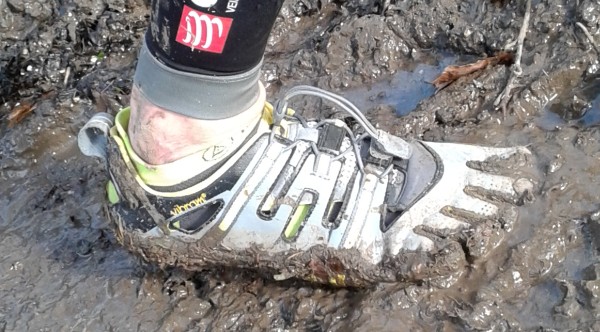 On hardpack trails and firm mud, grip is plentiful as you'd expect with a shoe that moulds to the surface. However, on more sloppy or deeper mud, the TrekSport Sandals surprised me – I was expecting to be sliding around all over the place, but in reality I had far more grip than I could have imagined. I kept on having to readjust my attack speed in corners, upping the aggression until a slide was induced. I can only surmise that this is due to the way the toes dig into the mud, combined with the small contact patch being able to drop through the mud finding grip underneath. Very impressive.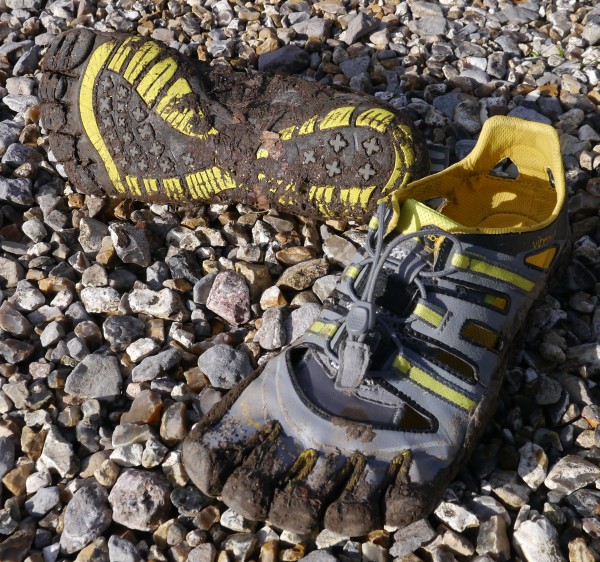 Thick mud gets pushed up between the toes which does not affect the run apart from if a stone comes with it. This only happened once in 50 miles of muddy trails and took only a couple of seconds to reach down and pull the toes apart enough for the stone to fall out. The cleats are not long enough to clog up, so the grip remained constant throughout.
One condition that needed more care was when a dry trail had been rained on in the last 12 hours. The slight layer of slippery mud on top of the hard mud made for the occasional unexpected slide while at race pace.
Fun
This is probably the same feeling everyone gets when they first use a decent minimal shoe, so you'll have to excuse my exuberance, but running in the TrekSport Sandals was totally hilarious fun :) I could feel an enormous amount of the trail, but my feet never bruised, so the protective elements of the shoes work very well. Instead of it not mattering much what the trail was like, it suddenly became something to play on, leaping over some sections and taking ultra-careful steps on others, with the exact surface details now being rather more important than normal.
Uphill, the rugged traction of the toes let me scramble up slopes as if I was wearing fell shoes and on steep downhills, there was enough grip from the cleats at the front without having to dig the heels in.
Even on paved roads, the shoes are eminently usable, with the cleats being short enough to remain unobtrusive. I wouldn't want to use them on roads for too long mainly due to worrying about wearing out the cleats, but when the need arises you can rest assured that you can get to the next bit of trail unhindered. I have also used them for driving which was ok for the 30 minute drive to South Downs. I have even used them for wondering around town and also for standing in a gym foyer for a few hours (promoting my business).
If you are looking to select a pair of minimal off-road shoes that provide a lot of grip and protection, whilst still retaining a lot of trail feedback, you should definitely consider some Vibram FiveFinger TrekSport Sandals. I've loved every minute of them so far. They are an easy top marks from me.
You can buy these and many other minimal style shoes from the immensely helpful and knowledgeable feetus.co.uk They deliver worldwide.
---
Thanks for reading. If you'd like to
get better at running, then press here
to check out Runningversity.com. There are online running courses and running coaching options available.
---
If you have any questions or if there is a product on this page you own and you'd like to add your own thoughts, then please use the comments box at the bottom.
We aim to provide unbiased feedback that we hope is useful to both manufacturers and consumers alike. Disclosure: we may earn a lead generation commission from purchases made after following links from our site. This does not affect your purchase experience in any way and allows us to keep this site running.