The adidas Kanadia XC TR is a fairly light fell shoe, aimed at people tackling the muckiest of conditions, so if your race is going to be slippery and knarly, you may want to take a look. It is quite different from the standard Kanadia Trails. Fantastic colours too! Thanks to adidas for giving me a pair to use at the 24hr Thunder Run. edit: these have now been replaced by the similar looking "Kanadia XC 2 ATR"
I asked adidas and they said:
It's designed as a cross country race shoe with simple EVA midsole. The idea is that it offers all the stability you would expect from a great trail shoe but maintains similar weight to that of our standard running shoes. Ultimately the athlete can continue to run at great pace in comfort, even on uneven ground.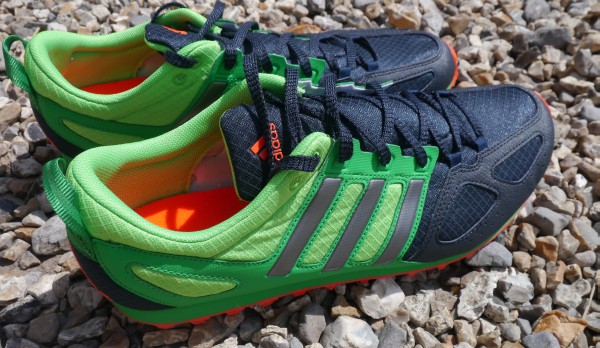 Single track
The Kanadia XC TR is a very focused shoe. It is for mud and loose earth. Don't even think about using it if your run contains more than a few minutes of road, or wet smooth stone. If the trail is off-road but still firm to hard then look elsewhere. However, if your trail is loose or muddy and generally extreme, then here's where the Kanadia XC TR steps in, with the very aggressive outsole to save the day!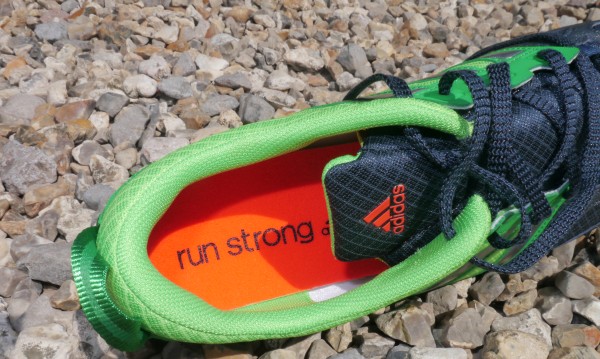 Weight, balance and drop
My size 12s weighed in at 277g on my scales, which, given the size of the sole and outersole combined with the thick supportive upper, is actually pretty light, giving a good balance between speed and comfort on the trail. The foam sole is approx. 12mm at the rear and 6mm at the forefoot and toe, giving a drop of approx. 6mm, so beware if you aren't used to using low heel drops because this will feel a little different, especially if you heel strike. I really like the way most of the toe has the same thickness as the forefoot, making it very predictable on foot plant.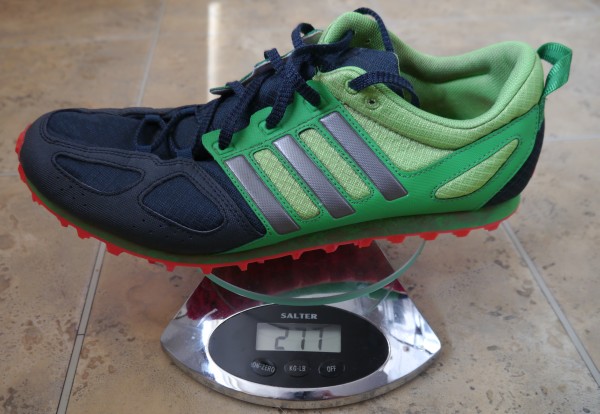 Fit
For comparison purposes, the size 12UK Kanadia XC TR was right for me and I wear size 11.5 adios 2/boost and size 12 Energy Boost. However, the Kanadia is a fair bit wider than the adios in the laced part of the shoe, so for my clown feet I had to do the laces up until the tongue started to compress at the sides. At first glance this worried me, but as it turned out, after 20 miles of mud, my feet were fine!
Rugged
Whilst it's a fairly no-frills shoe, reflected in the price-point, there are a few notable features. The upper is layered with waterproof materials near the sole and breathable mesh nearer the top.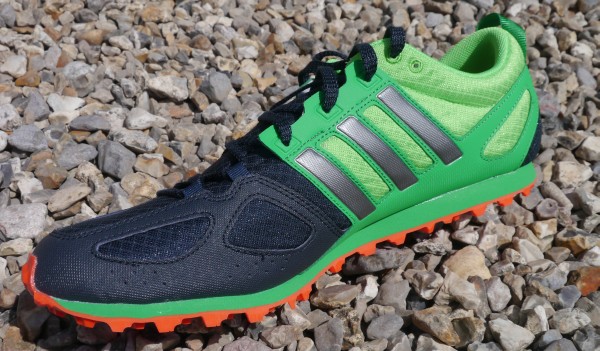 The ankle area is padded, providing a degree of comfort and also prevents trail debris from entering.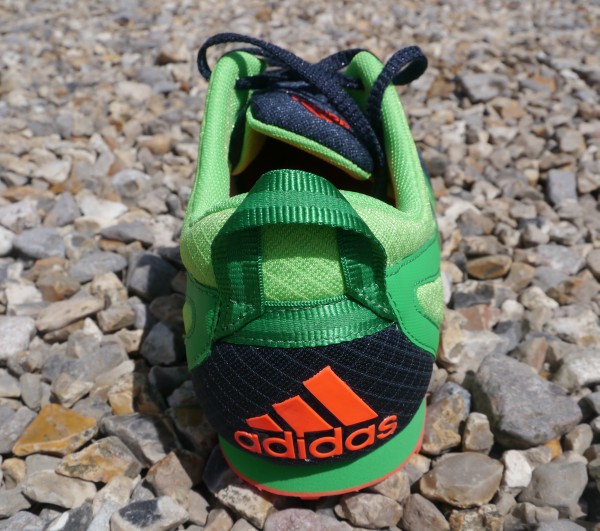 Then there is the outer sole which is the defining aspect of the shoe. adidas call the grip profile "TRAXION+ LUGS", and yes, they do deserve upper case! They are approx 5.5mm tall with a step. The direction switches from the front to the back so that at the front, they act like a claw on the way up hills and the rear has braking power on the way down hill for anyone that lands mid-foot or heel. They also shed mud really well – I stopped for a second during a particularly muddy section of trail to check – so your shoes stay light rather than picking up the trail and taking it with you!  The lugs are also siped meaning the inside has been slit to allow more freedom to react to the terrain and increasing grip levels, a technology used on many wet weather mountain bike tyres. You can just about see this as little crosses on the tips of the lugs in the picture below.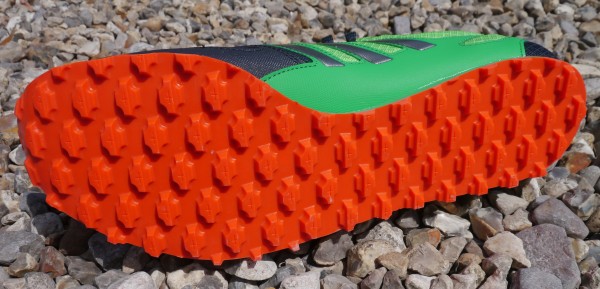 Down a steep slippery hill, putting the whole foot flat to the ground gives confidence insipring grip. Uphill, on mud, wet grass, crud and generally anything that would normally be a problem, it digs in and lets you drive up on full power.
In the hilariously mucky 2013 Thunder Run conditions, I overtook so many people who were wearing normal trail shoes but were still struggling to keep a line, whereas I was scrambling up off-camber corners, tightening up the trail and darting around runners flailing in the mud. I railed round grassy wet corners that looked terrifying, but were a breeze for the Kanadias. There were a few occassions where the mud was really thick and I slid out, but with progressive control, always finding grip after a few inches, always keeping me upright – I'm certain I can't take all the credit for those skills! They even did a fair job of grabbing on to wet roots, no mean feat in itself.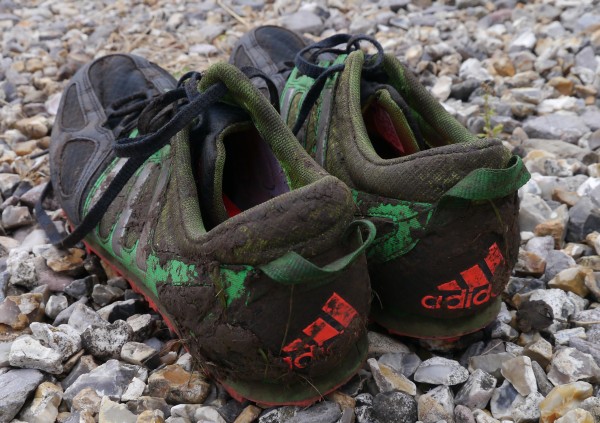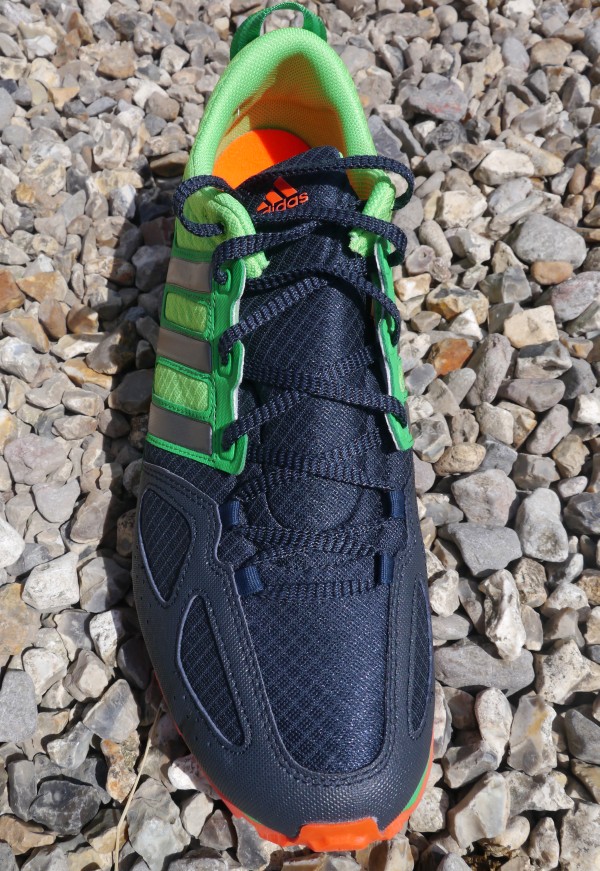 This is not a shoe for long distance comfort for an average user, but for a short muddy race, almost any confident runner would benefit from the amazing grip profile. However, experienced runners could use them on long races as long as you consider extended sections of hard surface where the lugs might dig in a bit – I tried 6 miles on dry hardpack and my feet started to complain. 20 miles in the mud was great though! I also used them for a (at the time) marathon PB of 3:11 in the Portsmouth trail marathon 2014 in 33rd place. It may have a narrow focus, but for the he money it's great value, so as long as the buyer knows what it's for, it does its job perfectly. When the going gets wet and wild, give the adidas Kanadia XC TR a go.
---
Thanks for reading. If you'd like to
get better at running, then press here
to check out Runningversity.com. There are online running courses and running coaching options available.
---
If you have any questions or if there is a product on this page you own and you'd like to add your own thoughts, then please use the comments box at the bottom.
We aim to provide unbiased feedback that we hope is useful to both manufacturers and consumers alike. Disclosure: we may earn a lead generation commission from purchases made after following links from our site. This does not affect your purchase experience in any way and allows us to keep this site running.