I've been using Endura's Full Monty mountain bike gloves for well over a year now for the majority of British weather, i.e. not daftly hot or very cold, but somewhere in between. For hot weather, I use SixSixOne Rajis and for the cold and wet I use Seal Skinz Winter gloves, but for most of the year for all-mountain work, the Full Monty's work for me.
Comfort
When I first tried on the Full Monty, my hands felt immediately at home. Inside was soft and comfortable, with no areas that rubbed or caught. Even now after being abused on the trails and washed several times, they retain their comfort.

Size and fit
In case it helps anyone, my middle finger is 90mm long and I fit the XL size, with a perfect fit in the fingers and no excess bunching across the palm when flexed. There's a new style velcro cuff that still works as good as ever so you can adjust the amount of ventilation and snugness at the wrist.
Tech
The base of the fingers and the tips of the first two fingers have silicon mesh to aid grip on the bars and brakes respectively. The braking fingers wear for a surprisingly long time considering.
The softer areas across the palm benefit from a thin layer of gel to relieve pressure on the bars. It's just enough to help comfort on long rides without feeling removed from the bar grips.
A reinforced thumb to finger zone remains strong, despite a few trips down the trail on my hands (oops), as does the leather palm-side of the glove, with only a few scuffs to show for it. I've had more expensive gloves that fell apart from far less!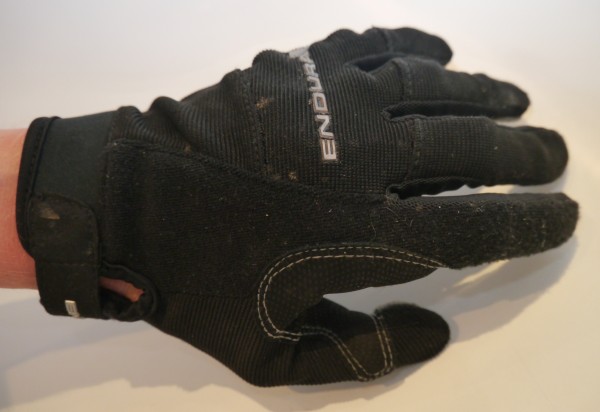 The back of the hand is made from a stretchy breathable material, with the Endura logo emblazoned across the knuckles. When combined with the thin ventilation mesh in between the fingers (see pic below), the Full Monty can be used on slightly warmer days than you might expect, which I approve of, due to the feeling of security from a full fingered tough glove while bombing a dustry trail.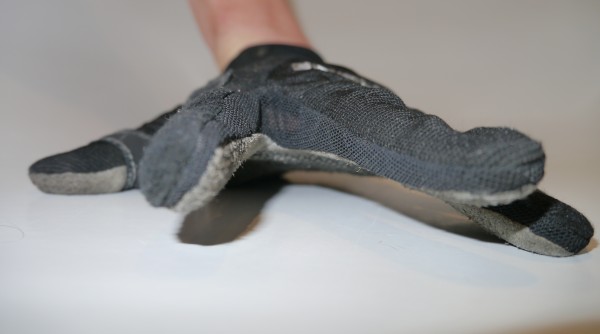 There is also a very generous fleece wipe pad along the back of the forefinger and all the way up to the wrist (on both hands) for those cold days.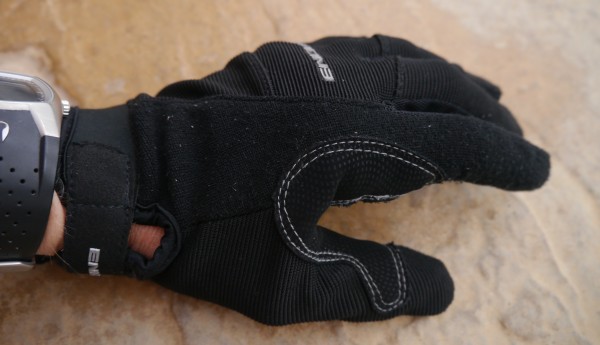 On the trail
Out on a ride, these gloves just get on with the job of being great gloves, allowing good grip on the bars and remaining comfy when sweating. If you didn't know better, you'd get the impression they are far more expensive than they are. Most importantly, they survive the test of time and minor full-dirt interface situations. Anyone looking to select a pair of mid-weather all-mountain MTB gloves should consider the Endura  Full Montys.
If you like Endura's gear, you can follow Endura on Twitter here.
---
Thanks for reading. If you'd like to
get better at running, then press here
to check out Runningversity.com. There are online running courses and running coaching options available.
---
If you have any questions or if there is a product on this page you own and you'd like to add your own thoughts, then please use the comments box at the bottom.
We aim to provide unbiased feedback that we hope is useful to both manufacturers and consumers alike. Disclosure: we may earn a lead generation commission from purchases made after following links from our site. This does not affect your purchase experience in any way and allows us to keep this site running.