My penultimate race of the year in 2012 was the Portsmouth Coastal Marathon on 23rd December. This is a small relaxed marathon that follows the coast path from the Pyramid Leisure Centre at Southsea to Hayling Island Theatre and back. The majority of the course is off-road, and after a lot of rain this year, I was mentally prepared for a tough challenge. It raises money for the RNLI who were out in force in case we got swept out to sea…
Although it wasn't that cold for December, the warm registration and bag drop room was highly appreciated – the wind was pretty fierce at times.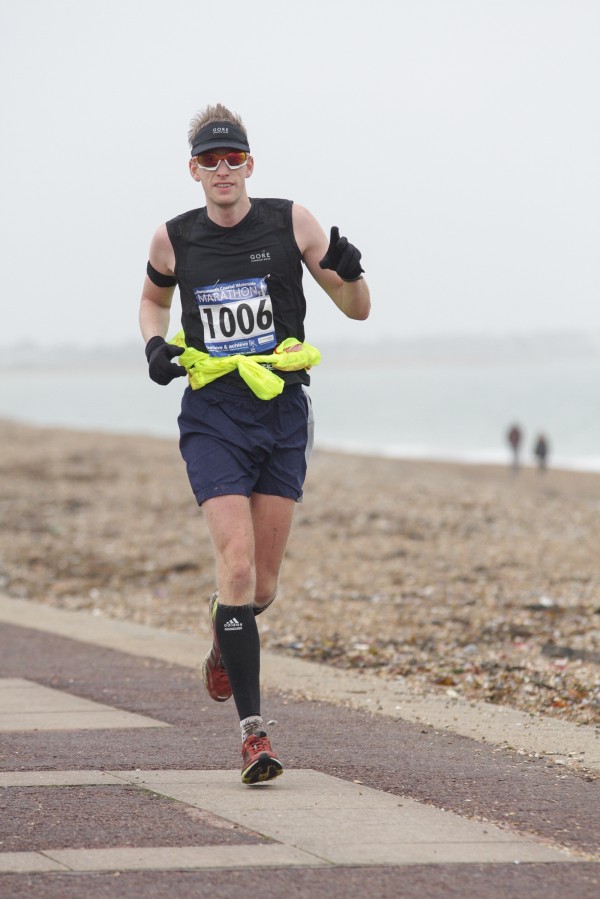 Lamped
The number of runners is fairly low and the first couple of miles are along the wide prom, so there was no need to use pace groupings at the start. We all just lined up and there was plenty of space to move around slower runners. Watch out for the lamp-posts that suddenly move from the edge of the prom to being more towards the middle and on the course! I say this because I recognised the author of a great book I had recently read about Marathons – "Keep on Running" by Phil Hewitt – and I said "Hi, are you Phil?" (or something like that) and he looked across at me grinning and ran straight into one of the posts. OUCH! There was a lot of blood, but he finished the race and decided it was the funniest thing that had ever happened to him in a marathon. Read all about it on his blog here.
Exciting and fun trails
[fusion_builder_container hundred_percent="yes" overflow="visible"][fusion_builder_row][fusion_builder_column type="1_1″ background_position="left top" background_color="" border_size="" border_color="" border_style="solid" spacing="yes" background_image="" background_repeat="no-repeat" padding="" margin_top="0px" margin_bottom="0px" class="" id="" animation_type="" animation_speed="0.3″ animation_direction="left" hide_on_mobile="no" center_content="no" min_height="none"][EDIT: since writing this in 2012, the Billy Line section round Hayling has been resurfaced and drains properly, so in 2013 for example road shoes were fine and I was 30 minutes faster!]
After the prom, the course jumps down on to the shore line and into sticky clay and I started to question my shoe choice. I'd gone for my usual Adios 2s, but they were struggling a little on the seaweed and slime lined stones and the gloopy clay. However, this didn't last long as it then jumped back up on to the start of the coastal path proper. Apart from a short shingle section, the remainder of the off-road sections were mainly fairly firm dirt track that had been swamped with rain for days. Therefore there were a lot of puddles. At first I tried to skirt around them, but this meant weaving around a lot and often the alternative options were slippery grass or slippery mud. So I quickly realised that the best way to preserve energy and stay safe was to just run through the puddles, landing a little more tip toe style than my normal forefoot strike to prevent huge splashing. The reason the puddles were there was that, underneath the water, the ground was quite hard and easy to run on, although there was always a danger that a hole was lurking unseen under the water, so mentally I was ready for anything. Fortunately it was all fine to run on, just wet and my feet never dried out. I was wearing twin layer Hilly socks to ward off blisters and copious amounts of Body Glide.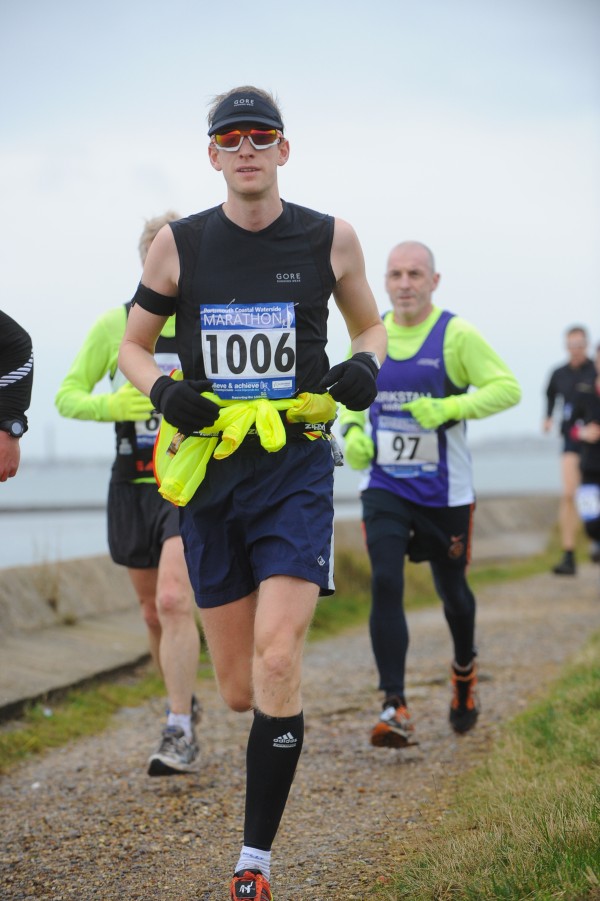 After figuring out the best approach to the conditions, I could then relax and enjoy the race, the views (when the sun came out on the return leg) and the chatty runners. There were a few exposed sections where the wind really tore through when I needed to put on my windproof Adizero jacket, but for the main, my GORE windstopper vest was sufficient. I wore gloves to keep the circulation in my arms going normally and compression socks to stave off muscle fatigue.
Best water stops ever
The water stops had water, squash, jelly babies, energy gels, brandy and mulled wine. Surely winners of best ever stops? The first stop was struggling to keep up with demand, but after 5 seconds standing still I got a cup of water. After that they were all very efficient. Additionally runners were all doing their best to dispose of cups and bottles in the containers provided which was fantastic to see. Whilst bottles are easier to drink from compared to the criminal wastage at the London Marathon of huge bottles with only a couple of sips taken from them all, the plastic cup with just the right amount of water in was a welcome option for the environmentally conscious.
I took it easy for the first 20 miles and was naturally behind my expected race time which was based on dry road miles. Once I reached mile 20, I knew that I had enough left in me to finish strong, so I upped the pace and ran as fast as I could the last 6 miles to the finish, overtaking huge numbers and sprinting across the line. This is definitely more fun than going too fast at the start and shuffling across the line like a zombie!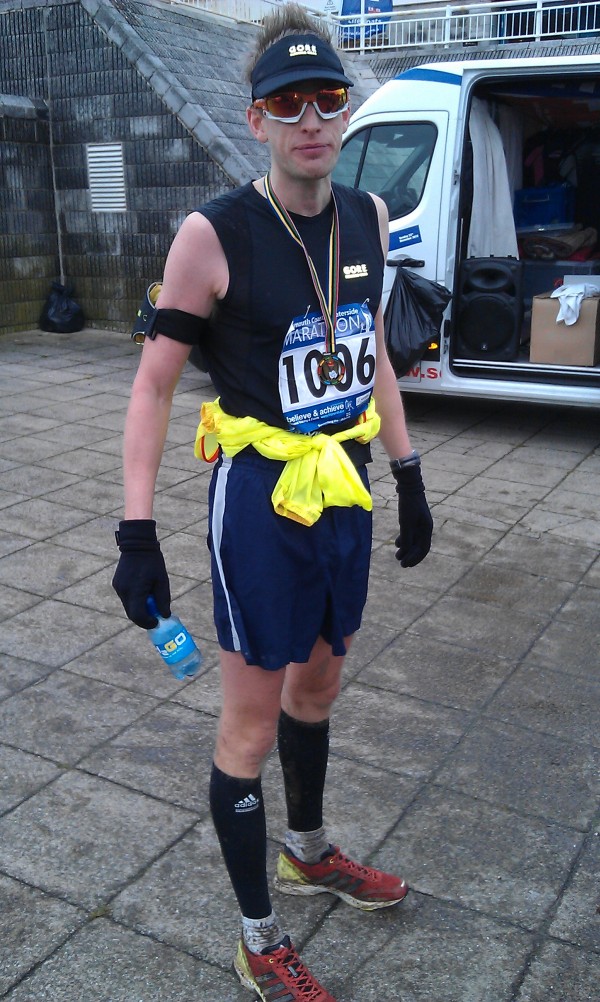 As I crossed the line, I got a medal, a goodie bag and a cup of hot vegetable soup which was graciously received. Heading back to the bag drop, there were also as many mince pies as I could handle (I managed three in about 60 seconds!). There was also the facility to immediately check race results via the race number – timing was all via chips on shoe. My final time was 3:38 which I was very happy with – I was 59th in age category (30-39) and 166th overall. My dry target would have been 3:23 so I'm thinking that 15 minutes added due to the wet slippery trailes is about right. The winning time was 2:50 which should give you some idea of the conditions and the need to adjust your target time accordingly.
The organisation was very efficient, with good pre-race information, an easy start and a relaxed finish. Well done to all involved and many thanks for providing such a fun, different race experience.
You can sign up for next year's race here[/fusion_builder_column][/fusion_builder_row][/fusion_builder_container]
If you have any questions or if there is a product on this page you own and you'd like to add your own thoughts, then please use the comments box at the bottom.
We aim to provide unbiased feedback that we hope is useful to both manufacturers and consumers alike. Disclosure: we may earn a lead generation commission from purchases made after following links from our site. This does not affect your purchase experience in any way and allows us to keep this site running.