The adidas Adistar Raven 3 is a trail running shoe that focuses on quick shedding grip combined with comfort and stability. It features adidas' "adaptive traxion" which allows the grip levels to adjust according to the surface. adidas sent me a pair to trash in my local nature reserve and report back to you.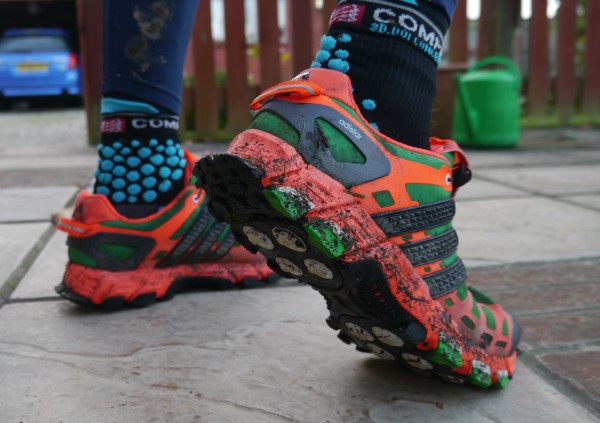 The Look
If you like bright colours, this is a winner. Firey orange on a bright green background, with flashes of white and black make it stand out from the croud. Big edge blocks suggest claw-like levels grip. Laces have been replaced with a drawstring, tucked away under a velcro tab. Techfit upper and the boost style heel counter give it a futuristic slant.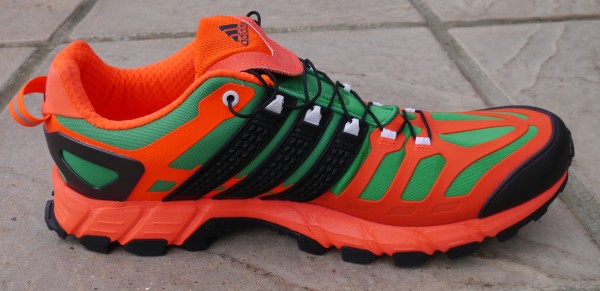 Weight and size
I was sent size 11.5UK which fit me – for reference, I take a size 11.5 Adios Boost and a 12 Energy Boost. My size 11.5UK Ravens came in at 378g on my scales. This surprised me because it looks like a similarly huge shoe to my Salomon XA Pro 3D Ultra (normal not GTX) and those are 461g for my size (also 11.5UK), so the Ravens come in a whole lot lighter which is great.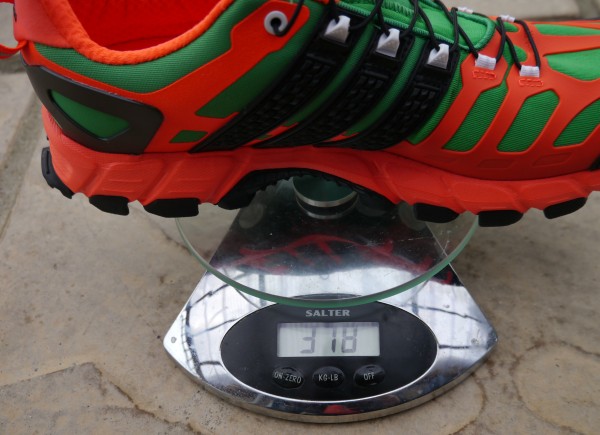 Adjustment and fit
Initially I found the drawstring quite fiddly to use. Salomon's drawstring design uses five restraining loops on one side and four on the other which allows you to easily pull the top of the drawstring and have everything tighten up to a fairly good tightness, with no further effort. However, the adidas design uses six restraining loops on both sides, so I found that only the first 3 or so sections would tighten just be pulling at the top. Therefore I have to spend a few moments going up the "ladder" and pulling on the "rungs" to tighten them properly. However, although I love the convenience of the superfast loading Salomons, I have had two pairs that fail where the drawstring restraints come under too much tension and tear. The adidas design looks like it will have more longevity with less tension on each individual restraint, which is rather important in a shoe in this top end price bracket.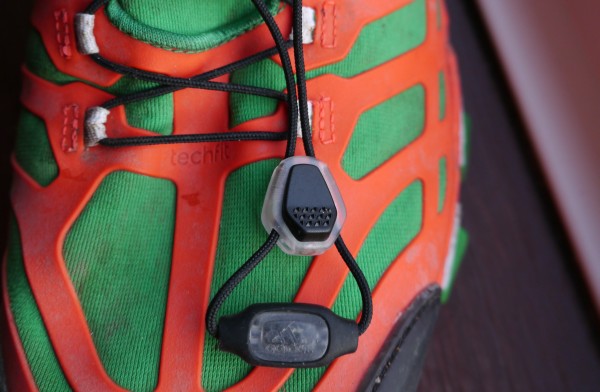 The spare drawstring, pull and clasp all tuck away neatly underneath a velcro flap. Whilst not as tidy as the Salomon solution (an elasticated web), it works just as well.
When unfastening the drawstring, the catch on the clasp needs to be pulled quite firmly after which movement is easy. This translates to a design that does not slip and loosen while out on a run.
When the interior length is perfect, the Ravens come out a little wider in the front half than many of adidas' other shoes – I have quite narrow feet and so had to do up the Ravens tightly enough at the front that the material started to bunch slightly, otherwise my forefoot had too much movement. The good news is that the the Techfit upper just allowed this to happen without any bother to my feet.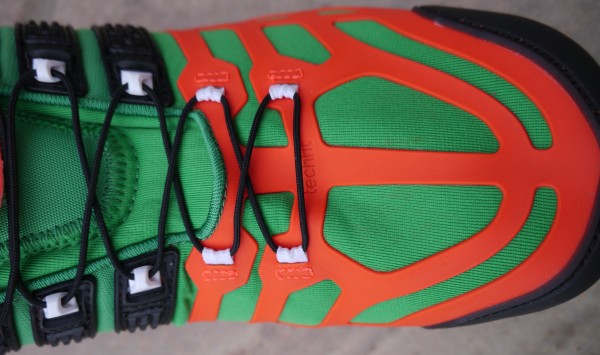 The Techfit upper provides a decent seamless containment for the toebox and is thicker than it looks, providing decent warmth and a little splash protection.
Comfort
Even though the Ravens were far lighter than expected, when I tried them on, it was a whole new world of comfort and plushness. A relatively thick in-sole, a padded tongue and thickly padded ankle sections make for almost slipper like levels of foot cossetting – my feet felt snug and warm.
Features
The star of the show on these Raven 3s are the Adaptive Traxion lugs on the sole. These actually sink into the sole of the shoe on firmer surfaces making it feel like a normal road trainer which is quite a feat for something with this level of off-road grip. Also, they shouldn't wear down too quickly and on wet rock, they feel confidence inspiring. A layer of Adiprene+ in between the lugs and your feet provides a firm push off, similar in feel to the Adios 2, and prevents protruding stones from doing much damage. This is a feature of the Ravens that I prefer to the Salomons which I have enjoyed for years, but always wished for a little bit more firmness under the ball of the foot – the Salomons are very low profile, but when the going gets jagged, they are a bit tiring, espcially on the section of shingle beach on one of my runs. So these Ravens aren't minimal but are ideal for comfy trail mileage without fuss.
Look at the pics below – in the first photo you can see a firm bit of trail with only a small layer of mud. The central white lugs have retreated leaving only small impressions in the mud. In the second photo, you can see deeper mud where they have remained fully proud of the sole. You can also see the deep impressions the outer edge lugs made in both pictures.
Continental Rubber provides improved wet grip over the normal adidas rubber.
There is also a rubber toe grip and large scuff guard.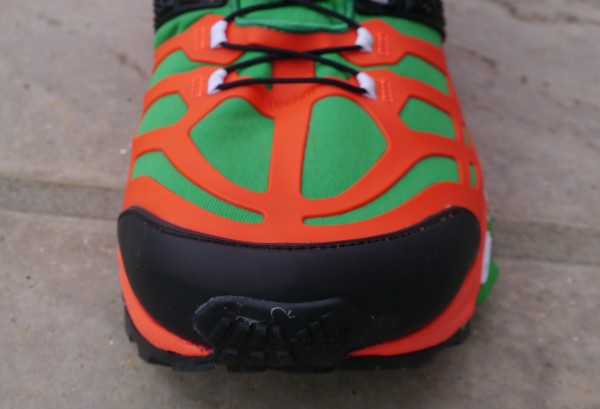 Stability and the trail
Although you ride quite high in the Ravens, they felt very stable at all times. I tore the tendon off the side of my ankle many years ago and if the ground is uneven, I soon know about it if a shoe rolls too easily. The heel counter keeps you in check and the wide lugs on the base of the sole provide a wide platform that keeps the shoe flat against the surface. On one of my runs in the Ravens the sea had risen far more than I'd even seen before, obliterating my normal trails, coming up to my knees at some points. Even though I could not see what was underneath the water, they were composed and planted, allowing me to push off with confidence.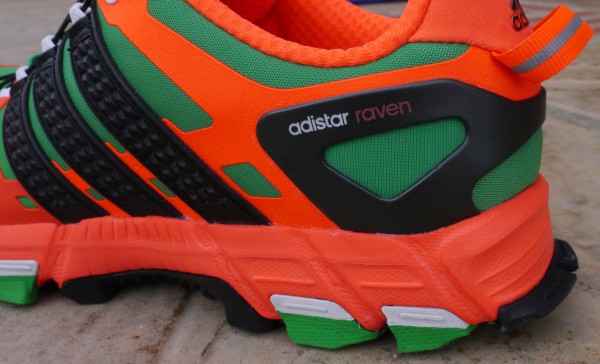 The Ravens deal well with shallow mud (far better than the Salomons – I tried a run with a Raven on one foot and an XA Pro 3D Ultra on the other to be sure), with all the lugs finding firmer ground underneath. As I expected they are not so good in deep mud, but that's not what they are aimed at – for that you'd need something like the Kanadia XC TR fell shoes (read my review of these!). However, they never clogged up in the slightest, always ready to grip again as soon as the deep mud was passed. On dry or wet firm trails they stormed along with ease, always having grip when needed, including rapid changes of direction. Deliberate attempts to make them slide on wet grass were foiled unless I really pushed the boundaries of sanity.
When soaking wet, they dried out to a comfortable level quite quickly which was a bonus.
The heelstrike is well cushioned and moves comfortably across transition to the front in my tests. Most of my running is done on the forefoot, where they provided a firm, grippy ride without the trail detail of a more low profile minimal shoe, but with protection against jagged tiring terrain. The only heel drop data I could find said 11m.
I initally thought the adidas Adistar Ravens were going to be a great shoe for heavy runners needing a lot of cushioning. Having run in for a couple of weeks on all sorts of terrain and conditions, I can say that they are equally great for lighter, smoother runners that want grip, stability, protection and comfort. You can buy them direct from adidas
EDIT: I also discovered that they work pretty well as a flat-pedal MTB shoe! I went for a really tricky muddy ride on singletrack with totally the wrong tyre choice, so the back end was sliding all over the place, but my feet stayed planted throughout the ride. A bit soft for longer rides, but good for a couple of hours.
Thanks to adidas for providing the shoes. If you like their range you can follow them on Twitter.
---
Thanks for reading. If you'd like to
get better at running, then press here
to check out Runningversity.com. There are online running courses and running coaching options available.
---
If you have any questions or if there is a product on this page you own and you'd like to add your own thoughts, then please use the comments box at the bottom.
We aim to provide unbiased feedback that we hope is useful to both manufacturers and consumers alike. Disclosure: we may earn a lead generation commission from purchases made after following links from our site. This does not affect your purchase experience in any way and allows us to keep this site running.