I have two things to say. Firstly to adidas: Thanks for asking me to go running with Haile Gebrselassie. Secondly to my family: sorry for cancelling my 40th birthday celebrations at such short notice – I'll rearrange, once I've come back down of this euphoric high!
I arrived at the Intercontinental Hotel next to Hyde Park, just as Haile arrived. He is super friendly and after a mega-firm handshake with one of my running heroes, my day was already made (die happy etc.) but it was only just getting started. We headed over to Hyde Park to meet the rest of the assembled runners – there were about 30 of us, representing various publications and blogs. Thanks to whoever ordered the weather – it was a glorious day with an almost perfectly blue sky and at 9degC was almost warm :) Tom Craggs took us through some dynamic warm-up drills, as if the excitement alone wasn't enough get my pulse racing. Then we got distracted by getting group photos with the man himself.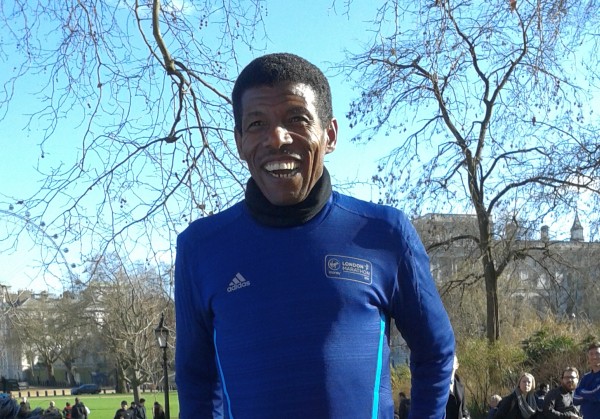 The day was a celebration of a year of adidas boost, so I arrived in my Energy Boost (click for review) and changed into my Adios Boost (click for review) for the run. #boostlondon. We set off through Hyde Park, and although Haile set a cracking pace, I had the edge and moved out in front. We battled it out, overtaking each other for a few km, but I finally pipped him on the line for the win. Wait, no…. What actually happened was that we cruised towards the river and enjoyed a run at a pace where the whole group could represent at once. Going past cafes on Southbank, hanging back from where Haile was, I could see people pointing and saying "Was that who I think it was?!?" "Yeah, it was Haile from adidas and Charles from Gearselected!" (my lipreading may have been off a bit though on that last bit….)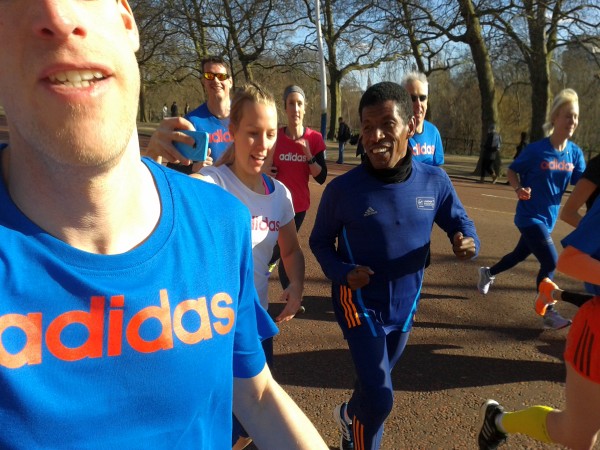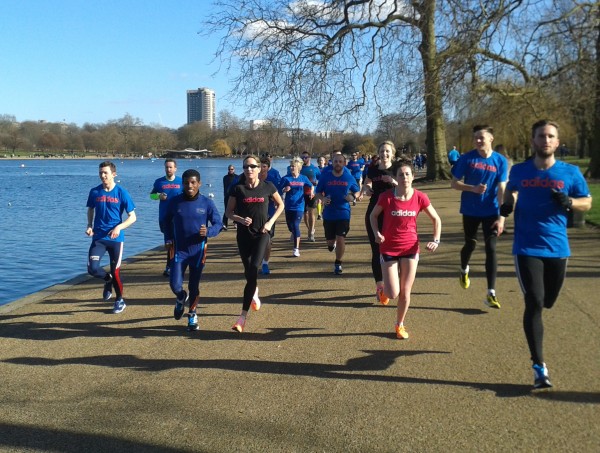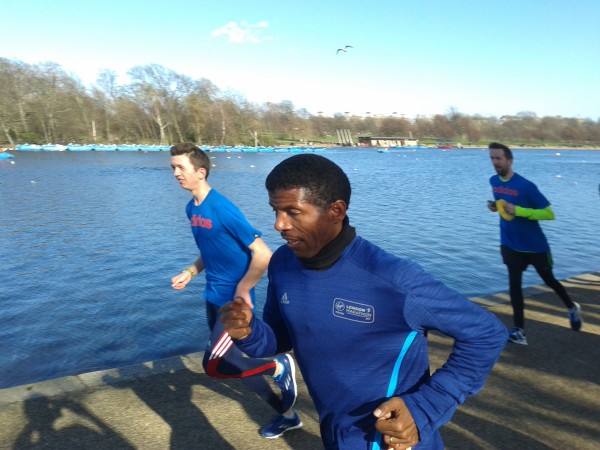 Even though the pace was probably like jogging to Haile, but was an easy run for me, I was pleased to note that we naturally fell into a similar running form: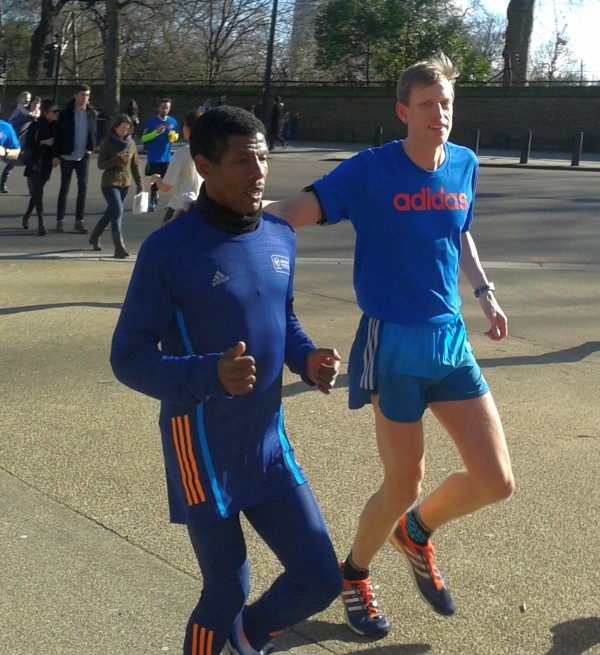 In that pic  above, you can also see my new 2014 adidas adizero split shorts which are a little different from my previous model, with a zip pocket and some further excess weight trimmed, so I'll put up a review of those once I've done some longer miles in them.
While we were running, I managed to have a brief chat. Haile told me that of his plethora of World Records, his favourites are the 1995 5,000m in Zurich, where he smashed the previous record by 11 seconds, coming home in 12m44s, and also the 2008 Berlin Marathon in which he dipped under 2h04m, coming home in 2:03:58, an astonishing feat with each of the 26+ miles being run in 4m44s. He said that if he could only do one training session, it would have to be a long run in the forest, something I totally agree with, with my run the day before this event also being a long run in the forest.
Here's a vid where you can tell how excited I was to be there (best to hit the 720p setting in youtube):
When we arrived back in the park, Haile took us through some warm-down stretches and then gave us his take on a few philosophical points (see video below):
1) He believes far too many people run to lose weight, whereas he feels we should all run to de-stress and get fit "mentally", regardles of how over or underweight we are. We can replace "run" with "sweat", i.e. any exercise that needs us to focus on it for a bit and even if injured, we can seek other forms of exercise during recovery. Certainly I get a bit grumpy if I haven't done any exercise recently, so it makes sense to me!
2) He believes we should be wary of outside influences that don't really affect us, e.g. from "The News" or from gossip. He thinks we now have so much access to information, that it's easy to let fear of things happening on the other side of the planet affect us unduely. This is why I end up turning off most news on the radio and TV – it's so depressing and yet almost entirely irrelevant.
Then the obligatory photo opportunity: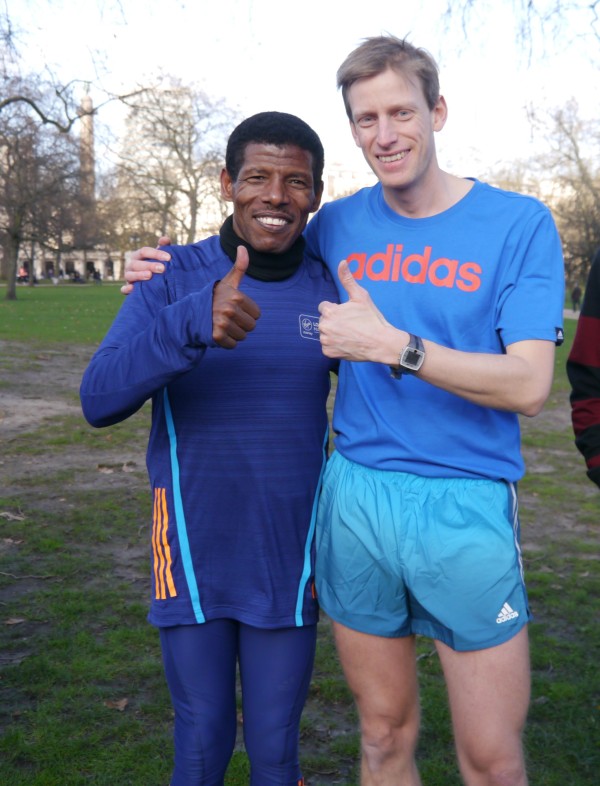 He has such a positive outlook that it's infectious. I came away inspired and thoughtful. Not only did I meet, chat to and run with THE Haile Gebrselassie, a running hero, but I also met a small group of running heroes, all smiling, happy and enthusiastic about their passion for the sport, no matter what speed they run at. Thanks again to adidas for the invite and arranging such a top day.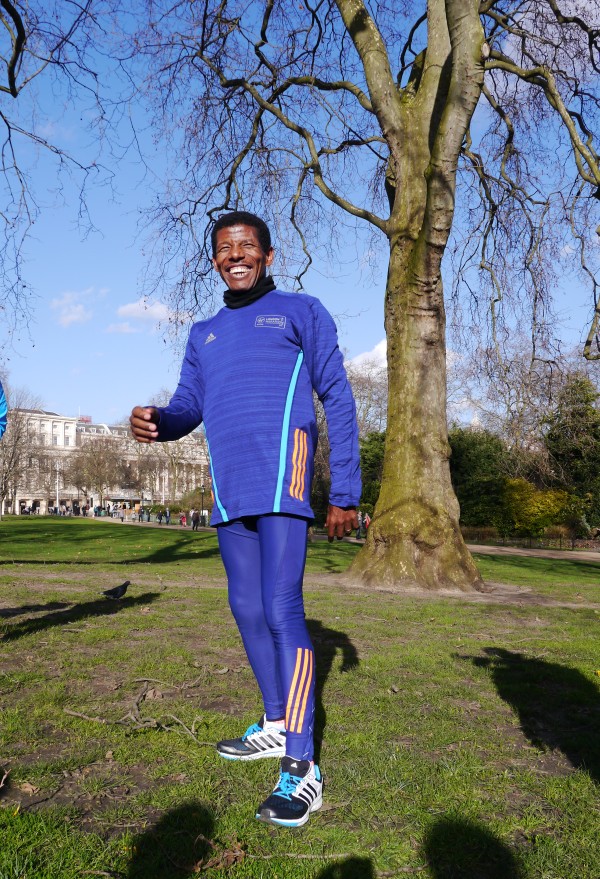 ---
If you have any questions or if there is a product on this page you own and you'd like to add your own thoughts, then please use the comments box at the bottom.
We aim to provide unbiased feedback that we hope is useful to both manufacturers and consumers alike. Disclosure: we may earn a lead generation commission from purchases made after following links from our site. This does not affect your purchase experience in any way and allows us to keep this site running.