When you make the decision to enter a marathon for the first time, you'll be entering a whole new world of training and just as importantly, a world of learning. You'll need to choose what approaches to training you'll need and what you'll need to help you on the journey. The long runs during training will take much longer than you are used to, leaving your body more susceptible to external factors such as the weather. This article concentrates on things you need in your arsenal to combat these and whilst what works for one person won't work for everyone else, the basics remain similar.
Marathon Training Kit Checklist
This list worked for me. I'll provide a summary list and then go into more details. Hopefully you'll find it useful and can pick and choose what you'll need. Additionally some items may be male specific and female specific items may be missing due to this being based on my personal experience. If you have already been through marathon training, perhaps there are other items that you needed – if so, please post in the comments!
Clothes
Shorts
Vests
Tights
Long sleeve T-shirts
Socks
Trainers
Windproof / rain-resistant jacket
Hat
Rain Visor
Sunglasses
Compression calf tights
Accessories
Heart-rate monitor
GPS tracker (phone) + Armband
Gel belt
Water bottle
Head torch
Skincare
Lip balm
Body glide
Nipple plasters
Heat lotion
Anti-inflammatory gel
Blister plasters
Deodorant
Sunblock
Supplements
Arginine
Protein shake
Energy drink
Recovery bar
Energy gels
Vitamins
Royal jelly
Mind
Dedication
Concentration
Positive mental attitude
A smile
Support
Family
Friends
Online communities
Training schedule
Clothing for marathon training
Like any serious sport training endeavour, marathon training schedules never align with the weather, so you need to be prepared for anything, especially if aiming for a Spring marathon like the Virgin London Marathon that requires you to train in the winter but race day might carry the risk of sunburn. Common sense layering is needed. You can always remove a layer and tie it around your waist, but you cannot magic up an extra top while out on a run and running too cold carries the risk of injury.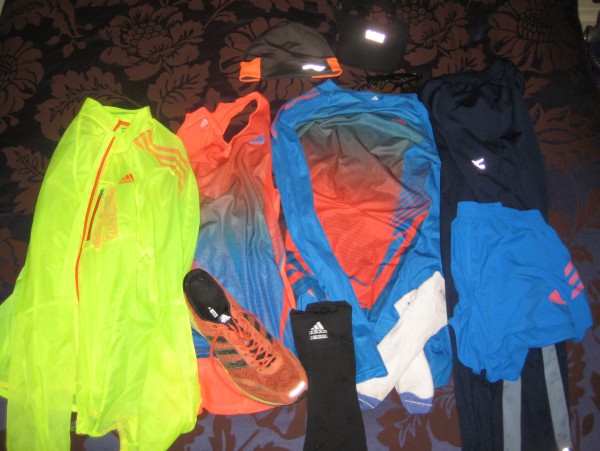 Shorts and vests (or short sleeve T-shirts) can be covered by wicking layers of long-sleeves and tights. Look for man-made polyester based materials, or the merino wool style alternatives. Avoid basic cotten t-shirts which fill up with sweat very quickly which on longer runs will rub you till you literally bleed.
Socks are a very personal choice. Some people avoid them altogether if their shoes allow it, but in the winter you might want to wear two pairs at once. You can even get socks with two sliding layers that claim to solve blistering, although from my experience with them, it's of limited aid and better fitting shoes done up to the right tightness is the only way. In the rain, try thin socks that do not soak up water.
Trainers are a minefield of controversy, so my advice will be assuming you are actually wearing shoes and not going barefoot, you should have at least 2 pairs of trainers, ideally slightly different to give your feet a change. You should buy them with plenty of time to wear them in for at least 6-8 weeks before the race. Personally I used adidas Adios 2, landing on my forefoot for the majority of my long runs and interval training. I then did the shorter runs and tempo runs in Mizuno WavePrecision landing on my heels, to give my calf muscles extra time to recover. You may want to consider buying a race shoe that it half a size larger than normal, allowing your feed to expand during the long race – however, be absolutely sure the shoe fits and does not allow you to slide around inside otherwise blisters will strike.
Cheap jackets are windproof. Expensive jackets are windproof and water resistant. Jackets that allow you to disperse sweat ("breath") effectively as well as keeping out the rain completely do not exist. The more you pay, the better they are, but a trade-off between the two wil. always exist. I went of an adidas Adizero jacket because it's light and disappears when you tie it around your waist.
Running in the rain will wash sweat from your hair and forehead down into your eyes. Avoid this with a running visor or running cap. I prefer a visor because it leaves my head free to release heat and I can always wear it over the top of a hat if it's cold. I went with a GORE running visor.
In high winds or bright sunshine, protect your eyes with sunglasses. Ones with easily replaceable lenses such as the Oakley Jawbone allow you to choose from sunblocking dark lenses or yellow that you can use in dark conditions.
Compression clothing is the subject of much debate. For speed during a race the average runner will probably never notice, but for long distance work in training, they could prevent the muscles from wobbling around so much, thus less fatigue, quicker recovery and less risk of injury. Personally I use the option of compression calf tights for long runs and intervals. After long runs, I leave them on for an hour to prevent swelling after I'm bored of elevating my legs.
Accessories for marathon training
When training for marathons, it's important to go slow on the long runs. It's easy to get carried away and end up doing them too fast. I use a Polar heart rate monitor to keep an eye on things. Some people don't like using them in races, but I always do in case something is different on the day, like hotter weather than training, or unusually high heart rate for reasons unknown, e.g. impending illness, so that I can make adjustments to my pace – sticking rigidly to a perfect race plan could mean a DNF!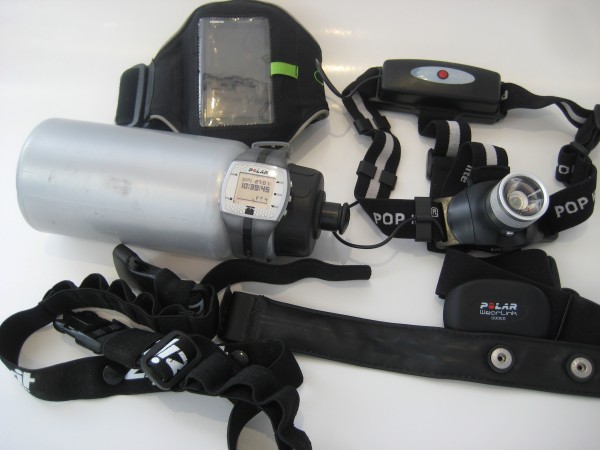 Loads of phones come with GPS now and there are a multitude of apps that will track your distance, speed, number of steps per minute. This can become a bit of an obsession, with focus normally on beating how many miles you did last week/month etc. so instead, just treat these as a training aid. Speed should depend on how you feel on the day, not what you did last time. It's also an easy way to figure out roughly how far you have run.
If you like taking gels on long runs, get a gel belt. These hold them tightly and easily.
On long runs, you are going to need water regularly e.g. every 3 miles. I run 2.5 mile loops, with a water bottle left by the side of the road and sometimes 2 bottles.
If you find that you need to get up very early or run very late, you'll need a head torch. Some have a flashing red LED on the back too for extra safety. If you end up with a 18650 battery for a super-bright LED, make sure the battery has protected circuits and is from a reputable brand – having one of these go on fire next to your head won't be pretty.
Skincare for marathon training
Lip balm protects your your lips against the sun and from the cold.
If something is rubbing for 3+ hours, it's going to get painful. Rubbing might be from clothing running on skin, or skin chafing on skin. This will get worse if it's raining or even drizzling since water and sweat does not lubricate. Get some Body Glide for areas such as previously blistered feet, front and back of armpits, bum-cheeks if you are over-weight (maybe a separate stick of Glide for that!) and inner thighs. If the soles of your feet suffer, you can put it there too. Or you can stuff Vaseline in your socks.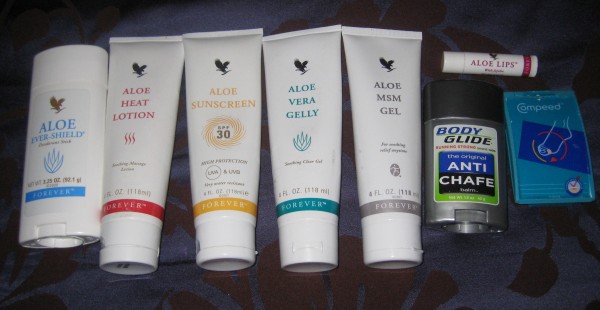 Similarly your nipples will suffer unless you top is very smooth. If it's raining, even a smooth top will fail you. Get plasters on your nipples if running a long time in the rain.
If you do get minor blisters on your feet, specific blister plasters can help keep you in action
If your muscles are aching, massaging in heat lotion is a great way to increase blood flow and speed up recovery. Most have limits to the amount you can use though. Natural alternatives exist though which you can use as often as you want. Similarly anti-inflammatory gel is great for recovery from injury, but normally contains drugs. See the link above for natural alternatives that I personally use, recommend and distribute.
Don't mess about with anti-perspirants. Just get a good deodorant and shower properly.
4 hours out in the sun is a long time. Even if it's not very warm, if you are just wearing a running vest, you might get burnt. Wear sunblock if there's a chance of sun!
Supplements for marathon training
Good quality Arginine is great for intensive training, used by elite athletes to help them perform better, and recover more quickly. I use it every day during times of heavy training.
After a long run that started at 5:30am, why just pour milk on your cereal when you can pour a chocolate flavoured protein on it instead! Common sense and good value. Or for later in the day, a protein/carb mix bar immediately after finishing. You have 30 minutes after finishing to optimally resupply your muscles with nutrients.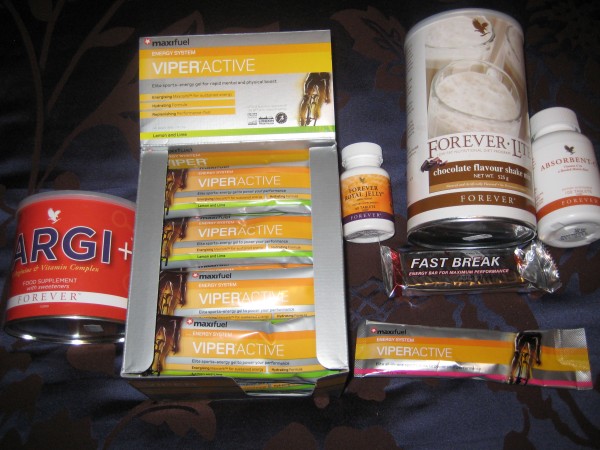 Some people like using energy drinks during the long runs, and others like myself like energy gels. The activity of taking a gel also gives me something do for 60 seconds which makes me more alert and ready for the next segment. Gels are easily carried, but ensure you can stomach your chosen gel – some are much thicker than others.
Whist in theory, we should get plenty of vitamins from the foods we eat, we often take short cuts to fit food in while juggling hours running on the road with the rest of our lives' daily schedules. I take Vitamin C daily, along with a multi-vitamin and Royal Jelly to chill out at bedtime (sometimes the evening runs get you wired!) It takes the guesswork out vitamin intake, but this doesn't mean you can let food choices slide. So read some books on nutrition for sport to ensure a good diet.
Mental tools for marathon training
"Dedication, that's what you need" – 26.2 miles is quite a long way. Building up to running that far is going to take some serious dedication, with the willpower to stop training for a bit if injury strikes and to keep on going when tiredness creeps up.
Out on the road and trails, you get tired and your running form can deteriorate, possibly leading to injury or muscle soreness. Keep your concentration up as high as possible at all times. Every 10 minutes check your form – are you running smoothly, or have you started lazily thumping against the floor?
The weather is going to be rubbish every now and then. Your bed will seem the best place. Somehow you need to use positive mental attitude to reshape your perception. Change it to "even a run in the rain is better than no run at all". Remember how strong you've been and how great you feel when the run is going well. A smile helps no end. When the hill is steep and the going is tough and you are staring at the floor wondering when it will end, just smile and suddenly things will seem easy and more fun. Force the smile if you have to – eventually the smile will win! Trust me.
Support crew for marathon training
Marathon training takes time, time which you would normally have spent with your friends and loved ones or messing about on Facebook. You will need the help of both of those areas to get you through. Your friends and loved ones will need to understand that you aren't available to go to the pub for a booze up the night before a training session. For weeks on end. You need to ask for their help to give you encouragement and tell you how amazing you are. You need to thank them for their support and understanding. It's a team effort. Your facebook friends can keep an eye on you too. Tell them what you are doing and if you are feeling down, shout for help!
Another place you can turn is to online communities like the forums on runnersworld – here you will find both people in the same boat and people who have been there and done that. Seek help and learn from their mistakes.
Finally you need a training schedule. Without this you might a) waste your time b) not even bother going out at all, using the "tomorrow" excuse. Just be prepared to put the schedule away for a couple of weeks if you injure yourself and do some upper body workouts instead!
I hope this helps someone. Please post in the comments if it does and feel free to ask questions.
---
If you have any questions or if there is a product on this page you own and you'd like to add your own thoughts, then please use the comments box at the bottom.
We aim to provide unbiased feedback that we hope is useful to both manufacturers and consumers alike. Disclosure: we may earn a lead generation commission from purchases made after following links from our site. This does not affect your purchase experience in any way and allows us to keep this site running.